They Call Me Magic Review: Magic Johnson Gets The Spectacular Last Dance Documentary Treatment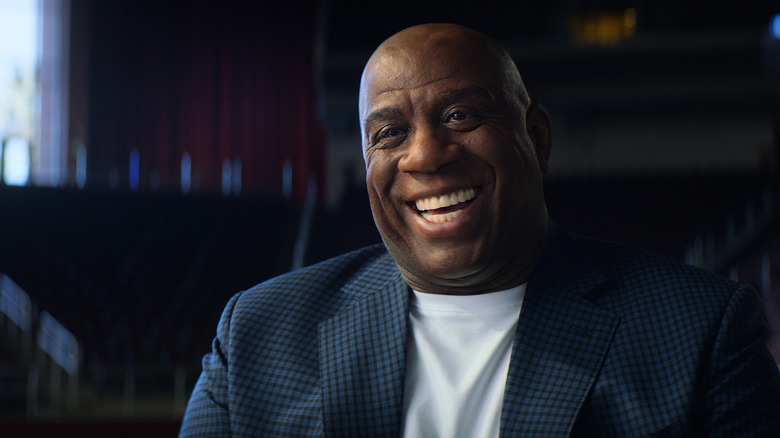 Apple TV+
Back in 2020, ESPN's documentary miniseries "The Last Dance" captivated audiences for weeks by chronicling the rise of the multi-championship winning Chicago Bulls, led by the legendary Michael Jordan. It's a milestone sports doc series that digs deep into the history of the beloved NBA team and everyone that made them a national sensation in the '80s and '90s, both on and off the court. Now Los Angeles Lakers superstar Earvin "Magic" Johnson is getting the same treatment in the four-episode documentary miniseries "They Call Me Magic," coming to Apple TV+ on April 22, 2022.
Since "The Last Dance" had such a large ensemble of subjects to cover in order to flesh out the doc's specific era of the Chicago Bulls, only a handful of teammates got a proper spotlight in the series. In this case, Magic Johnson is the star, so this documentary gets even more personal and comprehensive. In fact, right out of the gate, director Rick Famuyiwa goes out of his way to create a distinction between Magic Johnson and Earvin Johnson. Everyone loves to see Magic Johnson ballin' it up on the court, posing for pictures, and signing autographs. But the more intimate side of the NBA icon's life belongs to Earvin Johnson, and they each have their life extensively chronicled in this thoroughly entertaining and engrossing documentary, from the headline-making moves on the court to the heartbreaking personal developments that would make it supremely difficult to separate Magic Johnson and Earvin Johnson.
Magic in the air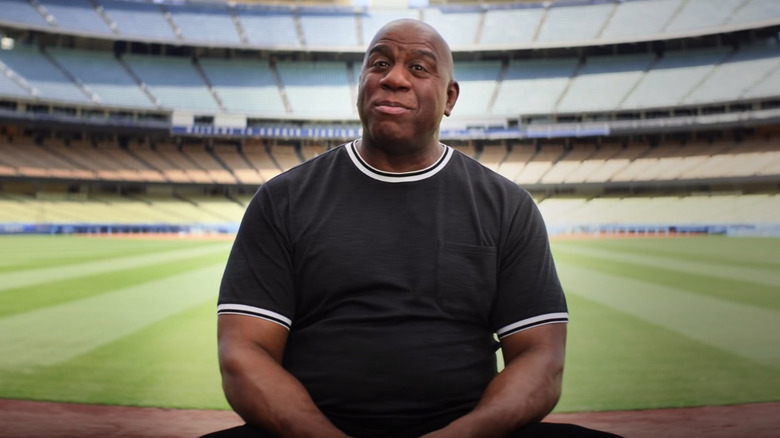 Apple TV+
Despite being just as comprehensive and well-made as "The Last Dance," the four-episode run of "They Call Me Magic" comes with a bit more positive energy. There's a lot of inherent drama and serious vibes in "The Last Dance," especially when it comes to certain games, but "They Call Me Magic" has an uplifting sort of electricity, perhaps reflective of that million-dollar smile that Magic Johnson always seemed to flash. Though there are still plenty of riveting moments with consequential emotion and drama, from the firing of head coach Paul Westhead to some devastating losses, both in basketball and life, there's a buzz that runs through this series that gives it feel a little more optimistic. That's both because of the spectacular highs that Magic Johnson and the Los Angeles Lakers rose to and a stellar soundtrack full of lively oldies favorites, from Magic Johnson's beloved Parliament Funkadelic to disco hits like "Good Times" by Chic and Walter Murphy's "A Fifth of Beethoven."
"They Call Me Magic" is mostly chronological, starting from Johnson's meteoric rise out of Lansing, Michigan, moving through his sparkling college years, and up through his five-time NBA championship seasons with the Lakers and beyond. Though there are a handful of pivotal flashbacks when details from Magic Johnson's pre-NBA years make for enlightening juxtaposition, it doesn't have the same back and forth narrative style that defined "The Last Dance." Instead, Rick Famuyiwa perfectly balances the NBA success that lights up Magic Johnson's face to the more grounded, reflective moments behind the scenes of all his fame and fortune. Whether it's his friendly rivalry with Larry Bird that began in their college days or the rocky on-again-off-again relationship that Johnson had with his wife Cookie Johnson, Johnson is candid and forthcoming about these milestone moments in his life. 
A parade of personalities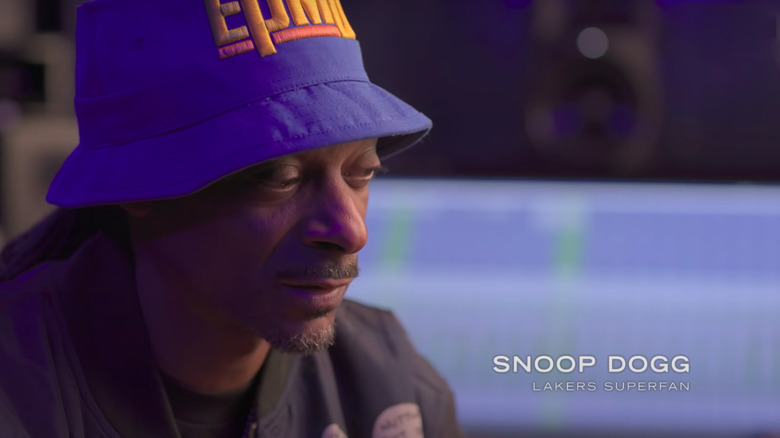 Apple TV+
Johnson may be leading the charge when it comes to revealing interviews in this doc series, but an impressive and outstanding collection of talking heads, archival footage, and photos all weave a seamless narrative that has the spirit of a blockbuster sports feature film. Famuyiwa goes from popular ESPN commentators like Stephen A. Smith to local Lansing sports journalists who covered Johnson's high school years. There are longtime all-star celebrity fans such as President Barack Obama, Samuel L. Jackson, and Snoop Dogg, the latter bringing particularly hilarious and colorful commentary. Of course, it wouldn't be a proper Magic Johnson documentary without appearances from the likes of Lakers teammates such as Kareem Abdul-Jabbar and head coach Pat Riley.
Meanwhile, on the more personal side, Magic Johnson's whole family gets in on the documentary, too. Cookie Johnson is the most prominent, and she also brings the most insight into the side of Magic Johnson that many people don't know. It's here that the personality of Earvin Johnson is revealed, especially when it comes to digging into their haphazard romance that began in college and had ups and downs throughout his early career. College friends, siblings, and Johnson's parents all paint a thorough portrait of the man behind Lakers star #32, a man who bridged racial gaps, inspired a new generation of basketball players, and turned a fledgling franchise into a winning team. But of course, the documentary gets truly harrowing when a life-changing revelation is made when Johnson was at the top of his game.
Aside from the energized presentation of this entire miniseries, it's also rather slick in its production value, especially when it comes to these interviews. It's not often that you notice the coverage of talking heads in documentaries like this, but the beautiful, varied settings of key interviews, multiple angles, and general shot composition is quite pleasing to the eye. It all feels rather elegant and stylish, especially interviews from within basketball courts, locker rooms, upscale offices, lavish mansions, and more.
Love and basketball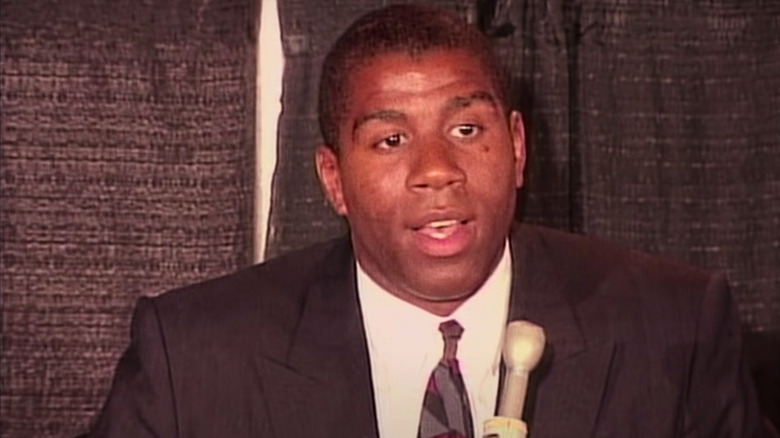 Apple TV+
As has famously been chronicled and reported, Earvin "Magic" Johnson was diagnosed with HIV, the virus that causes acquired immunodeficiency syndrome (AIDS). This came at a time when Johnson was a superstar in the middle of an NBA season, and it also arrived when HIV and AIDS were still massively misunderstood and stigmatized, creating prejudice against those in the homosexual community that then carried over to anyone who contracted HIV, regardless of their sexual orientation. This chapter in Johnson's life is a significant one, and the documentary provides more insight than we've ever seen or heard on the matter, with hindsight enhancing the headlines previously reported as Johnson endured this professional and personal struggle in the public eye. It's a story unlike any other athlete's, as it found Johnson toiling back and forth between getting back in the game he loved so much and feeling the pressure of his highly scrutinized health, which created a distraction in the media that was hard to escape. 
This is where "They Call Me Magic" also veers into territory that isn't commonly explored in sports documentaries like this. Even though Johnson ended up ultimately retiring from the NBA (despite several comebacks), he used his profile to start a new chapter of his life as a community activist and successful entrepreneur. Did you know Johnson was one of the early investors who sparked the spread of Starbucks across the nation? Or that he had his own chain of movie theaters in more impoverished, urban areas of California? These are things I was totally unaware of, and the doc highlights this lucrative path that Johnson has carved for himself in the wake of his influence on sports, not to mention the culture surrounding the AIDS epidemic. Along with those highlights, there's also more meaningful introspection from Johnson about his family life, especially with regards to revelations about his son EJ's sexuality and gender identity, which makes for tender and heartfelt moments. 
"They Call Me Magic" is a winning profile of an athlete who has achieved incredible success and faced hardships that no other athlete has experienced, so much that even the great Michael Jordan concedes that it wasn't just His Royal Airness who changed the game of basketball, but it was also Magic Johnson. The man's endless optimism and courage shine in this documentary, even as he looks back on his admitted missteps. You couldn't ask for a more complete and compelling documentary about one of the most revered athletes to ever play the game of basketball. Well, maybe you could, because I could have easily watched a few more hours of this doc miniseries. But even if Earvin Johnson's nickname wasn't Magic, there would still be plenty of magic in this story.

/Film Rating: 9 out of 10
"They Call Me Magic" will debut globally on Friday, April 22, exclusively on Apple TV+.