The 15 Best Screwball Comedies Of All Time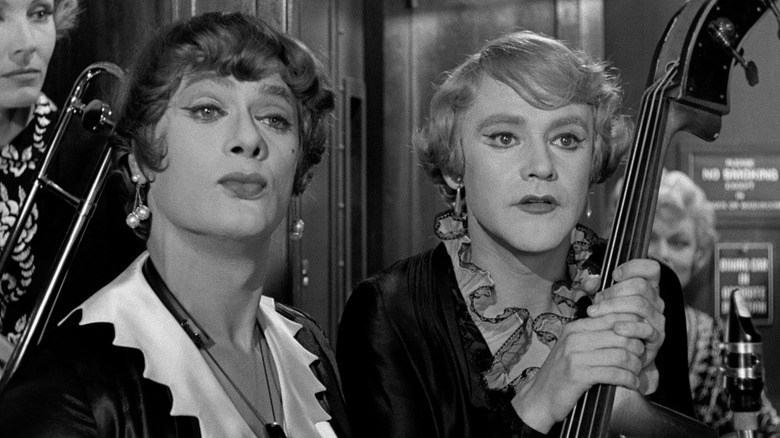 United Artists
The screwball comedy has a unique place in Hollywood history: When times were tough, audiences sought escapism. What was less interesting to audiences during the Great Depression was celebrations of wealth and extravagance, as the purse strings were tighter than ever before. Enter the screwball, comedies that regularly delighted audiences by transporting them with ridiculous and often nonsensical scenarios featuring the brightest stars of the day. Performers like Carole Lombard, Gene Kelly, Claudette Colbert, Jean Arthur, Irene Dunn, and Gary Cooper regularly lit up the screen. The genre exploded in the 1930s, and while there's no consensus as to the first screwball, "Twentieth Century" and "It Happened One Night," both released in 1934, are often credited with initiating the genre.
Filled with piercing class criticism, relentless optimism, and high spirits, screwball comedies dominated the 1930s and early 1940s. Directors like Preston Sturges, Ernst Lubitsch, and Howard Hawks made many great screwball comedies, and while the output of the genre has decreased massively since the 1940s, there were still great screwballs made later. In celebration of one of cinema's most delightful genres, here are the 15 best screwball comedies of all time.
Design for Living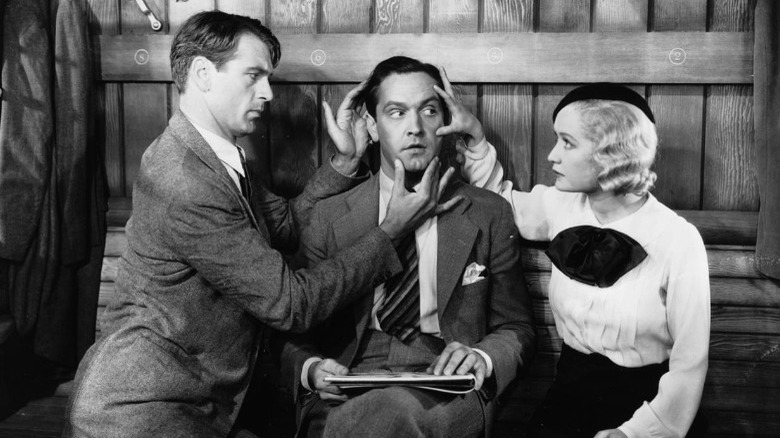 Paramount Pictures
Directed by the magnificent Ernst Lubitsch, "Design for Living" is a glorious, sexy screwball comedy. The film begins on a train, where dear friends George Curtis (Western actor Gary Cooper), an artist, and Thomas Chambers (Fredric March), a playwright, happen upon Gilda Farrell (Miriam Hopkins). It's not long before both men find themselves completely smitten with Gilda. While they both experience romantic and sexual interludes with her, Gilda is incapable of choosing which of them she wants to be with, as she adores them both. She comes up with a radical idea: they'll all live together, as dear friends and have absolutely no sex, and she'll help them be successful in their fields.
So often in cinema and society, sexual desire is considered an inherently male trait. Women apparently sit around and wait for a man to come and sweep them off their feet. It's an antiquated idea, but one that's still surprisingly pervasive. It's something of a miracle, then, that a film from 1933 defies that very notion so confidently and so intelligently. In "Design for Living," Gilda is a woman with total agency and pursues who she wants without hesitation. "It's true we have a gentleman's agreement, but unfortunately, I am no gentleman," she quips, revealing her sexual proclivities. The movie has many magical qualities of pre-code Hollywood, as the early 1930s features American filmmaking at its most unbridled, surprising, and carefree. 
It Happened One Night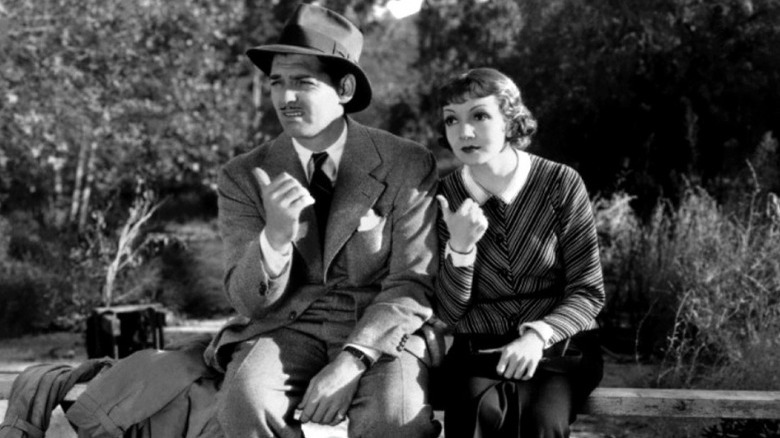 Columbia Pictures
Frank Capra's "It Happened One Night" has become the stuff of legends. It was the first film in Oscar history to win all of the five biggest awards — Best (Adapted) Screenplay, Best Actor, Best Actress, Best Director, and, of course, Best Picture. In the Academy's 90-plus-year history, only two other films have accomplished the same feat. The movie stars screen icons Claudette Colbert as Ellie Andrews, an heiress on the run from her father so she can pursue romance against his wishes, and Clark Gable as Peter Warne, a recently axed newspaperman who finds Ellie on the run and pursues her, hoping for the exclusive story on her disappearance.
A key component of the screwball comedy often finds people from different classes encountering each other, and that all starts with "It Happens One Night." The film's influence is extraordinary: In one key sequence, Peter undresses in front of Ellie, and it's revealed that he isn't wearing an undershirt. This reportedly sent shockwaves through America, and there were reports that the undershirt industry was left devastated as a result. Though there isn't actually evidence of this, it was a widespread belief at the time, speaking to the film's incredible impact. While the film gets plenty of deserved credit for being charming and hilarious, what it doesn't get nearly enough attention for is just how beautiful it is. Joseph Walker's cinematography is breathtaking, and nighttime sequences sparkle with expressive and dynamic lighting.
My Man Godfrey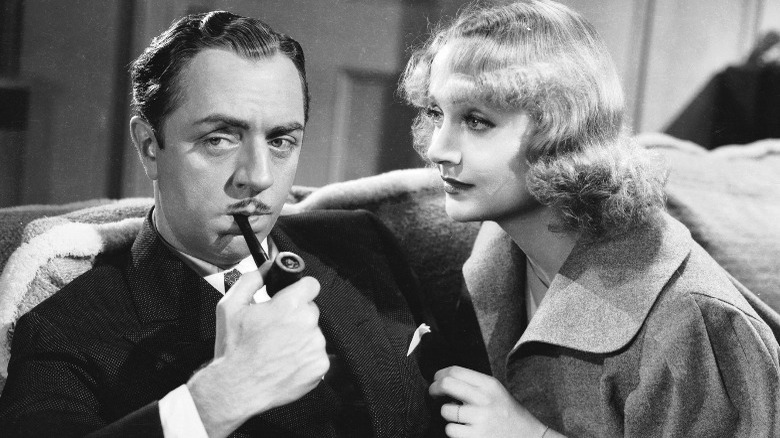 Universal Pictures
Despite being released in 1936, "My Man Godfrey" still feels incredibly refreshing. The movie follows a ridiculously wealthy and stupendously bonkers family. In the heat of a scavenger hunt, they are tasked with finding a "forgotten man," which leads sisters Cornelia (Gail Patrick) and Irene (Carole Lombard) to meet Godfrey (William Powell), a homeless man that Irene acquires to win the contest. Before Godfrey can be on his way, Irene, utterly lovestruck, offers him a role as the family's butler — though Godfrey may not be the person she suspects.
Carole Lombard was essential to the screwball genre, practically helping to define the genre with 1934's "Twentieth Century." The esteemed Criterion Collection's streaming service, The Criterion Channel, even deemed Lombard the "First Lady of Screwball" in their June 2021 program. In films like "Hands Across the Table," "Mr. & Mrs. Smith," and "Nothing Sacred," Lombard lit up screens throughout the '30s with her remarkable tenacity and gifted timing. Lombard tragically died in a plane crash in 1942, so we can only imagine how extraordinary the rest of her career would have been. At least some solace can be taken in magnificent film performances like her role in "My Man Godfrey" that stand the test of time.
Easy Living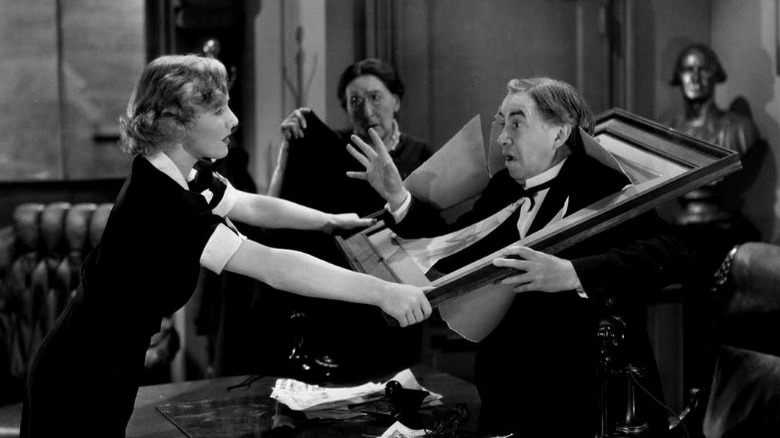 Paramount Pictures
Many great comedies begin with a meet-cute: a quirky occurrence that causes our two eventual lovers to meet. "Easy Living" takes off with something of a meet-fall, after an extravagant fur coat seemingly falls out of the sky onto the unwitting Mary Smith (Jean Arthur). The coat did indeed come from above, and it's thrown off the balcony of an extravagant New York City penthouse by J.B. Ball (Edward Arnold), one of the wealthiest men in America. After a heated argument with his son, John Ball Jr. (Ray Milland), he discovers his wife spent an eye-watering $58,000 on the sable coat, and it's not long before the coat falls onto Mary. It's such an exquisite coat that everyone seems to know it was purchased by Ball and assumes that Mary is his mistress. Suddenly, she's treated like the wealthiest woman in town.
Mitchell Leisen is a director whose work is rarely mentioned amongst the greats, but he's a vastly underrated filmmaker. As a gay man, he was also a trailblazer, and his relationship with Billy Daniels was something of an open secret in Hollywood. Working off a script by the tremendous Preston Sturges (who directed multiple films on this very list), Leisen had a great handle on the outrageous material, making a rather ludicrous farce feel completely believable. "Easy Living" is certainly one of the screwiest screwball comedies you can find, with some wonderfully choreographed hijinks — especially the fantastic automat sequence — paired with Sturges' whipsmart dialogue.
The Awful Truth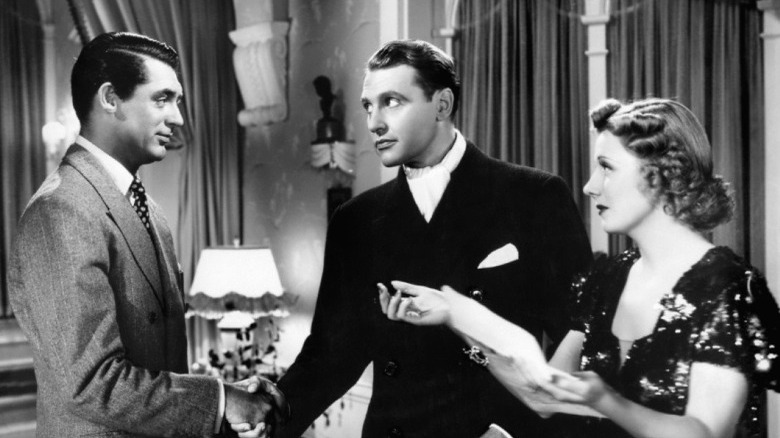 Columbia Pictures
Many great screwball comedies feature people already in a relationship. Helmed by Leo McCarey (who won his first Oscar for Best Director), "The Awful Truth" follows Lucy and Jerry Warriner (Irene Dunne and Cary Grant), a married couple who become increasingly suspicious of one another, and are preparing to file for divorce. A judge agrees for the divorce to be finalized in 90 days. For most people, that might be an acceptable timeframe, but Lucy and Jerry find themselves completely incapable of not meddling in each other's affairs in an effort to sully any attempts at romance. Maybe, just maybe, the Warriners are more in love with each other than they care to admit.
"The Awful Truth" doesn't feel especially emblematic of a screwball, until its wondrous second act where things turn into an out-and-out romp. There are some memorable gags and brilliant animal acting (hiding a hat has never been so exciting), but the real reason "The Awful Truth" stands as one of the genre's finest is its terrific performances. McCarey's film is a remarkable showcase for Grant, and one could effectively argue that this is the film that birthed Grant's suave and debonair persona. His face work alone is jaw-dropping, telling us everything we need to know with a cavalcade of expressions. Dunne is every bit as good, and more than holds her own. The pair feel made for each other, and that's why the hijinks of "The Awful Truth" work so beautifully.
Bringing Up Baby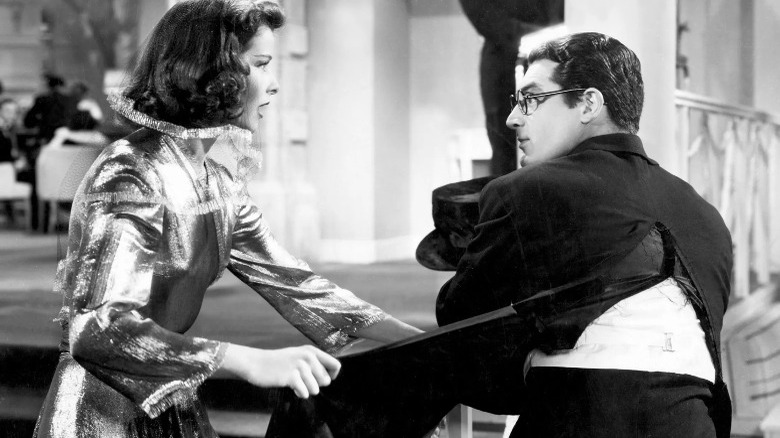 RKO Radio Pictures
Legendary four-time Oscar-winning actress Katharine Hepburn shines as the madcap clutz Susan Vance in Howard Hawks' masterful "Bringing Up Baby." Susan is your prototypical screwball dame: a free spirit, rather absentminded, and delightful, delivered with a knowing wink that someone like Hepburn brings with such effortlessness. David Huxley (Cary Grant) is a scientist attempting to bring together the skeleton of a brontosaurus over the last several years, and finds himself one bone short, causing him great stress. With just hours to go until his wedding, he meets Susan, and his life will never be the same again. I'd say more about the plot, but if you haven't seen it, the surprises of the film are more than worth experiencing naturally. (Let's just say, the titular baby isn't a baby at all.)
The cast is uniformly terrific, and Grant plays the straight-man to Hepburn's kooky heiress, though he certainly gets his moments to shine. The image of his character wearing a fluffy robe while jumping in the air is permanently etched in my mind, and it deserves to be in yours, too.
Midnight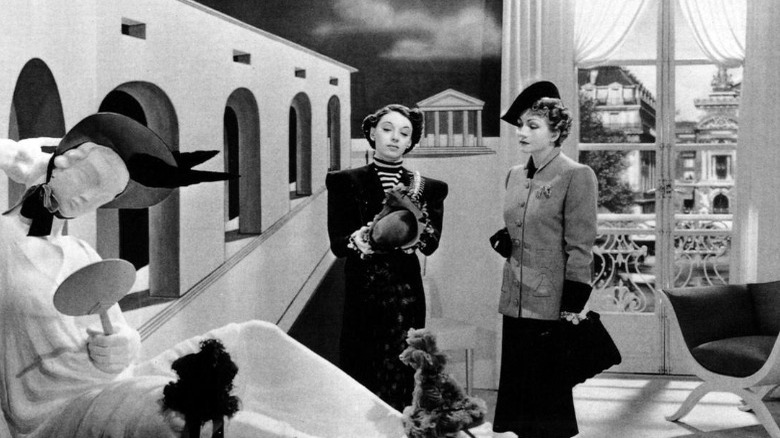 Paramount Pictures
Mitchell Leisen's "Midnight" sees two con artists going head to head and, you guessed it, falling in love. Claudette Colbert stars as Eve Peabody, an out-of-work American showgirl who finds herself stranded in Paris. Eve ends up posing as Hungarian royalty and is utterly bewildered to find a suite in her name at the Ritz. The man behind the scheme is Georges (John Barrymore), who wants Eve's help in breaking up an affair between Jacques (Francis Lederer), the man who helped Eve escape a party, and Helene (Mary Astor), Georges' wife. If it sounds complicated, that's because it is, but the colorful script and steady direction make it easy to follow.
"Midnight" crackles with cleverly suggestive dialogue: "From the moment you looked at me, I had an idea you had an idea!" roars Eve to Georges. The script written by Billy Wilder and Charles Brackett is every bit as socially incisive as it is hilarious. Many screwballs feature large class divides and a look at the extremely wealthy, but few lampoon excessive wealth with as much joyful malice as Leisen's film. "Midnight" is funny and romantic, and ingeniously throws us into its madcap world. When it's over, you'll want it all over again.
The Philadelphia Story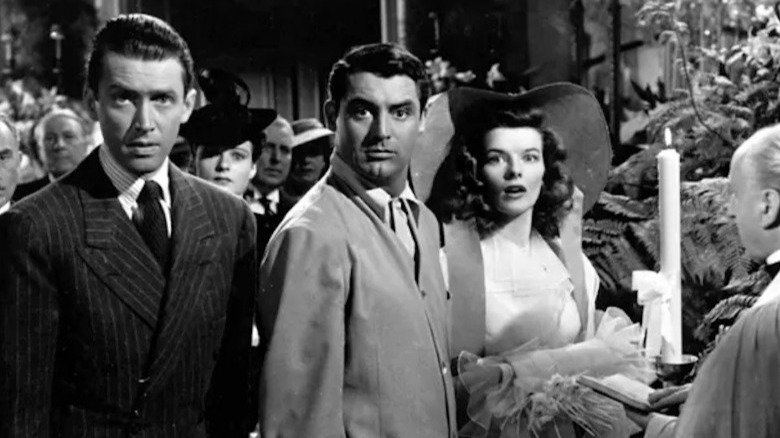 MGM
There's an incredible true story behind "The Philadelphia Story," surrounding the extraordinary star, Katharine Hepburn. In the late '30s, the actress — who had already won her first Oscar — was called "box office poison" by the Independent Theatre Owners Of America. Hepburn didn't sit back quietly at the report. She took things into her own hands by exiting her RKO contract, and, after starring in the hit Broadway play "The Philadelphia Story" — which she helped finance — Hepburn obtained the film rights for the story. She got the rights via an affair with Howard Hughes, which allowed her to take creative control, bringing on dear friend George Cukor to direct, and attaching herself to the lead role. The gamble paid off beautifully, as Hepburn's performance as Tracy Lord is quite possibly her most memorable role of all. As you can see, Hepburn wasn't just an actress; she was a fearless pioneer and trailblazer.
The film stars Hepburn alongside fellow screen legends Jimmy Stewart (who won his only Oscar for the film) and Cary Grant. Fuelled by a wondrous screenplay co-written by Donald Ogden Stewart, "The Philadelphia Story" finds Hepburn's Tracy Lord, a big-time socialite up against her ex-husband (Grant) whose keen to upend her upcoming nuptials, and a tabloid reporter (Stewart) sent to cover the much talked about the wedding. Cukor's film is fast-talking, wise-cracking, and a sumptuous delight that stands as one of cinema's great romances.
His Girl Friday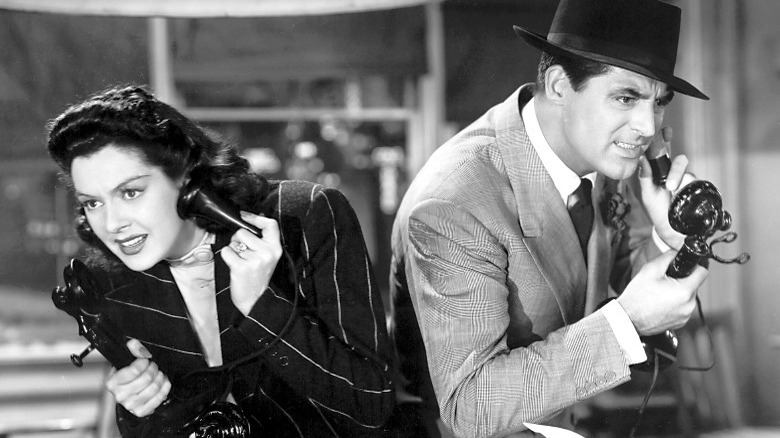 Columbia Pictures
Unfolding over a single day in a busy newsroom, Howard Hawks' terrific screwball "His Girl Friday" is a truly great film. It's a remake of "The Front Page," a 1931 film directed by Lewis Milestone, though Hawks' film turns the lead Hildy Johnson (Rosalind Russell) into a woman, which changes the dynamics of the story for the better. In "His Girl Friday," Hildy is ready to leave news for quiet family life, though her ex-husband and newspaper editor Walter Burns (Cary Grant) wants her back. The film shines with a cacophony of noise; overlapping dialogue and cheeky barbs reign supreme, exacting the feeling of a busy newsroom.
So often women in early Hollywood films go from a career to becoming a doting mother or wife — the end of the Bette Davis picture "June Bride" still makes me nauseous — but in "His Girl Friday," it's the complete opposite. Hildy ultimately rejects her fiancée but still finds love, and continues being a newspaperman (as she puts it). "His Girl Friday" goes so far as to suggest something quite revolutionary for its time: Women don't have to choose between a career and romance, and can indeed have it all.
The Lady Eve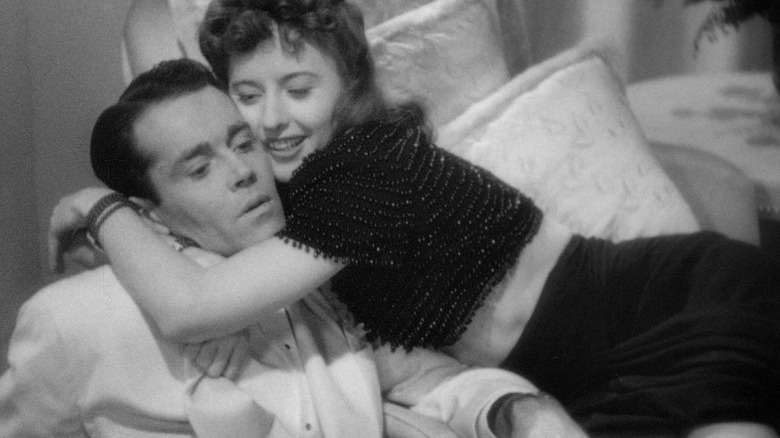 Paramount Pictures
While stars like Carole Lombard and Claudette Colbert took the reigns of the screwball in the 1930s, Barbara Stanwyck helped usher the genre into the 1940s. She's absolutely, positively divine in "The Lady Eve," co-written and directed by Preston Sturges. Despite considerable censorship in 1940s Hollywood, Sturges' sly script manages to subtly circumvent expectations, thereby allowing one of the sexier films of the era to get through censors. Just watch the scene where Stanwyck's Eve brings Charles (Henry Fonda) back to her cabin, and he becomes intoxicated by her perfume. "You ought to be kept in a cage," Eve nimbly remarks as Charles seems unable to keep his hands off of her.
The fiery chemistry between Fonda and Stanwyck informs much of "The Lady Eve." While Charles, heir to a significant fortune, finds himself irrepressibly drawn to Eve, her name is actually Jean Harrington, a con artist looking to make away with his fortune. As Jean, her advances are spurned, but when she returns as Lady Eve, Charles finds himself unable to resist. Famed critic Andrew Sarris famously defined screwball comedy as a "sex comedy without sex," and that's rarely more evident than in "The Lady Eve."
Ball of Fire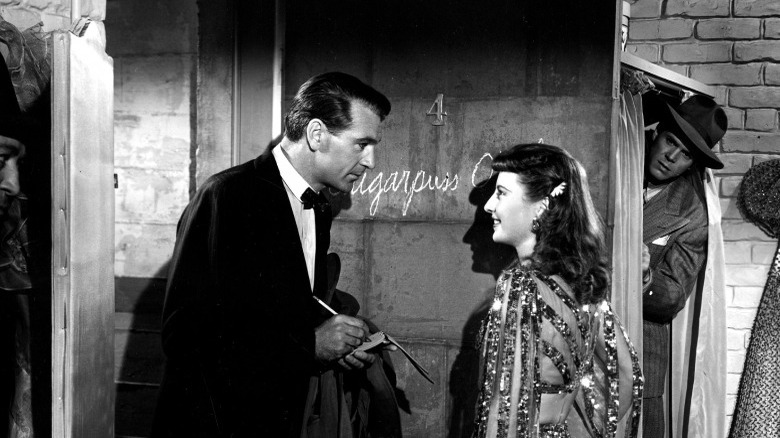 RKO Radio Pictures
Another standout starring Barbara Stanwyck, Howard Hawks' "Ball of Fire" lit up audiences with the wonderful chemistry between Stanwyck and her leading man Gary Cooper. The film follows a group of rather pompous academics who have been holed up for ages working on a definitive encyclopedia. Unfortunately for them, they discover that their work on slang is completely off base, so Professor Bertram Potts (Gary Cooper) heads off to discover what on earth people are saying these days (in the '40s, mind you). On his journey, he meets the nightclub performer Sugarpuss O'Shea (Stanwyck), a name so ridiculous it would fit perfectly in a James Bond movie. O'Shea isn't especially interested in helping Potts, but when the police come looking for her, she moves in with him and his fellow professors to help, and escape police pressure.
A film about language needs great dialogue, and "Ball of Fire" has it in spades. Speaking of O'Shea, Miss Bragg (Kathleen Howard) says, "That is the kind of woman that makes whole civilizations topple!" Bragg is given all sorts of terrific one-liners, including, "If I were the cream for that woman's coffee, I'd curdle." The film was such a success for Hawks and RKO that he used the same plot again in 1948's "A Song Is Born," starring Virginia Mayo and Danny Kaye.
To Be or Not to Be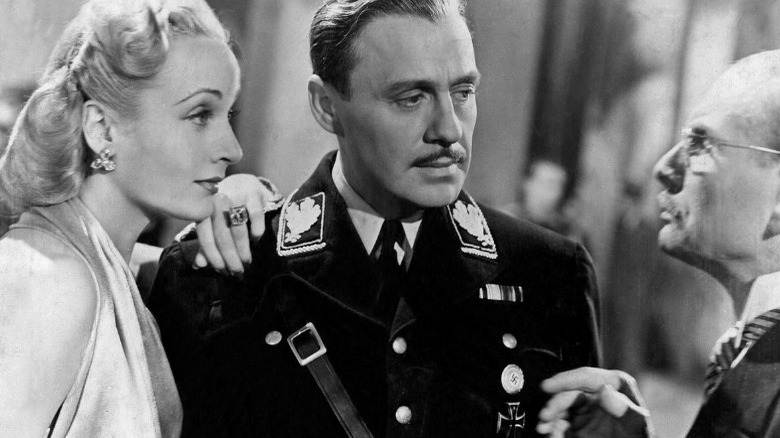 United Artists
Screwball comedies are generally considered light, fluffy affairs that don't require much in the way of introspective thought, and that's certainly a great deal of their charm. In 1942, Ernst Lubitsch gave us "To Be or Not to Be," the darkest screwball you can find. The film takes place in Nazi-occupied Warsaw, where an acting troupe, led by Maria (Carole Lombard) and Joseph Tura (Jack Benny), find themselves at the center of an effort by Polish soldiers to take down a German spy. While it doesn't sound like the setup of your typical genre fare, "To Be or Not to Be" is indeed thoroughly screwy, with brilliantly funny dialogue and a luminescent performance from Lombard, along with a career-best turn by Benny.
"To Be or Not to Be" is genuinely brave, personal, and heroic filmmaking. The film openly makes a mockery of Nazi Germany and even Hitler himself in the heat of World War II. The film was directed by Ernst Lubitsch, a German Jewish filmmaker who left Germany to make films in Hollywood in the early 1920s. It was Lubitsch's success in America that led to many other German artists leaving Germany entering Hollywood, especially with the rising threat of Nazism. "To Be or Not to Be" certainly deserves a place alongside Charlie Chaplin's "The Great Dictator" as some of the most daring films made in America during the war. It doesn't hurt that it's also darkly comic, romantic, hilarious, and completely winning.
The Palm Beach Story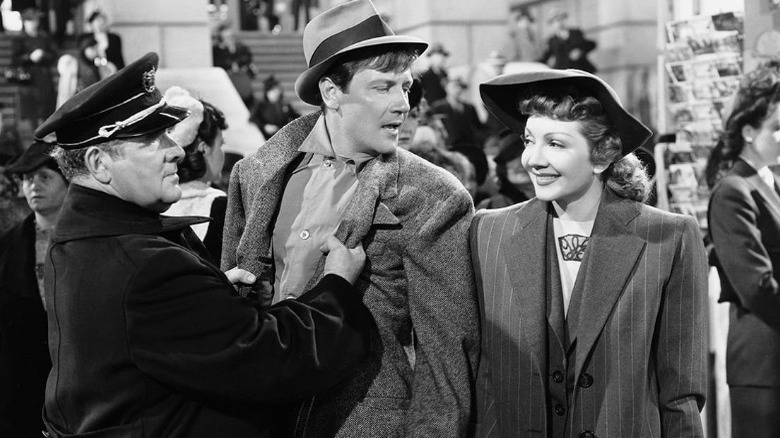 Paramount Pictures
Preston Sturges consistently delivered some of the funniest and most sophisticated comedies you could dream of. The year 1941 was an especially magnificent time for the director, having released two masterpieces: "The Lady Eve" and "Sullivan's Travels." His next film, 1942's "The Palm Beach Story," may not get as much recognition these days as his 1941 classics, but it's every bit as deserving.
The film follows Gerry (Claudette Colbert) and Tom Jeffers (Joel McCrea), five years into their marriage. They are no longer the starry-eyed, lovestruck couple they once were, and find themselves behind on bills and unable to pay rent. When their debts are cleared by Wienie King (Robert Dudley), it forges the opportunity for Gerry to finally divorce Tom, as they'd simply be better off without each other.
In wonderful screwball fashion, this leads to a tremendously zany and breathlessly funny 88 minutes. Gerry meets the incredibly wealthy John Hackensacker III (Rudy Vallée) on a train — after some stunning and farcical hijinks that must be seen to be believed — and she sees both an opportunity to fall in love, and get her soon-to-be-ex-husband the money he needs to fund his dream project. The cast is uniformly outstanding, though special mention must go to Mary Astor, whose fast-talking, man-loving Princess Centimillia is delightful. The film features a frank look at financial struggles and ends with quite possibly the most audacious and outrageously unexpected ending, that simultaneously feels completely unbelievable yet entirely fitting.
Some Like It Hot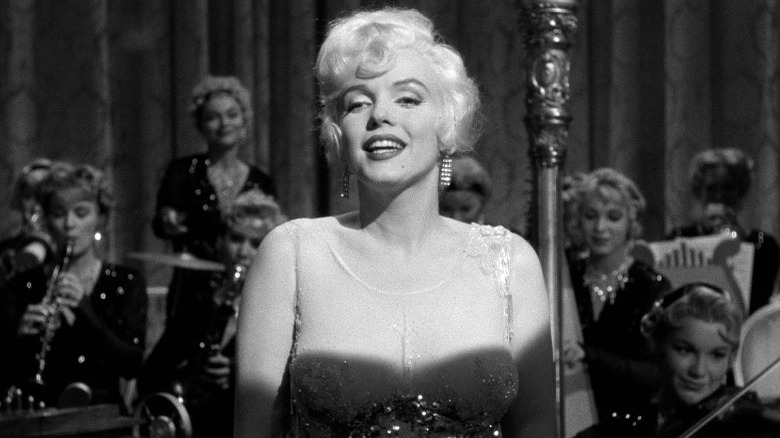 United Artists
Though the screwball comedy was at its peak from the mid-1930s through the 1940s, Billy Wilder's glorious romp, "Some Like It Hot," released in 1959 and proved the genre was far from dead. The setup is well known: two male musicians (Jack Lemmon and Tony Curtis) witness a hit and disguise themselves as women to hide in an all-female band. It's there they meet Sugar Kane (Marilyn Monroe), and fall head over heels.
"Some Like It Hot" is outrageous in all the best ways, featuring plenty of cross-dressing, and is rife with subtle and explicit references to homosexuality. It's a legitimately groundbreaking film, and one I couldn't believe was made during the era of the Hays Code, in which films had to follow a remarkably strict code of conduct. Homosexuality, amongst other things, was explicitly outlawed. Turns out, "Some Like It Hot" actually played a large role in decimating the power of the Hays Code, which had been weakened somewhat already since its introduction in 1934. Hollywood's relentless self-censorship was coming to an end, and the shift to the MPAA rating system finally came in 1968. To top it all off, "Some Like It Hot" has the single best ending in cinematic history, which, in case you haven't had the immense pleasure of seeing the film before, we won't spoil here.
What's Up, Doc?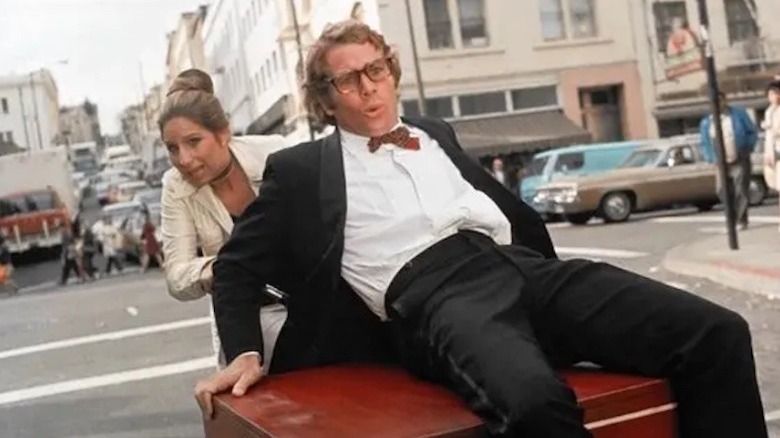 Warner Bros.
A loving homage to the screwballs of yesteryear, Peter Bogdanovich's "What's Up, Doc?" is a comic delight. The film wears its influences on its sleeves, including the 1938 classic, "Bringing Up Baby." It should come as no surprise that Bogdanovich would be interested in making a film like this, as his second feature, "The Last Picture Show," and indeed his entire filmmaking career is indebted to movie history.
Barbra Streisand is perfection in "What's Up, Doc?" As Judy, she's a perfect screwball dame, and there's no doubt she'd have fit in perfectly alongside Claudette Colbert and Carole Lombard in the 1930s. Her chemistry with co-star Ryan O'Neal is scintillating, and from the moment Judy and Howard (O'Neal) meet in a San Francisco gift shop, it's clear there's something there, even as they discuss something as blase as igneous rocks. The film is replete with high-octane stunts, the highlight of which finds the pair careening down San Francisco streets in a Chinese dragon. A dizzying throwback that manages to feel original, Bogdanovich's "What's Up, Doc?" is a beautiful reminder of the staying power of the screwball comedy.