The 20 Best Western Movie Actors Ranked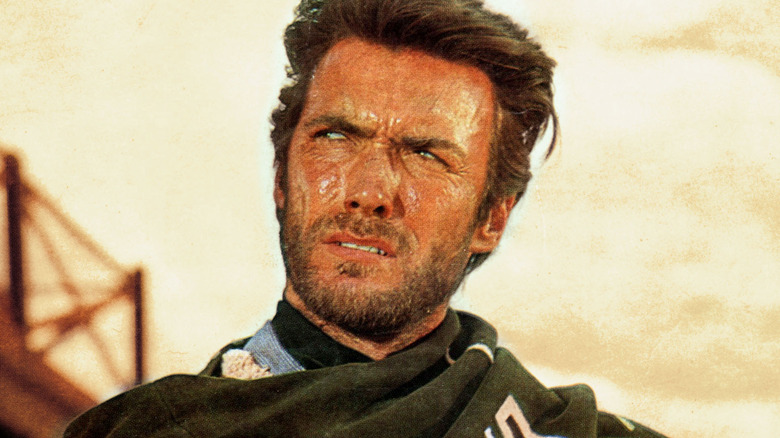 United Artists
The Western movie genre relies on the presence of memorable characters. Early Westerns presented clear-cut morals with instantly identifiable heroes and villains, as the genre first began to emerge in the early 20th century within silent film reels. While these Westerns were characterized by their more traditional depictions of mercenaries, lawmen, and bounty hunters, the genre later became diversified through the influence of other genres. Subgenres such as space westerns, spoofs, neo-noirs, and acid Westerns have proliferated over the decades.
These expansions also allowed more diverse voices to lay claim to these stories. Early Westerns have since been criticized for their disrespectful depictions of Native Americans, women, and Black characters, and modern films have helped rectify these past errors by highlighting underrepresented voices (like Netflix's "The Harder They Fall," in which Jonathan Majors plays a version of real-life Black cowboy Nat Love). Western films can be hit and miss in their historical accuracy; some take meticulous time to recreate historical events, while others are set far from any semblance of reality.
Westerns are often critically acclaimed, but many of the greatest Westerns ever were almost entirely shut out of their awards cycles. The early Western "Cimarron" took home the Academy Award for Best Picture in 1931, and it would take another six decades before "Dances With Wolves" and "Unforgiven" also won the top prize.
Whether they're heroes, villains, or walk the morally grey line in between, great actors bring these exciting tales to life. Here are the twenty great Western movie actors ranked.
20. Ed Harris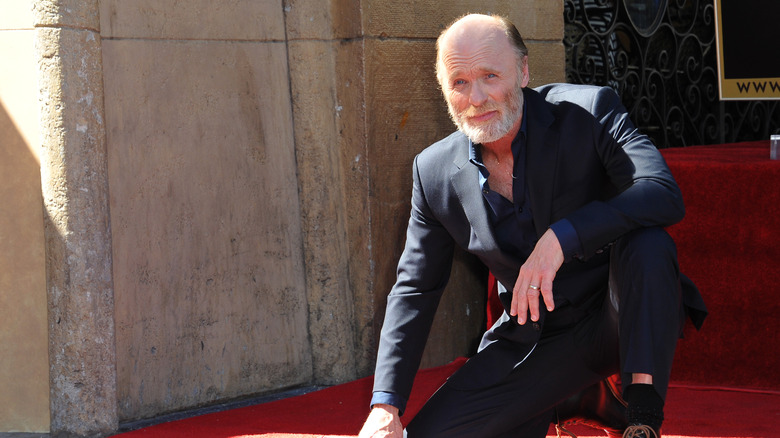 Featureflash Photo Agency/Shutterstock
Ed Harris is among the most respected character actors working today. He is frequently cast as stern figures of authority, but he's incredibly flexible in the types of projects he pursues. He launched his forty-year career with a performance as the selfish smuggler Hotchkiss in the Charles Bronson Western "Borderline." Harris stepped behind the camera for only the second time with 2008's Western "Appaloosa," in which he and Viggo Mortensen star as hired guns called in to protect a small town from a ruthless killer (Jeremy Irons).
In recent years, Harris reinvented one of Yul Brynner's most beloved characters. HBO's series adaptation of "Westworld" introduced Harris as the new Man in Black, but in a twist on the mythology, the fearsome villain is not a robot. One of the senior investors in the park, William ruthlessly dismantles with the android hosts as he tracks down Westworld's deepest secrets.
19. Lee Van Cleef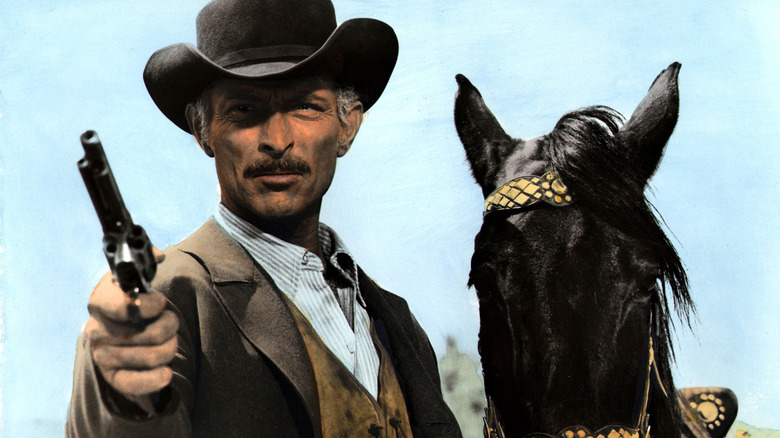 United Archives/Getty Images
Lee Van Cleef's fearsome performance as the purely villainous member of the central trio in Sergio Leone's "The Good, The Bad, and The Ugly" is one of the greatest embodiments of pure evil ever depicted on screen; the character Angel Eyes isn't trying invoke audience sympathies, and Lee Van Cleef simply had a blast chewing the scenery ahead of the final shootout. It allowed him to perfect a role he had debuted in the previous film in Leone's trilogy, "For A Few Dollars More," where Van Cleef and Eastwood's characters were forced into a shaky alliance that ultimately goes awry.
Outside of his most recognizable role, Van Cleef had a significant presence in spaghetti Western cinema. He and John Phillip Law teamed up to play morally flexible gunslingers hired to track down a gang of bank robbers in the 1967 classic "Death Rides A Horse," showing that Van Cleef could play an (atypical) leading man. Van Cleef landed the title role of the Western heist thriller "Sabata" in 1969, a darker film about the aftermath of a bank robbery. He returned for its 1971 sequel "Return of Sabata."
18. Alan Ladd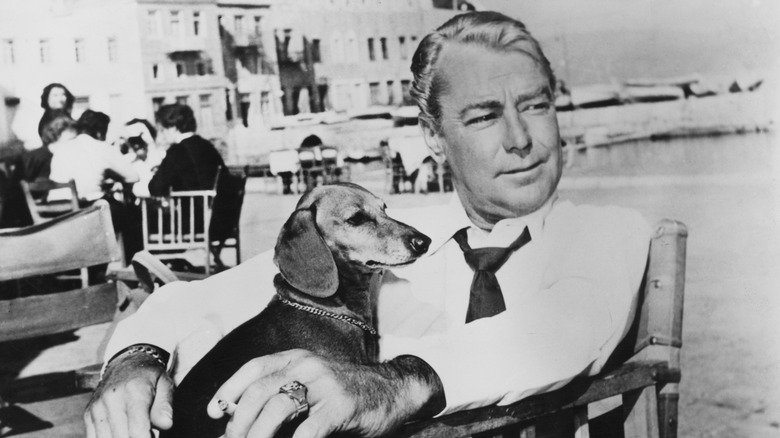 Keystone/Getty Images
One of the most popular stars of the '40s and '50s, Alan Ladd grew into a household name thanks to his frequent roles in exciting adventure Westerns. Ladd's old-fashioned charisma made otherwise forgettable Westerns like "The Light of Western Stars," "Whispering Smith," "Branded," and "Red Mountain."
This early work prepared Ladd for a role in one of the greatest Westerns ever made. He starred as the titular character in 1953's "Shane," which follows a retired gunslinger who is drawn back into his former profession after he falls in love with the beautiful home keeper Marian Starrett (Jean Arthur). Shane bonds with Marian's young son, Joe (Van Heflin), but he's spared only a few moments of intimacy with the family after the ruthless cattle baron Rufus Ryker (Emile Meyer) begins threatening local villagers. Ladd's sensitive dramatic turn created a realistic romance, in a film acclaimed for its patient pacing and gorgeous cinematography. Joe's final cries for Shane to return are absolutely heartbreaking.
17. Kurt Russell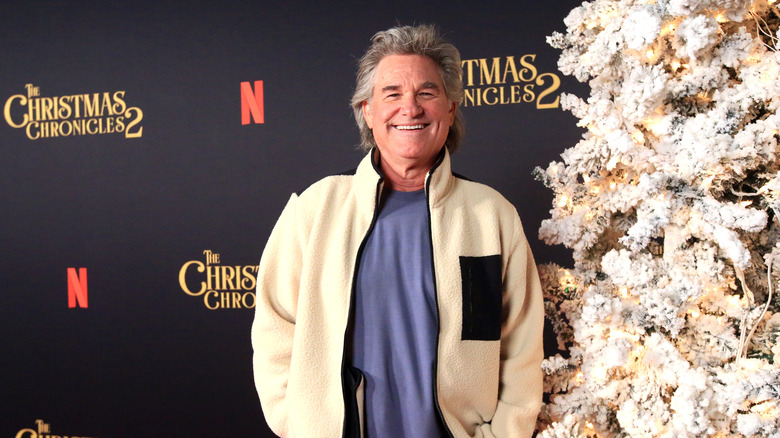 Jesse Grant/Getty Images
Kurt Russell's roles in the John Carpenter films of the 1980s reinvented the grizzled anti-hero, and in many ways characters like "Escape From New York's" Snake Plissken and "Big Trouble In Little China's" Jack Burton felt plucked right out of an old school Western. It came as no surprise that Russell was a perfect match for Western material, and he delivered one of the most memorable turns in the ensemble for 1993's "Tombstone" as noble lawman Wyatt Earp.
Russell continued to shape the modern leading man with roles in experimental Westerns that challenge preconceptions about the genre. 2015's "Bone Tomahawk" combines Western, horror, mystery, fantasy, and exploitation influences into a lurid cannibal thriller, and Russell's gripping performance as the veteran Sheriff Franklin Hunt helped the film retain its emotional undercurrent amidst the goriest moments. 
16. Buster Keaton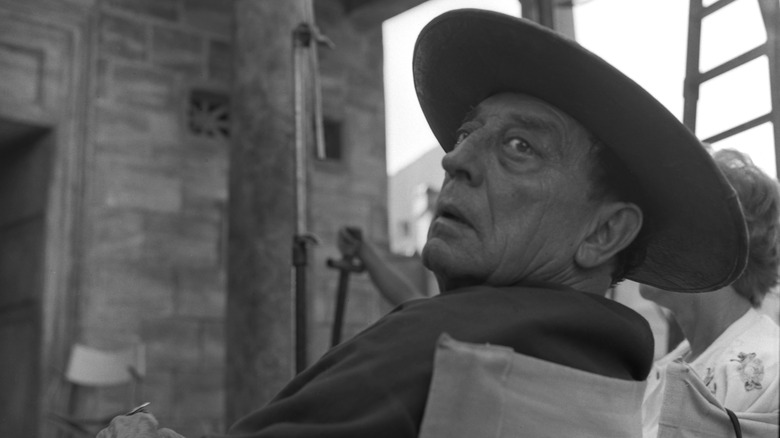 Archivio Cameraphoto Epoche/Getty Images
In many ways, Buster Keaton was the first movie star. Before even Charlie Chaplin became a household name, this star of silent film serials became renowned for performing incredible physical feats in the early cinema of the 1920s. Many of Keaton's early projects were Western-centric. 1918's "Out West" satirized current Western fables in all of 25 minutes, and 1925's "Go West" was one of the first feature-length comedy Western films.
Keaton's most famous role of all-time was in the Western-era war epic "The General," in which he starred as Johnnie Gray, a lovesick Western & Atlantic Railroad train engineer who watches the Civil War break out. Distracted by his romantic yearnings, Gray abstains from his responsibilities and watches the train slip away, leading to a frantic 75 minute car chase. "The General" is as relentlessly paced as a modern action film (comparisons to "Mad Max: Fury Road" could be drawn), and it's still hilarious to watch Keaton blunder his way through Western iconography in the madcap adventure.
15. Jeff Bridges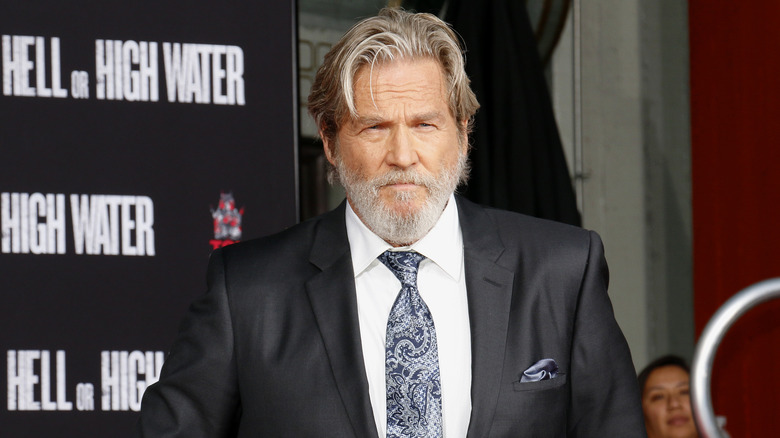 Tinseltown/Shutterstock
One of the most versatile actors in history, Jeff Bridges first made his screen presence known thanks to a Western-adjacent role. In Peter Bogdanovich's landmark 1971 classic "The Last Picture Show," Bridges appears as a "good old-fashioned southern boy" who grows up idolizing western heroes at his local multiplex. It would only be a few years later when Bridges got the chance to star alongside a Western icon when he was paired with Clint Eastwood in the 1974 modern Western crime caper "Thunderbolt and Lightfoot."
Bridges soon earned an iconic Western status of his own. "Rancho Deluxe" and "Hearts of the West" showed a more comedic side to the Old West, and some of Bridges' appearances in iconic troubled productions "Heaven's Gate" and "Cutter's Way" deserve another look from Western fans. Bridges can make any role his own, and when taking on John Wayne's Oscar-winning role of Rooster Cogburn in the Coen Brothers' remake of "True Grit," he gave an instantly charismatic performance that topped The Duke's famous work.
14. Paul Newman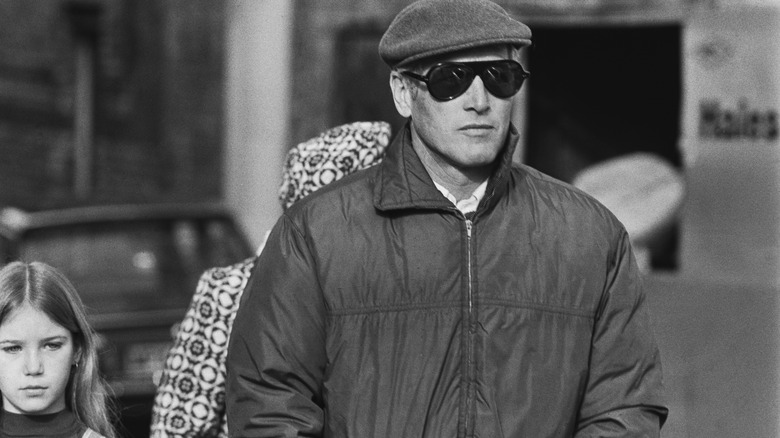 Douglas Doig/Getty Images
Westerns are just one genre that Paul Newman spotlighted in his incredible career, but they're the source of some of his finest performances. Newman was known for the emotional authenticity he brought to his characters; the dramatic stakes felt more realistic as a result of his nuanced approach to character arcs. 
Newman's Westerns tended to fall on the more serious side. In 1963, he starred as the titular character "Hud" in an adaptation of Larry McMurtry's beloved novel "Horseman, Pass By." McMurtry was known for his willingness to question traditional notions of masculinity, and Hud is a toxic character who rebels against his strict father. Newman would bring the same dramatic sensitivity to revisionist Westerns "Hombre," "The Life and Time of Judge Roy Bean," "Hombre," and "Buffalo Bill and the Indians," but he also co-starred with Robert Redford in the buddy adventure "Butch Cassidy and the Sundance Kid," one of the most entertaining Westerns ever made.
13. Henry Fonda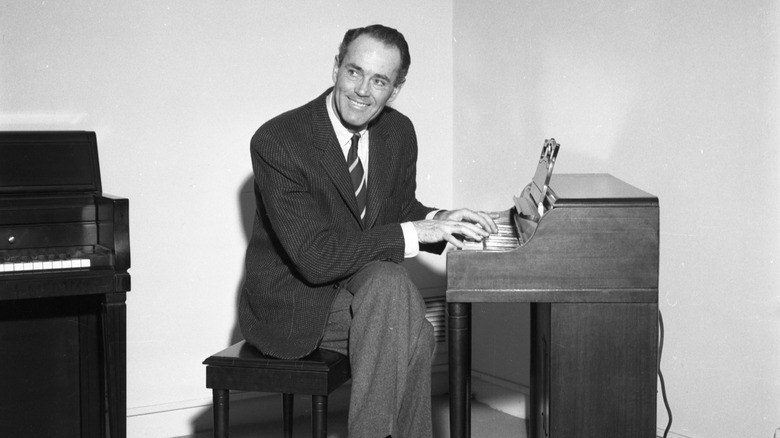 Donaldson Collection/Getty Images
Henry Fonda is one of the most likeable movie stars in history; his steely blue eyes and nuanced line delivery tied him to complex heroic roles throughout his lengthy five-decade career. Westerns had gained greater attention from audiences in the late 1930s following the success of John Wayne in "Stagecoach" and James Stewart in "Destry Rides Again," but Fonda's experience was mostly in straight dramas, and he wasn't initially considered a likely choice to play a gunslinger.
That quickly changed, as 1943's "The Ox-Bow Incident" gave him one of his best roles as a cowboy suspected of murder. Compared to the more action-centric crowd pleasers of the era, "The Ox-Bow Incident" was novel in its dramatic depiction of an ethical debate about law and justice. Director John Ford utilized Fonda's gravity within several Western classics, including "Drums Across The Mohawk," "My Darling Clementine," and "Fort Apache."
Fonda challenged his typically heroic persona with more complex roles in darker Western films. He starred as the selfish bounty hunter Morgan Hickman in Anthony Mann's neo-Western "The Tin Star," and his performance as the lethal sociopath Frank in "Once Upon A Time In The West" shocked audiences with its savagery.
12. Sam Elliot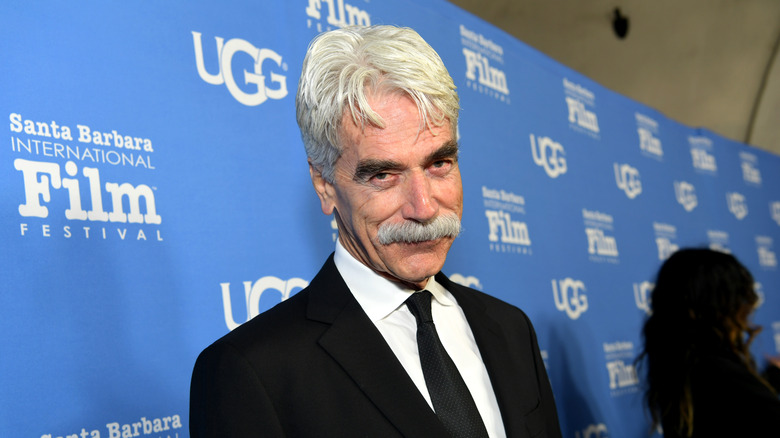 Emma Mcintyre/Getty Images
Sam Elliot is one of the greatest living legends in the film industry. Elliot's deep southern drawl, imposing physical presence, and knack for wry sarcasm allowed him to easily step into the role of cowboy characters, and he's made Western roles an integral part of his filmography from the very beginning. Elliot's star power grew thanks to critical early roles in "Butch Cassidy and the Sundance Kid" and "The Way West."
It wasn't long before he became a leading man, and while films like "Molly and Lawless John," "The Quick and the Dead," and "The Shadow Riders" might not be classics, Elliot's gruff personality made them engaging. Elliot was so synonymous with the archetype that he even brought it to non-Western films, including his iconic roles as Patrick Swayze's grumpy mentor in "Road House" and the narrator in "The Big Lebowski."
1993's "Tombstone" featured one of the greatest ensemble casts of any Western in history, but the trio of Earp brothers played by Elliot, Bill Paxton, and Val Kilmer are among the most engaging characters in the film. One of Elliot's best recent roles was in the 2017 dramedy "The Hero," in which he plays a former Western movie star reckoning with the end of his career.
11. Walter Brennan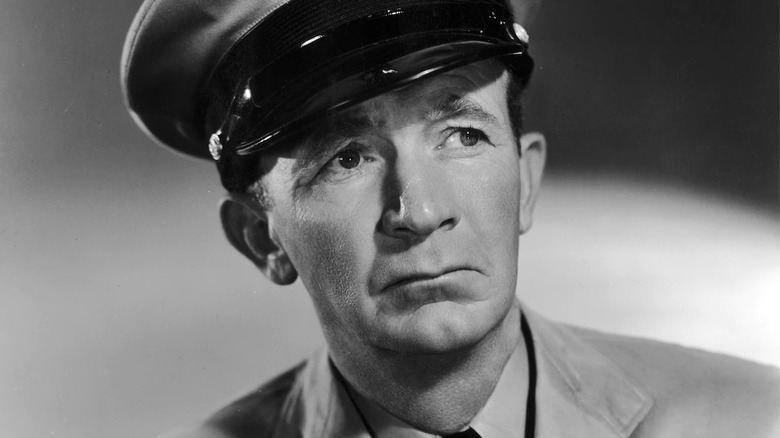 Turner Classic Movies
Supporting actors are just as important to Western films as the noble leading men. Walter Brennan is one of the signature supporting players in Western film history, and one of only three male actors to win three Academy Awards. Brennan's versatile filmography ranged from early appearances in the first sound production of the 1920s to the end of the Golden Age in the 1960s.
Brennan won his trio of award winning performances in films that represented different aspects of both the Western genre and his versatility as a performer. Howard Hawks' 1936 dramatic period piece "Come And Get It" cast him as a widowed logger in a poor Wisconsin community. The 1938 romantic adventure "Kentucky" saw him playing an idiosyncratic older horse trainer, and the iconic 1940 action-adventure "The Westerner" showed him as the villainous Judge Roy Bean taking on Gary Cooper's heroic lead.
Brennan worked with director Howard Hawks and John Wayne, and delivered a moving performance as the loyal trail hand Nadine Hoot in 1948's "Red River." Brennan also had great chemistry with both Wayne and Dean Martin in Hawks' 1959 Western classic "Rio Bravo," which follows three brave lawmen that guard a dangerous prisoner as they await assistance from local authorities.
10. Marlon Brando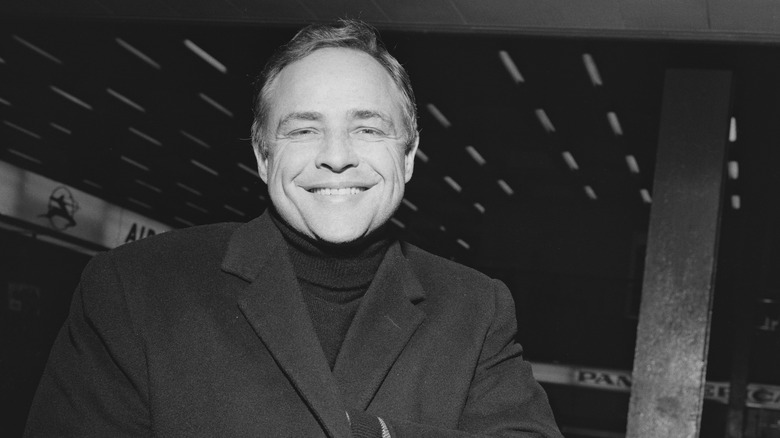 Dove/Getty Images
Marlon Brando is unquestionably one of the most important movie stars and greatest actors of all-time. Brando shaped the modern perspective of the leading man, developing the method approach through his early work in theater before transitioning to cinemas. Elia Kazan's 1954 masterpiece "On the Waterfront" brought a new level of emotional authenticity to storytelling that shocked audiences, and Brando would only continue to perfect his craft later within his career with "Sayonara," "The Godfather," "Last Tango in Paris," and "Apocalypse Now."
Brando only starred in a few Westerns, but they were critical to his career and showed the same careful dedication that he always brought to the screen. Brando was cast as the lead in Stanley Kubrick's planned Western epic "One Eyed-Jacks," and after the famous filmmaker left the project over a creative dispute, Brando stepped into the director's chair. He became energized with the idea of crafting a more realistic, emotionally impactful Western adventure about a betrayal between lifelong friends.
Brando's "Kid Rio" is left for dead by his bank robber partner, "Dad Longworth," (Karl Madden), and he's imprisoned (the names are perhaps an unsubtle hint at Brando's own issues with his father). "One Eyed-Jacks" was intended as a dark epic, but significant studio reedits and reshoots were issued by Paramount Pictures, and as a result Brando never directed another film after it hit theaters in 1961. He still returned to the genre with subsequent performances in "The Appaloosa" and "The Missouri Breaks."
9. Charles Bronson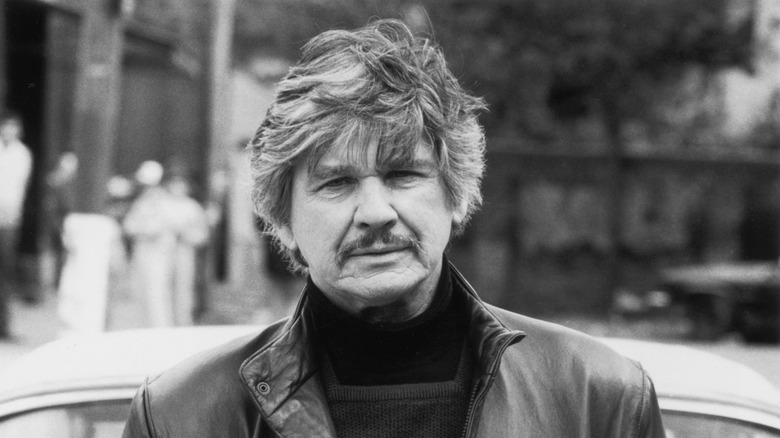 Express Newspapers/Getty Images
It's hard to talk about vigilante stories without mentioning Charles Bronson. Best known for his role as a rogue law enforcement officer in the "Death Wish" franchise, Bronson was always an ideal choice to play a hardened man coping with unimaginable loss and seeking a path of vengeance. Bronson showed flexibility within his "tough guy" roles, as his persona could be translated to any genre. He particularly excelled with his work in Westerns.
Bronson's most famous Western role was as the wandering bounty hunter known simply as "Harmonica" in Sergio Leone's 1968 masterpiece "Once Upon A Time In The West." One of the greatest films ever made, "Once Upon A Time In The West" reflected on the end of the Western era as an intercontinental railroad made the practices of cowboys irrelevant. Henry Fonda was unusually cast against type as the film's ruthless antagonist, and Bronson was far from a traditional hero. His stoic performance was perfectly suited for Leone's slow, methodical pacing, and his use of a harmonica was cleverly integrated within Ennio Morricone's incredible musical score.
Bronson gave dramatic weight to lighter fare like "The Magnificent Seven," as his character Bernardo O'Reilly struggles after a series of professional setbacks and is in desperate need of cash. Even when he wasn't the lead, Bronson complemented major Western stars with supporting performances in their greatest films. He starred alongside Burt Lancaster in "Apache," Gary Cooper in "Vera Cruz," and Rod Steiger in "Run of the Arrow."
8. Steve McQueen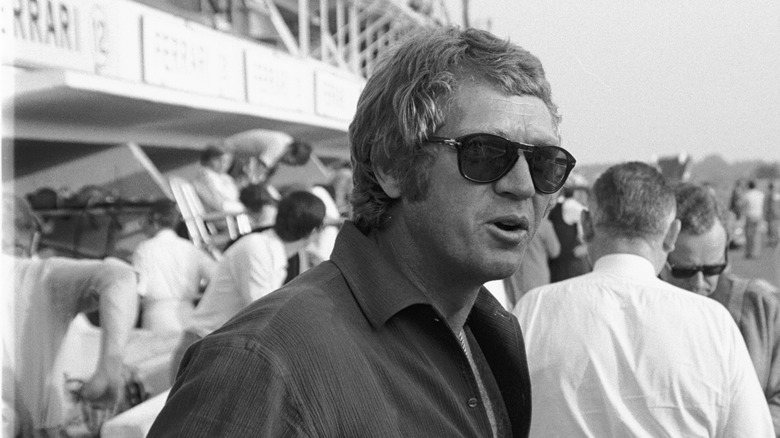 Klemantaski Collection/Getty Images
No one embodies cinematic charisma quite like Steve McQueen, also known as the "King of Cool." McQueen starred as cinematic antiheroes throughout the rise of the counterculture movement of the '60s that swept the industry, and his grim cynicism was distinct from the more prim and proper heroes of the Golden Age of Hollywood. The '60s saw McQueen frequently appearing in crime movie classics like "Bullitt," "The Thomas Crown Affair," "The Great Escape," and "Papillion," but Westerns made up an important part of his filmography.
One of the earliest indicators of McQueen's screen potential was his breakout role as the bounty hunter John Randall on the Western television series "Wanted: Dead or Alive." It was a different era, in which television and film weren't treated with the equivalency they are today, but McQueen's notable performance caught the attention of major Hollywood studios. His prominence in cinematic westerns grew thanks to his fan-favorite role as the aloof drifter Vin Trimmer, one of the heroes of "The Magnificent Seven."
McQueen's gruff, rarely verbose persona made him a perfect fit for darker Western projects, and he delivered a layered performance in the 1966 western thriller "Nevada Smith." The titular character begins as idealistic, but grows hardened after his parents are murdered. In his later career, McQueen helped shape the modern era neo-western with roles as the hooligan Boon Hoggenbeck in "The Reivers," former rodeo champion Junior Bonner in "Junior Bonner," and the titular aging gunman in "Tom Horn."
7. Eli Wallach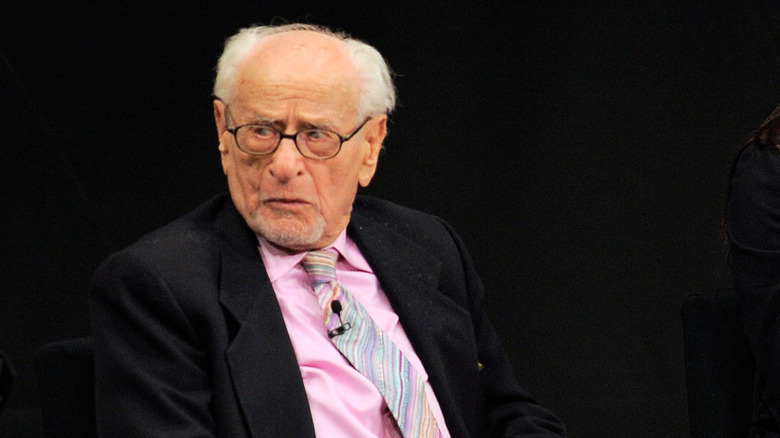 Jemal Countess/Getty Images
Western films are successful in showing the moral grayness of humanity, and as a result not every character fits the traditional mold of a straight-laced hero or villain. It gives actors more freedom to have nuanced roles and gives "character actors" a chance to participate. There are few character actors in film history more eclectic in their role selection than Eli Wallach, whose seven decades in Hollywood saw him working within nearly every genre.
Wallach is tied to some of the most famous Westerns in history, as he represents the "ugly" side of the central trio in Leone's classic "The Good, The Bad, and The Ugly." His character, Tuco Benedicto Pacífico Juan María Ramírez, truly represents a centerpoint between Clint Eastwood's nobel hero "Blondie" and Lee Van Cleef's remorseless assassin "Angel Eyes;" Tuco would never still out his neck to protect the innocent, but he doesn't harbor the same capacity for violence that "Angel Eyes" has. Tuco and Blondie's reluctant alliance is one of the most entertaining aspects of the beloved classic.
"The Good, The Bad, and The Ugly" wasn't Wallach's only great Western role, as he previously gave a memorable villainous turn as the wicked bandit chief Calvera in "The Magnificent Seven." He also appeared for a key role within the ensemble of "How The West Was Won" for John Ford, and popped up in lesser-known favorites such as "Mackenna's Gold," "Long Live Your Death," and "Shoot First... Ask Questions Later."
6. Franco Nero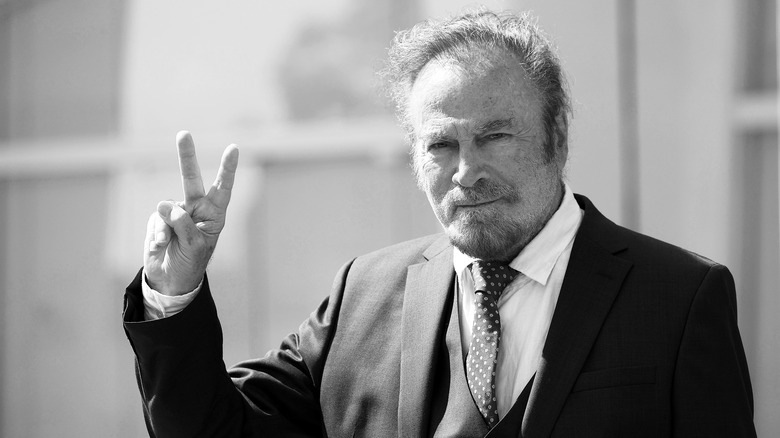 John Phillips/Getty Images
It takes a singular performance to launch an icon that permeates to this day, but that's exactly what Italian actor Franco Nero did with his incredible performance in the 1966 spaghetti western "Django." The grizzly, stylized action thriller starred Nero as a former Union soldier traveling between border towns during the immediate aftermath of the Civil War. Django comes to the aid of peaceful villagers caught in the midst of a gang war, and he ruthlessly dispatches with countless villains.
"Django" was distinguishable for its violence and hyper-kinetic editing, notably different from the Leone films and other spaghetti westerns of the time. Nero returned to the role for the official sequel "Django Strikes Again" in 1987, but by that point the character had already been adopted by many other actors. As a result of the lack of copyright restrictions in the Italian film industry, other filmmakers used the name for their projects; some, such as 1967's "Django Kill ... If You Live, Shoot!" starring Thomas Milian, became classics in their own right. "Django Strikes Again" is ironically one of the lesser films featuring the character, even if Nero's performance is just as engaging. Quentin Tarantino is a massive Western movie buff and adored the original "Django," casting Nero in a cameo role in 2012's "Django Unchained."
Outside of his signature role, Nero starred in other spaghetti Westerns as similarly grim characters. He had notable roles in "Massacre Time," "Texas, Adios," and "The Mercenary."
5. Yul Brynner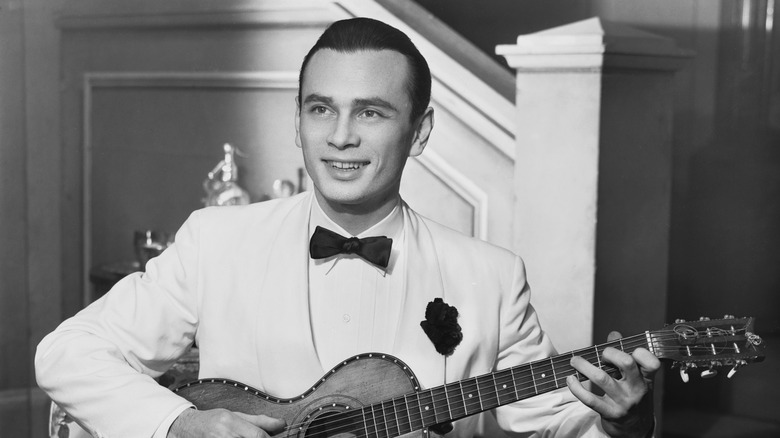 Denis De Marney/Getty Images
As the Western genre evolved, veteran actors with versatile filmographies began adopting western roles and depicting more complex characters. The legendary Russian-American stage performer Yul Brynner took Hollywood by storm with his translation of stage material to the big screen, and he earned significant praise for his roles in "The King and I," "The Ten Commandments," and "Anastasia." Brynner brought the same complexity to the Western characters he embodied.
Brynner launched his Western persona in the 1960 classic "The Magnificent Seven." Inspired by Akira Kurosowa's epic shogun masterpiece "Seven Samurai," the crowd-pleasing "Magnificent Seven" united some of the greatest Western stars of the era in a story following a band of heroes who protect a small town from cruel raiders. Brynner was the only original cast member to return for the 1966 sequel "The Return of the Seven." Brynner used this breakout western role as a kickstarter for a new phase in his career, and he starred in elevated Westerns including "Invitation to a Gunfighter," "Kings of the Sun," "Villa Rising," and  "Adiós, Sabata."
Ironically, Brynner gave his most iconic Western performance in a science fiction film. 1973's "Westworld" depicted a futuristic theme park in which park guests can live out their violent and sexual fantasies in artificial environments, interacting with humanoid androids called "hosts." In the "Westworld" park, Brynner's fearsome gunslinger goes rogue and begins actually harming the park residents, leading other hosts in a revolution. 
4. James Stewart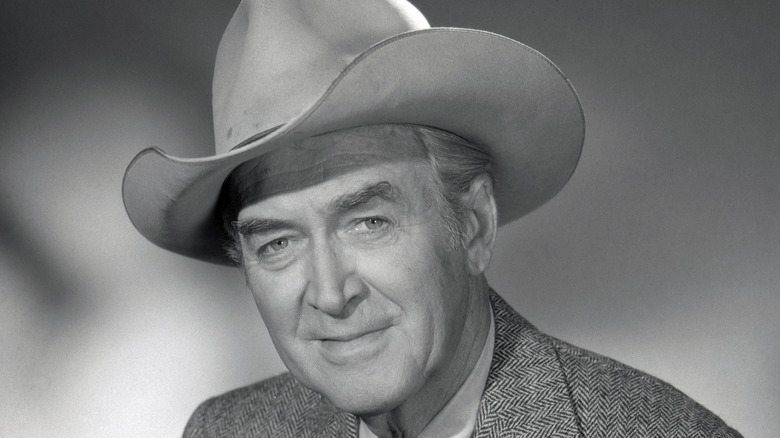 Icon And Image/Getty Images
James Stewart is one of the greatest actors of all-time, and his screen roles aren't only defined by his work in Westerns. Stewart frequently appeared in romantic comedies, holiday favorites, and the thrillers of Alfred Hitchcock, but he delivered some of his most interesting and dynamic performances in classic westerns.
The same year John Wayne showed a gritty reality to the western in "Stagecoach," Stewart starred in the much more comedic "Destry Rides Again." He played a recently promoted deputy sheriff who attempts to bring justice to a small town without wielding a gun. However, after his years of service within World War II, Stewart's perspective was hardened and he began taking on darker screen roles. Stewart worked alongside director Anthony Mann on grittier Westerns. 1950's "Winchester '73" explored the path of violence that just one weapon could have, and the pair continued to collaborate with "The Naked Spur," "Bend of the River," "The Far Country," and "The Man From Laramie."
A lifelong friend of Wayne's, Stewart shared the screen with his fellow icon in a pair of John Ford classics in 1962. "The Man Who Shot Liberty Valance" cast Ford as an old-school sheriff adverse to politics, and Stewart as an idealistic senator attempting to civilize a small town. They also appeared together in "How The West Was Won." When Wayne gave his last performance in "The Shootist," Stewart gave a touching cameo performance in an early scene as his doctor.
3. Gary Cooper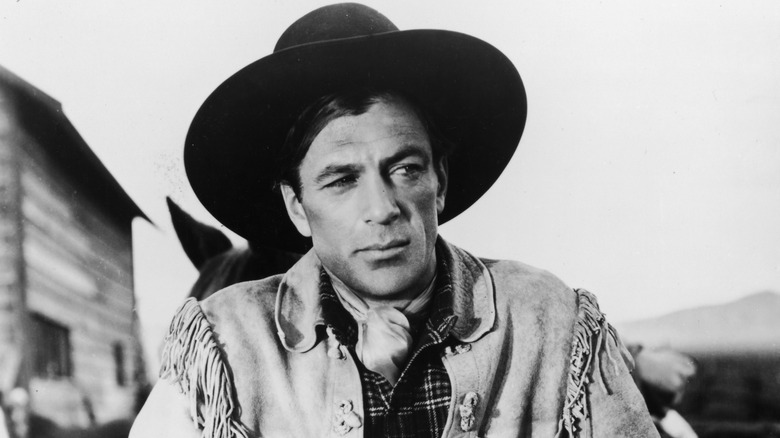 Hulton Archive/Getty Images
Gary Cooper was one of the most beloved stars of Old Hollywood, renowned for his warm presence and dramatic grace in bringing heroic characters to life. Filmmaking evolved throughout Cooper's lifetime, and he was a familiar face for early moviegoers from his days in the silent era to the end of the Golden Age of Hollywood. Cooper's filmography is extensive and encapsulates many genres, but his work within Western cinema is particularly impressive.
Although "Stagecoach" is often cited as the western that kicked off the modern era, the genre was popular even earlier than that. Cooper helped to craft the definitive archetype of a noble sheriff with the Westerns of the 1920s and '30s, including classics such as "The Vanishing American," "Riders of the Purple Sage," "The Trail Rider," "The Drug Store Cowboy," and "The Texan."
While John Wayne captured the gruffness of the archetypal gunslinger, Cooper gave more sensitive dramatic performances. The two were frequently in competition. A year after "Stagecoach," Cooper's "The Westerner" showed a less action-centric plot, following the noble Cole Harden as he fights for the rights of local settlers. Cooper won an Academy Award ffor his performance as Marshall Will Kane in 1952's "High Noon," who considers abandoning his duties as sheriff when a set of fearsome villains threaten a small town and his new bride Amy Fowler (Grace Kelly) prepares to leave by train. Wayne's subsequent film "Rio Bravo" was seen as a direct response, and featured heroes unflinching in their duties.
2. John Wayne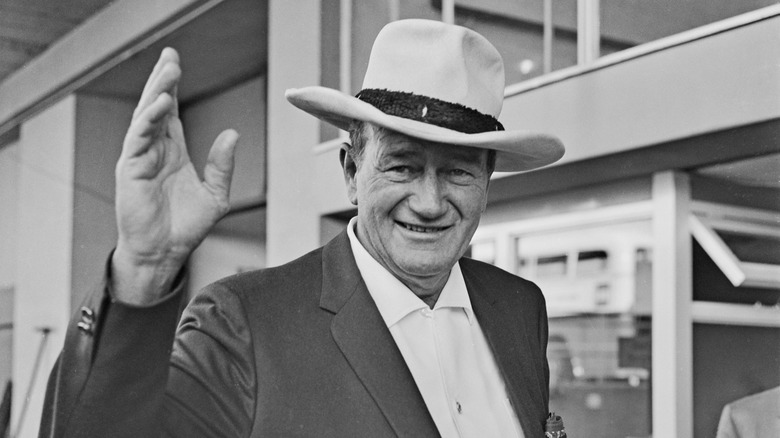 Evening Standard/Getty Images
John Wayne's decades-spanning career encapsulated the evolution of the Western genre, and Wayne's signature persona is tied to some of the most iconic western heroes in history. Wayne frequently collaborated with the great John Ford, and together the pair shaped the modern western. 1939's "Stagecoach" was the first hit western of the Golden Age of Hollywood, and the film's critical and financial success spawned countless imitators.
Wayne and Ford followed with classics like "Fort Apache," "3 Godfathers," "She Wore A Yellow Ribbon," "Rio Grande," and "The Horse Soldiers," but it was 1956's "The Searchers" that redefined the genre again. The violent revenge film reflected on the complex morality of a vengeance quest, and cast Wayne as one of the definitive anti-heroes of cinema. Wayne and Ford continued to reflect on their past work with 1962's "The Man Who Shot Liberty Valance," which reflected on the legacy of stories told about famous gunslingers in the wake of political restructuring.
Wayne was frequently cast as the hero of Western classics like "Big Jake, "The War Wagon," and "Rio Bravo," and gave a more nuanced performance as the morally grey protagonist of "Red River." Wayne even directed features of his own, including the 1960 historical epic "The Alamo." Wayne capped off his filmography with more introspective and emotional Westerns. He finally won the Academy Award for Best Actor for his idiosyncratic role as the one-eyed Marshall Rooster Cogburn in "True Grit," and gave his last screen performance in "The Shootist."
1. Clint Eastwood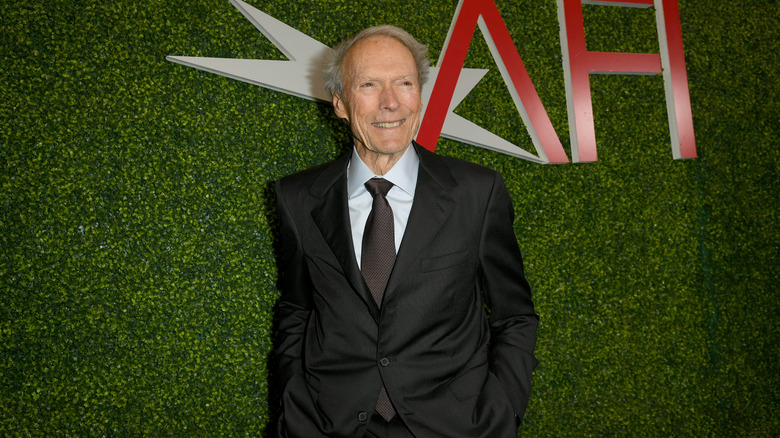 Kevin Winter/Getty Images
Few actors have names as synonymous with a character archetype as Clint Eastwood. Eastwood's entire identity is so closely tied to his iconic western characters that he's a permanent fixation within the genre; it's even the name that Marty McFly takes as his own when he travels back in time to the Old West in "Back to the Future: Part III."
Eastwood began within the Western genre through his collaborations with the incredible Italian filmmaker Sergio Leone in the 1960s. Leone cast the young American star in his "Dollars Trilogy," in which the nameless (and for the most part, wordless) "Man With No Name" helped those in need in a series of unconnected adventures. 1964's "A Fistful of Dollars," 1965's "For A Few Dollars More," and 1966's "The Good, The Bad, and The Ugly" all became classics.
Eastwood returned to star in American films from other filmmakers, like "Hang 'Em High," but he quickly began directing his own features. After launching his directorial career with the 1971 neon-noir "Play Misty For Me," Eastwood personally helmed Western classics like "The Outlaw Josey Wales," "Pale Rider," and "Bronco Billy."
Eastwood's 1991 classic "Unforgiven" reflected on the themes of the western genre with its commentary on cyclical violence and the irredeemable men who commit evil. Eastwood starred as a matured version former gunslinger, and the film instantly solidified itself as one of the greatest Westerns ever made. He returned to Westerns this year with "Cry Macho."