Spiderhead First Look Shows Off Chris Hemsworth And Miles Teller In Netflix's Sci-Fi Prison Movie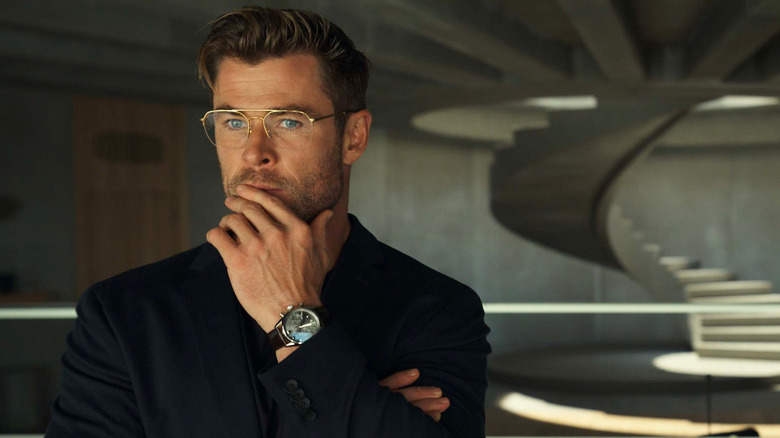 Netflix
With Joseph Kosinski's long-delayed "Top Gun: Maverick" finally on the verge of hitting theaters (assuming I haven't just gone and jinxed it), it's time to start talking about ... his next movie.
That's right! Between wrapping production on the "Top Gun" sequel and now, the "TRON: Legacy" and "Oblivion" director went off and made another film in the form of "Spiderhead." The sci-fi thriller is based on "Escape From Spiderhead," a short story written by George Saunders and published in the New Yorker in 2010. Kosinski called the shots on the movie in late 2020, drawing from an adapted script by "Zombieland" and "Deadpool" duo Rhett Reese and Paul Wernick.
Chris Hemsworth, taking a break from playing the God of Thunder, stars in "Spiderhead" as Steve Abnesti, a scientist who tests drugs that alter one's emotions and abilities on convicts at a remote high-tech penitentiary. Problem is, these drugs (as you've surely already guessed) don't always work the way they're supposed to, as a prisoner named Jeff (Miles Teller) learns the hard way while participating in one of Abnesti's experiments. Somewhere, J.K. Simmons is nodding approvingly at the idea of Hemsworth torturing Teller under the guise of pushing him to be his best self.
Chris Hemsworth: good guy or evil scientist in waiting?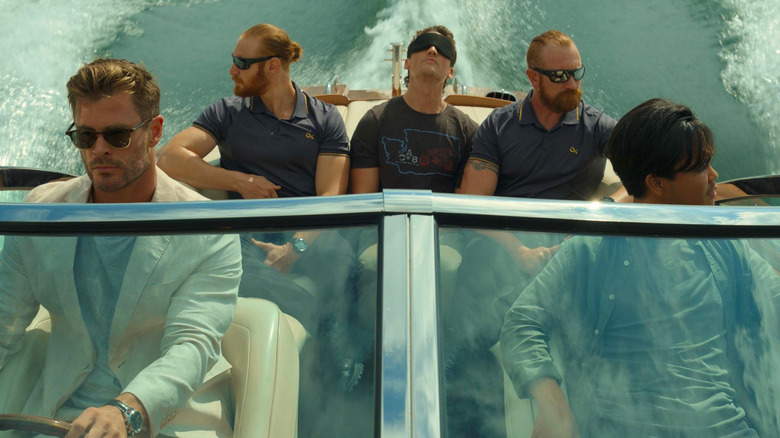 Netflix
Kosinski is far from a stranger to sci-fi stories about powerful individuals playing god, having explored the theme before in both "TRON: Legacy" and "Oblivion." However, in an interview with Entertainment Weekly, he suggested Abnesti might not come across as a scheming evil scientist, at least at first glance:
"He is the genius visionary behind the whole Spiderhead program. He has noble intentions, but there are some darker things lurking underneath the surface with him."
Teller, who also collaborated with Kosinski on "Top Gun: Maverick" and his 2017 firefighter drama "Only the Brave," echoed the sentiment. "Jeff works closely with, and sort of forms a friendship with, Abnesti," said Teller, adding:
"I wanted to portray that sense of trust in the beginning to help show that there's a real earnestness and sincerity on Abnesti's part toward helping everybody. He has a soft spot for Jeff, and I think their dynamic is really entertaining to watch."
"Birds of Prey" and "Lovecraft Country" veteran Jurnee Smollett co-stars in "Spiderhead" as Lizzy, a prisoner with a mysterious past who Kosinski said is "drawn to Jeff" and has a "very close relationship" with him yet masks her inner pain "with a cheerful persona." This motif of characters whose outer manner clashes with their internal darkness and turmoil extends to the movie's soundtrack, which uses upbeat retro pop hits like Thomas Dolby's "She Blinded Me With Science" and Hall & Oates' "You Make My Dreams" to contrast with the bad stuff happening on-screen. As Kosinski explained:
"I was listening to something like Christopher Cross while getting a tooth drilled. It felt interesting for Abnesti to create this air of relaxation and good times in a facility that's doing something much more nefarious."
Nothing like a trip to the dentist's office to provide a little inspiration for your creepy sci-fi prison movie, eh? We'll see how it all turns out when "Spiderhead" begins streaming on Netflix on June 17, 2022.