The Best TV Shows And Movies Coming To Netflix In May 2022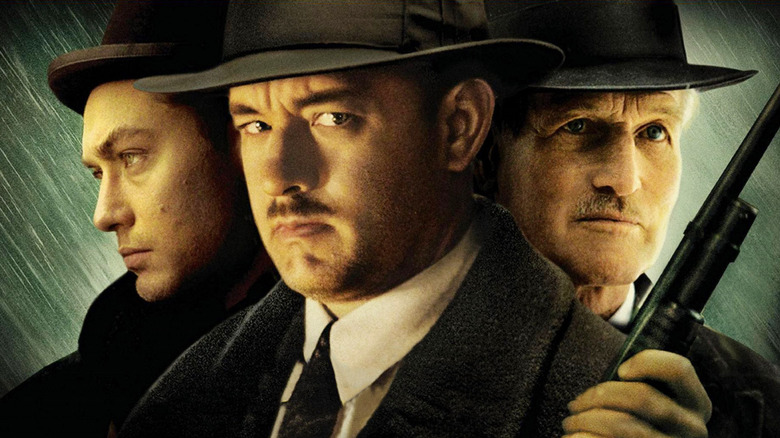 DreamWorks Pictures
Netflix is once again making headlines this week, though not for the reasons it would like. After losing a reported 200,000 subscribers in Q1 (with a loss of 2 million subscribers projected for Q2), the company is cracking down on password sharing and considering a lower-cost ad-supported streaming tier to counter its growing competition in the streaming market. It's also looking to start easing back when it comes to spending on exclusive films and TV series, which is just as well since we've gotten to the point where it's hard to tell which Netflix Originals are real and which are elaborate pranks. Seriously, if I didn't have the trailer to prove it, would you even believe me if I told you Netflix made an animated "Marmaduke" movie starring Pete Davidson?
Shoptalk aside, there are plenty of worthwhile titles coming to the streamer in the weeks ahead. Their ranks include the original "Jackass" movie and the ".5" versions of its three sequels featuring some of the best-failed attempts at stunts that didn't make their theatrical cuts (along with some never-before-seen stunts that may or may not involve the Jackass crew taking hits to the groin, but probably do). And yes, a certain beloved Netflix series will be making its long-awaited return nearly three years after dropping its last season.
Here's a breakdown of everything that's coming to Netflix in May 2022.
42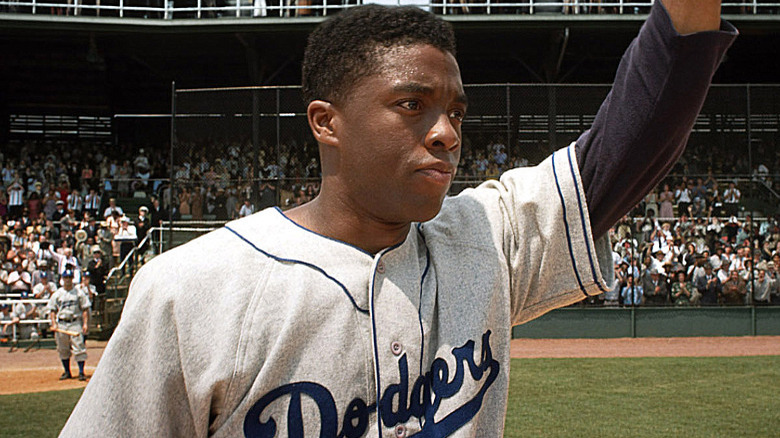 Warner Bros.
Before he was T'Challa, James Brown, and Thurgood Marshall, Chadwick Boseman was baseball legend Jackie Robinson in "42." Brian Helgeland's 2013 biopic features yet another terrific performance by the late actor, with Harrison Ford doing equally fine work in a rare low-key dramatic turn as Branch Rickey, the Brooklyn Dodgers owner who helped to break the MLB's color barrier when he hired Robinson to play for his team in the 1940s. The movie is uplifting to a fault and there's more than a whiff of white savior to its portrayal of Rickey, but it's Ford's sincerity and Boseman's authenticity that keeps "42" from descending into treacle, as well as the ways it calls constant attention to the pressure that Robinson was under not to respond to the many racial slurs and insults thrown his way (both on and off the baseball field). More than anything, I miss Boseman, and now feels like as good a time as any to revisit one of his many great turns.
Road to Perdition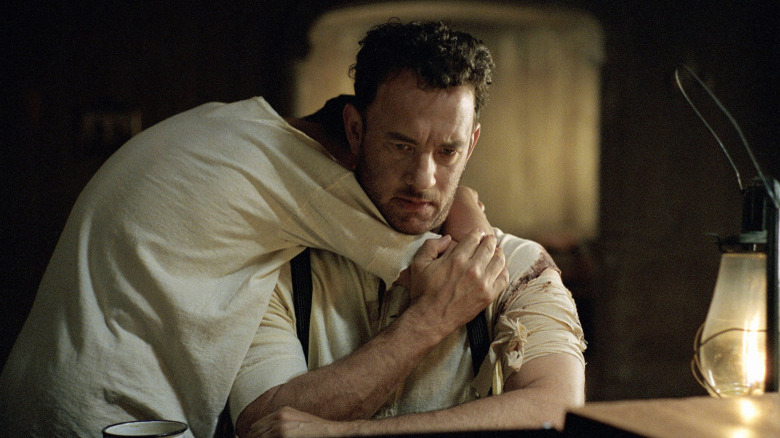 DreamWorks Pictures
America's Dad breaks bad in "Road to Perdition," director Sam Mendes' 2002 crime drama about a Depression-era mob enforcer (Tom Hanks) who goes on the run with his son (a baby-faced Tyler Hoechlin in his breakout role) while seeking revenge against the mobster who killed their family. Along with "Ghost World," "American Splendor," and "A History of Violence," Mendes' film is a relic of an all-too-brief period in the 2000s when comic book adaptations were really branching out, adapting graphic novels as adult and varied in their subject matter as any other types of movies. "Road to Perdition" also features one of Paul Newman's last performances (he's stirring as ever) and gives Hanks a chance to fully shed his lovable persona as a father driven to protect his son from his terrible legacy. It remains one of Mendes' most visually-rich films to this day, painting its bygone world of killers-for-hire and violent men in haunting, mournful shades of grey, black, and brown.
You've Got Mail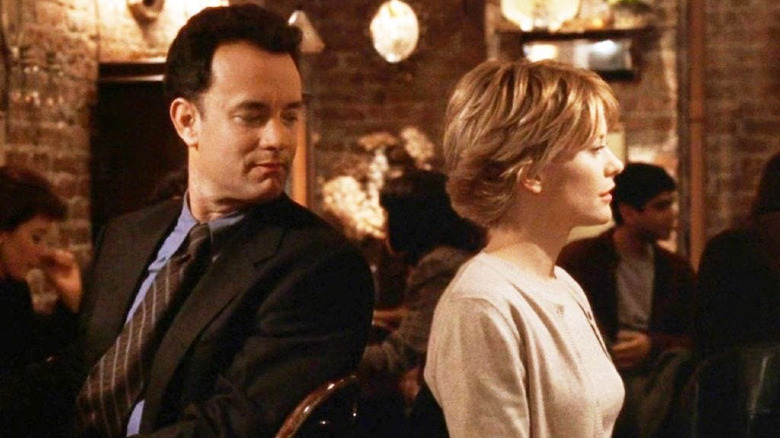 Warner Bros.
Hollywood made plenty of great rom-coms prior to the 1980s (don't ask, this was a whole thing on Film Twitter recently), one of which was Ernst Lubitsch's 1940 film "The Shop Around the Corner" starring James Stewart and Margaret Sullavan. Tom Hanks and Meg Ryan were not, per se, the Stewart and Sullivan of the 1990s, but they had an undeniable chemistry that filmmaker Nora Ephron put to good use in 1993's "Sleepless in Seattle," prior to reuniting with the duo five years later for "You've Got Mail," a rom-com inspired by the same play that Lubitsch's movie was based on. Ephron's tale of rival bookstore owners and secret email companions is pretty hilariously dated when it comes to its portrayal of the internet, but I've always had a soft spot for the quirky, upper-class New Yorkers that populate the film's world, especially Hanks and Ryan as the leads (both of whom are at their most adorkable here).
Ben Is Back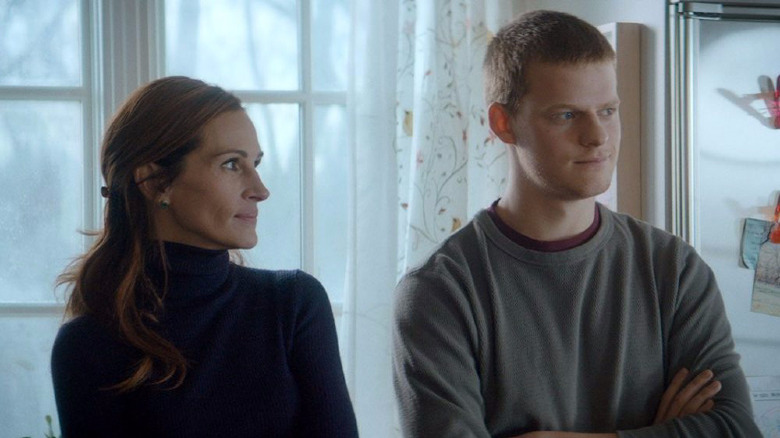 LD Entertainment/Roadside Attractions/Lionsgate
Speaking of rom-coms, the queen of the genre in the '90s, Julia Roberts, stars in "Ben Is Back," a 2018 drama in which she plays a mother who tries to help her son (Lucas Hedges, himself the real-life son of the movie's director, Peter Hedges) with his prescription drug addiction after he suddenly returns from rehab. The film got lost in a shuffle a little upon its initial release in theaters, arriving just a few months after "Beautiful Boy," the Timothée Chalamet-led biographical drama dealing with identical subject matter. All the same, it's a steady mother-son drama that takes a hard look at the messy reality of addiction recovery, with Roberts and Hedges both doing commendably understated work. As we await Roberts' hopefully glorious return to the rom-com genre with the incoming "Ticket to Ride," perhaps consider giving one of her lesser-appreciated non-comedic roles a look while it's available to stream.
Stranger Things season 4 vol. 1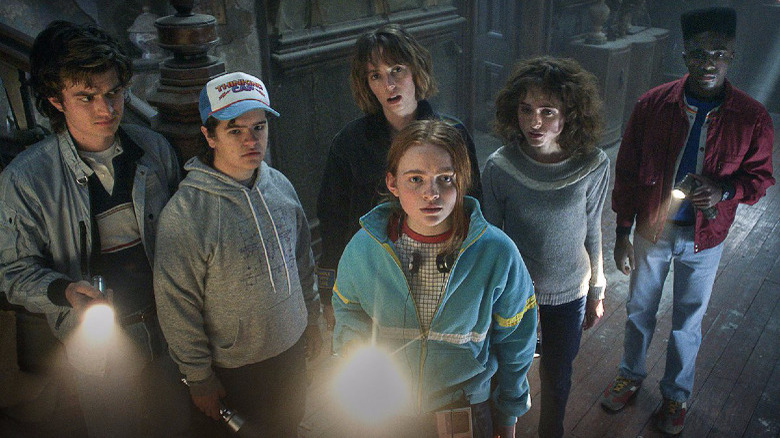 Netflix
I'll be honest: As much as I would say I've enjoyed "Stranger Things" as a whole so far, I didn't really feel an urgent need to see what comes next by the time I was done watching season 3, even after that mid-credits teaser. In fact, it wasn't until I viewed the intriguing full-length trailer for season 4 that I was reminded of how much I dug the Duffer brothers' 1980s sci-fi-horror-adventure pastiche in its very first season and remain eager to watch the show's creatives go bigger and, one hopes, bolder with the series' final two outings. It helps that the Duffers and executive producer Shawn Levy have steadily matured as storytellers with every passing season, moving beyond their own personal nostalgia to reflect on the ways the '80s were not, in fact, such a great time to be alive. With a little luck, that won't change in season 4, even as the show continues to expand in scale and scope.
Movies and TV shows coming to Netflix in May 2022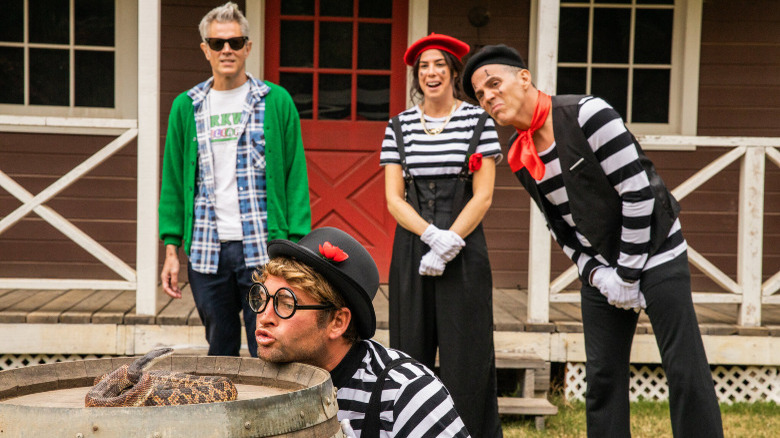 Paramount Pictures
Available from May 1, 2022:
42
3 Ninjas: Kick Back
40-Love
A River Runs Through It
Are You the One?: Season 6
Blippi Wonders: Season 1
Corpse Bride
Crazy, Stupid, Love.
Den of Thieves
Dirty Harry
Empire State
Forrest Gump
Harold & Kumar Go to White Castle
Hello, My Name Is Doris
Jackass: The Movie
Jackass 2.5
Jackass 3.5
John Q
Menace II Society
Once Upon a Time in America
Rambo
Rambo: Last Blood
Road to Perdition
Seven Years in Tibet
Soul Surfer
Summerland
The Gentlemen
The Lake House
U.S. Marshals (1998)
War of the Worlds
When Harry Met Sally
You've Got Mail
Available from May 2, 2022:
Octonauts: Above & Beyond (Season 2)
Available from May 3, 2022:
Hold Your Breath: The Ice Dive
Available from May 4, 2022:
40 Years Young
The Circle (Season 4)
El marginal (Season 5)
Meltdown: Three Mile Island
Summertime (Season 3)
Available from May 5, 2022:
Blood Sisters
Clark
The Pentaverate
Thomas & Friends: All Engines Go (Season 1)
Wild Babies
Available from May 6, 2022:
Along for the Ride
Marmaduke
The Sound of Magic
Thar
The Takedown
Welcome to Eden
Available from May 8, 2022:
Christina P: Mom Genes
Ghost in the Shell: SAC_2045 Sustainable War
Available from May 10, 2022:
Outlander (Season 5)
Workin' Moms (Season 6)
42 Days of Darkness
Brotherhood (Season 2)
The Circle (Season 4)
Operation Mincemeat
Our Father
The Getaway King
Available from May 12, 2022:
Available from May 13, 2022:
Bling Empire (Season 2)
The Life and Movies of Erşan Kuneri
The Lincoln Lawyer
New Heights
Senior Year
Available from May 14, 2022:
Available from May 15, 2022:
Available from May 16, 2022:
Blippi's Adventures
Servant of the People (Season 2-3)
Vampire in the Garden
Available from May 17, 2022:
The Future Diary (Season 2)
Available from May 18, 2022:
The Circle (Season 4)
Cyber Hell: Exposing an Internet Horror
Love on the Spectrum U.S.
The Perfect Family
Toscana
Who Killed Sara? (Season 3)
Available from May 19, 2022:
A Perfect Pairing
The Boss Baby: Back in the Crib
The G Word with Adam Conover
Insiders (Season 2)
The Photographer: Murder in Pinamar
Rodrigo Sant'Anna: I've Arrived
Available from May 20, 2022:
Ben Is Back
F*** Love Too
Jackass 4.5
Love, Death & Robots (Volume 3)
Wrong Side of the Tracks
Available from May 22, 2022:
Available from May 23, 2022:
Ghost in the Shell: SAC_2045 (Season 2)
Godspeed
Sea of Love
Available from May 25, 2022:
The Circle (Season 4)
Larva Pendant
Somebody Feed Phil (Season 5)
Available from May 26, 2022:
Insiders (Season 2)
My Little Pony: Make Your Mark
Pokémon Master Journeys: The Series: Part 3
Available from May 27, 2022:
Stranger Things 4: Volume 1
Available from May 30, 2022:
Mighty Little Bheem: I Love Taj Mahal
Available from May 31, 2022:
Rise of the Teenage Mutant Ninja Turtles (Season 1)
Teenage Mutant Ninja Turtles (Season 1)