There's More Than A Little Of Bill Hader In His Barry Character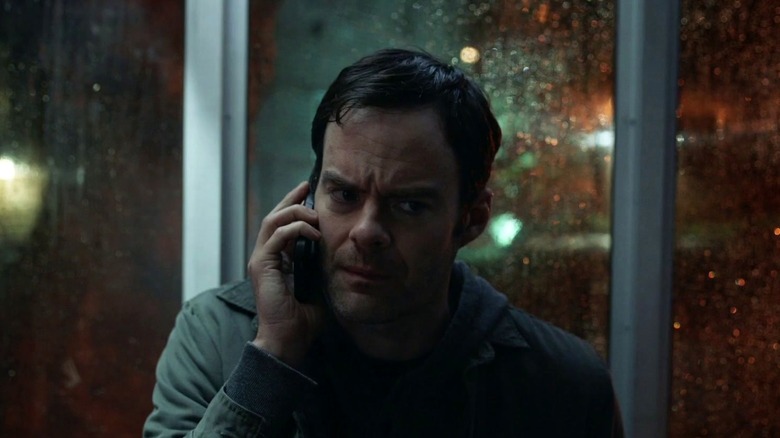 HBO
Though the titular assassin-turned-actor in HBO's phenomenal hit comedy "Barry" isn't exactly the most relatable protagonist on TV, he's still someone audiences can connect with. Barry Berkman (Bill Hader) is a killer, not because he wants to be, but because he doesn't know what else he can do. Who among us hasn't at one point or another felt like we're not reaching our full potential?
Apparently, we can count at least one of the creators of "Barry" among the people who recognizes someone familiar in the killer. In a profile for The Hollywood Reporter, co-creator Alec Berg explained how Barry Berkman stumbled into the killer-for-hire trade just like his colleague, co-creator, writer, and director Hader, stumbled into comedy. "He didn't spend six years doing ImprovOlympic or whatever it was," Berg says. "He fell ass-backward into it. And he's just so unbelievably good at [comedy and acting] that it just willed itself into being, and he couldn't stop it."
While Hader doesn't point out the same correlation, he does open up about the panic attacks that plagued him when he starred on "Saturday Night Live" from 2005 to 2013. The actor says he was "just not built for" a live show, and shares that he used to find a bathroom before the show, "go into a stall and have a full-blown panic attack, crying, the whole thing." Instead, it turns out, the comedian wanted to write and direct.
Two accidental experts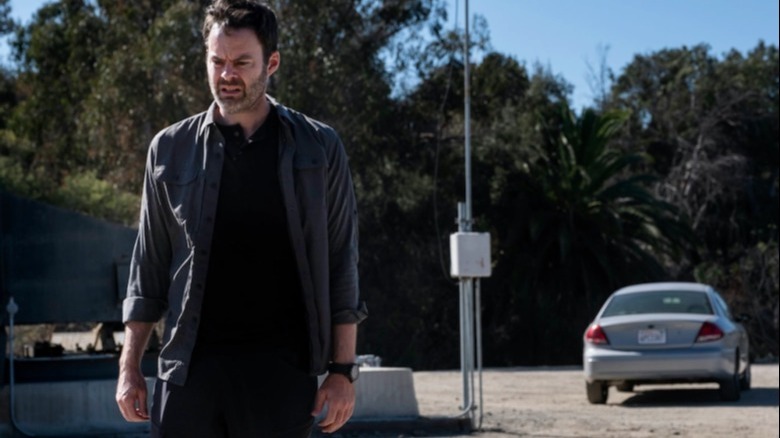 HBO
Hader's nerves never showed on the screen, where he was frequently the best part of the long-running live show with characters like nightclub aficionado Stefon and geriatric reporter Herb Welch. Yet apparently, the performer has always been more interested in what's going on behind the camera. He's fully realized his goal with "Barry." Hader, who has already won two Emmys for playing Barry and garnered nominations for writing and directing, will helm several of this season's episodes and the entirety of the already-greenlit fourth season.
So what does this have to do with the broken, gun-toting amateur actor at the center of "Barry"? A lot, actually. Berg explains that Hader's relationship with comedy ties directly to the show's central conceit, telling THR:
"We both thought the idea of somebody who was incredibly naturally gifted at something that they didn't love doing was an interesting internal struggle, the struggle of like, 'Oh, well he should be a killer because he is great at it, but it's eating him up.'"
This is a brilliant starting point for a series that has since developed into something darkly hilarious and ever-more-intense. The show's second season, which aired way back in spring 2019, ended with Barry's acting coach Gene Cousineau (Henry Winkler) discovering Barry was responsible for his girlfriend Janice's (Paula Newsome) murder. Meanwhile, Barry's manipulative handler Fuches (Stephen Root) has flown the coop after betraying Barry, and the latter's girlfriend, Sally (Sarah Goldberg) is on track to finally make it big in Hollywood after a breakthrough performance.
Berg's comparison between Hader and Barry is clever, and the series has done an excellent job exploring the feeling of being trapped in an unlikely career. There's only one problem with the pair's comparison, one they couldn't have foreseen when pitching "Barry" years ago: Barry Berkman is often a pretty mediocre actor, but Bill Hader is a damn good writer-director.
"Barry" returns to HBO on April 24, 2022.