This Was Jackie Chan's Favorite Part Of Filming Enter The Dragon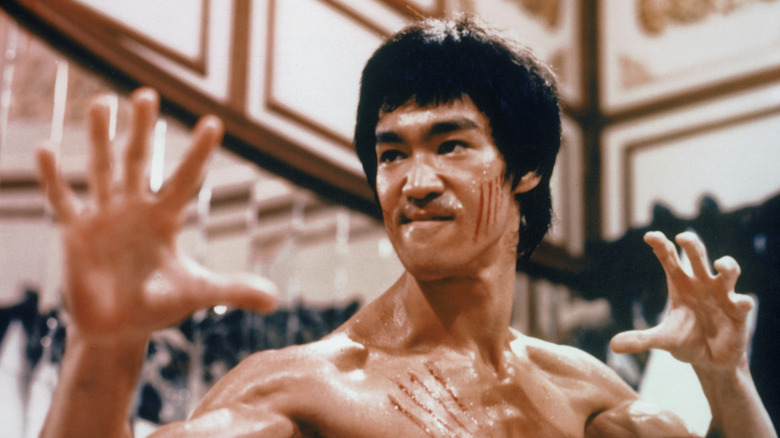 Warner Bros.
With cinema immortalizing its performers no matter how big or small, it's no surprise that the beginnings of many movie stars can be found in the nooks and crannies of major films. Before she was running from alien robots in Michael Bay's "Transformers," Megan Fox could be caught dancing under a waterfall (at a concerning age 15) in Bay's "Bad Boys II." Reaching farther back, a young Robert Blake is visible selling a lottery ticket to Humphrey Bogart in "The Treasure of the Sierra Madre."
Overseas, the Hong Kong film industry made liberal use of numerous skilled performers in their expansive martial arts productions, and one of its most commercially successful entries contains a blink-and-you'll-miss-it appearance by a fresh-faced Jackie Chan, long before he would ascend to the heights of martial arts stardom in films like "Police Story" and "Rumble in the Bronx." Hailed by /Film's Ben Pearson as the spiritual kin of James Bond spy movies, "Enter the Dragon" stars the legendary Bruce Lee and was released in 1973, half a decade before Chan would make his leading role debut in Yuen Woo-ping's "Snake in the Eagle's Shadow." 
On the set of "Enter the Dragon," Chan was at ease around Lee (it would be Lee's final completed film role before his death one month before the film's August 1973 release), though he was honored to go toe-to-toe with the man who had, by that time, already become a pop culture fixture due to his role as Kato in "The Green Hornet," as well as a handful of Lo Wei martial arts pictures. On "George Stroumboulopoulos Tonight," Chan recalled the scene he had to do with Lee, and how it went wrong ... and how, despite the pain involved, it was a moment he would never forget.
Come for the king, best not miss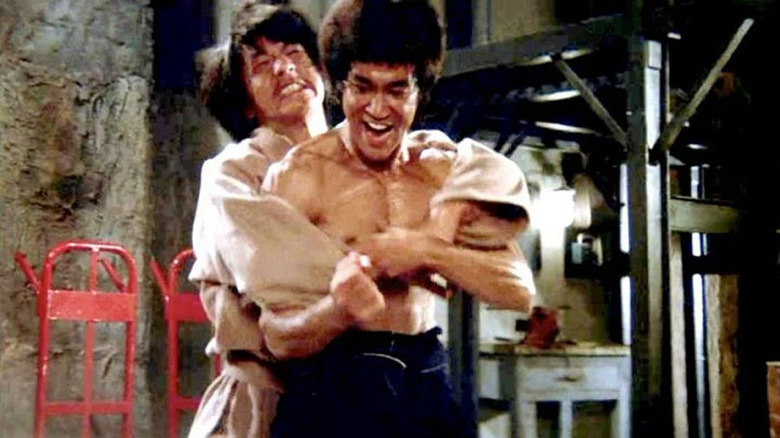 Warner Bros.
For the uninitiated, the movie follows Lee as he infiltrates the territory of crime boss Han (Shih Kien). Things go south as he investigates the compound and eventually, Lee is at the mercy of Han's neverending horde of guards. Using fists, feet, and whatever weaponry he wrests from the guards, the martial arts instructor must fight his way out. One of these guards is a pre-"Rush Hour" Jackie Chan, who enters a world of pain in his boss' lair.
Chan recalled waiting for his turn to absorb Lee's fists of fury, watching the master make quick work of his onscreen opponents. On his cue, Chan let out a wail and attacked the film's star, expecting to take a fake hit from a prop weapon. Lee missed his mark and accidentally hit his co-star, whose eyesight "went black" at the moment of impact before he fell to the floor. Both consummate professionals, the pair continued the scene until the director yelled, "Cut!" Immediately, Lee ran to Chan on the floor and asked if he was okay:
"He lifted me up and goes, 'I'm sorry, I'm sorry!' And actually, I'm not in pain anymore because a young guy like me — very tough. But then suddenly, I don't know why, it became very painful."
Milking the opportunity to be comforted by Bruce Lee (who among us?), Chan leaned into the pain a little more than was necessary, but it's understandable. As Chan puts it, "I just wanted Bruce Lee to hold me as long as he can."
In 1978, Chan would go on to star in Yeun Woo-ping's "Drunken Master," which features a goofy, swaying style of fighting and would act as a springboard to fame for the multi-hyphenate — and it would prime the pump for the rise of the comedic martial-arts subgenre. Never shying away from his stunt injuries, the actor would later become known for the blooper reels that would run at the end of his films (lest the kiddies watch Chan and think they could try it at home). For a guy who I've seen tumbling through storefront awnings and taking pool cues to the gut and falling spine-first on chairs, letting Bruce Lee hit him with a stick remains one of Chan's most impressive feats.