Jackie Chan Has Been Approached About Rush Hour 4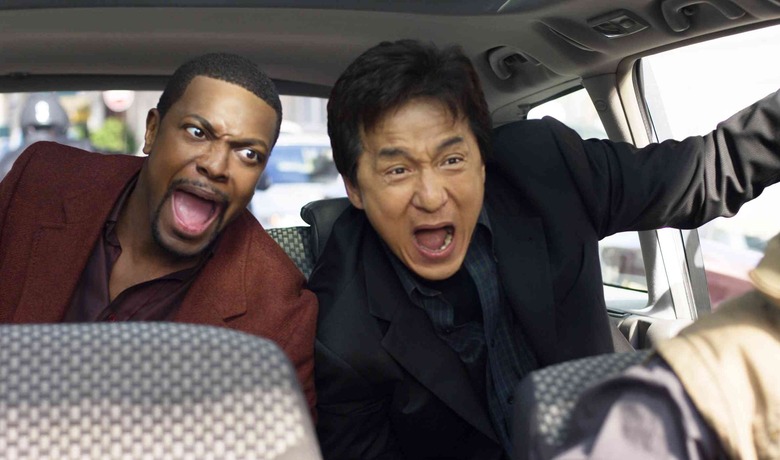 "Talk has already begun about a possible fourth Rush Hour movie, further proving that their must not be a God, or at least one who cares about good movies." This is what I wrote on the site exactly seven years ago as New Line Cinema Co-Chairman and Co-Ceo told trade reports that he'd "love" to do another "Rush Hour".  Well its been seven years and it hasn't happened yet, which is good news. But it looks like the studio wants to make Rush Hour 4. Jackie Chan says the studio wants to make another sequel but they don't even have a script, and until they do — he's not interested.
While in London England promoting his latest directorial effort, Chinese Zodiac, Jackie Chan was asked by British television host Jonathan Ross if Rush Hour 4 and/or a Drunken Master 3 will ever happen. Chan admitted that they want him to do a Rush Hour 4 but they don't have a script. IGN has the quotes:
"Lately they want to make Rush Hour 4. I said 'No, show me the script first. I don't need another Rush Hour 4. You need Rush Hour 4. Show me the script.' I don't want to do a rubbish script just because they want to make the movie."
Great to hear Chan isn't willing to sell out without having a creative reason to do another film.
The History of Rush Hour 4
Two years ago Chris Tucker talked about wanting to do another Rush Hour sequel when promoting Silver Linings Playbook, Chris Tucker's first movie role in five years, and his first non-Rush Hour film in fifteen.
"Rush Hour 4, we're looking into it, me and Jackie [Chan]," Tucker said. "We're trying to get it going, so we're developing something, so hopefully we'll get something in."
At the time, Jackie Chan expressed his desire to reteam with Chris Tucker for a project titled Skip Tracer which could've easily be reworked into Rush Hour 4.
The script is currently viewed by Chris Tucker. Personally, I feel that if he were to pick it up, it would be better if we turned it into 'Rush Hour 4,' but I do think that three movies for the franchise is a perfect ending. It would be better to start a new buddy movie with someone new.
That film, now titled Skiptrace, never became a Rush Hour sequel, and is currently aiming for a 2016 release date. Tucker is not in the movie, instead Seann William Scott co-stars as an American gambler who is forced to team up with a Hong Kong detective (Chan) to battle against a notorious Chinese criminal.
It took three years for Rush Hour 2, and six years for Rush Hour 3 - so we should expect 12 years for a Rush Hour 4 to hit the big screens — 2019 by my unscientific estimates.
Drunken Master 3
As for the prospect of Drunken Master 3, Chan told Jonathan Ross:
"We've been talking about Drunken Master 3 for a long time but nobody can write the script. Drunken Master 1 I teach drinking, fighting, drinking, fighting and the audience liked it. Everybody 'Ha, ha, ha.' But then I grew up and realized I'm wrong. I send out the wrong message. I have to make Part 2 to tell the audience 'Don't drink! Don't fight!' I have to correct myself. All those years slowly correct everything. So what about Part 3? Part 2 I already tell people 'Don't drink! Don't fight!' When I was making The Karate Kid, when Jaden Smith was training, I was sitting there, then I looked at myself and realized this is Drunken Master 3. Now I'm becoming the master. And Jaden becomes Jackie Chan. I believe after Drunken Master 2 – stop – better than we make no more. Unless we have a better script.