Guardians Of The Galaxy Theme Park Ride Reveals Cosmic Villain, Kick-Ass Playlist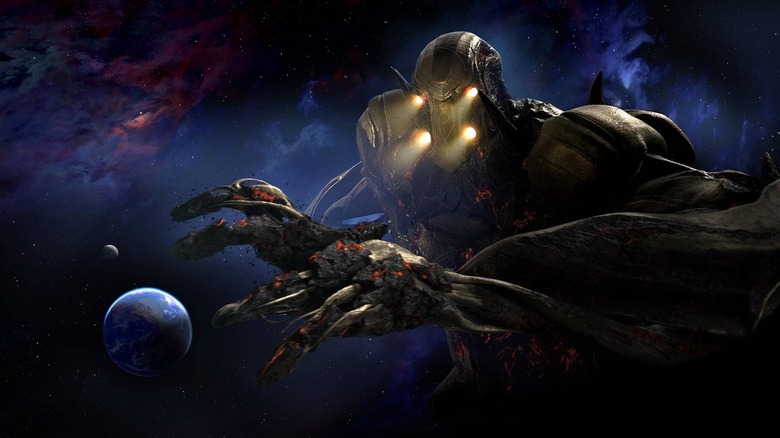 Marvel / Walt Disney World
For the first time in the 40-year history of EPCOT, a rockin' new roller coaster (not to be confused with the Rock 'n' Roller Coaster Starring Aerosmith) is coming, starring some of our favorite heroes in the universe. Guardians of the Galaxy: Cosmic Rewind is the newest EPCOT attraction, a family-thrill coaster that allows riders to experience an exciting collaboration between both "Guardians of the Galaxy" and "Eternals." The coaster features a story centered on defeating the villainous Celestial, Eson, set to a custom "Awesome Mix" of six songs inspired by the kickin' tunes Peter Quill (a.k.a. Star-Lord) frequently played on his missions.
More than 100 potential songs for the "Awesome Mix" were nominated by Disney Imagineers for the Starjumpers' onboard sound system, but they managed to narrow down the selection to six absolute bangers. "September" by Earth, Wind, and Fire, "Disco Inferno" by the Trammps, "Conga" by Miami Sound Machine, "Everybody Wants to Rule the World" by Tears for Fears, "I Ran" by A Flock of Seagulls, and "One Way or Another" by Blondie all prevailed victorious, with each song appearing at random for each ride on the indoor coaster. As Marvel describes it, Eson pops up in a "startling appearance" along the ride, and guests will assist Star-Lord (Chris Pratt), Gamora (Zoe Saldaña), Drax (Dave Bautista), Rocket (Bradley Cooper), and Groot (Vin Diesel) in their attempt to stop Eson's plan.
A new coaster for a new era of Disney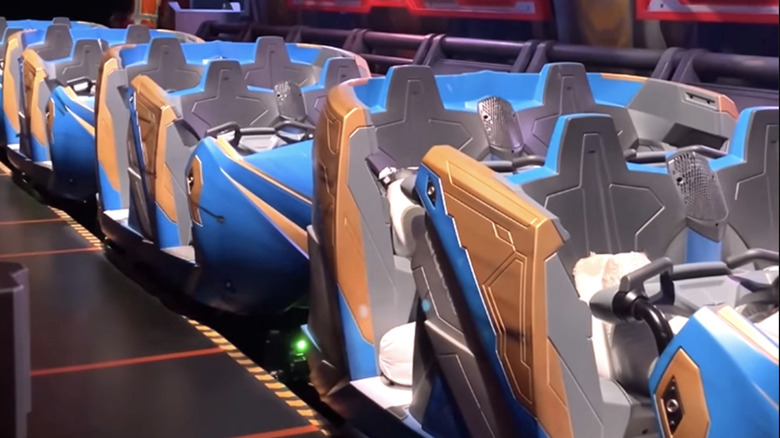 DisneyParks
The coaster will also mark the first time that Eson the Searcher will cross paths with the Guardians since appearing in an issue of the "Eternals" comics from 1976. However, as was mentioned in James Gunn's 2014 "Guardians of the Galaxy," Esos was at one point in possession of the Power Stone, which we know was later captured by Thanos before he snapped half of us into oblivion, sparking the events of "Avengers: Endgame."
According to Senior Imagineer Wyatt Winter in a discussion with Entertainment Weekly, the coaster provides controlled, 360-degree rotation following a backward-facing launch, in addition to slower coaster speeds to witness all of the fascinating storytelling aspects of the ride, as well as the thrill of a high-speed coaster. The ride's narrative will serve as a stand-alone piece set on planet Xandar, expanding on the existing universes established by the films. "The idea here is the planet of Xandar has come to earth, or 'Terra,' as they call it — they're here to set up the first Other-World Showcase Pavilion," Winter told EW. "They wanted to come to Earth and reach out and talk about their people, technology, and culture." He continued saying, "We've done that at EPCOT for years, where we've had other countries come and show their cultures." Keeping in theme with EPCOT's history of edu-tainment, Winter said, "As you come in, we're invited to start to learn about the similarities and how we're all connected ... they want to learn as much about us as teaching all of us on Earth about Xandar."
"Guardians of the Galaxy: Cosmic Rewind" opens on May 27, 2022, as part of the Walt Disney World 50th Anniversary celebration.