'Guardians Of The Galaxy Vol. 2' Reveals Full Awesome Mix Vol. 2 Tracklist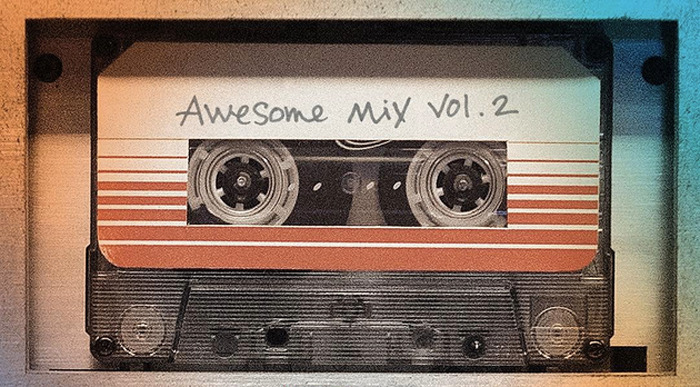 Guardians of the Galaxy Vol. 2 is one of the most anticipated movies of the summer, and while seeing the next chapter of the Marvel Cinematic Universe is the biggest draw of the sequel, the film's soundtrack is also a big deal for fans. We've gotten a tease of some of the songs that will be in the movie by way of various trailers and TV spots, but James Gunn has cautioned that not all of those songs will be on the soundtrack or Star-Lord's Awesome Mix Vol. 2. Now we don't have to wonder which songs will make the cut any longer.
Marvel has just released the full tracklist for Awesome Mix Vol. 2, and it's quite the funky assembly of music, with plenty of tracks that are well known and some that are a little more obscure. Check out the full Guardians of the Galaxy 2 soundtrack setlist below.
Here's the full setlist for the Guardians of the Galaxy 2 soundtrack straight from Marvel: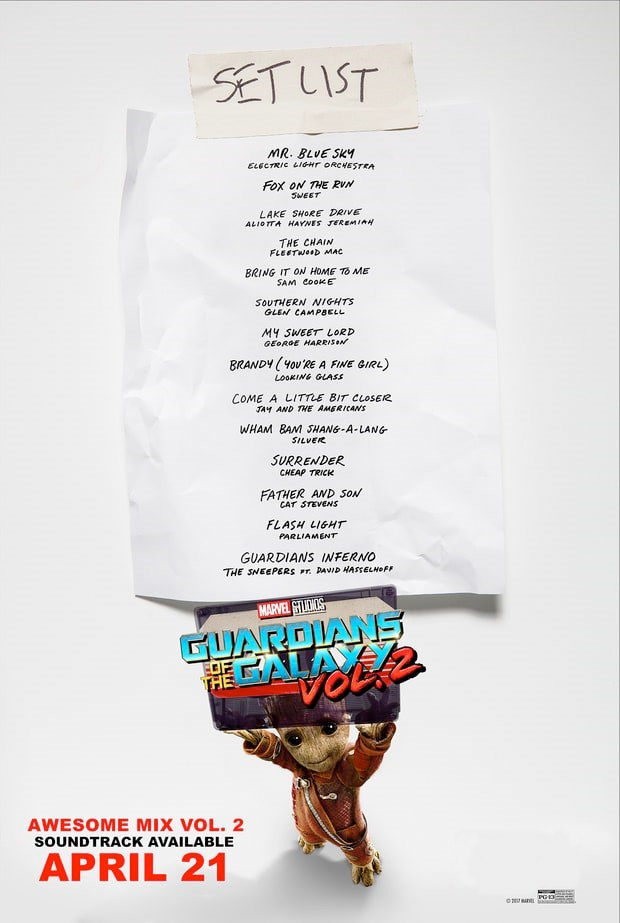 Fans will be happy to see that trailer tunes like Fleetwood Mac's "The Chain", Jay and the Americans' "Come a Little Bit Closer", and Sweet's "Fox on the Run" made the cut (though the latter doesn't appear in the movie, like "Spirit in the Sky" from the first soundtrack), but David Bowie's "Suffragette City" didn't end up in the movie. Still, there are plenty of other tunes to get excited about. Specifically, I'm thrilled to see that Electric Light Orchestra's "Mr. Blue Sky" is on the soundtrack, and director James Gunn had this to say about the song's inclusion (via Rolling Stone):
"I've always said that if the Guardians had a house band, it would be ELO, and 'Mr. Blue Sky' is one of my favorite songs by them. We had a hard time getting the rights. We had to really fight to get the song, and I personally appealed to Jeff Lynne. I think we made him an offer he couldn't refuse."
Apparently, one of the things that made getting "Mr. Blue Sky" for the soundtrack was the fact that Jeff Lynne previously approved the use of another ELO song, but it ended up not making the cut. It's a good thing that he was able to secure the rights though, because Gunn says it plays through "the most hugely insane shot I've ever done" and "it's the perfect song to start the movie."
That's a well known song, but even more exciting to James Gunn was "knowing I would be making bands that may have been forgotten suddenly be a topic of conversation." That's why he included "Come a Little Bit Closer" as well as 1976's "Wham Bam Shang-A-Lang" from the one-hit wonder band Silver. But as someone close to Chicago, one of the coolest inclusions has to be "Lake Shore Drive", a regional tune that was a big deal in the Midwest in the early 1970s. James Gunn says:
"Lake Shore Drive' is a song that I grew up with. It was a regional hit and only in, like, St. Louis and Chicago, so a lot of people don't know it, but it is truly one of the catchiest songs ever written, and I knew that there were a thousand places that I could've used it easily in Guardians because it's so easy to fit into the movie."
Though the soundtrack is full of great tunes, it's not just about getting fantastic music together. These songs are also a representation of Star-Lord's late mother, Meredith Quill. Gunn explains, "She's a music lover, but she's completely not elitist. If it's something that's thought of as goofy and pop, she likes it. If it's cool or funk, she likes it. She just likes hooks and melodies. She's a very quirky, young girl who fell in love with, you know, as it ends up, an alien. And falling in love with an alien is right up there in Meredith Quill's alley. She's an oddball, like her son."
If you'd like to read more about the soundtrack, including James Gunn addressing each track one-by-one, check out the full article over at Rolling Stone.