Thor: Love And Thunder Toys Reveal Christian Bale's Gorr And The New And Improved Miek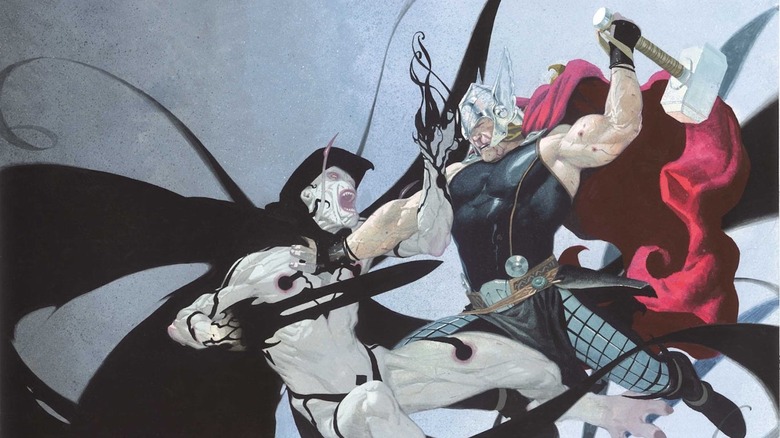 Marvel Comics
After many months of clamoring, the gods have finally graced us True Believers with the first trailer for "Thor: Love And Thunder" on this glorious Monday. The follow-up to Taika Waititi's acclaimed "Thor: Ragnarok" is set to assemble in theaters in just about three months, so many were surprised to see that the promotional campaign hadn't begun until this point. But now thanks to the new teaser for the Asgardian Avenger's new solo film, we get to catch up with old favorites like Valkyrie, Korg, and the Guardians of the Galaxy after the events of "Avengers: Endgame," as well as get our first official looks at Russell Crowe's Zeus and Natalie Portman as the Mighty Thor (not "Lady Thor" thank you very much).
Following the release of the teaser this morning, toy companies Funko and Hasbro kept the first official look train (or cosmic goat-powered chariot) moving forward as they unveiled some of the merchandise tied into the highly anticipated Marvel Cinematic Universe release. Most notably, we meet a new and improved version of Thor's war-bonded brethren Miek and Christian Bale's big bad Gorr, neither of which appear in the trailer.
New year, new Miek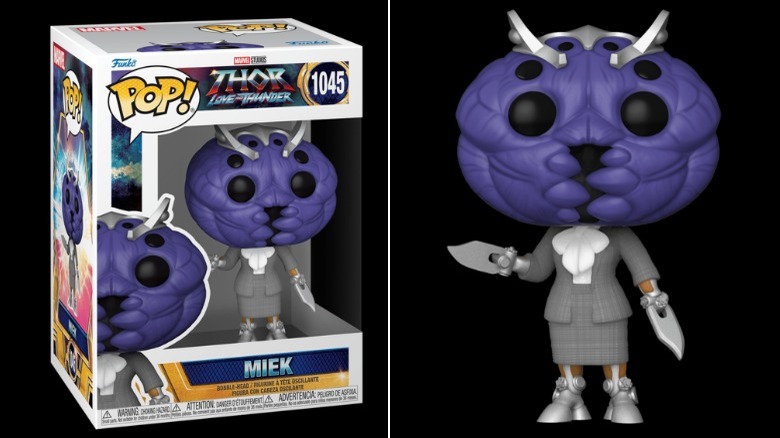 Funko
When we first met Miek on the big screen, they were one of the gladiators in the Grandmaster's coliseum. After losing their exoskeleton in battle, they eventually went on to live with Thor and Korg in New Asgard without a "body" until they're called into battle in the massive finale in "Avengers: Endgame." But it looks like they're getting an upgrade in "Thor: Love and Thunder."
Back in 2020, Waititi revealed in an Instagram Live stream (via Screen Rant) that Miek would be getting a new exoskeleton for the next movie. When the filmmaker revealed the concept art on the stream, it appeared that the robotic apparatus featured a more female-presenting aesthetic, especially when they were portrayed in a sensible business suit with a skirt.
Now, thanks to Marvel.com's round up of new Thor-related toys, we can see Miek's business suit in a more official capacity courtesy of the impending wave of Funko Pops. The business suit and skirt remain intact, but rather than the clipboard from the concept art, Miek is equipped with their signature blades as if they're ready for battle as soon as the morning meeting commences. They can be seen here with the other five common Pops in the wave, followed by the Jane Foster Thor-heavy exclusives and the Pop Ride of Thor Odinson and his space goats. Obviously, I wasn't going to leave out the space goats.
Also, it's probably worth noting that though Miek had been referred to with male pronouns in the past by their good friend Korg, it's uncertain how Miek's alien race views and classifies gender. Switching between our conventionally male and female characteristics, styles, or pronouns could be the norm for them. Either way, Miek is still a badass fighter and I can't wait to see more of them onscreen.
The God Butcher
The other big reveal of this toy drop is "American Psycho" and the "Dark Knight" trilogy star Christian Bale as Gorr the God Butcher. Created by Jason Aaron and Esad Ribic for their phenomenal run on "Thor: God of Thunder" from 2012, Gorr harbored an intense hatred for the gods after his family (including his pregnant wife and their children) was tragically taken from him one at a time by various causes such as an earthquake, starvation, and more. He held this grudge because he felt that the gods never answered his prayers, so he vowed to eliminate them all with a weapon that embodied living darkness known as All-Black the Necrosword.
While we have yet to see him in action, the Funko Pop and the Marvel Legends version of the character look pretty accurate to his comic book counterpart. The MCU iteration is only really missing the splashes of black on his clothes and the tendrils coming from his head. Bale's Gorr also kinda gives off Grim Reaper from "Bill & Ted's Bogus Journey" vibes. All that's missing is a stand-up bass accessory. Hasbro has already provided the perfect picture showing how Gorr would hold one. But all joking aside, I'm sure that these vibes will subside once Gorr unleashes his fury upon the deities across the galaxy.
With the promotional floodgates now open, we're sure to get more stills, TV spots, trailers, and toy reveals very soon, especially after "Doctor Strange in the Multiverse of Madness" debuts. Until then, as we await the next exciting piece of content, don't forget to mark your calendars to remind yourself that "Thor: Love and Thunder" premieres in theaters on July 8, 2022.