Kristen Stewart Turned Down An Iconic Homage In Scream 4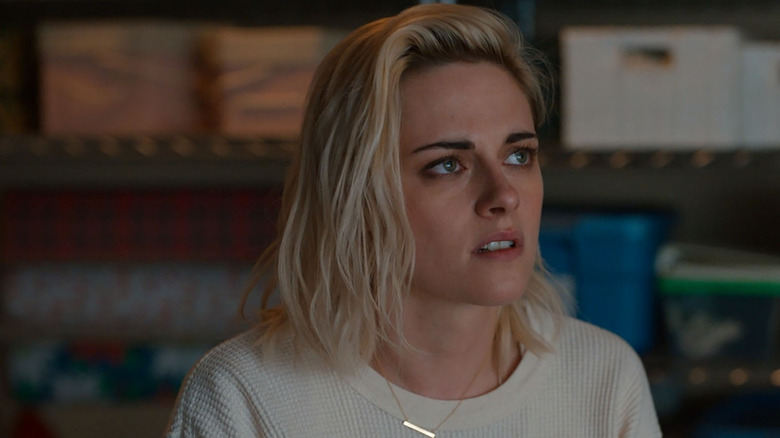 Hulu
Horror films have long served as a breeding ground for Hollywood A-listers, with many of out most decorated performers getting their start in the genre of grotesque and gore. While "Twilight" may have been that film that put Kristen Stewart on the map in terms of public consciousness, the Academy Award-nominee has enjoyed an impressive acting career since she was nine-years-old. After the success of "Twilight," Stewart had her lion's share of film opportunities, and the availability to pick just about any role of her choosing. She wowed audiences with films like "Clouds of Sils Maria" and "Personal Shopper" while stealing hearts in films like "Adventureland" and "American Ultra."
During a recent interview with Slate, Stewart confessed that she almost appeared in one of the most popular slasher franchises in history, with a cameo appearance in Wes Craven's "Scream 4." Had she agreed to the role, Stewart would have joined the ranks of Drew Barrymore, Jada Pinkett-Smith, Omar Epps, and Liev Schreiber (as Cotton Weary) to be killed by Ghostface in the film's opening moments. 
"So it's the Drew [Barrymore] character that gets killed in the beginning, and they created a whole sequence where a lot of people got killed to emulate the Drew thing," Stewart said. "But it was just going to be one person, and I was like, 'I can't do a Drew. I can't touch that.' Do you know what I mean?" 
The opening of "Scream 4" ended up showing Lucy Hale being killed by Ghostface in a similar manner, only for it to be revealed to be a scene from "Stab 6," the in-universe films inspired by the Woodsboro murders, being watched by Anna Paquin and Kristen Bell. To add to the meta-humor, Bell's murdering of Paquin is also-revealed to be a scene from "Stab 7," being watched by Britt Robertson and Aimee Teegarden, who are eventually killed by the Ghostface of "Scream 4."
Cast Kristen Stewart in Scream 6, you cowards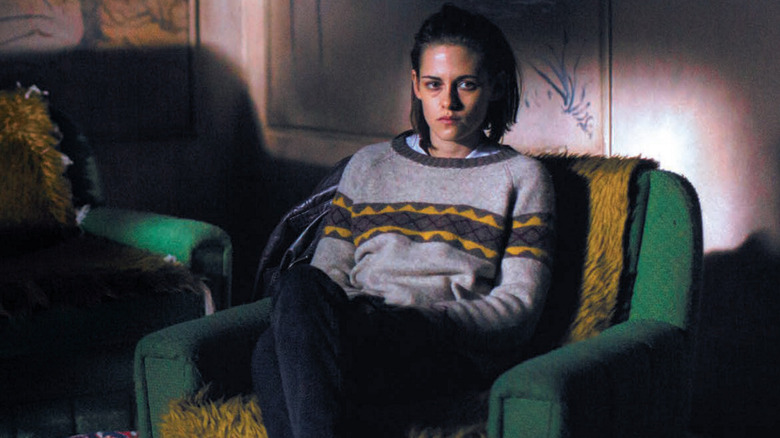 IFC Films
The "Scream" franchise is enjoying a cultural resurgence following the success of the fifth "Scream" film, with "Ready or Not" directors Matt Bettinelli-Olpin and Tyler Gillett taking over the reins from the late, great Wes Craven. Slate asked Stewart how she'd feel about joining the "Scream" franchise, and while it wasn't an enthusiastic "yes," it surely sounds like it's within the realm of possibility. Stewart said that she would read the script, and confessed that she loves perennial final girl, Neve Campbell. "She was very nice to me, and it was very satisfying that she's a very nice person," Steward said. "I love that movie. I've watched it recently, as an adult though. It's so gnarly."
Stewart continued to say that a big part of why she loves "Scream" is that it's a movie that loves movies. "It's so self-aware ...it folds in on itself like six times," she said. "I love how much [Wes Craven] loves movies and how embedded that is." The knowledge of slasher films is the blood pumping through the heart of the "Scream" franchise, and as Stewart puts it, "It's a total film nerd type of movie — It's not just a slasher flick." 
She's right. "Scream" is so much more than a slasher film, as it completely revitalized the horror genre in the mid-90s when popularity was waning, and birthed a slew of copycat films that many millennials still love and defend to this day. Stewart called "Scream" a "beautiful movie," but noted that it's hard to watch after all these years. "I was like, 'Oh, man, this is very, very, very intense,'" she said.
K-Stew as a scream queen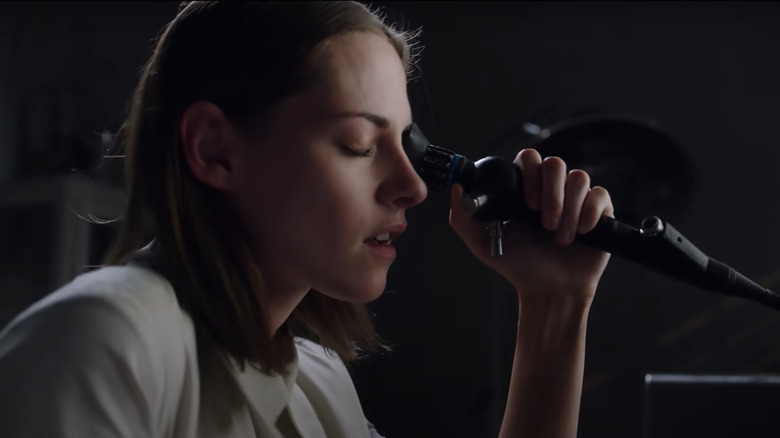 Neon
While K-Stew has yet to appear in a slasher film by strict definition, she has appeared in a variety of horror-adjacent films. One of her earliest roles came in the David Fincher thriller "Panic Room," where she and her mother (played by Jodie Foster) fight for survival against three robbers who break into their home. The year before she exploded in popularity, she appeared in the psychological horror film "The Messengers" and while no one would claim that "Twilight" is a horror movie by any stretch of the imagination, it's still worth noting that Stewart's career has been largely defined by her starring performance in a franchise featuring vampires and werewolves. Not to mention, Stewart recently starred as the secret lover of Lizzie Borden, of one of America's most infamous axe-murderers in "Lizzie," and fought to survive against gigantic Lovecraftian sea-monsters in "Underwater."
Later this year, Stewart will finally make her way into a true-to-form horror film in David Cronenberg's, "Crimes of the Future," alongside Viggo Mortensen, Scott Speedman, and Léa Seydoux. Due to premiere at the Cannes Film Festival, the film takes place in the not-so-distant future as humans adapt to a new synthetic environment that involves bodily transformation and mutation. Stewart will play an investigator from the National Organ Registry named Timlin who is investigating a duo of performance artists who put their bodily transformations on display for public consumption. Only time will tell if Stewart will ever make an appearance in a slasher film, but if the fates align for our benefit, "Scream 6" will hopefully feature a cameo appearance from Stewart. Let's try to will this one into existence.