Year Of The Vampire: My Sucky Teen Romance Perfectly Captures Geeky Teen Love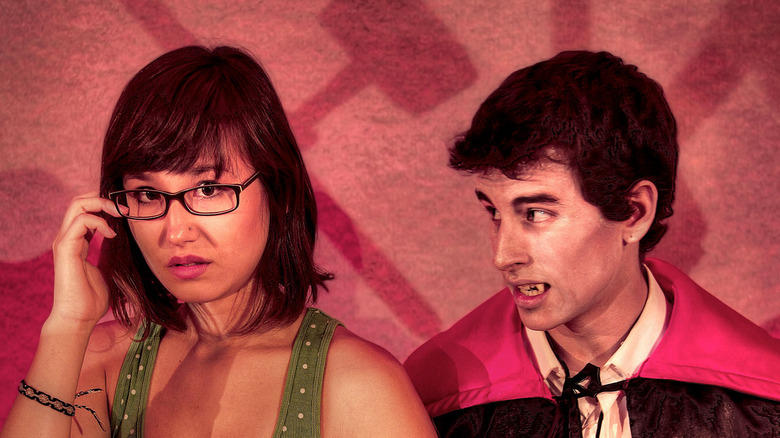 Dark Sky Films
​​(Welcome to Year of the Vampire, a series examining the greatest, strangest, and sometimes overlooked vampire movies of all time in honor of "Nosferatu," which turns 100 this year.)
In the mid-2000s a micro-budget zombie film called "Pathogen" — about a group of middle schoolers discovering an infection in their town's water supply was turning people into zombies — was making waves at horror festivals all across the globe. A companion documentary called "Zombie Girl" hit the scene around the same time, giving a behind-the-scenes look at the creation of "Pathogen" and highlighting the budding talent of the film's director, Emily Hagins, who was only 12 years old at the time. In 2011, at the age of 17, Hagins wrote and directed her third feature, "My Sucky Teen Romance," which debuted at SXSW and was later distributed by Dark Sky Films.
The film came out between the two-part releases of "Twilight: Breaking Dawn," when teenage vampire mania was at an all time high, and encompasses the weird cultural existence many teenage geek girls had to endure during the "Twilight" craze. I'm only a few years older than Hagins, and distinctly remember the way I was treated and spoken to at horror conventions during this time. Despite the fact I was writing professionally about horror as a teenager, it was frequently assumed that my presence at a horror convention or film festival was born out of "Twilight" being my introduction to vampire cinema. 
Yet it was Hagins' story about a cabal of vampires infiltrating a comic book convention, from the perspective of a pair of teen girls just trying to enjoy themselves, which spoke directly to my heart in a way that most movies never could.
Count Kate-ula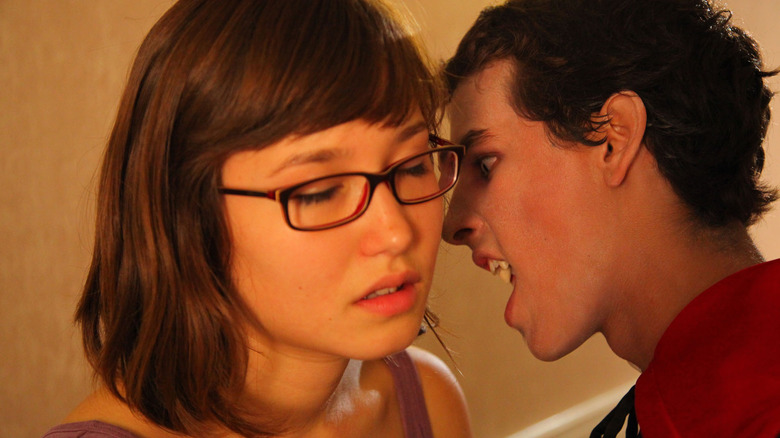 Dark Sky Films
"My Sucky Teen Romance" centers on a girl named Kate (Elaine Hurt) who decides ahead of attending Space-Con that she wants to spend her weekend checking out all the geeky stuff she loves, and finding a no-strings-attached convention weekend hook-up. Knowing that her local grocery store clerk, Paul (Patrick Delgado), will be attending the con, she chooses him as her target ... not knowing that Paul was attacked just before the convention by a perennial teenage vampire from the 1950s named Vince (Devin Bonnee), and is now fighting the urge to drain the blood from the girl of his dreams. 
Hagins' love of pop culture is well on display in "My Sucky Teen Romance," and the film wastes no time parodying vampire tropes of both the classical horror and the sparkly romance variety. "You could sparkle or burst into flames," a friend of Kate aptly declares after she's been bitten.
For a movie filled with so many sarcastic takedowns of geek culture, there's a sweetness embedded in the storytelling about the power of fandom, and the bond that exists between people brought together by a shared love of something the rest of the world thinks you're "weird" for enjoying. As Kate turns more and more visibly into a vampire, her friends utilize their knowledge of vampire lore to develop a checklist of vampire symptoms. When Paul shows up at her convention hotel room to try and help her after accidentally turning her into a vampire, he realizes that she has things "under control" because her friends are using all of their vampire knowledge to keep her safe.
Low budget but not low quality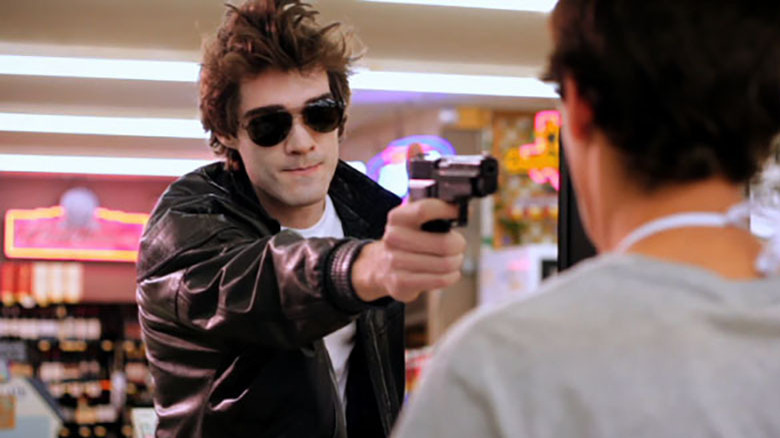 Dark Sky Films
Returning to "My Sucky Teen Romance" over a decade after release was a sincerely delightful time, as Hagins' work exemplifies the DIY-or-die creativity that thrived in the 2010s as the tools for filmmaking became more and more accessible. Sure, the film looks like its budget, but in a way that only adds to the charm. The convention that the characters attend exemplifies the homegrown fests held all over the country considered "too small" for A-list celebrities to attend, but a sanctuary for those that love all things spooky or sci-fi. 
"My Sucky Teen Romance" is so much more than a snarky, teenage response to the growing vampire wars, as it proved that the wunderkind Emily Hagins wasn't a fluke or a gimmick, but a certifiable force in the world of filmmaking. Her 2013 film "Grow Up, Tony Phillips" feels like the spiritual precursor to Adam Sandler's "Hubie Halloween," and she even had the chance to direct the feature "Coin Heist" for Netflix, in addition to contributing segments to the "V/H/S/" miniseries and "Scare Package."
Vampire films have been part of the foundation of the horror genre since the very beginning, as has low budget and independent cinema. "My Sucky Teen Romance" is a marriage of both of those worlds, and the result is a film that is accessible to audiences of all ages. The humor is solid, the characters are endearing, and with the exception of one poorly-aged cameo, it's a lovely time capsule of indie geek culture in 2011. Hagins has a new film due out soon for Shudder called "Sorry About the Demon," and before it debuts later this year, "My Sucky Teen Romance" is well worth a revisit.