Fantastic Beasts' Jessica Williams Had Unexpected Inspiration For Her Secrets Of Dumbledore Role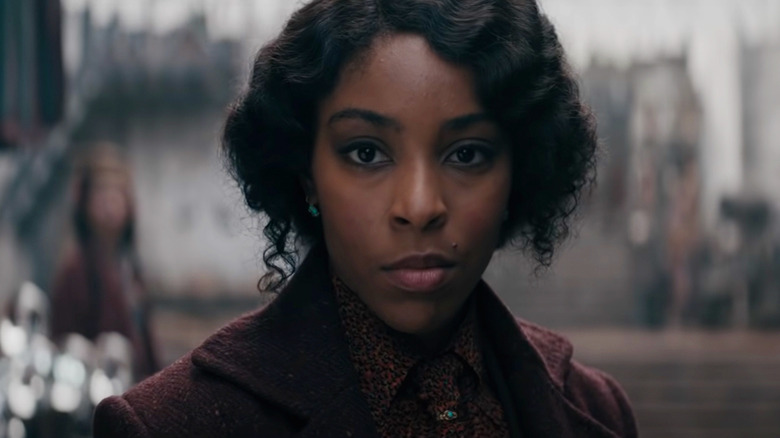 Warner Bros. Pictures
The latest installment of "Fantastic Beasts and Where to Find Them" may not be quite enough to redeem the floundering franchise, but the characters joining the wizarding world this time around keep "The Secrets of Dumbledore" from drowning in its own dreariness. One character in question is Jessica Williams' ("2 Dope Queens," "Love Life") Eulalie "Lally" Hicks, a charms teacher with a delightful mid-Atlantic accent who joins Dumbledore (Jude Law) in his fight against the very evil — but no less charismatic — Grindelwald. Williams first appeared as Lally in a cameo in "The Crimes of Grindelwald," but she returns as a fully-realized member of Dumbledore's first army ... and she won't be pulling many punches, either.
Williams has been outspoken about her excitement regarding her character. The actress recently sat down with Collider to discuss her expanded role in "Secrets of Dumbledore," and bringing her "formidable" Lally to the heart of the story. "I think she's really strong and really capable," Williams mused. "She's really good at defensive magic and she has some really cool, badass sequences in this movie that I'm so excited for everyone to see."
Playing up those sequences required more than just the twirl of a wand. Just like each individual's wizarding weapon, no one wizard's style is identical to another's. Williams worked hard to find Lally's own signature style in "Secrets of Dumbledore" — and she found an interesting muse in two very powerful athletes.
Where there's a Williams, there's a way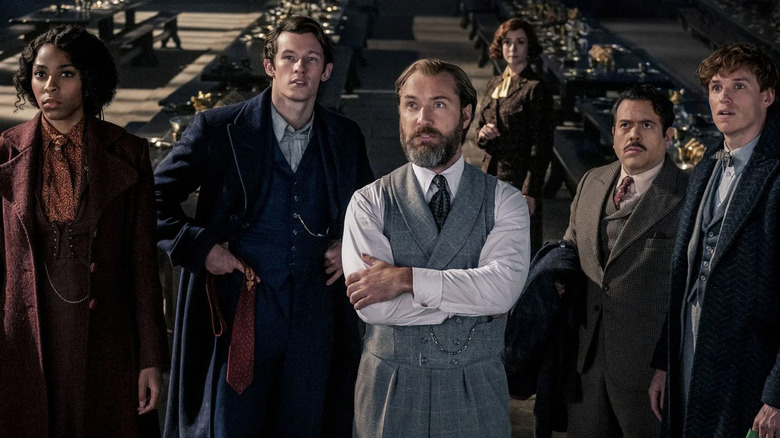 Warner Bros. Pictures
Some actors channel classic Hollywood icons or even obscure animated films when taking on a new role. But Williams looked to the tennis court to help inform her character in the wizarding world. "I modeled a lot of her wand work after Serena and Venus Williams," she told Collider. "I like that she does this really cool, strong magic like she really means it."
For Williams, the strength of Lally's magic is indicative of her strength as a person, and it's one of the reasons Dumbledore decides to recruit her in the first place. "Eulalie is really heart-driven and I think she's really good at seeing at the heart of people, and I think Dumbledore recruits her because he knows that about her ... she's somebody you can always depend on to do what's good and what's right."
Magic and tennis don't seem entirely compatible on paper, but when you think about the kind of confidence and power that Lally is meant to embody, it's hard to think of anyone but the Williams sisters. They've spent years setting a standard on the courts — in terms of both their showmanship and self-worth. Girls and young women all over the world already consider them major role models, so it's refreshing to see them honored on-screen once more, however overt it feels this time around.