Pretending To Do Magic On The Fantastic Beasts Set Looks Just As Silly As You'd Expect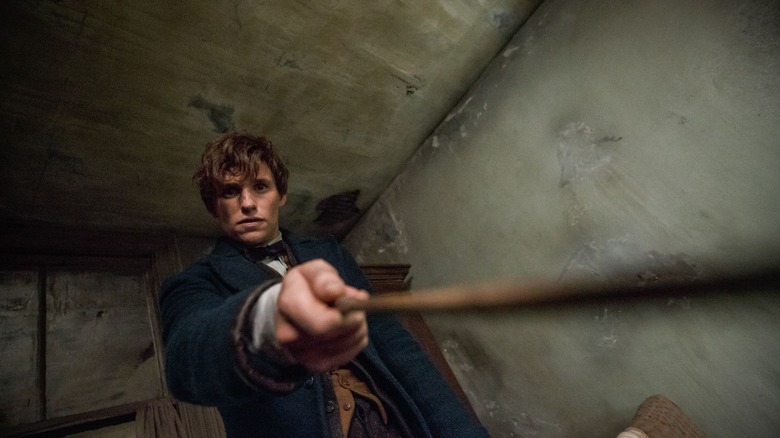 Warner Bros. Pictures
If watching the "Fantastic Beasts" movies makes you uncomfortable, you're not alone — they were also uncomfortable to make. I'm mostly kidding, and plenty of movies require putting actors in uncomfortable physical or mental situations to get needed footage. But still, it turns out that waving around those wands is much harder than it looks. In general, any movie that involves a healthy dose of post-production magic sounds like an acting nightmare, and the "Harry Potter" extended universe is so rife with all that, it almost makes me feel sympathy for those very wealthy and successful actors who do not care what I think.
And yet, they manage to make those acting struggles sound kind of charming. In a fan-driven interview with BuzzFeed, "Fantastic Beast" stars Eddie Redmayne and Katherine Waterston dig into the hardest challenges on set, which involve a smattering of CGI and one incredibly heavy leather jacket. According to Waterston, most of her troubles centered around the blue trenchcoat she wears in the latest film, "The Secrets of Dumbledore," which was so heavy it basically functioned as a DIY workout:
"In this film, I wear a navy blue leather trench that I think weighs about 30 pounds. Maybe that's not a lot of weight for a strong person, but I had to kind of get fit for the coat. It was sort of like trying to move through mud up to your neck. It's like something's trying to pull you to the ground all the time ... It was the wandwork. It was sort of like doing wandwork with someone pushing down on your arm, so I got kind of jacked just from the coat. I could start a workout — the Leather Coat Workout. Make a video."
Apparating anxiety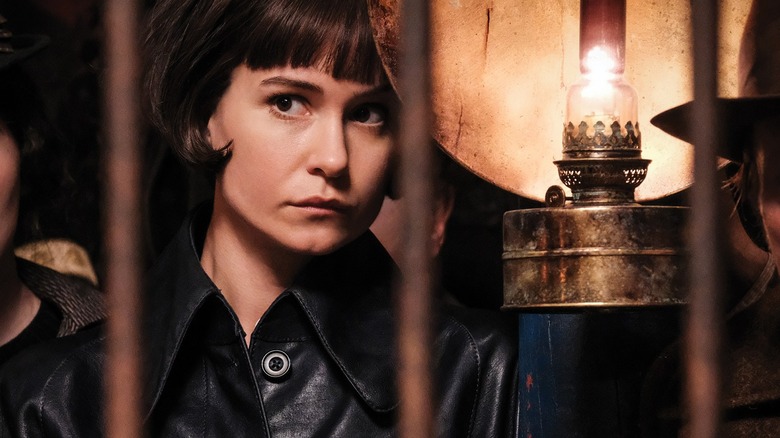 Warner Bros. Pictures
While the coat workout sounds very funny and also infinitely solvable (get that woman a lighter coat?), Eddie Redmayne's tale of acting woes involves so much prep work and time invested that it almost makes me feel sad. I mean, it's still funny, in a "why wasn't anyone communicating about this?" way, but also sad:
"Katherine and Ali [Sudol] and Dan [Fogler] and I were all so paranoid about what Apparating was, and so we worked with this movement coach for weeks, the four of us. We would take it incredibly seriously and sort of run and grab each other's arms and try to Apparate, and we would get so worked up by it. ... We saw the film, and basically the moment you decide to Apparate, they just vis-effects disappear you. All these wasted hours and sleepless nights with Apparating anxiety."
See what I mean? I can so clearly picture these hardworking fools putting so much thought and energy into nailing the movement for Apparating and then ... nothing. Just nothing. My two big questions here are: 1. Why didn't someone tell them they didn't really have to act that hard? and 2. Have they seen any other "Harry Potter" movies? Because I just Googled it and you can find a supercut of all of the Apparition scenes in the core "Harry Potter" films in two seconds flat. I just watched it. I can confirm, most of it is CGI movie magic, so, you know, it's hard to tell who really dropped the ball here. Probably everyone.
Regardless, they both come off as good sports with excellent senses of humor and very amusing workplace stories. And if anyone on the production side of the "Fantastic Beasts" franchise has access to some behind-the-scenes Apparition test footage, please send it my way. It sounds funny and tragic, which is the best kind of funny.