'Fantastic Beasts And Where To Find Them' Review Round-Up: A Worthy Extension Of The Wizarding World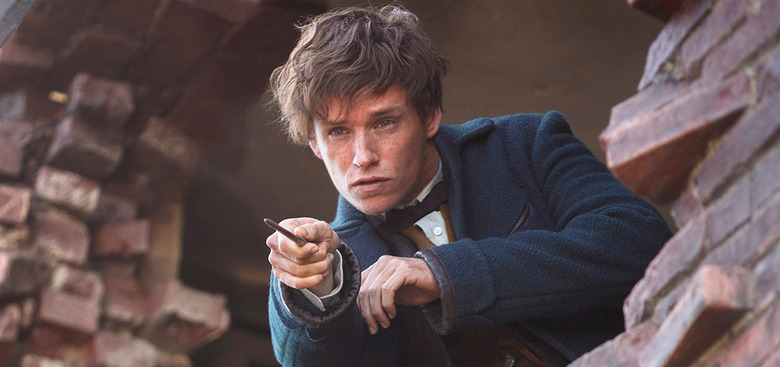 This week Harry Potter fans can return to the wizarding world in Fantastic Beasts and Where to Find Them, the first installment of what will eventually be a five film series, spanning 19 years of narrative time, all directed by David Yates and written by J.K. Rowling. But will it be worth a trip to theaters? The first reactions indicated that this was the perfect follow-up to Harry Potter, delivering a different kind of magic in a simultaneously familiar and refreshing fashion, thanks to a whole new roster of characters.
Now the first Fantastic Beasts and Where to Find Them reviews are in (so far resulting in 100% on Rotten Tomatoes at the time of this writing, though that probably won't last), and they seem to echo the first impressions, but with some key pieces of criticism.
Erin Whitney over at ScreenCrush says:
Reviving the magical universe from the second biggest franchise of all time is a pretty risky move, but Fantastic Beasts does a good job of blending the familiar with the new.
It might be hard to top the beloved trio of heroes from the Potter movies, but in Fantastic Beasts Rowling gives fans a worthy leading quartet in Newt, Tina, Queenie, and Jacob. They have great chemistry as a group and bring a buoyancy and charm to the movie. Redmayne applies his usual bashfulness to Newt in surprisingly delightful degrees. Fogler's goofy, lovable Jacob is sure to be a fan favorite and he's the center of some of the film's best sequences.
Fantastic Beasts is a good movie, and offers a fun and inventive return to Rowling's wizarding world, but it could have been a better movie if didn't waste so much time setting up a new franchise. The second half of the film is so overstuffed and busy with subplots that it begins to lose shape.
Peter Bradshaw over at The Guardian couldn't have been more pleased with the film:
Fantastic Beasts is a rich, baroque, intricately detailed entertainment with some breathtaking digital fabrications of prewar New York City. This is Steampunk 2.0, taking its inspirations from Terry Gilliam's Brazil or Howard Hawks's His Girl Friday but the New York she creates also has the dark, traumatized look of Gotham City. The American wizards themselves are subject to an internal debate about their attitude to the civilians; in America a muggle is known as a "no-maj". It's a schism that threatens to reach X-Men proportions.
Rowling and Yates have given us a terrifically good-natured, unpretentious and irresistibly buoyant film. There's a scene in a speakeasy where someone orders "six shots of giggle-water." This film felt to me like twelve.
John DeFore at The Hollywood Reporter thinks the film works extremely well, but it does have some shortcomings:
Invention and effects are the name of the game here, predictably, and this world invites us in as effectively as the best of the Potter episodes. (Only in scenes where actors pretend to handle tiny snake-like dragons is a CG illusion unconvincing.) Somewhat less effective is the film's character-bonding agenda: Breaks in the action for, say, backstory about Newt's long-lost love sometimes feel like items on a checklist.
Much of the film's big wizarding-politics material will be appreciated mostly by those who thirst for ever more backstory in Rowling's universe. It will doubtless be useful as the franchise progresses, though — the main villain, Gellert Grindelwald, makes the kind of teasing appearance at the end that promises a long Voldemort-like story arc...Whether or not the ensemble chemistry ever clicks to the extent it did for Harry, Hermione and Ron, Rowling clearly has an endless supply of lore left to share with those invested in her world.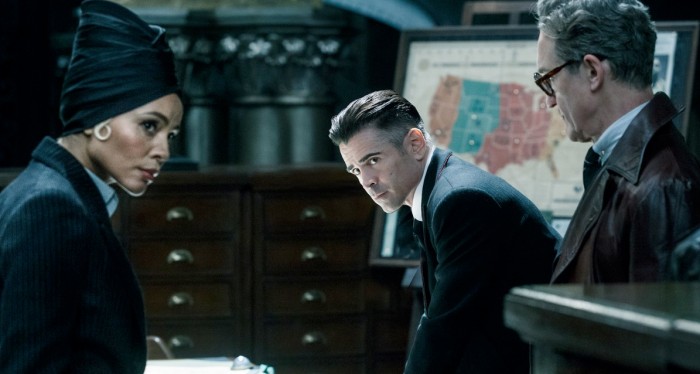 For an approach that might be more relevant to people who aren't the biggest Harry Potter fans, here's a take from Mike Ryan over at Uproxx:
I never read the Harry Potter books and I enjoyed the movies well enough...So, yes, I was one of those people who thought he might not be the target audience a deep dive into what was going on in this fictional universe across an ocean, fifty some years before Harry Potter was even born.
I enjoyed Fantastic Beats and Where to Find Them quite a bit. And certainly much more than I thought I would. Working from a script by Harry Potter creator J.K. Rowling, director David Yates (who directed the last four Harry Potter films) does a great job of telling a brand-new story, while somehow making it feel familiar. Fantastic Beasts and Where to Find Them somehow feels both unique, yet very much set in the world of Harry Potter.
Jason Solomons over at The Wrap found Fantastic Beasts to be missing some of the magic of the original franchise:
What really disappoints is that where Harry Potter and his films felt entirely original, there's a "franchise-y" feel to "Fantastic Beasts." It has the now-predictable rhythms of a Marvel origins movie — New York again gets destroyed in a climactic barrage of special effects; the Blind Pig speakeasy even seems modeled on the "Star Wars" cantina — and less of the eccentric, innocent, English charms of Harry and his little chums and their battles.
Something more is needed, a bit more wit, perhaps, or dare I say it, some sexual tension — with the humans, not the beasts, of course. We're not dealing with children anymore, after all. But how one misses the cast of Hogwarts teachers and the camaraderie and rivalry between the pupils.
Chris Nashawaty from Entertainment Weekly gave it a B-, but had some critical points to make:
Why does Fantastic Beasts feel so oddly lifeless? Why doesn't it cast more of a spell? First, there are the performances, which aside from Redmayne's are surprisingly flat. And second, the thinness of the source material gives the whole film a slightly padded feeling. Rowling, who also wrote the script, nimbly lays out her world, but that world isn't nearly as rich as the world of Hogwarts. And the villains (chief among them Colin Farrell's Percival Graves) are stock cinematic baddies. Fantastic Beasts is two-plus hours of meandering eye candy that feels numbingly inconsequential.
Joshua Yehl from IGN also finds the movie to be lacking in potent enough magic:
While the crazy creatures are the highlight of the movie, they're not enough to recapture the magic of Harry's adventures at Hogwarts. The culprit is the dull directing style that doesn't allow the characters to pop or the plot twists to excite like they should. Fantastic Beasts and Where to Find Them is a fine time, but it won't exactly sweep you up into New York City's wizarding world.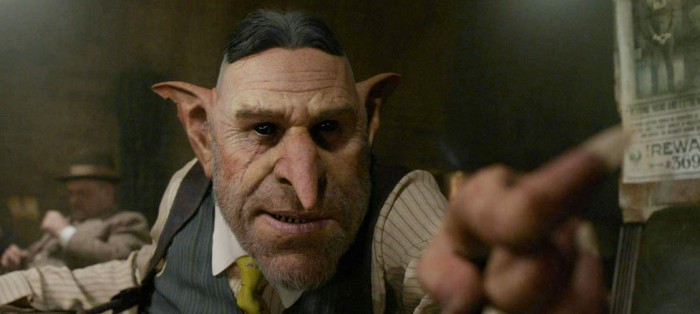 Eric Kohn from IndieWire describes the movie like this:
A gothic "Men in Black" set in 1920s-era New York, "Fantastic Beasts" scales back the dense set of events that defined "Harry Potter" movies and focuses on a narrower strata of magical circumstances in the middle of a human society. "Potter" stalwart David Yates conjures a visually sumptuous environment, and Rowling introduces a terrific central character in Newt Scamander (Eddie Redymayne, ideal for the geeky part), an animal conservationist who protects magical beings that he collects in his expansive suitcase.
"Fantastic Beasts" delivers the most satisfying period fantasy since Tim Burton's "Sweeney Todd," but its layers of sophistication are what yield one of the best Hollywood blockbusters of the year. ("Doctor Strange" reaches greater heights in terms of its effects, but falls short on story.) Coming after a jarringly weak season of summer movies, it's an especially welcome year-end treat.
Kristy Puchko over at Nerdist admits she was skeptical about this new endeavor, but came to be surprised by it:
This sensational spinoff not only feels like a fresh angle on the magical world we think we know so well, but also takes into account how the young adults who first found these books and movies have grown, and may be craving something more sophisticated that they can share with their kids.
Rowling slathers the story in the nostalgic sex appeal of the 1920s, setting scenes in goblin-run speakeasies, draping characters in gorgeous glad rags (designed by the incomparable Colleen Atwood), and marinating the whole affair in an old-Hollywood style flair, vibrant in whimsy...
Where Fantastic Beasts and Where To Find Them loses its way is when it guns hard to set up those drama-driven sequels we've already been promised. Moody subplots about anti-witch factions and powerful muggle politicians feel so disjointed from the thrust of Scamander's story that they're nearly forgotten before they jut back into the finale.
Peter Debruge over at Variety points out that this is a J.K. Rowling story through and through, for better or worse, but sets up a promising world to play in for years to come:
Unsurprisingly, "Fantastic Beasts" amplifies both the strengths and weaknesses of Rowling's storytelling approach, which unfolds in the episodic style of vintage serials — a cliff-hanger-oriented tactic that works well in novels, where readers might otherwise be tempted to put the book down after each chapter, but feels less elegant on screen, since viewers invariably commit to taking in the entire story in one sitting. And yet, the writer has learned something from the Potter franchise, clearly going out of her way to establish a foundation that can be enriched and expanded upon in future films.
***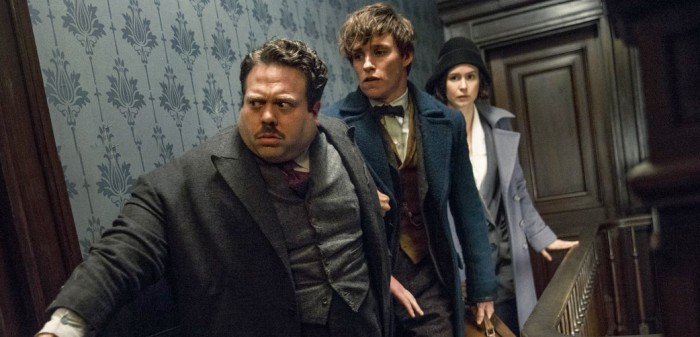 All these reviews praise the world-building that J.K. Rowling employs with this spin-off, creating a new setting that has the elements of what made the British wizarding world so rich, but infusing it with something fresh as the action moves to the United States. The new characters are compelling enough, but maybe not quite as engaging as the trio at the center of the Harry Potter franchise, but most reviews still praise the performances of the entire cast.
If there's a common shortcoming it's that Rowling is a little more concerned with building the narrative of what's to come with some weak links to the main character of Newt Scamander and his beasts. Because of that, the movie appears to feel too much like it's building a franchise rather than telling a story that demands to be seen. Still, even with that criticism arising here and there, this appears to be an entertaining first installment of a new magical series, even if it's missing some of the cinematic magic of what came before it.
Fantastic Beasts and Where to Find Them hits theaters on November 18.