Better Call Saul Season 6 Teaser: Bad Times Lie Ahead For Jimmy And Kim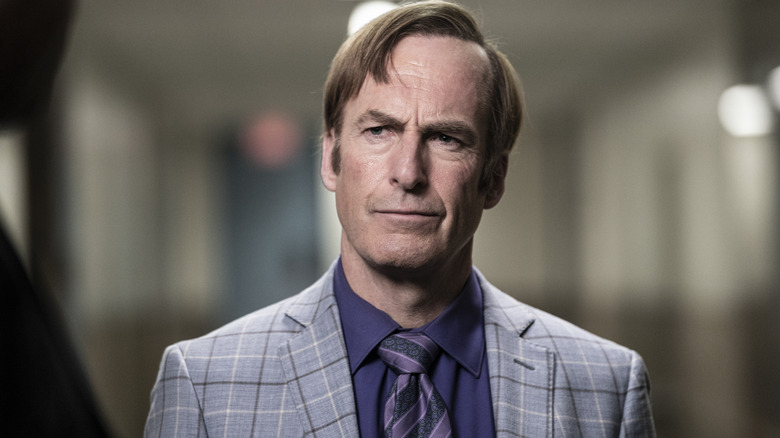 AMC
Does anyone else hear that knocking? No, it's not representations of death haunting Macbeth's spiraling descent into madness. In this case, it's just the symbolism of Jimmy McGill (Bob Odenkirk) coming closer and closer to crossing moral lines that he'll never be able to take back ... all while (probably) dragging Kim Wexler (Rhea Seehorn) down with him. You know, just another light and entertaining day in the life of the soon-to-be Saul Goodman!
The imminent arrival of the final season of "Better Call Saul" comes loaded with all sorts of foreboding baggage, mostly concerning Jimmy's continued slide towards the heartless criminal lawyer he's destined to become. But a not-insignificant source of stress also has to do with every viewer's fear for the safety and wellbeing of his wife and sometimes partner-in-crime Kim, as well. Add the disheveled appearance of Michael Mando's Nacho Varga, who appears to be on the run after the failed hit on Lalo Salamanca at the end of last season, and Mike Ehrmantraut's (Jonathan Banks) closer and closer associations with drug lord Gus Fring (Giancarlo Esposito), and it certainly seems like the noose is tightening on all of our favorite characters.
That's the tone established throughout this newest teaser for season 6 (complete with that aforementioned knocking), which shows a few brief glimpses of new footage and plenty of worrisome dialogue that doesn't exactly point to happy days ahead for anyone involved. But that's exactly what we love from "Better Call Saul," gluttons for punishment that we are. Thankfully, the series still provides plenty of wit, humor, and thrills to keep us afloat — even as the water level keeps rising for our (mostly) doomed characters. Check out the latest teaser below!
Better Call Saul season 6 teaser
"The word is out!" Jimmy's criminal lawyer profile appears to be on the rise, even as that's exactly what will eventually cause him so much anxiety and trauma later on during the events of "Breaking Bad" and afterward, as we've seen in the flashforward segments where Jimmy/Saul is now in hiding as "Gene Takovic." But that sobering reality remains a few dark years away at this point, as Jimmy is still navigating the final stretch of episodes that will lead to his complete transformation into Saul Goodman. That means acquiring "actual, paying clients" who'll further his reputation as a criminal lawyer (emphasis on criminal) who'll end up a natural fit for someone like meth cook Walter White (Bryan Cranston) to one day cross paths with.
We recently received confirmation that Walt and Jesse Pinkman (Aaron Paul) will finally make their own long-awaited appearances in "Better Call Saul," though AMC certainly isn't giving away the game about those 2 at such an early juncture in this teaser. Instead, we're left to sort through jumbled images of Slippin' Jimmy doing his usual hustling for clients, Kim worriedly smoking and attempting to be the voice of reason for her reckless lover, Nacho in dire circumstances, a very much still-alive Lalo, and an overall sense that some bad things are on the horizon for the sprawling cast of characters.
Still, the fact that this season of "Better Call Saul" has been so long in the making makes its rapidly approaching premiere cause for celebration among fans. We know the deal at this point and don't need to be told twice to enjoy the few deep breaths before the plunge while we can. The sixth season of "Better Call Saul" will premiere on April 18, 2022, on AMC.