Black Site Trailer: Michelle Monaghan Faces Off Against Jason Clarke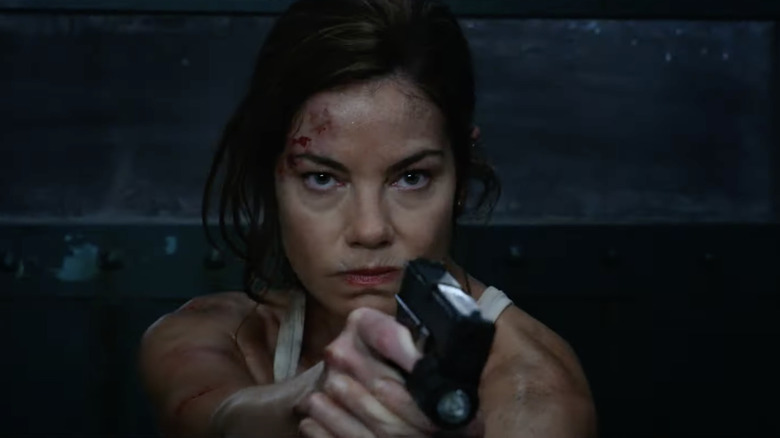 Redbox
Michelle Monaghan, Jason Clarke, and Jai Courtney are about to converge on a prison that holds the world's most dangerous terrorists in the upcoming action-thriller "Black Site." 
In "Zero Dark Thirty," Clarke played an intelligence officer who presided over the torture and interrogation of suspected terrorists opposite Jessica Chastain's CIA analyst and protagonist. In "Black Site," it's now Monaghan who is taking on the analyst role, while the tables have turned and Clarke is getting into character as one of the terrorists, a deadly operative codenamed Hatchet, who "uses a skinning knife to erase the identity of his victims." He's not the kind of guy you'd want running loose in your prison, but that's exactly what he seems to be doing in the official trailer for "Black Site."
"Black Site" is written by Jinder Ho and directed by Sophia Banks in their feature-length theatrical debut, with additional writing by John Collee. The movie is distributed by Redbox Entertainment and is coming your way via Redbox kiosks, on-demand services, and select theaters on May 3, 2022. Check out the trailer, below.
Black Site trailer
The trailer for "Black Site" seems to set it up as an anti-"Die Hard" of sorts, with one bad guy running amok in a single location, picking off the good guys one by one. It looks like we'll be getting an intense one-on-one fight between Clarke and Courtney's characters, and there's also a ticking time bomb element, as Hatchet's escape and his freeing of other prisoners necessitates a lockdown and countdown that will bring in a drone strike in one hour.
"Black Site" counts the "Sicario" and "John Wick" duo of Basil Iwanyk and Erica Lee among its producers, and with their pedigree and that of Monaghan and Clarke, this movie definitely looks like something that might end the hunt for a good thriller for a couple of hours.
Here's the synopsis for "Black Site":
CIA Agent Abby Trent (Michelle Monaghan) manages an underground black site facility that imprisons dangerous and high-risk detainees. Days before Abby's reassignment to a new post, Special Ops bring in a high-value target at the top of every Most Wanted list — codename: Hatchet (Jason Clarke). Hatchet is notorious for killing his enemies in a gruesome manner, and for Abby, his capture is personal. Determined to avenge her husband's death at the hands of Hatchet, Abby's plan is soon thrown into chaos once Hatchet escapes and begins a bloody game of murdering the site officers —one-by-one. While Abby and the team hunt him down, she quickly discovers that there are moles within the ranks compromising the mission. With time running out, Abby doubts everyone around her, begging the question who can she really trust?
"Black Site" goes into release on May 3, 2022.