The Morning Watch: Creating Spider-Man: No Way Home's Bridge Fight, Counterfeit Money In Movies & More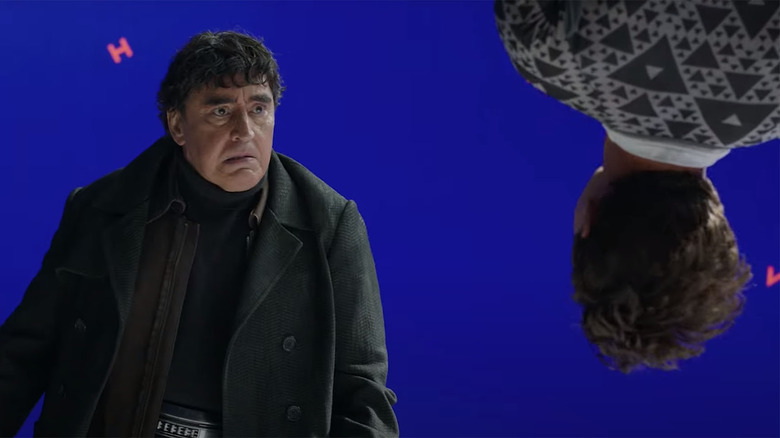 Sony
(The Morning Watch is a recurring feature that highlights a handful of noteworthy videos from around the web. They could be video essays, fan-made productions, featurettes, short films, hilarious sketches, or just anything that has to do with our favorite movies and TV shows.)
In this edition, learn how the special effects team on "Spider-Man: No Way Home" combined practical and digital effects to create that incredible Doc Ock bridge fight. Plus, a former Secret Service agent reviews the counterfeit money scenes in movies and TV shows like "Rush Hour 2," "Catch Me If You Can," and "Money Heist." And finally, the man of a million funny faces meets his matches when the cast of "Sonic the Hedgehog 2" do their best Jim Carrey impressions. 
Filming the bridge fight in "Spider-Man: No Way Home"
The bridge fight between Tom Holland's Spider-Man and Alfred Molina's Doctor Otto Octavius in "Spider-Man: No Way Home" is one of the most show-stopping scenes in the movie, but the way the special effects team brought it all together is even more impressive. 
In this video from Insider, special effects supervisor Dan Sudick and visual effects supervisor Scott Edelstein break down how they combined practical stunts with digital effects to create seamless action. While the computer effects from Digital Domain are spectacular, it's incredible that Sudick created so much vehicular carnage in-camera for them to work from. They dropped pipes on cars, launched cars with hydraulic cannons, and even created a system to crush cars from below to form what they called "car tacos." And if CGI and car tacos aren't your thing, there's also quite a bit of footage of Holland showing off his athletic and acrobatic prowess while wearing a fractal suit, which helps the animators digitally place his costume. And if you don't love Tom Holland... wait... who doesn't love Tom Holland?!
An expert reviews counterfeit movie money
Next, if you've ever wondered if the counterfeit money in crime movies were at all realistic, then Vanity Fair has just the video for you. The Secret Service was formed in 1865 with the main goal of suppressing counterfeit currency, which was a huge problem at the time because the Confederacy was printing fake bills in an attempt to destabilize the dollar, which former Special Agent Jonathan Wackrow explains before giving the down and dirty on scenes from "To Live and Die in LA," "Catch Me If You Can," "Deadly Transaction," "Money Heist," "Rush Hour 2," and "Lethal Weapon 4." It turns out that "To Live and Die in LA" is a pretty accurate depiction of how counterfeiters actually do it, though Wackrow admits that has a lot to do with the fact that a former agent helped make the movie. Do the other movies stack up? You'll have to watch to find out. 
The cast of Sonic 2 do their best Jim Carrey impersonation
And last, but definitely not least, the cast of "Sonic the Hedgehog 2" delivered their best Jim Carrey impressions, including one from Jim Carrey himself! (How meta.) For IMDb, Ben Schwartz, James Marsden, Tika Sumpter, Natasha Rothwell, Lee Madjoub, and Colleen O'Shaughnessy all did their best to mimic the rubber-faced performer, who stars in the movie as the evil Dr. Robotnik. Who does it the best? You'll have to watch to find out, but I can tell you this much: Marsden's Fire Marshall Bill from the sketch comedy show "In Living Color" is hilariously spot-on.