Spider-Man: No Way Home Behind-The-Scenes Footage Shows Off Spider-Men, On-Set Antics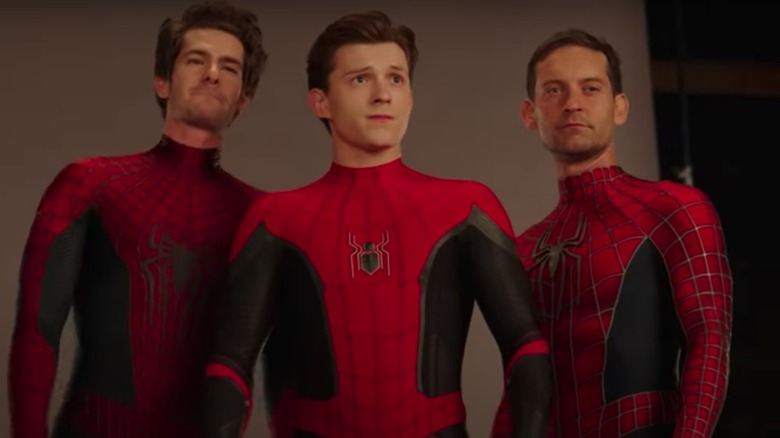 Marvel Studios
"Spider-Man: No Way Home" spun a wild box office web with a whopping $1,832,170,405 worldwide take as of this writing. I didn't bother to give you a rounder number here. It's too huge and I want you to see each and every digit, and feel your jaw hit the floor as mine did. Now we're getting the home release for the film that united three Peters Parker, and the overall total is just going to keep growing. 
Today Marvel Studios has released a new teaser for all the special features we're going to get when the film comes to home video. We're getting the digital version on March 22, 2022, and on 4K Ultra HD and Blu-ray on April 12, 2022. There will be over 80 minutes of new and behind-the-scenes content, with the required blooper reel, which I am far more excited for than I should be. 
Just as an example of some of what we're going to see in the special features, we've got Peter (the Tom Holland version) jumping off a cherry picker with Zendaya's MJ, some villains goofing off together, 20 more minutes with Peters Garfield and Maguire which will melt my entire heart, some hidden Easter eggs, and that blooper reel with a cheeky Tom Holland doing the very best dramatic pose.
Spider-Men, Spider-Men, do whatever some spiders can!
The multiverse has messed things up, folks, and it's going to have big ramifications going forward. Not only did a Loki variant take away the protections that kept the timeline pruned, but in "Spider-Man: No Way Home," Doctor Strange (and Peter's babbling) broke the whole thing wide open. Here is the synopsis in case you haven't seen it yet. Though, with that box office take, I can't imagine you haven't. 
For the first time in the cinematic history of Spider-Man, our friendly neighborhood hero's identity is revealed, bringing his Super Hero responsibilities into conflict with his normal life and putting those he cares about most at risk. When he enlists Doctor Strange's help to restore his secret, the spell tears a hole in their world, releasing the most powerful villains who've ever fought a Spider-Man in any universe. Now, Peter will have to overcome his greatest challenge yet, which will not only forever alter his own future but the future of the Multiverse.
"Spider-Man: No Way Home" is directed by Jon Watts and stars Tom Holland, Zendaya, Benedict Cumberbatch, Jacob Batalon, Jon Favreau, Marisa Tomei, Andrew Garfield, and Tobey Maguire. Now my desperate wish is to see Peter Prime as a street-level, friendly neighborhood Spider-Man, winning back MJ, re-bonding with his buddy Ned, and a team-up with Daredevil (Charlie Cox). That's not too much to ask, is it?