The Takedown Trailer: Omar Sy Is Back For Another French Crime-Caper On Netflix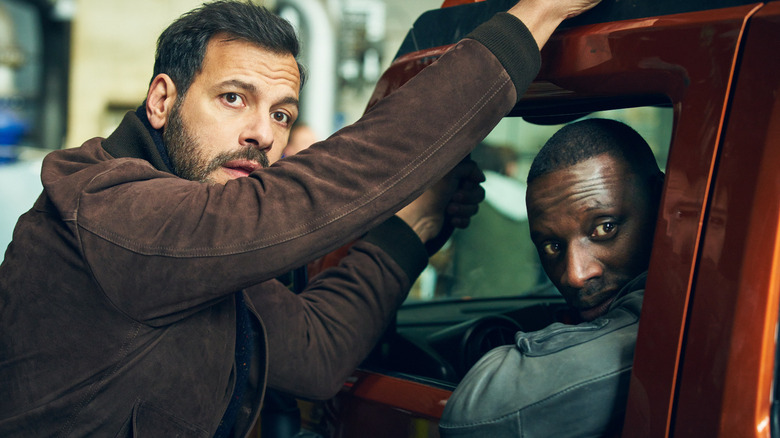 Netflix
Do you miss having Omar Sy's suave criminal Assane Diop on your TV screen? Fear not! The French actor will reprise his world-famous role as the self-styled "Gentleman Thief" in the upcoming "Lupin" Part 3, which is now in production and was recently the target of a real-life heist itself. Still, if you're looking for a film that can satisfy your need to watch Sy run amok in France, then you may want to check out the upcoming crime-caper "The Takedown."
"The Takedown" is actually a sequel to "On the Other Side of the Tracks," a 2012 French action-comedy that Sy starred in opposite Laurent Lafitte ("Tell No One," "Elle"). Never heard of it? That's probably because it only ever played in 50 U.S. theaters and grossed a whole $9,572 upon its domestic release in 2014. Obviously, the film was a much bigger box office hit in France, which is why we're getting a followup (albeit one that will only stream on Netflix in the United States).
You can view the full-length trailer for "The Takdown" below, but be warned: Sy's native French voice has been dubbed over by an English-speaking actor (along with the rest of the cast), which is the real crime being committed here.
Watch The Takedown trailer
The synopsis for "The Takedown" reads as follows:
"Ousmane Diakité (Omar Sy) and François Monge (Laurent Lafitte) are two cops with very different styles, backgrounds and careers. The unlikely pair are reunited once again for a new investigation that takes them across France. What seemed to be a simple drug deal turns out to be a high scale criminal case wrapped in danger and unexpected comedy."
"The Takedown" was directed by Sy's "Lupin" collaborator Louis Leterrier, who's perhaps better-known in the U.S. for helming "Transporter 2," "The Incredible Hulk," and "Now You See Me." (He also directed Netflix's all-too-short-lived terrific fantasy series "The Dark Crystel: Age of Resistance," so, you know, respect.) He seems to have infused the film with his trademark dynamic visual style, coupled with the type of risqué and sometimes dark humor he likes to dabble in, as evidenced by that decapitation gag in the latest trailer. It's definitely no "Lupin," by the look of it, but those who tend to enjoy Leterrier's frenetic brand of action-comedy may find what they're looking for here.
"The Takedown" premieres on Netflix on May 6, 2022. But if you decide to watch it, do yourself a favor and stream it in its original French language with the subtitles of choosing.