The Takedown Trailer: Omar Sy Is Back For Another French Action Comedy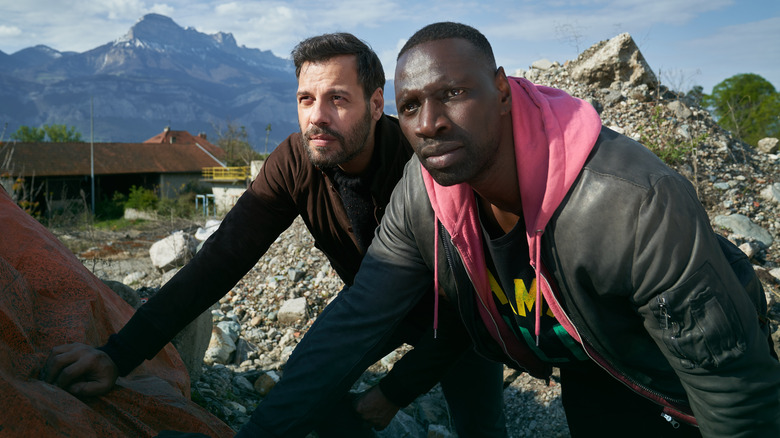 Netflix
Omar Sy is back as Ousmane Diakité in "The Takedown," a French action-adventure set to be released by Netflix this summer, and one that promises a lot of action, social commentary, and Omar Sy being his suave self.
"The Takedown" is a sequel to the French action-comedy "On the Other Side of the Tracks" from 2012, which wasn't shown in the U.S. until 2014 when it got an incredibly limited release. Now, thanks to the huge popularity of "Lupin," it seems Netflix is all in on the Omar Sy business, and so we are.
Be warned though, because this is one of those trailers for international shows that Netflix is deciding to only market with a dubbed version, robbing us of Omar Sy's beautiful voice and French accent.
An action comedy romp
The trailer starts with a tense scene where Omar Sy arrives at a gym full of cops. Except they're not just cops; they all have a tattoo of something called the "Sons of Clovis," obviously a supremacist group — though one of them argues they are just a discussion group for their "shared values." Sy's response? Comparing them to a "50 Shades of White party," pointing to the diversity of the cops as white, off-white, dark, white, and even reddish white. Of course, they don't laugh it off, and a fight breaks.
The trailer feels much in line with the tone of the original film, "On the Other Side of the Tracks," which followed Sy and Laurent Lafitte as two cops from very different backgrounds and styles that team up for a case that becomes increasingly dangerous. That film combined action-comedy tropes with some social commentary about class and race in France, and the trailer for the sequel clearly follows the same path. 
Where the original film was directed by David Charhon, Louis Leterrier takes the reins of "The Takedown." Leterrier previously worked with Sy on the very excellent heist series "Lupin," which also balanced thrilling action and a tense mystery with some poignant commentary. More importantly, he also directed "The Dark Crystel: Age of Resistance," not that it will at all inform "The Takedown," but we should never forget how that was one of Netflix's best shows and got unceremoniously canceled. 
"The Takedown" will hit Netflix on May 6, 2022. You can read the synopsis below:
"Ousmane Diakité (Omar Sy) and François Monge (Laurent Lafitte) are two cops with very different styles, backgrounds and careers. The unlikely pair are reunited once again for a new investigation that takes them across France. What seemed to be a simple drug deal turns out to be a high scale criminal case wrapped in danger and unexpected comedy."