5 Of Gilbert Gottfried's Best Roles, And Where You Can Watch Them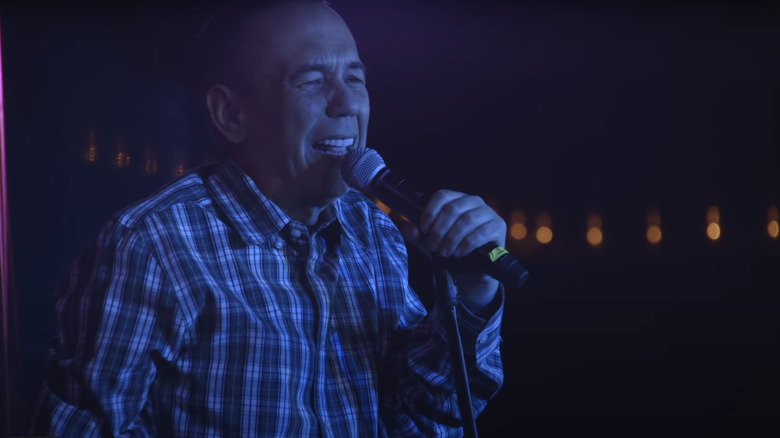 Gravitas Ventures
Boundary pushing comedian and prolific voice-over actor Gilbert Gottfried passed away today, leaving behind generations of fans, loving family and friends, and a fascinating legacy of performances. The trademark shrillness of Gottfried's voice allowed him to thrive in voice acting, but the stand-up comedian was infamous for his crude, politically incorrect, and filthy sense of humor. 
After a successful stand-up career in the 1970s, Gottfried broke onto the mainstream scene as a member of the sixth season of "Saturday Night Live." In the decades that followed, Gottfried delivered nearly 200 different roles, including many cameo appearances demanding that unforgettable voice. With a career spanning over five decades, trying to pinpoint his best roles is like asking someone to choose between their foul-mouthed children. In honor of the life and career of Gilbert Gottfried, we've chosen to celebrate his wide and varied collection of comedic genius by featuring five of his very best.
Gilbert Gottfried as Himself on Hollywood Squares and USA Up All Night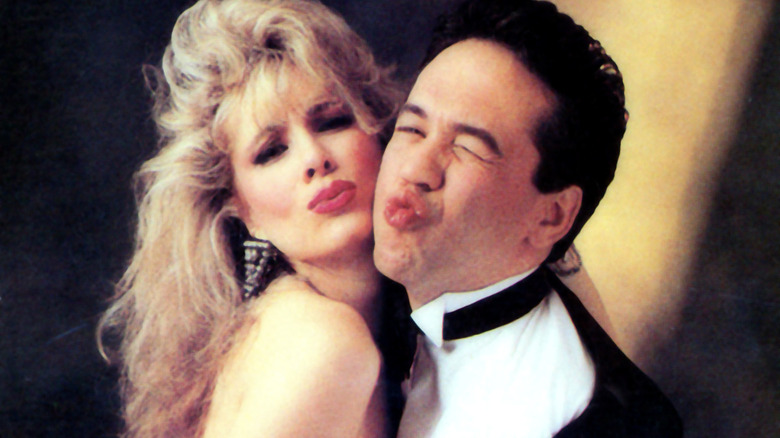 USA
Comedians have been prioritized for game show appearances and show hosting duties for decades, and Gilbert Gottfried is no different. For almost ten years, Gilbert Gottfried was the host of "USA Up All Night," a weekend movie program introducing audiences to B-movies, micro-budget features, cult classics, and safe-for-cable versions of sexploitation films. Gottfried offered hilarious commentary alongside co-hosts Caroline Schlitt, and more notably, Rhonda Shear. 
Gottfried was a natural funnyman, which not only made him an excellent host but a brilliant guest on game shows. During the Tom Bergeron era of "Hollywood Squares," Gottfried lived to troll contestants. In one of the funniest game show moments of all time, contestants were trapped in a stalemate, needing Gottfried's participation to win the game. His ridiculous answers were the result of an improv master knowing exactly what it takes to make good TV. The camera sure loved that riotous oddball.
Unfortunately, due to the movie presentation format of "USA Up All Night," these episodes are unable to rent, buy, or stream, but Gottfried's memorable "You Fool!" appearance on "Hollywood Squares" has been made available on YouTube.
Iago in Aladdin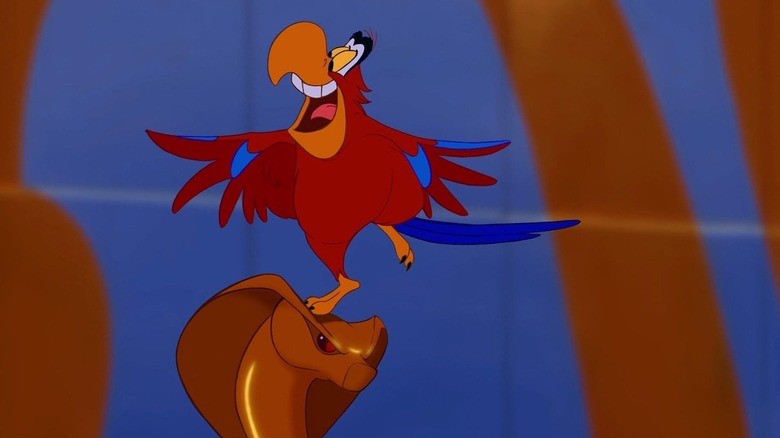 Walt Disney Studios
For a generation of movie lovers, the Disney animated film "Aladdin" was likely their introduction to Gilbert Gottfried. The role remains his most widely-known performance, but casting the shrill-sounding Gottfried as the red-plumed talking scarlet macaw, Iago was nothing short of genius. 
"Aladdin" is part of The Disney Renaissance era of animated classics, and with Gottfried joining Robin Williams as the Genie, Frank Welker as Abu, Jonathan Freeman as Jafar, and Jim Cummings as Razoul, it also boasts one of the most impressive voice casts in Disney history. As Jafar's head minion, Gottfried's Iago was responsible for the comic relief not provided by Williams. "Just forget it! Look at thi– look at this, I'm so ticked off that I'm molting!" remains one of the best moments in the whole movie, and Gottfried's delivery is exquisite. Gottfried has provided his voice for every animated appearance of Iago across all platforms, including the "Kingdom Hearts" video games.
"Aladdin" is available to stream on Disney+.
Gilbert Gottfried was a roast master
From 2001 to 2012, Gilbert Gottfried was a staple of celebrity roasts. The New York Friars Club has been roasting celebrities since the 1950s, but when Comedy Central got in on the roasting game in the late '90s and early 2000s, Gottfried was invited time and time again to deliver sick burns. His jokes didn't always land with the audiences (or the roast panelists) and his frequent line-crossing often landed him in hot water from a publicity standpoint, but his fellow comedians always revered his talent, laughing alongside him. Joan Rivers, David Hasselhoff, Roseanne Bar, and Bob Saget are just a handful of the comedians absolutely annihilated by Gottfried's words, not to mention the fellow roasters who joined in on the fun. Before his passing, Comedy Central released a compilation of some of his best jokes, declaring him a "roast-master." 
It ain't clickbait, Comedy Central is right. Gottfried's roastings were on another level, and anyone on the receiving end was the recipient of one of the biggest comedic honors.
The "Best of the Comedy Central Roast" collection is currently housed on the Paramount+ streaming service.
Dr. Igor Peabody in the Problem Child trilogy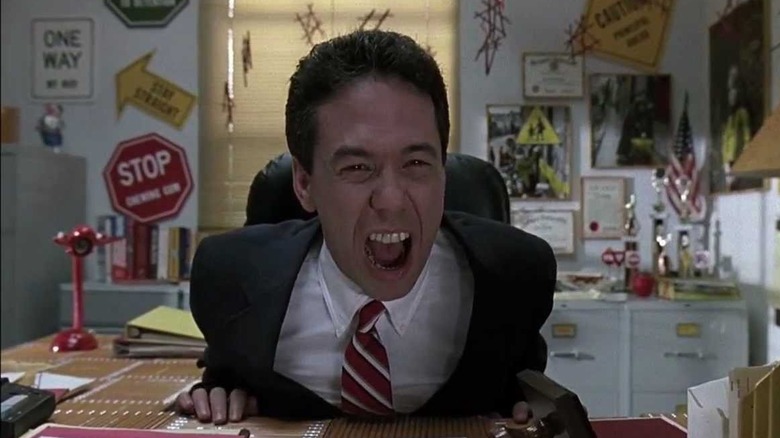 Universal Pictures
Due to the nature of his voice and persona, Gilbert Gottfried was never quite a leading man in Hollywood, shining instead as a character actor in supporting roles or cameo appearances. The closest he ever got, however, was playing Dr. Igor Peabody in the "Problem Child" trilogy. 
Gottfried is the only actor to appear in all three "Problem Child" movies, including the titular problem child, Junior (Michael Oliver), who was replaced in the third film. Gottfried plays a child psychologist desperate to keep Junior housed and out of his hair in the first film, only to wind up in his life again in the sequel as the school principal, and eventually a dentist in the third. No clue how he found the time to earn so many college degrees, but there's no need to get hung up on semantics. Gottfried serves as Junior's secondary antagonist throughout the series, and watching him pick fights with a seven-year-old sociopath is perfection. You'd never guess from watching his stand-up material how fantastic Gottfried is acting opposite children, but the "Problem Child" films are a great showcase of his skills.
"Problem Child" and "Problem Child 2" are currently available to stream on Peacock, with "Problem Child 3: Junior in Love" streaming for free on Tubi.
The documentary Gilbert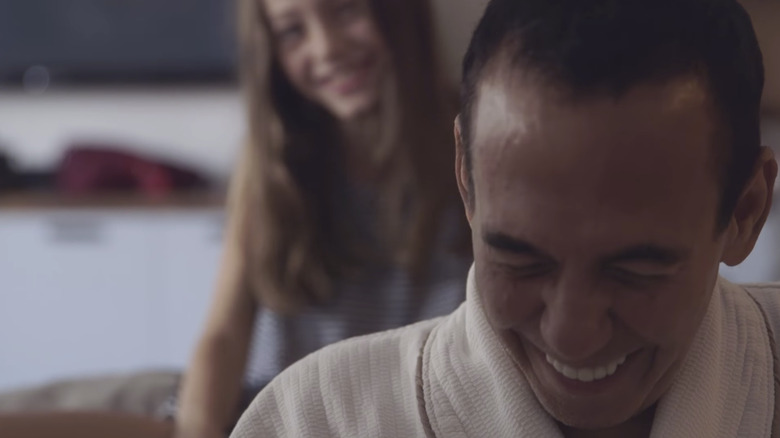 Gravitas Ventures
In 2017, director Neil Berkeley documented the everyday life of Gilbert Gottfried along with his wife and two children. As Gottfried is not on display as the comedic persona he created, it's one of the most prominent examples of seeing the actor in his natural state and using his authentic voice. The film is slice-of-life documentation of the comedy legend that also includes footage of him discussing some of his biggest controversies. The Aristocrats joke, the Empire State Building joke told at Hugh Hefner's roast following the September 11th attacks, and the insensitive tweets made following the Japanese earthquake disaster that lost him his job as the voice of the Aflac duck are all mentioned. It's a fascinating look inside the life of a man that most people have only ever known in character and now serves as a touching tribute to a talent lost too soon.
"Gilbert" is available on PlutoTV, The Roku Channel, and Peacock