Jurassic World Dominion Helped Kick Other Productions Into Gear During The Pandemic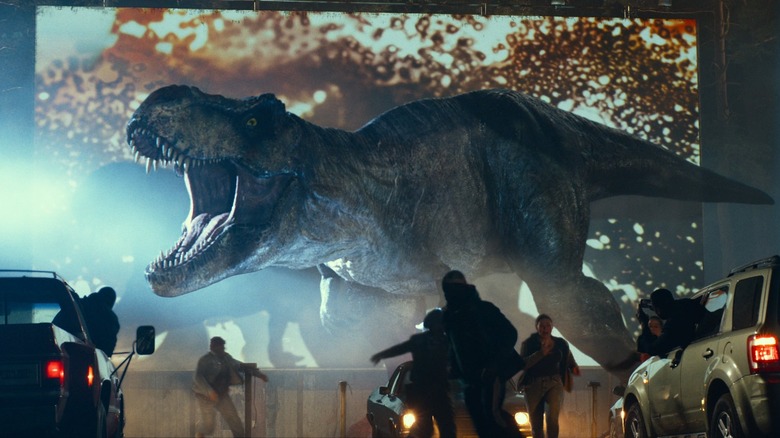 Universal
The "Jurassic World" trilogy is coming to an end this summer with "Jurassic World Dominion," a movie that is not only hoping to tie the whole trilogy up with a nice bow, but also wrap up the whole dinosaur-cloning franchise.
Indeed, the new film is notable for several reasons, three of which are Laura Dern, Sam Neill, and Jeff Goldblum, who could very well single-handedly save this rather uneven trilogy. The other reason is that this is one of the biggest pre-pandemic movies that are finally getting released, as this was the first major film to resume filming during lockdown in 2020.
It seems that life not only found a way in Isla Nublar, but on Hollywood sets, as "Jurassic World Dominion" led the way for other productions to come back to life during the pandemic.
Life finds a way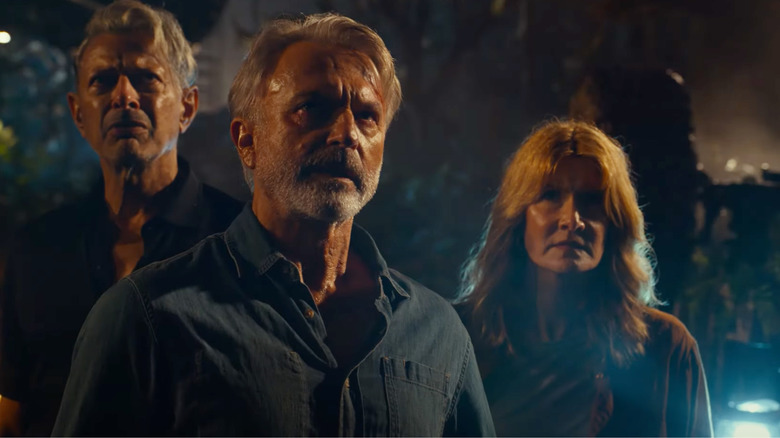 Universal
In the new print edition of Empire, producer Alexandra Ferguson-Derbyshire recalls how the movie shut down as the pandemic started to be taken seriously around the world. "It was this weird week when sanitizer started appearing on set, and we were laughing about the elbow bumps," said the producer. "That was only a week before shutdown."
It was Friday the 13th of March, 2020, when "Jurassic World Dominion" hit the brakes on filming. In July, the cameras started rolling again, the first major film to do so, but things had changed. A 109-page document detailing new safety protocols was implemented, temperature-test stations were built, the cast and crew were quarantined and then placed in a bubble — which recently inspired a Netflix comedy from Judd Apatow and a star-studded cast.
According to Ferguson-Derbyshire, the new protocols quickly became industry standard, allowing other blockbuster productions to go back to work amid lockdown. Despite the changes, Ferguson-Derbyshire says "while some scenes were tweaked, nothing had to be cut" in terms of scenes with physical contact.
"Jurassic World Dominion" and its Joker-dinosaur is set to hit theaters on June 10, 2022.