Winning Time: The Rise Of The Lakers Dynasty Scores A Second Season Renewal At HBO Max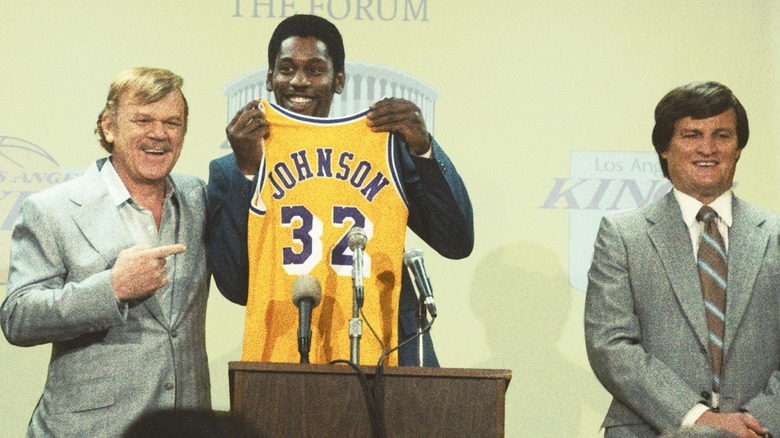 HBO
Any Lakers fans still mourning their elimination from the NBA playoffs on Tuesday will hopefully be able to take solace with the knowledge that HBO has renewed the series "Winning Time" about the Showtime-era Los Angeles Lakers. The series is a dramatized look at the team after being purchased by Jerry Buss (John C. Reilly), which coincidentally is the rookie 1979-1980 season of Earvin "Magic" Johnson (Quincy Isaiah). The renewal comes in the middle of the first season based on Jeff Pearlman's book "Showtime: Magic, Kareem, Riley and the Los Angeles Lakers Dynasty of the 1980s," adapted by Max Borenstein and Jim Hecht.
"It's been a thrill to bring 'Winning Time' to life with [executive producers] Adam McKay, Max Borenstein, our phenomenal producing team, and this incredible cast," said Francesca Orsi, executive vice president of HBO Programming, in the renewal's official press statement, adding:
"This series not only tells the riveting story of the Lakers' rise, but is also a look back at a transformative era in basketball, celebrity, and the city of Los Angeles. We can't wait to see how this team will tell the next chapter of this dynasty." 
The show was originally slated to end with Magic Johnson's announcement in 1991 that he had contracted HIV, but the success of "Winning Time" inspired HBO to option Pearlman's follow-up book, "Three-Ring Circus: Kobe, Shaq, Phil, and the Crazy Years of the Lakers Dynasty." 
If HBO keeps it up, they could start a sports dramatization dynasty of their very own.
A winning combination
Having Adam McKay ("The Big Short," "Vice," and lately "Don't Look Up") on board to direct and executive produce the series was a huge get, but "Winning Time" boasts a ridiculously impressive cast. In addition to Reilly and Isaiah, the show also features Jason Clarke, Adrien Brody, Gaby Hoffmann, Tracy Letts, Jason Segel, Julianne Nicholson, Hadley Robinson, DeVaughn Nixon, Solomon Hughes, Tamera Tomakili, Brett Cullen, Stephen Adly Guirgis, Spencer Garrett, Sarah Ramos, Molly Gordon, Joey Brooks, Delante Desouza, Jimel Atkins, Austin Aaron, Jon Young, Rob Morgan, and Sally Field.
As much as "Winning Time" is a celebration of the glory days of the 1980s Los Angeles Lakers, it's also a telling expose of the socially acceptable ways of behavior that have aged horrifically. Credit to the creative team is due for their refusal to glorify the toxic traits of so many celebrities of this era, instead presenting them as both complex human beings deserving of empathy and unrelatable megastars thrust into a world so many of us will never experience firsthand.
The first season of "Winning Time" is currently underway on HBO with new episodes available on Sundays.