Winning Time Review: A Flashy Trip Through History With Plenty Of Ups And Downs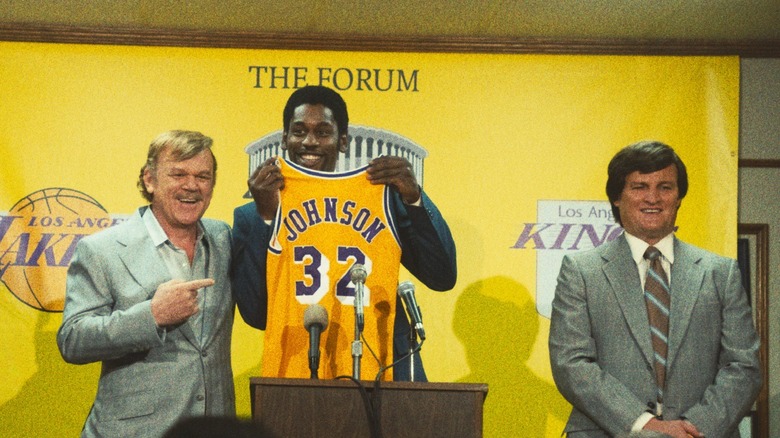 HBO
In one of the first scenes of the opening episode of HBO's new based-on-a-true-story sports dramedy "Winning Time: The Rise of the Lakers Dynasty", laughably toupeed billionaire Jerry Buss (John C. Reilly) is lying in bed at the Playboy Mansion, a beautiful naked blonde woman cuddling next to him post-coitus, as he extols that the best things in life are "sex and basketball." When the woman fails to show any interest, feigning sleep, Jerry shrugs and looks at the camera, continuing his monologue directly to us about how wonderful and intertwined the two pursuits can be. This scene is an arguably predictable statement of purpose; considering that the show is produced by Adam McKay of "The Big Short," "Vice," and lately "Don't Look Up," a fourth-wall-breaking, proudly raucous depiction of truth too absurd to be made-up feels ... well, just about right. "Winning Time" boasts a fine and committed ensemble, but its tonal shifts beyond the premiere are harder to handle, especially considering the show's apparent long-term aspirations.
The basics of the story are well-known to anyone who a) is a basketball fan and b) is either an Elder Millennial or from Gen X. In the 1980s, one of the most dominant teams in the whole of the NBA was the Los Angeles Lakers, with iconic players like the legendary Kareem Abdul-Jabbar and young up-and-comer Earvin "Magic" Johnson, as well as slick-haired coach Pat Riley. There were A-List fans like Jack Nicholson, too, a cheerleading group that felt far more like nightclub dancers than cheerleaders, and the entire orgiastic affair was overseen by new owner Buss. As the series' in medias res opening scene depicts, though, it all came crashing down in the fall of 1991, when Johnson was diagnosed with HIV. "Winning Time" is based on the book "Showtime" by sports journalist Jeff Pearlman, depicting the lengthy run from when Magic joined the Lakers as a rookie for the 1979-1980 NBA season, where he would help lead the Lakers to the first of many dynastic championships, to when he got that HIV diagnosis.
"Winning Time" is something of an odd duck, though, in terms of where it's apparently headed — and it is here that I will note, again, that although the series opens with a general title card saying some events and/or characters have been fictionalized, a good chunk of this is based in fact. While "Winning Time" opens with the devastating HIV diagnosis (though not a terribly unsurprising one, considering how many times we see young Magic sleeping with countless young women, seen as a spoil of the victory of his burgeoning mega-stardom), over the course of eight episodes provided to critics (the season will run ten episodes, beginning on March 6, 2022), series spends its entire arc on the Lakers' seemingly ragtag first season together with the "Showtime" style of offense envisioned by their first coach, Jack McKinney. That in medias res opening makes sense ... if this was a limited series.
A murderer's row of performers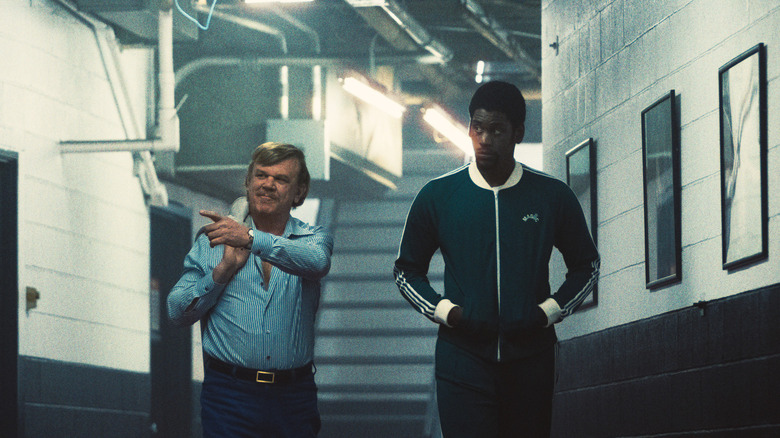 HBO
"Winning Time" does benefit enormously from its stacked ensemble of actors. Though there was a little social-media foofaraw when McKay (who directed the pilot episode) acknowledged that his ex-creative partner Will Ferrell was initially set to play Buss, but was recast due to not looking as much like the late billionaire, the choice frankly makes sense. Though Reilly has worked with McKay before, it is weirdly fitting to see him presiding over the outlandishness of the Lakers as they crest the wave of the 1980s. Twenty-five years ago, Reilly was the best friend of the porn-star hero in Paul Thomas Anderson's "Boogie Nights." A quarter-century later, his take on Jerry Buss — a blend of sexual hedonism, business savvy, and childish devotion to his ailing mother (Sally Field) — feels like a spiritual successor to the performance of Burt Reynolds in that earlier film. And though Buss is more of a comic figure in the opening episode, by the back half of the season, he's painted as a more complex and dramatic figure, which Reilly pulls off with ease.
But as the season progresses, Jerry Buss becomes one piece in the larger puzzle that made up the '80s-era Lakers. In the front office, there's the fiercely determined director of events Claire Rothman (Gaby Hoffmann), who has learned to toughen herself in the face of the rampant sexual harassment among the American male. There's also Buss's own daughter Jeanie (Hadley Robinson), who has to establish herself as more than just a lazy nepotism hire in the eyes of her co-workers. In addition to Magic, played with bursting charisma by newcomer Quincy Isaiah, there's also Kareem, played with quiet thought by Solomon Hughes. Aside from the goofy replication of Abdul-Jabbar's cameo in the 1980 comedy "Airplane!" — a scene that really doesn't serve much purpose here aside from giving us all a minute to remember how hilarious he is in the actual movie — the show explores Abdul-Jabbar's relationship to his fellow Black men while having embraced the teachings of Islam over the last two decades.
If there is a standout or two within the eight available episodes of "Winning Time," it's in the form of Adrien Brody and Jason Segel, as Pat Riley and Paul Westhead, respectively. When we first meet Riley, he's far from the legendary coach of the L.A. Lakers and the New York Knicks — he's a former Laker who can't even get let into the Forum by a security guard, and is treated poorly by his eventual boss, announcer Chick Hearn (Spencer Garrett). It's only when Westhead, an assistant coach brought in by McKinney (Tracy Letts), is tasked with leading the team while his mentor is on the mend after a gruesome accident that Riley gets to flex his own coaching muscles. The benefit of history is that anyone with a passing awareness of the NBA knows full well that Pat Riley is one of the most famous coaches to ever oversee a team, but Brody is very convincing as a man who believes his own glory days are behind him and is simply trying to get out of the house to feel self-worth again. And Segel, as a coach who is as much at home quoting Shakespeare to his bemused players as he is at bringing those players together to win games, is very effective and very funny in his deft performance.
That the performances on both sides of the NBA court work so well — there's also Jason Clarke as player-turned-coach-turned exec Jerry West and DeVaughn Nixon as his own father Norm (really) — is a testament to the talent. The scripts, mostly credited to co-creator Max Borenstein and Rodney Barnes, struggle to achieve depth amidst a mix of very comical clothes, makeup, and wigs, as well as a hurried mix of visual and verbal styles. McKay and Jonah Hill, who directs the second episode, lean a little harder on the "talk to the camera" trick for a number of characters, but later episodes utilize the "This is something that actually happened, can you believe it?" trick from "Vice" and "The Big Short." And then there's the mix of cinema-verite-style shooting, black-and-white, and even an animated interlude. The core of "Winning Time" is that the cast is uniformly excellent, but they are working hard to transcend the nonsense on the periphery.
"Winning Time" is a moderately fun throwback, one that's constantly winking to the present as much as it's talking about the past. But the laser-focus attempt at bringing the 1979-1980 season to life while allowing the audience to remember the shocking twist in Magic Johnson's life in the early 1990s only serves to highlight how odd it is that the show begins in that latter place. If "Winning Time" is indeed aiming to be more than a ten-episode miniseries, it's going to fall victim to the "This probably could've been a movie instead of a TV show" problem. (As it is, even these eight episodes elongate what could have been compressed.) As must have been the case in real life, "Winning Time" depicts a period of American sports that's riotous and wild and kind of fun, but that fun is already wearing off.
"Winning Time: The Rise of the Lakers Dynasty" premieres on March 6, 2022, on HBO and will be available to stream on HBO Max.