Elvis Footage Reaction: Baz Luhrmann's Take On The King Is Not Your Average Biopic [CinemaCon 2022]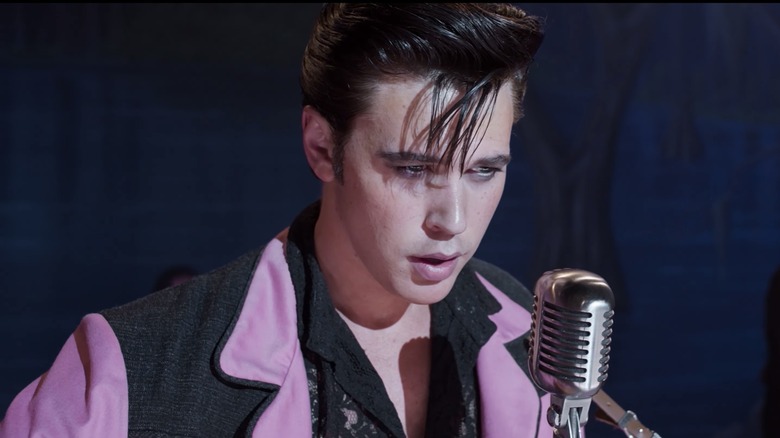 Warner Bros.
Welcome to another year of CinemaCon, dear /Film readers! As has been the case in years prior, the docket for 2022 is absolutely jam-packed with new looks at exciting movies throughout this week. Unfortunately, the rest of us have been left out in the cold, as most of that footage will likely be kept as exclusives for those lucky enough to attend. On the bright side, we have boots on the ground in the form of /Film's Ben Pearson, who has been relaying everything he's watching from ground zero. Next up, we have a new look at the upcoming biopic focused on the King himself.
"Elvis" comes from director Baz Luhrmann and stars Austin Butler as the man, myth, and legend, shedding even more light on his twisting and turning path to becoming a rock and roll icon for the ages. The rest of the cast includes Olivia DeJonge, Richard Roxburgh, Helen Thomson, David Wenham, Natasha Bassett, Xavier Samuel, Luke Bracey, Dacre Montgomery, Leon Ford, Kate Mulvany, Gareth Davies, Charles Grounds, Josh McConville, Adam Dunn, and — last, but not least — Tom Hanks putting on an accent that simply needs to be heard to be believed. As we learned recently, the film is scheduled to make its world premiere at the Cannes Film Festival, setting expectations appropriately high for everything Luhrmann and writers Sam Bromell, Craig Pearce, and Jeremy Doner have in store.
But for those who just can't wait, we now have a little more info on what we can expect to see from "Elvis."
Elvis footage reaction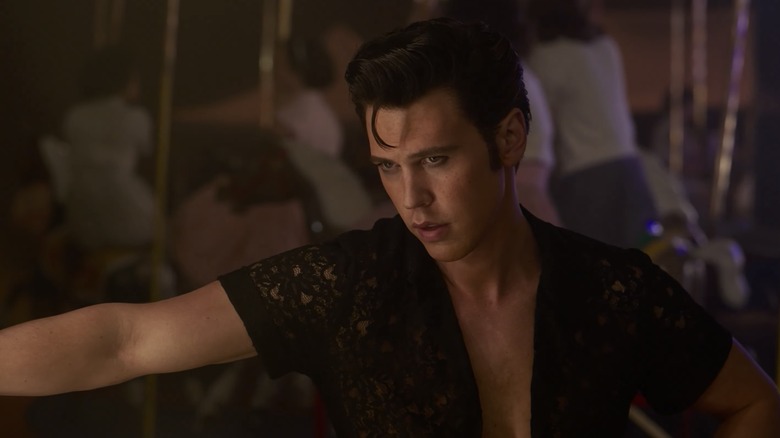 Warner Bros.
Luhrman took the stage at CinemaCon to explain his vision for the upcoming film. The director loves big, bold stories, and who's bigger and bolder than the King of Rock 'n' Roll? Don't expect a standard biopic, however, because even though Luhrman admitted that he loves them, "Elvis" is "not really a biopic." Instead, he plans on using Elvis Presley as a way to look at America in the '50s, '60s, and '70s, because "Elvis was at the center of the culture."
The director gave a pretty big clue about his approach to tackling the story of one of America's biggest music legends, explaining that he wants to tell the story of Elvis through the "prism of Tom Parker," played by Tom Hanks. Colonel Tom Parker was Elvis's manager and controlled almost every aspect of the singer's life, so he's certainly a fascinating new perspective to view Elvis from. Hanks as Parker narrated the first trailer, so it's entirely possible he'll provide narration in the film, too.
Like everything he's done before, "Elvis" will mix the contemporary with the looks and music of the eras in which Elvis lived. He said that much like he used hip-hop to update "The Great Gatsby," he found a way to make things fresh, saying: "You will hear the classics, you will see the story of Elvis, but we've translated that for a new generation."
The presentation also included a new trailer, featuring Elvis hanging out with BB King, some great footage of Austin Butler as the King, gyrating his hips on stage, and hints at the potential conflict between Parker and Presley as they fight for control of his career and life. Following the trailer, Luhrman returned to the stage for a quick interview with Aisha Tyler ("Archer").
Luhrman said that "Elvis" feels a bit like a superhero film because to him, "Elvis is kind of the original superhero." Superheroes and pop stars both have a kind of mythical nature to them, and a part of the film will be portraying the myth of Elvis as much as what actually happened: "A large chunk of the film is reality, but there's a touch of the film that's a morphine dream from Tom Parker."
Butler then joined the director on stage and they revealed that while all of the songs performed by the older Elvis will be taken from original recordings of the singer, any time young Elvis appears singing, it's actually Butler. Luhrman confirmed that Butler sang all of young Elvis's parts in the film, which is a pretty impressive feat.
"Elvis" comes to theaters on June 24, 2022.
Baz Luhrmann's "Elvis" explores the life and music of Elvis Presley (Butler), seen through the prism of his complicated relationship with his enigmatic manager, Colonel Tom Parker (Hanks). The story delves into the complex dynamic between Presley and Parker spanning over 20 years, from Presley's rise to fame to his unprecedented stardom, against the backdrop of the evolving cultural landscape and loss of innocence in America. Central to that journey is one of the most significant and influential people in Elvis's life, Priscilla Presley (DeJonge).