The 15 Best Bridgerton Characters Ranked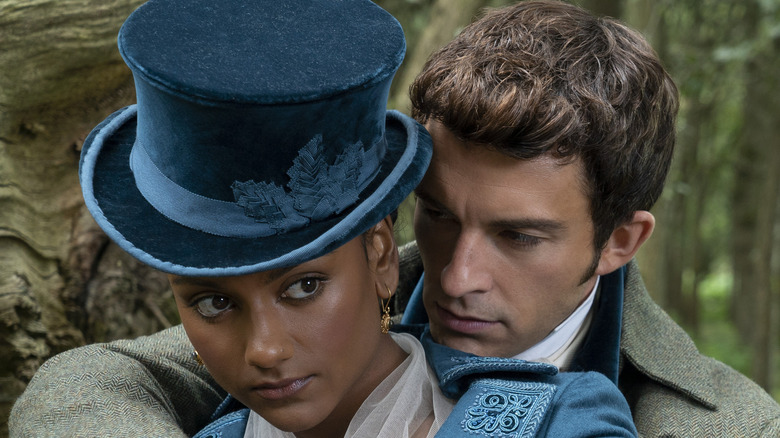 Netflix
With "Bridgerton" recently heating up our screens once more with the debut of Season 2, it's time to take stock of who the best characters in the series have been so far. It should be noted that if this list had been compiled after Season 1, the ranking would look almost entirely different. What a difference a season makes.
One of the most vexing characters has become one of the most beloved, and the breakout star of the first season is now nowhere to be found — things really have changed beyond all recognition. And this is likely to keep happening, as each season will continue to focus on a different Bridgerton sibling. One of the brothers is completely absent from this list, for example, but he could potentially do an Anthony-style turnaround and work his way into our hearts. One certainly hopes that this will be the case, dear reader.
Whether you're searching for a rake, a debutante, a wise matriarch or mentor, a villain (or villainess?), an artist, an adventurer, a pugilist, or just someone hopelessly in love, "Bridgerton" has you covered. Just be careful not to cause a scandal that will set the ton abuzz, for Lady Whistledown is always watching. Be warned: It should go without saying that spoilers for both seasons abound.
15. Madame Delacroix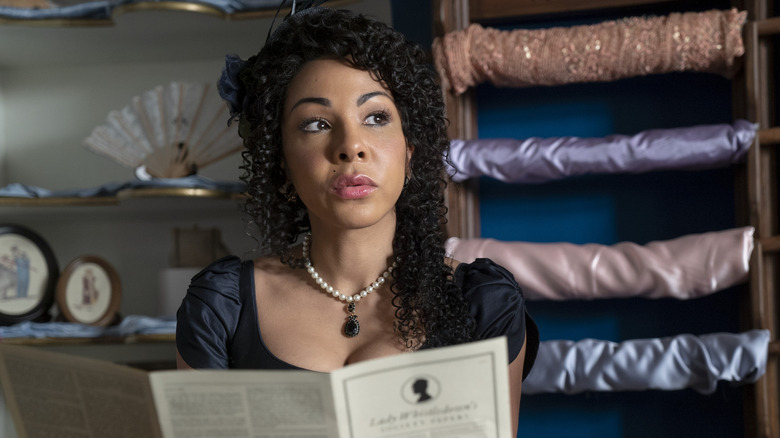 Netflix
Madame Genevieve Delacroix (Kathryn Drysdale) is at the center of everything that happens in the ton. As the Modiste, she makes the dresses for balls, weddings, and any other occasion they are needed for. But she has a secret: She is only pretending to be French and is in fact a commoner who runs in the same circles as Anthony Bridgerton's opera singer lover in Season 1. The Modiste is one of the prime suspects for Lady Whistledown's real identity, as she overhears so much gossip in her shop. Penelope Featherington ends up using this to her advantage, and they become something of a team.
The Modiste also "makes a stitch" with Benedict Bridgerton, and opens his eyes to exciting prospects at a party/orgy. She is a loyal friend, helping Siena (the opera singer), and Penelope, among others. Of course, being the Modiste she always looks absolutely gorgeous, and has fantastic hair and accessories. Being able to whip up fabulous dresses at a moment's notice, especially the concoctions that the Featheringons ask for, demonstrates Delacroix's level of undervalued skill. It wouldn't be surprising to see Madame Delacroix playing an important role in future seasons.
14. Edwina Sharma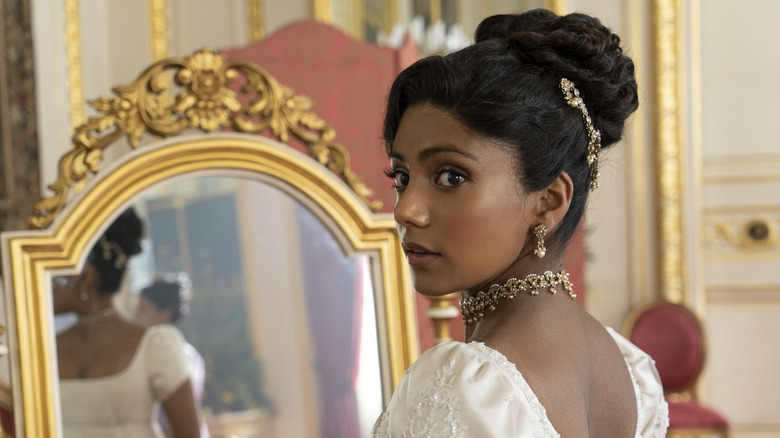 Netflix
If it were not for Episode 6 of Season 2 (titled "The Choice"), it is doubtful that the younger Miss Sharma (Charithra Chandran) would have made this list at all. Just as dutiful as the elder Miss Sharma, Edwina goes along with what everyone wants her to do and makes herself the perfect model of not only a future bride, but the diamond of the season. As the queen's incomparable, the pressure is on Edwina to secure someone with the highest title possible, and Viscount Bridgerton seems the best contender.
Edwina's naivete and devoted worship of her sister means that she misses what is right in front of her eyes, and she gets one of the funniest lines of Season 2: "Was I truly that blind?!" It is Episode 6 that brings her moment to shine, as she stands up to both Anthony ("She was harsher than I thought her capable of being") and Kate. There is also a tender scene, where the mentally ill King George bursts into the room, and Edwina calms him down, despite everything else she has going on. Both Mary Sharma and Newton the corgi also deserve shout-outs for being fantastic additions to the second season. If Charithra Chandran returns for Season 3, her character absolutely deserves to find happiness. It would be amazing if that were with the prince that Daphne jilted in order to pursue Simon.
13. Simon Basset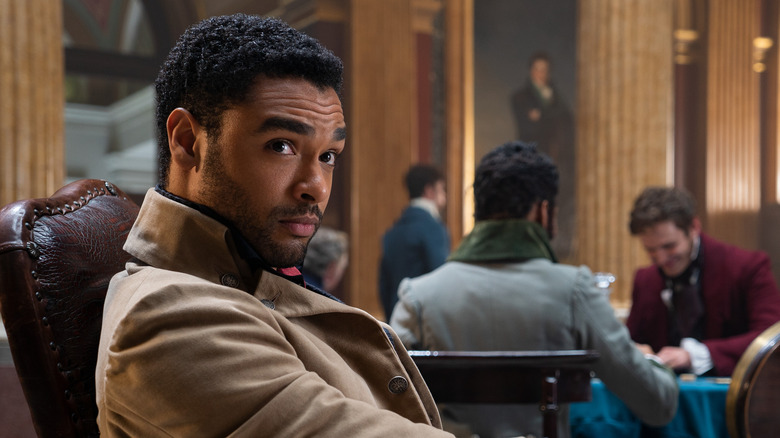 Netflix
Regé-Jean Page became a sensation after Season 1 of "Bridgerton," so much so that he became too big to return for even a cameo in Season 2. A complicated character — who was certainly helped by being given a sympathy-inducing childhood backstory — the duke blundered his way through the season until eventually accepting that he could be happy in the finale. 
Some of Simon's best scenes were with Lady Danbury (who practically raised him after he was rejected by his father), and with his best friend Will Mondrich, who was always on hand for Simon to vent his frustrations. The duke and Anthony also had an interesting relationship, going from being best buds at Oxford to dueling at dawn over Daphne's honor. 
Of course, it was the duke and Daphne that we were all invested in during Season 1. Simon also got to make a few memorable speeches, such as the one in front of the queen in Episode 5, and his passionate words spoken at the end of the same episode. Seeing Simon with Hyacinth and Gregory Bridgerton makes you really long to have seen him being a great father in Season 2. The audience worried about what the series would be like after the hot duke left, but we definitely had our worries assuaged quickly.
12. Daphne Basset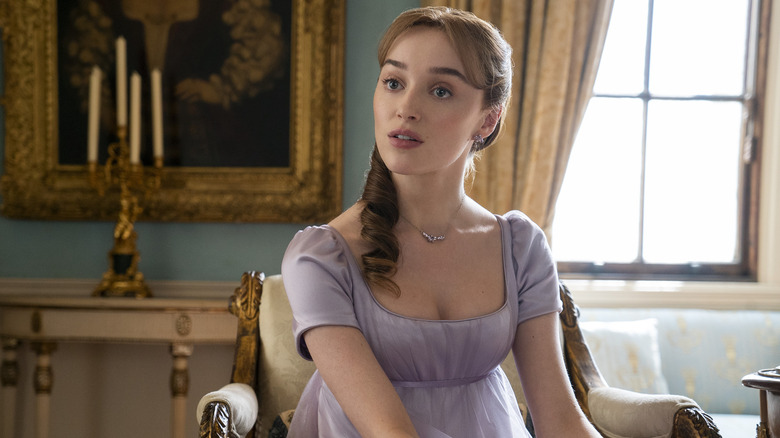 Netflix
Daphne (Phoebe Dynevor) is another character who might not have been on this list at all, were it not for Season 2. In Season 1, she went from a somewhat insipid lead character to finding her courage and taking charge in completely the wrong way. The decision she makes in Episode 6 of the first season is pretty hard to come back from, but she goes a long way in redeeming herself in Season 2.
Like many of the Bridgertons, they are often at their best when interacting with each other. Daphne's relationships with Eloise and her mother Violet in Season 1 were endearing. While Anthony did not cover himself in glory regarding Daphne in the first season, Daphne ends up being a much better mentor, who dishes out greater advice when the roles are reversed in Season 2. She also has an extremely cute baby.
Daphne did not have the smoothest of rides in Season 1, going from a complete ingenue who was ill-prepared for sex and relationships, to having sex all over her stately home in a montage set to a classical version of "Wildest Dreams." It will be good if Phoebe Dynevor returns in future seasons and continues to mentor her siblings as each one enters the marriage mart, as we know they will need all the help they can get.
11. Theo Sharpe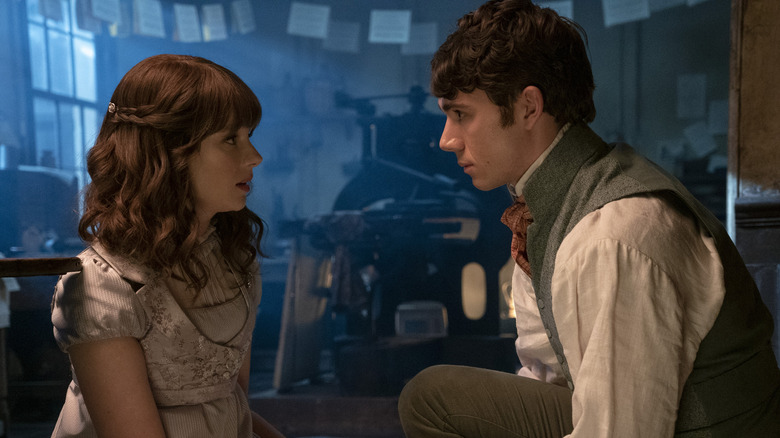 Netflix
There is a new addition to "Bridgerton" for Season 2, who may not have had many scenes, but made a big impression. The printer's shop where Lady Whistledown gets her pamphlets produced becomes a key location, with both Penelope and Eloise spending time there separately. And as a bonus, there's a cute printer's assistant who works there named Theo Sharpe. 
Sharpe introduces Eloise to new books and ideas, and invites her to politically radical meetings. As they are not from the same class, any potential relationship they may have will face the same problems that Anthony had with his opera singer in Season 1. When the queen's scrutiny falls on the shop, Eloise realizes that she has brought unwanted attention to Theo. She is drawn to him, but also wants to protect him.
Whether there can be any future for Eloise and Theo remains to be seen, but Jeremy Irons' nephew Calam Lynch was a welcome addition to Season 2, and it would be a shame to see him leave so soon. His chemistry with Claudia Jessie is fantastic, so let's hope he returns for future adventures.
10. Lady Danbury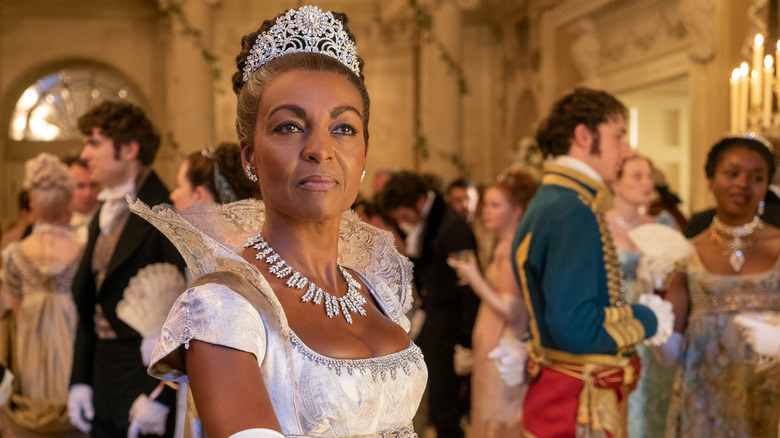 Netflix
One of the overseers of everything going on in the ton, the fiercely independent Lady Danbury (Adjoa Andoh) frequently takes charge of events (usually that the young people have managed to thoroughly mess up) and molds them to her will. Danbury's role as matriarch to both Simon in the first season and then the Sharmas in Season 2 shows her generosity, but she can get things wrong. Her relationship with Simon was extremely compassionate, and something that was missed in the second season. She is certainly harsher towards Kate Sharma.
Lady D's relationship with both Queen Charlotte and Lady Bridgerton is one of the best elements of her character, and one which will be more fully explored in the prequel series that is in development, which is something to be very excited about. Lady Danbury's "den of iniquity" that we briefly saw in Season 1 definitely needs more exploring, and the character has obviously lived an exciting life. Her fashions are exemplary — from her top hats to her ever-present cane, which keeps everyone around her in check. Lady D is who all sensible ladies (such as Eloise) of the ton surely aspire to be: a woman who answers to no one, except for her queen.
9. Benedict Bridgerton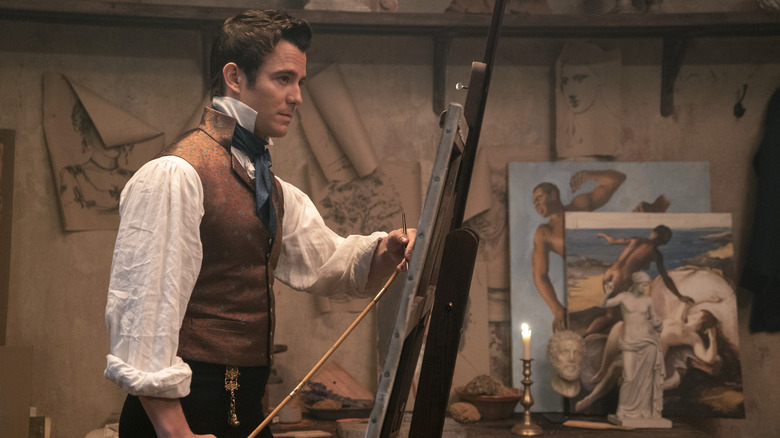 Netflix
There are eight Bridgerton siblings, and if the series follows the books, they are all heterosexual. The show has deviated from the books in many fundamental ways, including the diversity of the casting, but so far there is little sign that any of the main characters will be part of the LGBTQ+ community. The two prime candidates for Bridgerton siblings who are not straight are Eloise and especially Benedict (Luke Thompson). Benedict is a bohemian who attends art school and visits artists' homes, where things can turn from painting portraits to orgies at the drop of a hat. He befriends a gay artist in the first season, but so far has had affairs with the Modiste and with an artist's muse, who are both women.
Benedict's relationships with the rest of the Bridgertons are what give him a chance to shine. Whether sparring with his brothers, Colin giving him a "calming" tea which leaves him high as a kite, bashing Byron, or being Anthony's second at a duel, Benedict is the fun brother who is free of the weight of responsibility that Anthony is under. A highlight of Season 1 was the nighttime scenes when Benedict and Eloise would sneak out for an illicit cigarette on the swings. These scenes were sorely missed in Season 2, as their relationship is such a strength. "Bridgerton" fans are begging for Benedict's season to not be boringly straight; for now, we'll have to wait and see.
8. Penelope Featherington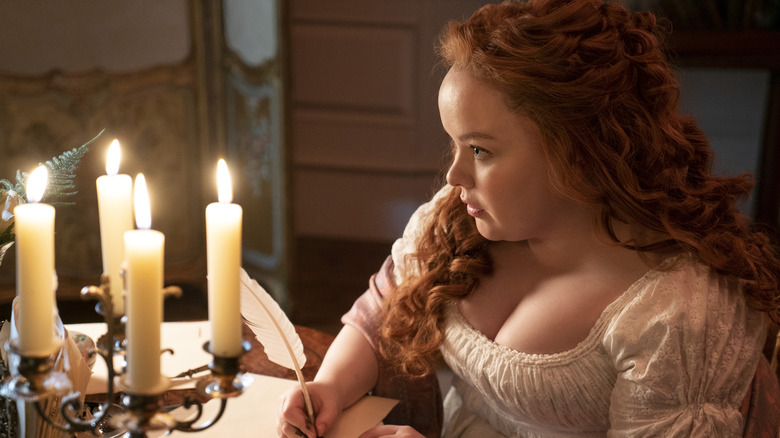 Netflix
The ton's resident wallflower has a huge secret that is revealed in the shocking Season 1 finale. Overlooked by her own family, as well as her crush, Colin Bridgerton, Penelope Featherington (Nicola Coughlan) only really has one person she can rely on — her best friend Eloise. They have a big falling out in Season 1, followed by a tearful reunion. But at the end of Season 2, there is a betrayal that will be hard to come back from.
Considering that Penelope and Colin are the focus of one of the books, it's hard to imagine how the show is going to go from, "You are Pen, you do not count," to inspiring us to root for them to be together. However, Anthony managed to go from being completely off-putting to swoon-worthy within the space of a season, so Colin could yet come around. 
In her role as Lady Whistledown, Penelope has had to face many difficult choices, including revealing her cousin Marina's pregnancy, as well as destroying Eloise's reputation in order to save her from the queen's suspicions. Other than financial, we don't know much about what is motivating Penelope to risk it all for her alter-ego, and it is hoped that future seasons will explore this more. Dame Julie Andrews absolutely deserves a shout-out here, because her narration of Lady Whistledown's missives is a huge component of the show that really works. Penelope is another complicated, flawed character who deserves better, but also makes questionable choices.
7. Lady Bridgerton
Netflix
The Bridgerton matriarch is another character who got to stretch her wings more in Season 2, and who became one of the most richly-drawn characters. In the first season, Lady Violet Bridgerton's (Ruth Gemmell) entire focus is essentially on finding a suitable husband for Daphne, although she did get to express her concern for both Anthony and Eloise at times. The relationship between Lady B and Anthony is a huge strength of the second season, as we delve into the traumatic backstory involving the death of Lord Edmund Bridgerton, and the subsequent difficult birth of Hyacinth.
Violet is so grief-stricken after her husband's sudden death that she is not a great mother for some time afterward, allowing her 18-year-old son to shoulder far more trauma and responsibility than is fair. Working all of this out with Anthony over 10 years later — while he's also struggling through the whole Sharma Sisters debacle — leads to some lovely tender and vulnerable scenes for both of them. It would have been nice to have seen at least one flashback scene with Violet and Edmund together, however, as we're constantly told about how strong their love was, rather than shown it.
Lady Bridgerton's rivalry with Lady Featherington, as well as her friendships with Lady Danbury and the queen, are all fascinating, and it will be great to see them further explored in the prequel series. She is another character who has revealed hidden depths in the second season.
6. Kate Sharma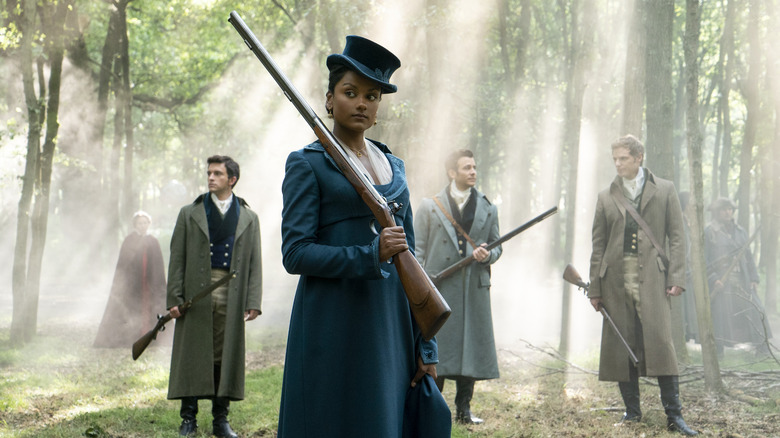 Netflix
The Sharma Sisters' arrival in the ton is the inciting event for the whole second season, and they certainly are a breath of fresh air. The casting of Kate Sharma was integral to the success of Season 2. Choosing the stunningly beautiful Simone Ashley, who has the huge eyes of a Disney princess, was definitely the right call (even if it is one of many deviations from the book). 
There are many parallels between Kate and Anthony: both the eldest siblings in their families, trying to do the right thing and feeling the heavy weight of duty and responsibility. This, of course, leads them to deny their true feelings for far too long, while also undressing each other with their eyes every time they look at one another. Kate's rebellious and competitive nature is her greatest strength. This is shown in her early morning rides donning a fantastic hooded cape, joining the men's hunting party in the most stunning outfit of the season, and her absolute refusal to allow Anthony Bridgerton to best her at the races, at pall mall, or in matters of the heart.
One of Ashley's main roles this season is to stare wide-eyed at Jonathan Bailey's Anthony while he completely destroys her (and us) with romantic speeches, and she does a very good job of this. Her final dance with Anthony, where their clasped hands move over their eyes and she allows herself a brief second of vulnerability, is probably Kate's crowning moment.
5. Will Mondrich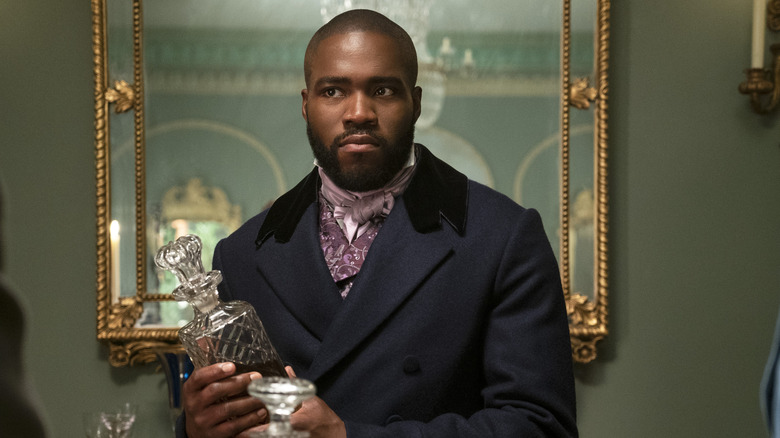 Netflix
If there's one man who has remained the absolute backbone of both seasons, it's the vastly underappreciated Will Mondrich (Martins Imhangbe). A huge highlight of Season 1 was whenever the duke had Daphne feelings to work out, he would turn to his old friend for some bare-chested, bare-knuckle boxing, to get drunk and seek advice. Will and his brilliant wife Alice always dish out the best advice (and the best hangover cures), if only any of these stupid, entitled people would just listen to it. 
In both seasons, the weak men of the Featherington clan would attempt to corrupt Will with their nefarious schemes. But Will has more honor than most of these dukes and viscounts put together, and is not for sale. In Season 2, he leaves the world of boxing behind him and opens a gentlemen's club. He becomes a confidante of both Benedict and Colin, and he saves Colin from ruin at the hands of the Featheringtons for a second time. Perhaps Anthony will afford him the respect he deserves going forward. Let's hope that Will continues to return in subsequent seasons, in an expanded role, as the privileged class of the ton certainly needs him.
4. Lady Featherington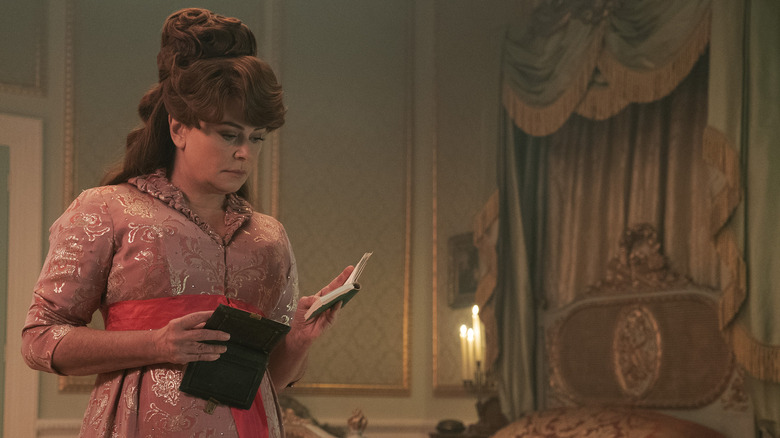 Netflix
While the Bridgertons are considered a paragon of virtue (from the outside, at least), their neighbors across Grosvenor Square aren't quite so fortunate. Lady Portia Featherington (Polly Walker) is the villainess we all love to hate. She is a fierce defender of her three daughters, Prudence, Phillipa, and Penelope, and is never afraid to take matters into her own hands to get things done. The funniest thing about Lady F is that while she has some of the best (but least period-appropriate) costumes on the whole show — with her cinch-waist dresses showing off her figure to perfection — her daughters are constantly dressed like the ugly stepsisters from "Cinderella."
Lady Featherington and her staunchly loyal housekeeper, Varley, are constantly cooking up schemes in both seasons to try to save the family from financial ruin and their reputations. They do some pretty unforgivable things, such as making cousin Marina Thompson believe that the father of her child doesn't love her. However, it's clear by the end of Season 2 that Lady F will choose her daughters over anything else, and that she resents having to rely on weak men for their wavering fortunes. Polly Walker is fantastic in this role, and the ton would be a much more boring place without Lady Featherington and her colorful approach to both fashion and life. She just needs to start being nicer to poor Pen.
3. Eloise Bridgerton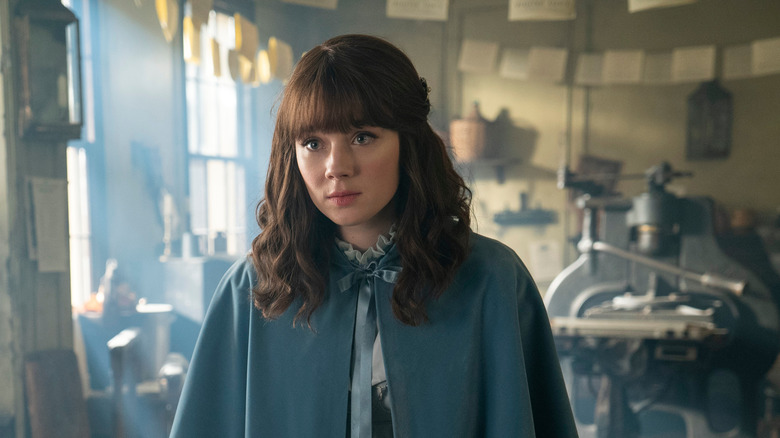 Netflix
There is one Bridgerton sibling who is the ton's own Mary Wollstonecraft, constantly questioning the way society is set up, especially regarding women. Eloise Bridgerton (Claudia Jessie) does not want to partake in debutante balls, the marriage mart, or anything else that reduces women to commodities that places all women's futures and fortunes in men's hands. Eloise has a fascination with Lady Whistledown in both seasons, a woman she views as having risen above society, and is using her sharp wit and wise words to pierce convention.
Eloise is fiercely competitive with her brothers, which we see in the great game of pall mall (croquet) in the second season. It is deeply unfair that she has to watch them attend Eton, Oxford, and Cambridge; how Colin can decide to go traveling on a whim; or Benedict can decide to attend art school if he fancies it. Eloise's future is either to marry or face spinsterhood, or perhaps become a governess, which would greatly reduce her standing in society. Her education has been focused on dancing, embroidery, and playing pianoforte — everything to make her a suitable young lady and marriage material. Her love of reading is also mocked and discouraged.
Eloise and Penelope's friendship is one of the central threads in both seasons, and Seasons 1 and 2 end with drama for the besties. Her burgeoning relationship with Theo Sharpe was exciting, but also ended badly. Where will things go now for Eloise?
2. Anthony Bridgerton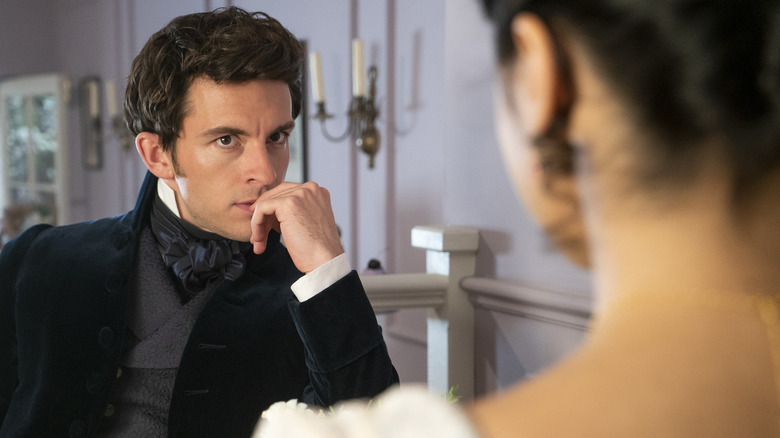 Netflix
If there's one character who exemplifies the difference between Season 1 and Season 2, it is the eldest Bridgerton sibling. In Season 1, Anthony was pompous and always convinced he was right, especially when it came to his sister Daphne. He also had a long-running affair throughout the season with an opera singer, someone he thought he could string along, even though they couldn't possibly have an actual future together. Society's double standard that the gentlemen could cad about town, while the ladies had to remain prim, proper, and untouched, was especially aggravating to watch.
Fans issued heavy sighs when we learned that Season 2 would be based around Anthony. But, the sighs quickly turned to palpitations when we saw what Jonathan Bailey would bring to Anthony's passion for Kate Sharma. Season 2 was much more of a slow burn. The tension, the heavy breathing, the "we really shouldn't" of it all, the yearning eyes, the clenched jaws — all of it kept us glued to our screens throughout.
If there's one scene that's been on almost constant rewatch, it has to be the "not far enough" speech in Episode 5. Although, the hunting scene, and the two library scenes, were also top-notch. Anthony's scenes with his mother, Daphne, and Gregory were also great, and Bailey brought vulnerability to the slightly ridiculous bee-based backstory. This season was a triumphant turnaround for the character.
1. Queen Charlotte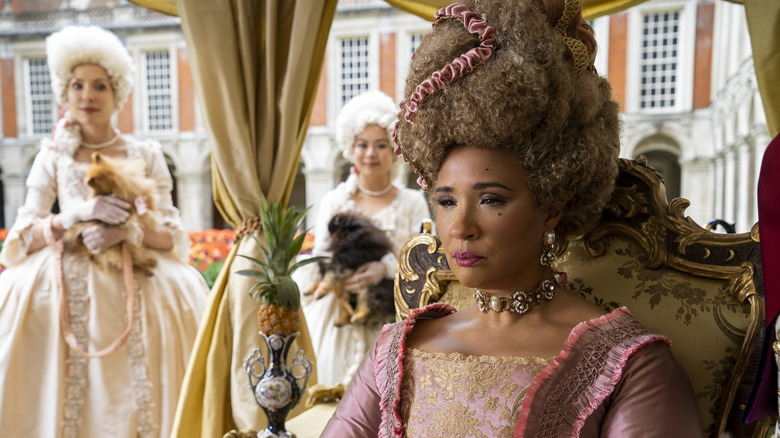 Netflix
If there's one person who sets the tone and the mood of the ton, it's Queen Charlotte. If the queen isn't happy, then heads are going to roll. The queen is central to the television series' approach to history; instead of having the Prince Regent take over when King George becomes incapacitated, the queen is the one who is very much in charge. And she won't let a soul forget it, even for a moment.
Golda Rosheuvel is incredible at commanding the screen as the queen, in the most sumptuous costumes and tallest wigs imaginable. The way her mouth twitches will indicate displeasure or amusement, and everyone must respond accordingly. The queen's long-running feud with Lady Whistledown, and her quest to reveal her identity, are central to the plots of both seasons.
While there is only one scene in each season, the brief moments when we see "Lottie" with King George reveal a totally different side to the formidable matriarch. Theirs is clearly a love story, and it is heartbreaking to see how ill the King is. The fact that there's going to be a prequel series focusing on the queen should reveal more of that love story with George. Queen Charlotte is already an iconic character, after just two seasons of "Bridgerton," and long may she reign.