Bridgerton Season 2 Is A Masterclass In Slow Burn Romance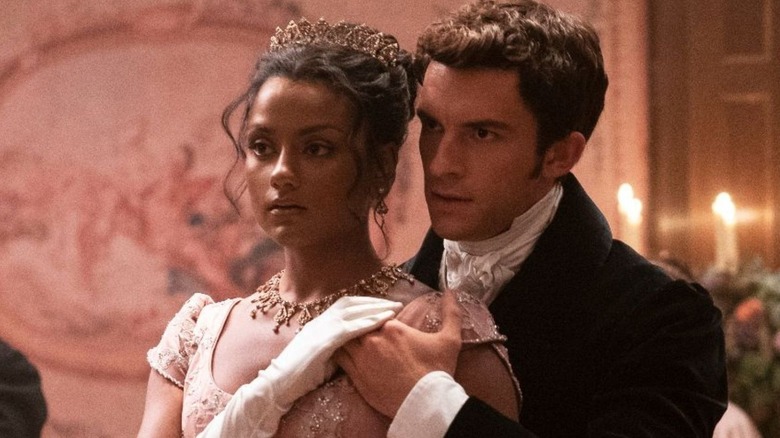 Netflix
"Bridgerton" season 2, to put it simply, is approximately 8 hours of Anthony Bridgerton (Jonathan Bailey) and Kate Sharma (Simone Ashley) secretly yearning (or should I say burning?) for each other. Netflix's second season of the global phenomenon "Bridgerton" is an adaptation of Julia Quinn's second novel in the titular series, "The Viscount Who Loved Me." Frankly, I think it should've been called "The Viscount Who Burned For Me." But we don't get everything we want in life.
The new season takes us back to Regency-era London and follows Viscount Bridgerton's journey to find a wife. His plan, however, is to not marry for love but practicality. He has shaved his controversial sideburns, embraced a sleek and sexy hairstyle, and within the first episode itself, picked his match. Anthony quickly sets his sight on Edwina Sharma (the enigmatic Charithra Chandran), the incomparable of the season, who is everything a young lady in London's high-society is expected to be.
Little does Anthony realize that to be betrothed to Edwina, he must first seek the approval of her overprotective older sister Kate (you can see where this is going), whose distaste for Anthony often leads them to argue ... a lot. The constant arguing eventually paves the way for them to spend more time together, and the hatred they have for each other most inconveniently transforms into a curious case of forbidden love. The only problem? Neither realize nor fully accept their feelings until it is too late (read: denial).
The most satisfying slow burn we've seen in a while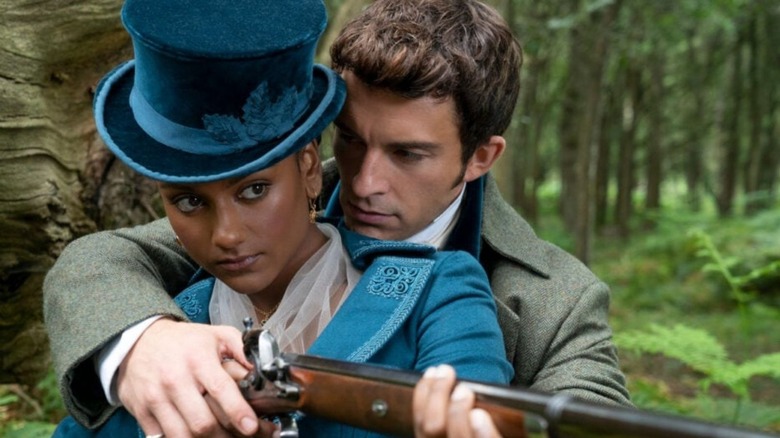 Netflix
So, what transpires through the first six hours of the show, is Kate and Anthony orbiting each other on grounds and on dance floors with a buzzing magnetism that makes any fan worth their salt want to scream into a pillow. They vividly yearn for each other's presence. They steal forlorn glances, ruminate over the reciprocity of their actions, all while refusing to tear their eyes away from the other, even when promenading with different people. Anthony repeatedly flirts with Kate, who doesn't return his attachment in person, only in her heart. 
The two almost hold hands several times — and that's just how close to the surface the physical attraction between them is allowed to simmer.
A love story built on subtleties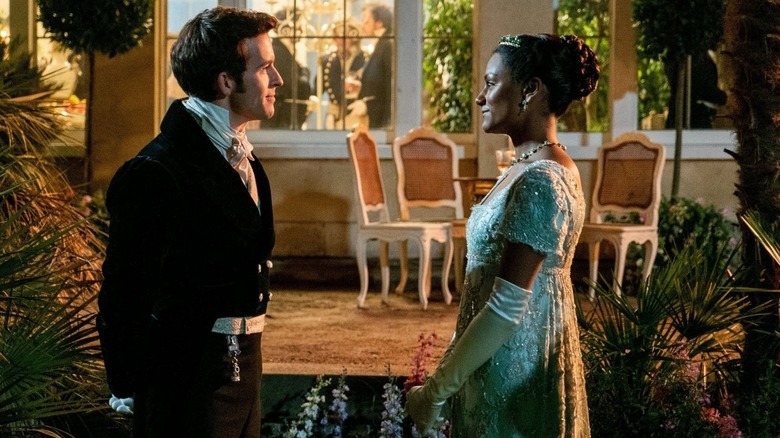 Netflix
In season 1, the unresolved attraction between Daphne and Simon is quickly resolved when it leads them to a dimly-lit garden, and the palpable sexual tension culminates into an electrifying make-out sesh.
But in season 2, the evolving, unresolved attraction between Kate and Anthony is unwilling to come to an end. It's both exhausting and frustratingly fun to watch. It illustrates what a slow burn enemies-to-lovers romance needs to be — because is it any good if it doesn't make you want to throw something at someone? PS: It's pretty amazing how Anthony, who is allegedly a "Capital R Rake," has so much self-restraint ... nothing happens between him and Kate until it is too late. Unlike Daphne and Simon, who are propelled to enter a marriage due to the fear of becoming gossip of the ton, "Bridgerton" season 2 deviates from its source material and hands autonomy back to its characters. Nothing happens unless Kate and Anthony explicitly want it to happen — and nothing is a deal-breaker. It's very refreshing to see them taking control of their lives rather than the word of a scandalous writer.
"Bridgerton" season 2 also refrains from getting hot and heavy like its predecessor. Instead, it takes its time, packing in every existing ounce of the dazzling chemistry between its characters. It allows the sensuality of little things such as interlaced fingers to breathe life into the story. Kate and Anthony's relationship — of resentment and love — is built on subtleties that operate as its foundation. Every time they look at each other, they forget how to breathe, and so do we. It's the only way they can be intimate in a room full of people — a single glimpse of the other is enough for them to lose sight of what they think is right.
Bridgerton is not "Jane Austen with sex"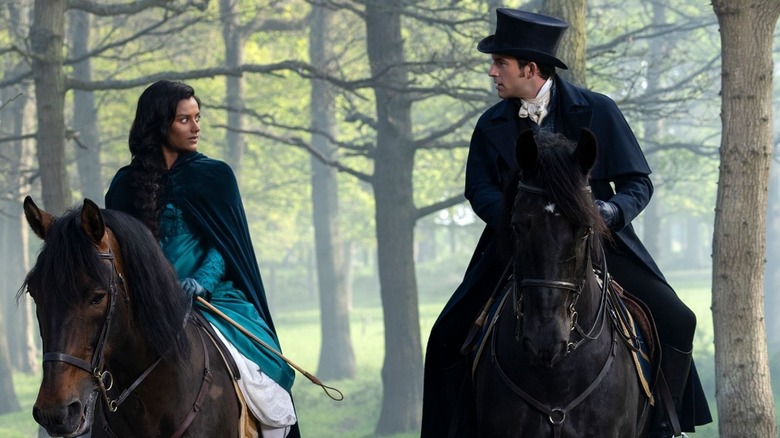 Netflix
With season 2, "Bridgerton" relinquishes its reputation for being "Jane Austen with sex," an unfair description often used to compare the two. What it is, however, is an Austen-esque fantasy rooted in complete escapism, and an astounding slow-burn romance set against a vibrant tapestry of colors. "Bridgerton" embraces the conventions of 19th Century etiquette and social class while making it their own. The chemistry between Bailey and Ashley is electric — I stayed up watching the season until the early hours of the morning and paused multiple times to brace myself. It's a captivating lesson in slow-burn romance, and perhaps one of its most faithful interpretations since Joe Wright's "Pride & Prejudice."
It is a truth universally acknowledged that the enemies-to-lovers trope is singlehandedly the greatest romance trope of all time (I will fight and die on this hill) — and "Bridgerton" season 2 knocks it out of the park. It knows what it's doing. It has significantly less steamy scenes than season 1 — which doesn't bother me (I'm all about the lingering glances), but I can see why it would disappoint some people. The season is a complete shift in tone from season 1, which primarily focuses on Daphne's (Phoebe Dynevor) sexual awakening. Anthony and Kate's story progresses slowly and realistically, tackles unresolved grief, the fear of being vulnerable, and how you can heal from losing your loved ones but rarely ever forget the pain it caused. It explores how you don't choose who you love. And also how it is rarely a choice. And it does all of this very, very slowly. 
A small observation worth noting is that gloves were a crucial Regency-era fashion accessory, and yet, Anthony never wears them when he is in close proximity to Kate. Because if holding her hand is the only way he can have her, he might as well do it right. The very notion makes me lose sight of everything, every time.