Bridgerton Season 2 Review: Simone Ashley Is The Diamond Of An Otherwise Lackluster Courting Season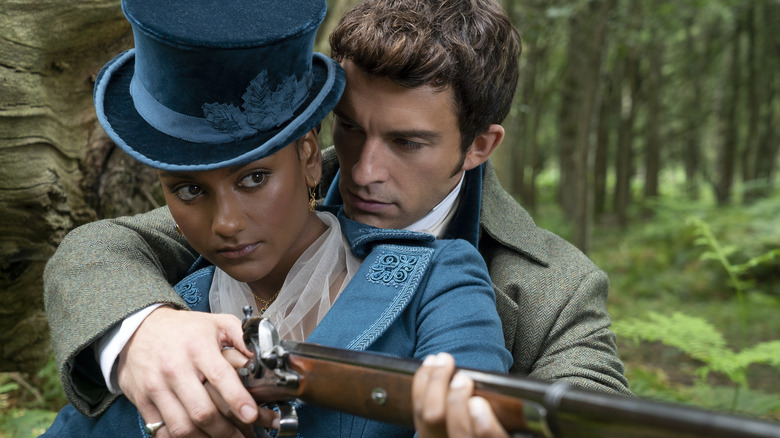 Netflix
The burden of expectation weighs heavily on the second outing of the Bridgerton family, who first arrived in our lives as a source of much-needed relief, graciously whisking us away in a scintillating flurry. In the midst of our pandemic-fueled depression, we were offered a healthy dose of unabashed Regency-era confection that blended Austen sensibilities with juicy Shondaland extravagance. This sparkling, pop-infused take on the mannered costume drama somehow brought together the best of those very divergent worlds with heady fanfare, so yes, there was much hope for recapturing that thrilling high in season 2. With its grand return, "Bridgerton" takes care to play the well-received hits: Lady Whistledown (a sharp-tongued Julie Andrews) is stirring gossip, grand balls are once again abundant, and the social season is kicking into high gear with yet another Bridgerton looking to lock down a marriage. All the pieces are in their usual places, prepping us for the takeover of an alluring new romantic dynamic ... and yet, there's this nagging feeling pulling at the edges of the new season, never ceasing to remind us that something's missing. And as the season goes on, that missing ingredient becomes more than a back-of-mind question — it becomes a glaring issue as our return to the 'ton proves to be frustratingly underwhelming.
With only one marriage down, the Bridgerton family still has a ways to go before all eight (!) children are happily married off to their perfect match — so with the love story of eldest Bridgerton daughter, Daphne (Phoebe Dynevor), and the irresistible Duke of Hastings behind us, the time has come to trace the eventful courtship of the viscount himself, Sir Anthony Bridgerton (Jonathan Bailey). As fate would have it, a love interest arrives just in time! Not long after Anthony announces his intentions to secure a wife, he encounters newcomer Kate Sharma (played to perfection by Simone Ashley), who is technically on the marriage mart but has arrived in London to find a love match for her younger sister, Edwina (Charithra Chandran). Immediately, Anthony and Kate are drawn together, fueled by a wild attraction that's equal parts lusty and hateful. That's right — this year, "Bridgerton" goes the enemies-to-lovers route in which, like so many Austen-esque romances, their love is birthed of fury.
The duo spends all eight episodes sniping at one another, constantly falling into verbal sparring matches that aren't exactly ideal for high society settings — in part because they inspire fiery flirtation in a world that expects chastity. These scenes are easily the season highlights, in large part because Ashley is magnetic and shares a charged chemistry with Bailey that serves as a sharp reminder of where Bridgerton thrives. This is a show that lives and dies on its central romance, and in their isolated moments of heat, our newest leads have that nailed. Their never-ending bickering serves to bring them closer together, as they take glee in besting one another, and also come to enjoy the company of the person who consistently vexes them. It's not long before charged looks become longing glances, and their love tale might be simple if not for a few complicating factors. Because unfortunately, the golden scenes they share together are just a fraction of a muddled season that has so much more going on, despite little of it being memorable.
The talk of the 'ton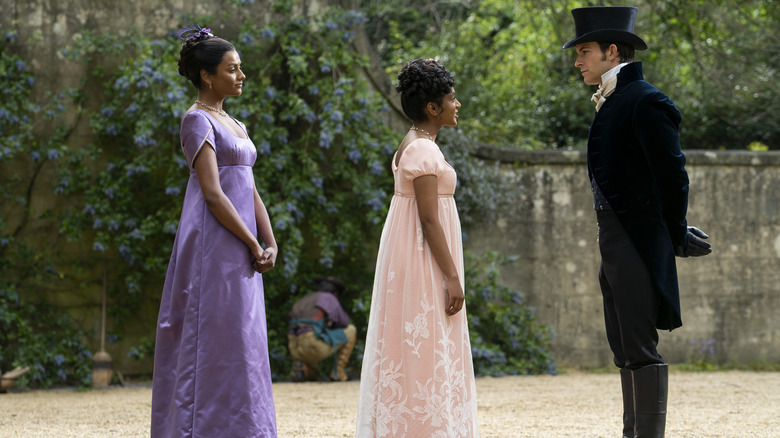 Netflix
A significant obstacle arises in Kate's younger sister, Edwina — the Sharma sister who Anthony quickly declares his perfect match. Rather than searching for love, the viscount wants a woman who will suit him well as a wife. Edwina —sweet, lovely, and able to play multiple instruments — meets all his requirements! The only problem is her shrewd older sister, Kate, who is determined to stop the union upon discovering he has no interest in love. And once they clash in tried and true enemies-to-lovers fashion, we're thrust into a love triangle that might be even minutely compelling, if only Simone Ashley weren't carrying the whole mess on her back. Wonderfully empathetic in her role, Ashley wears conflict well as Kate navigates the rocky waters of loathing, then develops feelings for a man her sister wants to marry. Meanwhile, beyond her determination to marry Anthony, Edwina's other personality traits include being sweet and lovely, with zero-depth to keep us afloat. As for Anthony? There's much to unpack.
"Bridgerton" took the world by storm because for all its flaws, it arrived fizzy, joyous, and easy to love. To some extent, those things are still true — except for the issue of Anthony, who proves increasingly difficult to even like. In case you do find yourself getting swept up in the easy charm of Jonathan Bailey, the series makes the questionable choice to snap us back to an awful reality with some misogynistic insight from the mind of Anthony Bridgerton, a man we're supposed to buy as the object of two women's affections despite him spending a whole season struggling to make sense of basic human emotions. Just like that, you'll remember that this is in fact the same guy who nearly ruined Daphne's life last season by scaring away all her decent prospects then trying to marry her off to a lecherous man twice her age. Or better yet, you'll remember him as the guy who, upon learning his younger brother had fallen in love, sighed, "I should've taken you to brothels when you returned from Eton." Bad news, folks, Anthony may have lost the sideburns but he's still lacking in charm.
I'm all for a redemption arc, but oddly "Bridgerton" isn't especially interested in making their lead likable, beyond introducing some past traumas and allowing him to catch the eye of the lovely miss Kate Sharma.  Alluring as they may be in their isolated moments, with so much of the season spent selling us on a less-than-compelling love triangle, I spent most of the time wondering why in hell I would want either Kate or Edwina to end up with a man who might look great when climbing out of a lake, but also has the personality of misogynistic sand.
Has Bridgerton lost its magnetic pull?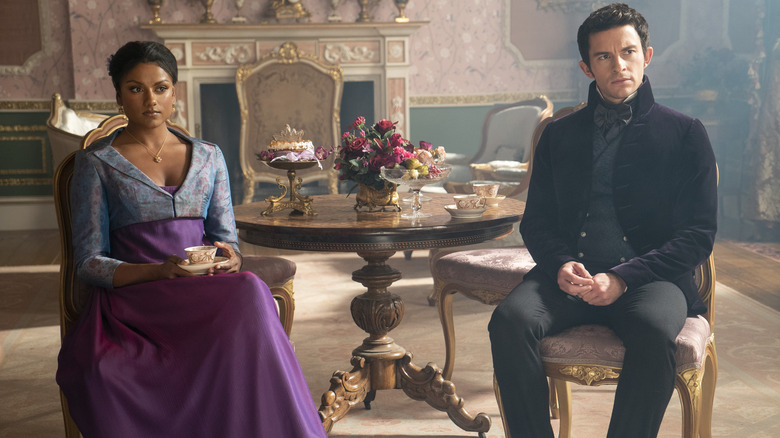 Netflix
Contrary to the controversy that arose when Regé-Jean Page announced his intention to depart from the series, he isn't the secret sauce missing from the show — not exactly. Instead, he represents the magic that season 2 never quite recaptures. With Dynevor's Daphne, he made the ideal romantic lead — their banter and budding friendship allowed their romance to blossom, making it easy to sink into the charms of the world and a steamy relationship. It was always going to be an uphill battle to get us behind Anthony, who was basically an antagonist for most of season 1, but doubling down on his worst aspects to play up the enemies segment of his romance certainly didn't help. When you're ready to fall in love again, and the best you can get is an Anthony Bridgerton, it's a major letdown.
The Anthony of it all is just one facet of this muddled season of TV. The romance works in isolation but otherwise falls flat, leaving the rest of the 'ton to keep us invested — a task they aren't quite up to. Though there should be enough going on to keep the momentum moving when the core romance falls into a comfortable lull, "Bridgerton" seems to have hit a wall. Don't get me wrong, things are technically happening — the Featheringtons get down to scheming as they welcome a new heir to their estate, Penelope (Nicola Coughlan) is conflicted as she keeps her deepest secret from the people closest to her, Eloise (Claudia Jessie) continues her search to unmask Lady Whistledown (and discovers feminism in the process), and Benedict ... still likes to paint. There's also something about a budding gentlemen's club in the background, and oh yeah, The Queen still exists, but the sense of potential scandal and thrilling momentum is lost. The plot threads are messier, and I can't help but wonder if the show is becoming constrained by its own construction: adapting each season book-by-book means those like Benedict (Luke Thopmson) and Colin (Luke Newton) are unable to propel forward, as they must save real development for the romance of their season. 
So if nothing can move forward except the main storyline, and one half of our core couple is irritatingly unlikeable, and even their isolated moments of chemistry are restrained by the fact that they're caught in a less-than-compelling love triangle, then what do we have? A lackluster season that hopes to recapture the heights of its first but mostly falls short, and occasionally hits the painful low of inspiring boredom. There's just enough of the lush "Bridgerton" extravagance and absurdity to make the 8-episode binge bearable, at the very least for the sake of enjoying the moments where Ashley and Bailey get to thrive, but there's no question that this season is lesser than the first, and we can only hope the series has room to grow with its third.
/Film Rating: 5 out of 10

"Bridgerton" season 2 premieres March 25, 2022, on Netflix.