Netflix Takes Pete Davidson Seriously, Creates 'Short-Ass Movies' Category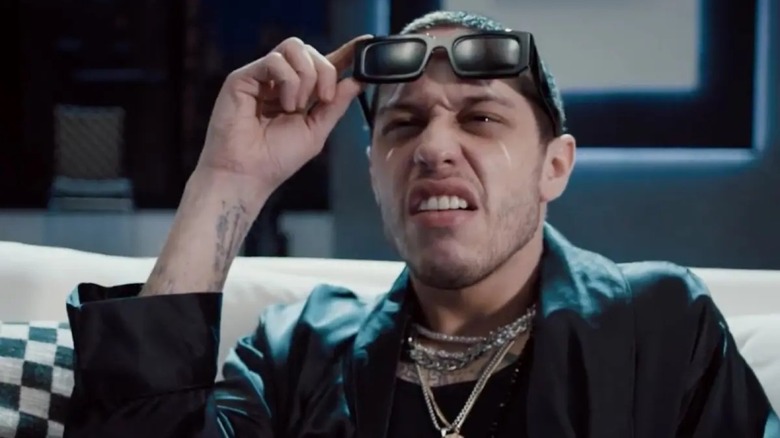 NBC
Who says "Saturday Night Live" isn't funny or relevant anymore? Though there is a big case to be made that the show doesn't have the same impact on the TV or film industry as it once was, it still has some great comedic moments now and then. From Timothée Chalamet and Pete Davidson making a phenomenal sketch comedy duo, to the gift that is Please Don't Destroy, the long-running show still finds ways to entertain us, and to be viral in ways that get picked up by giant corporations.
Case in point, last week's sketch about "Short-Ass Movies," which may be the most relatable thing "Saturday Night Live" has done since Ryan Gosling took down the use of the Papyrus font in "Avatar." Not only was the sketch hilarious and catchy, but it lead to at least one streamer employing it for programming recommendations.
Give me a movie under 100 minutes
In the sketch, Pete Davidson sings about the unbelievably immense variety of content available to watch on streaming services, from classic movies to hit TV shows. But when you have so many movies and shows available, and a short attention span, the only thing worth more than a 100% fresh on Rotten Tomatoes is a short running time. 
"Night after night, there's only one kind of movie I'm always looking for, and that's a short-ass movie. A really short movie, like at most an hour 40," Davidson raps. He also pokes fun at longer movies like "The Batman," which was so long he "pissed his pants" twice at the theater because the film was longer than "The Hobbit."
Not that he is saying longer movies are bad, but he's saying that "Sex and the City 2" is 20 minutes longer than "Jurassic Park." Whereas the latter tells the story of man and dinosaurs, and explains how to bring dinosaurs to life, the former film stars people we already know. 
Now, Netflix is taking a page out of "SNL" by creating their own category aptly titled "Short-Ass Movies" which features films like "Zoolander" and "Bad Trip," both under 95 minutes.
Of course, this category excludes Davidson's own film, 2020's "The King of Staten Island," because even if it ever makes it to Netflix, it runs for 136 minutes. In Davidson's defense, he does acknowledge this in the sketch, and promises they needed every one of those minutes.