Timothée Chalamet Had A Blast With Pete Davidson On A Smashing 'Saturday Night Live'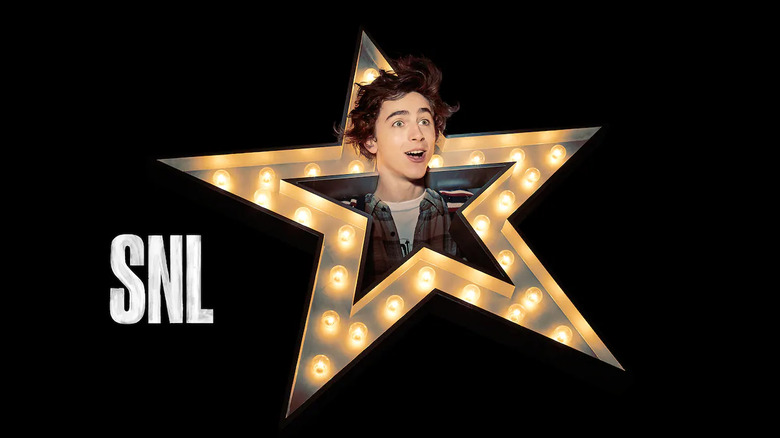 We've already seen Timothée Chalamet on Saturday Night Live thanks to Chloe Fineman's outstanding impression of him. But the real Timothée Chalamet hosted the show this weekend, he brought a lot of youthful energy to Studio 8H. Furthermore, he also allowed Pete Davidson to really shine in many more sketches than he usually gets a chance to appear in. It reminds you how good he can be with the right bit, and Chalamet clearly loved working with him since they appeared together several times throughout the episode, making for some big laughs.
The Best
December to Remember Car Commercial – If you're one of those people who watches holiday car commercials every year and questions how any normal persons could even consider buying an entire car for someone for Christmas, this is the sketch for you. How has no one tackled this premise before? Watching this clueless, irresponsible husband played by Beck Bennett have his idea completely torn apart and his marriage crumbling before his eyes makes for an instant commercial parody classic.
Sportsmax – Timothée Chalamet had a lot of fun with Pete Davidson throughout this week, but this was one of the best bits of the night. The overall sketch imagining a sports spin-off of the insane right-wing news channel Newsmax is such a stellar premise on its own, because it allows for the making of a political sketch without being political. Making it New York-centric adds another layer to the absurdity. Chalamet and Davidson steal the show as two Jets fans eating cheese fries and talking about their "winning streak" and they're just great together. Davidson even feels like he's channeling Adam Sandler a bit.
Rap Roundtable – Watching Davidson and Chalamet act like to tough white rappers who clearly know nothing about hip hop is funny in itself, but their constant shouting of not so cool hip hop phrases is what really makes this hilarious. Plus, having Questlove on their to be in awe of their presence and eventually slapping them seals the deal.
Coronavirus Holiday – At first, I thought this sketch was only amusing, and even though it's not necessarily raucously hilarious, the writing her is particularly clever. Portraying the coronavirus as a cheesy sitcom family with all their drama is a decent concept on its own, but for me, it's the continuous puns and the clever spins on what coronavirus has done to all of us that makes it work better than it otherwise should.
The Average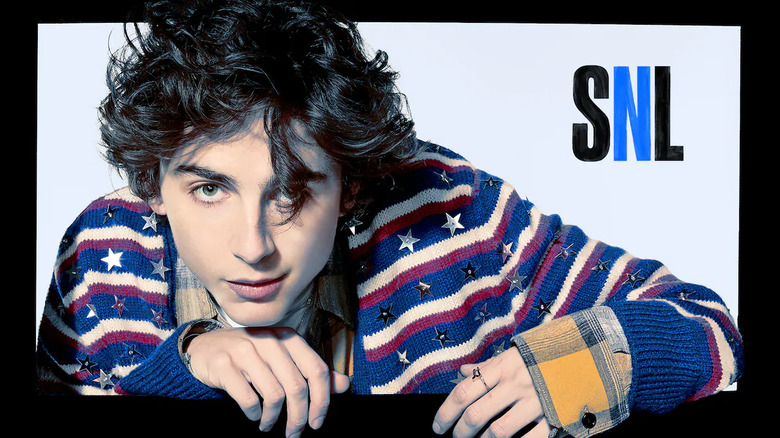 Holiday Baking Championship 2020 – This almost made it up to the list of the best sketches, but since we know the formula of these bits by now, it's not quite as fresh. But that curious crevasse cake oozing frosting is such a good visual gag, and Chalamet really sells it. The rest of the sketch goes exactly how you expect, which is fine, but it's that one terrifying baked good that really brings the laughs.Tiny Horse – I don't know how this sketch made it so early into the sketch line-up, because it's the weirdest of the night. This feels like a 10-to-1 sketch through-and-through. It's a dramatic song about saying goodbye to a tiny horse as the family farm has to be sold. It's more cute than funny because of the tiny claymation horse, but Chalamet brings that same real acting energy that Adam Driver or Ryan Gosling does when they host, which helps make it funnier than it otherwise might be. It's a fine sketch!
Dr. Fauci and Dr. Birx – Clearly SNL can't afford to bring Brad Pitt back to play Dr. Fauci all the time, so Kate McKinnon is the next best bet to play the little doctor. She's fantastic in the role, and the sketch has some funny lines here and there, but it also feels like something SNL missed the boat on earlier in the year. Obviously they couldn't do it like this because of COVID making them do the "At Home" versions of the show, as well as their summer hiatus, so this ends up feeling a little more stale than it might have been months ago.
The Worst
Dionne Warwick Talk Show – SNL has the benefit of being able to do extremely relevant and topical sketches since it's put together in the week leading up to the show. But that doesn't mean it always works. Dianne Warwick was all the rage on Twitter with her adorably clueless tweets about famous people, and SNL thought that was an opportunity to give Warwick a talk show where she tries to learn as much about other celebrities as she can. Aside from a couple decent celebrity impressions, including Ego Nwodim as Dionne Warwick and Chloe Fineman as Timothée Chalamet, this just wasn't very good.
Weekend Update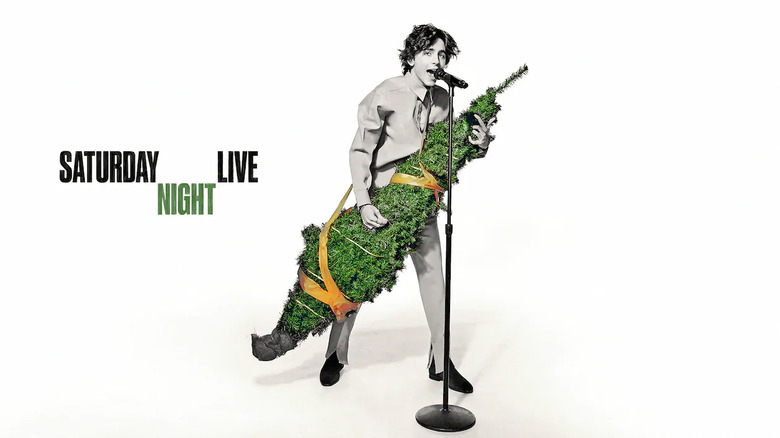 Michael Che has felt much more comfortable and off-handed at the Weekend Update desk this season. I'm not sure if he's just leaning into it as part of his "character" at the desk or if he's really just being much more nonchalant about everything. Either way, I'm digging it. Colin Jost's stuff is fine in this edition, but he made up for it with his interaction with Kate McKinnon. Speaking of which...
Dr. Wenowdis on COVID-19 Vaccine – Well, I certainly wasn't expecting this bit to make a comeback, but when the writers of SNL see that something works, they usually like to beat it into the ground. Thankfully, McKinnon is having so much fun with this character that it's not bad. "We didn't do good, it could have been better, but it actually could not have been worse," is a great line. But it goes a little downhill when they try to repeat the breaking of the fourth wall by having a heart-to-heart with McKinnon. The squirting of Colin with the big syringe is funny, but the cracking at the end feels much more forced than the first time.
Melissa Villaseñor on Christmas and Dolly Parton – Holy shit. Melissa Villaseñor has a killer Dolly Parton impression, and even more impressive is that she can sing perfectly as the iconic country star. It's not necessarily super funny, but Villaseñor is mesmerizing here. It's a shame that they haven't figured out how to use this amazing gift earlier.
The Host
I haven't seen much of Timothée Chalamet in interviews or anything like that, so I wasn't sure exactly how accurate Chloe Fineman's impression of him was, even though it's funny on its own. But hearing him talk and chuckle here, it's clear that Fineman nails it. It's clear why Chalamet is such a hot commodity right now. He's very naturally charming, and even though his comedic timing in the monologue isn't the best, he got more comfortable throughout the night.
The MVP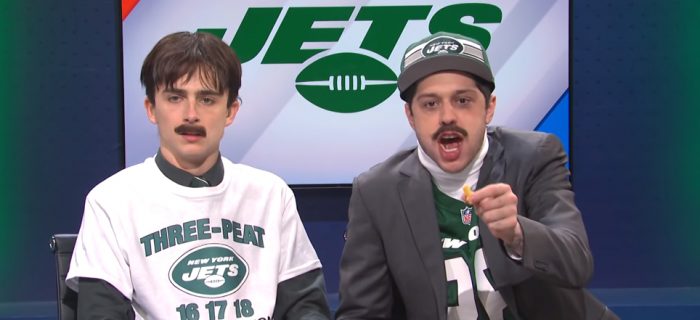 Pete Davidson – It seems like Timothée Chalamet really struck up a good vibe with Pete Davidson. I'm not sure if they were friends before this or if they just became friends during this show, but they're a fantastic duo in the three appearances they make  together in this episode. They play off each other so well, especially in the Rap Roundtable and and Sportsmax sketches. This makes me want to see them make a movie together.
The Final Word
Though this wasn't nearly as festive as last week's episode with Jason Bateman, there were still some outstanding sketches here. At first, I was worried that they weren't going to give Chalamet much to do when it comes to playing big characters, but he comes through with flying colors. This has been a great run to end 2020, and I hope Kristen Wiig can keep it up with the official Christmas episode next weekend.