Sam Raimi Opens Up On Whether Spider-Man 4 With Tobey Maguire Could Actually Happen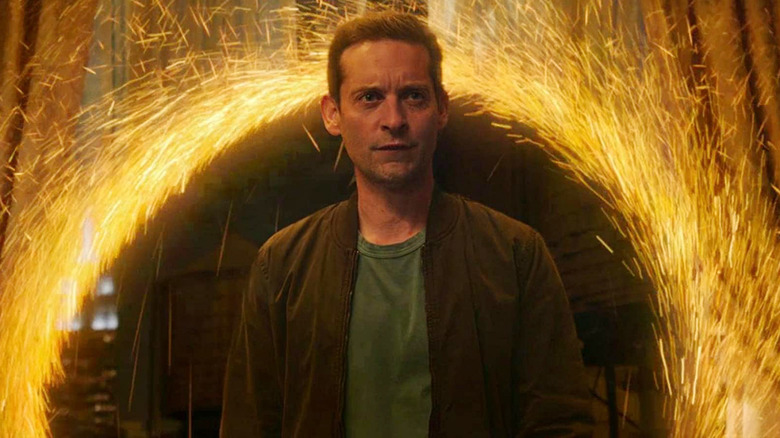 Sony Pictures
If you're a moviegoer of a certain age, you probably watched Tobey Maguire's Peter Parker evolve from reckless teenager to mature adult in Sam Raimi's "Spider-Man" films while undergoing a similar journey in your own life, sans the super-powers and impromptu dancing. (Who am I kidding? Of course I was prone to spontaneous dancing at that age.) If so, you probably also recall that Raimi, Maguire, and Kirsten Dunst — the Mary Jane Watson to Maguire's webslinger — came very close to re-teaming for a fourth "Spider-Man" movie before the whole thing fell apart.
Jump ahead to the present, and Raimi is back to directing Marvel movies, this time in the form of "Doctor Strange in the Multiverse of Madness." Maguire similarly suited up as Spider-Man again for 2021's "Spider-Man: No Way Home," a multiverse-spanning romp that saw his Peter Parker join forces with Andrew Garfield's web-head from the "Amazing Spider-Man" films and Tom Holland's own iteration in the Marvel Cinematic Universe to do battle with Raimi's Green Goblin (Willem Dafoe) and Doc Ock (Alfred Molina), among other familiar foes.
With "No Way Home" doing boffo business at the box office and re-endearing the masses to Maguire's Peter Parker, it has made fans wonder: Could a re-imagined version of Raimi's "Spider-Man 4" finally come to fruition? Raimi was asked that very question in a recent interview and his answer (to paraphrase a little) was a simple and unsurprisingly non-committal, but otherwise upbeat, "Maybe!"
Sure, Raimi's Spider-Man 4 could happen... but should it?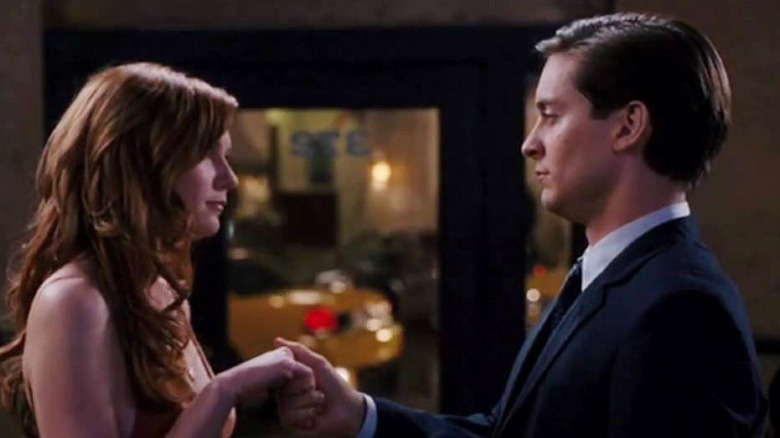 Sony Pictures
Here's the longer version of what Raimi told Fandango, when asked what the chances are that he, Maguire, and Dunst will reunite for a new "Spider-Man" movie:
"I've come to realize after making 'Doctor Strange' that anything is possible, really anything in the Marvel universe, any team-ups. I love Tobey. I love Kirsten Dunst. I think all things are possible. I don't really have a story or a plan. I don't know if Marvel would be interested in that right now. I don't know what their thoughts are about that. I haven't really pursued that. But it sounds beautiful. Even if it wasn't a Spider-Man movie, I'd love to work with Tobey again, in a different role."
Do we need Raimi to make "Spider-Man 4" from a creative perspective? Nah. "No Way Home" saw Maguire's Peter Parker evolve into an Uncle Ben-style mentor to Holland's webslinger, consoling him in the wake of Aunt May's death and even stopping him from repeating his own mistake by seeking revenge against her killer, the Green Goblin. The film also indicated that Maguire's webhead and Dunst's Mary Jane are still a couple in the Raimi-verse and have learned to face their problems as a united front. It was, for all intents and purposes, a perfectly satisfying ending to Maguire's run as Peter Parker after "Spider-Man 3" left him and Mary Jane in a more ambiguous but hopeful place, so far as their relationship goes.
Honestly, if Raimi wishes to continue playing in the MCU sandbox, I would prefer to see him take on a different property rather than return to the "Spider-Man" well. As it turns out, the filmmaker is very much open to the idea, as he told Fandango when asked if he would be interested in tackling another MCU project:
"Absolutely. It's like the world's best toy box to be able to play at Marvel. I'd love to come back and tell another tale, especially with the great management they've got there."
"Doctor Strange in the Multiverse of Madness" opens in theaters on May 6, 2022.