The Morning Watch: Bad Guys Cast Gets A Drawing Lesson, VFX Artists React To Tenet & More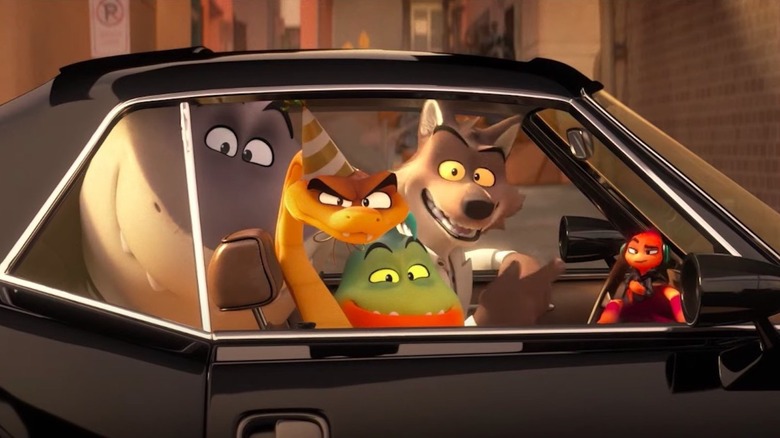 Universal Pictures
(The Morning Watch is a recurring feature that highlights a handful of noteworthy videos from around the web. They could be video essays, fan-made productions, featurettes, short films, hilarious sketches, or just anything that has to do with our favorite movies and TV shows.)
In this edition, watch as the voice cast from the upcoming animated heist comedy "Bad Guys" gets a drawing lesson. Plus, see what the VFX artists from Corridor Crew think about the visual effects used to create the backwards time flow of "Tenet." And finally, learn a bit about "The Bubble" director Judd Apatow and actress Leslie Mann as the married couple answers the web's most searched questions about themselves.
Corridor Crew digs into Tenet and Eternal Sunshine
First up, Corridor Crew gets a bit of a headache as they think about the logistics of time in Christopher Nolan's high-concept action thriller "Tenet." Even though the movie did employ some practical tricks to create scenes that appeared to move backward, there are also some outstanding visual effects that you might not immediately realize. Plus, watch a great single take from "Eternal Sunshine of the Spotless Mind" and more.
Bad Guys cast tries to draw Mr. Wolf
Next, DreamWorks Animation and Universal Pictures had "Bad Guys" director Pierre Perifel bring in cast members Sam Rockwell, Anthony Ramos, Lilly Singh, and Marc Maron for a little drawing lesson. In this video, the actors try their hands at drawing Mr. Wolf with the careful guidance and tips from Perifel, who is all too familiar with these characters after watching them in the editing room for years. The cast actually doesn't do a bad job! And you can even draw along with them, if you wish.
Leslie Mann and Judd Apatow's autocomplete interview
Finally, Wired brought in director Judd Apatow and actress Leslie Mann to discuss their latest collaboration, the show business comedy "The Bubble." The two have been married and working together for a long time, so this is a lot of fun. Why did they name their daughters Maude and Iris? What does Judd think of the sexually charged show "Euphoria" since one of his daughters co-stars in it? What was Leslie's first movie? Why are people searching for Judd's pitch at a New York Mets game? Get the answers to all those questions and more.