Nathan Fillion Didn't Exactly Nail His Firefly Audition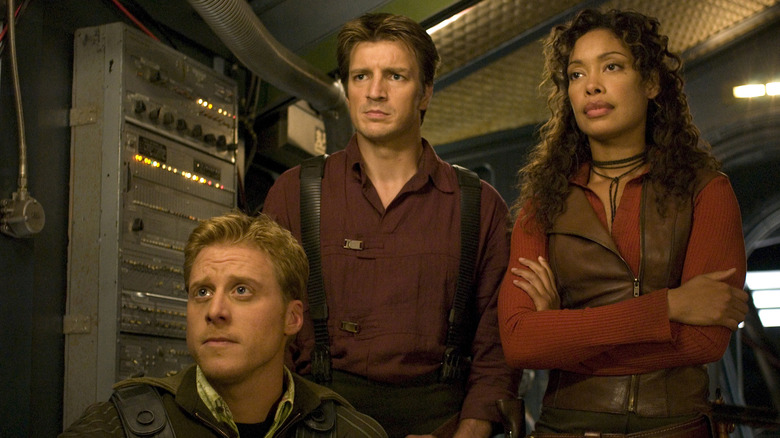 Universal
"Firefly" is fondly remembered by fans for many reasons, not the least of which is its spot-on casting. Every member of the Serenity's ragtag group of smugglers is absolutely perfect in their respective roles. "Firefly" follows this motley crew as they make their way across the 'verse, with trouble following them at every turn. The sci-fi/western mashup aired 11 of its 14 episodes in 2002, before Fox prematurely gave it the axe. Despite this, the series has lived on thanks to its passionate and ever-growing fanbase, even getting some closure with 2005's "Serenity," and continuing in books and comics to this very day.
What would Serenity's crew be without Captain Malcolm "Mal" Reynolds? It's an impossible question to answer, considering the pivotal part star Nathan Fillion plays in the series. The actor portrayed the battle-hardened Mal with just the right amount of heart, that wounded soldier always threatening to bubble up beneath his hard veneer. As much as "Firefly" fans love Fillion in the role, he actually didn't do so well during the audition process. 
An audition that didn't go smoothly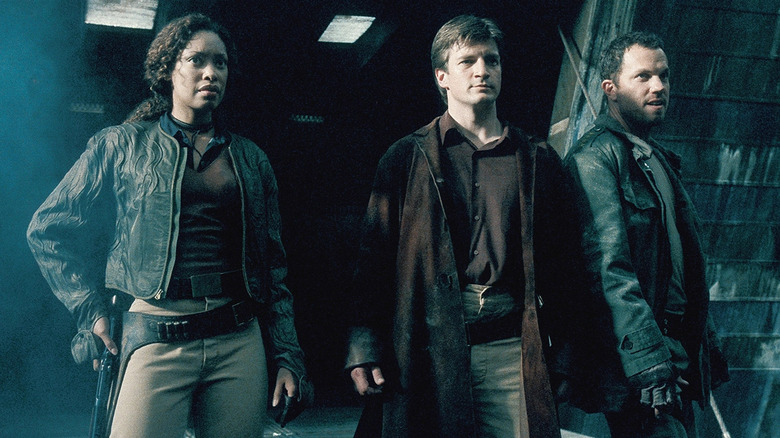 20th Century Fox
"Firefly" wasn't the first time Nathan Fillion auditioned for one of creator Joss Whedon's shows. He actually tried out for Angel on "Buffy the Vampire Slayer," a role that eventually went to David Boreanaz. However, he told Backstage he didn't make the first cut and so he had never met Whedon prior to his "Firefly" audition. When introduced by casting director Amy Britt, it took him a moment to realize the "fellow in a purple sweater with scraggly red hair and a beard and a hole in his sweater" was actually Whedon. They had a great chat and Whedon asked him to come read for the part of Mal.
Written by Amy Pascale, "Joss Whedon: The Biography" (via Gizmodo) features a lot of intriguing details behind the inception of "Firefly," including what happened when Fillion came in for his audition. He was asked to read time and again, and somewhere around the fifth try, he let the casting people know he was confused. According to them, he seemed to be reading the exact same way each time. He replied, "Which I am. Is there something you'd like to see differently?" He continued:
"These poor people are thinking, maybe I'm an idiot, I can't take direction. I can only do the one thing; I'm a one-note guy. But here we go."
After he finally got some direction, Fillion took a different tack, proving he could interpret the character in a number of ways. He explained:
"We did it differently and we had a great time. There was a bit of a breakdown in communication there, but I was tense. I'll tell you that, I was tense."
An exciting project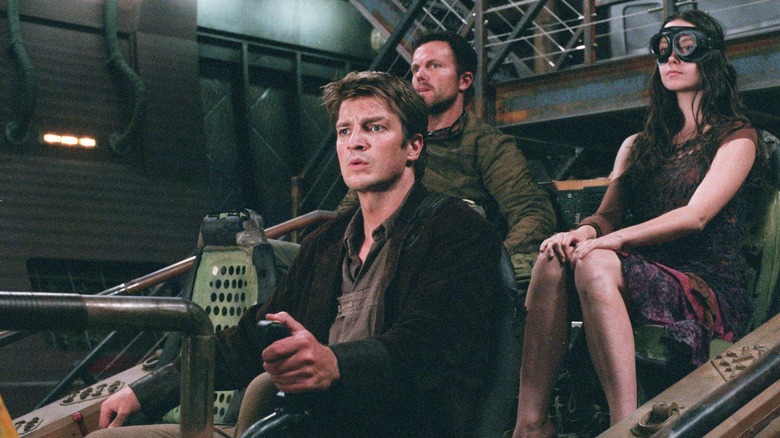 Universal
Of course, Fillion got the part, and as a fan of both westerns and sci-fi, he was quite excited to tackle it. He obviously had no way of knowing how the show would affect people. The actor said:
"When I get a project, I don't look at it and say, 'Boy, the impact this is gonna have! I have no idea. When I look at a project, I look at a character that I'm playing, I look at the story that we're telling, and I think, 'Am I going to have any fun? Can I bring something to this? Am I right for this? Does it excite me?' And 'Firefly' was exciting."
After this, Fillion became a frequent collaborator with Whedon, not only appearing as evil preacher Caleb in season 7 of "Buffy," but also as unheroic superhero Captain Hammer in "Dr. Horrible's Sing-Along Blog" and Dogberry in "Much Ado About Nothing." Aside from the cult hit status of "Firefly," Fillion has also starred in more than one bonafide hit. "Castle" aired on ABC for eight seasons and "The Rookie," is currently in its fourth season on the same network, having already been renewed for a fifth. He's built quite an impressive career for himself, but to Browncoats everywhere, he'll always be Mal.