The Flight Attendant Season 2 Trailer: Kaley Cuoco Gets Caught Up In Another Wild Mystery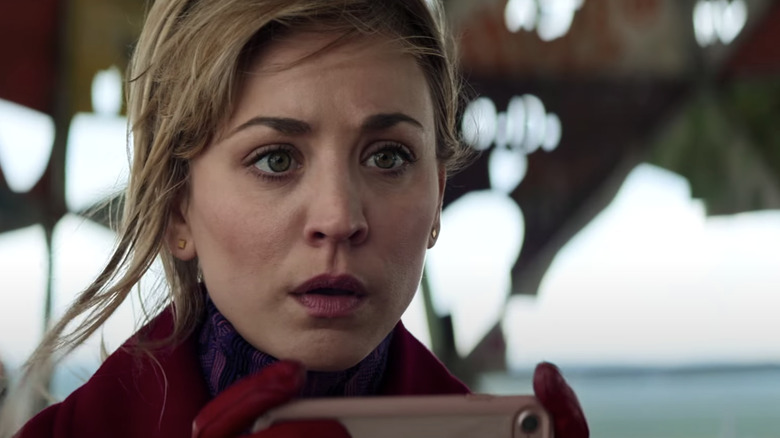 HBO Max
After a soaring first season, "The Flight Attendant" is ready to touchdown with its grand return. The buzzy new series is on its way back, set to arrive on April 21, 2022, meaning you have just enough time to binge through the chaos of its first outing. No idea what you're signing up for? Well, that's perfect — neither did the main character! The show stars Kaley Cuoco as a messy flight attendant who accidentally gets tangled up in a murder mystery. What more do you need to know? HBO Max has been knocking it out of the park when it comes to surprising original series, and "The Flight Attendant" marked an early example of the streamer's success. Per HBO, the series "saw week over week growth and ranked as HBO Max's #1 series overall during its run," and for very good reason — who can resist a twisty hunt for answers, especially when we're led by the endless charisma of Kaley Cuoco?
The first season traces the story of Cassie Bowen (Cuoco), whose life changes overnight when she wakes up in the wrong hotel, in the wrong bed, with a dead man. Worst of all, she has no recollection of what happened. Desperate to maintain her innocence and figure out what exactly went down, Cassie begins an amateur investigation that yields dangerous results. The first season wrapped its mysteries up pretty neatly, but why stop there? There's plenty more story to tell as Cassie navigates her no-longer vodka-hazy life, and lots more trouble to get involved in. With the season premiere just a few weeks away, HBOMax has offered us another glimpse back into Cassie's life, and believe it or not, "The Flight Attendant" is even wilder than you remember.
The Flight Attendant trailer
Now sober, Cassie is actually approaching some semblance of normalcy after the chaos of recent events. Or, at least as close to normal as one can get while moonlighting as a CIA asset. Basically living in her very own spy novel, Cassie is now forced to juggle normal life as a full-time flight attendant and utter insanity while working for the CIA. If the trailer is any indication, all of that pressure leads her to quickly unravel and reveal the truth to her closest friends. Minus the part where they attack her with questions, Cassie may actually be able to find a new normal ... if not for another grand conspiracy arising to drive her insane. Last season, Cassie found temporary solace at the bottom of a bottle, and this year, she's embracing sobriety. But just because she's turned over a new leaf doesn't mean all disasters can be averted. A new overseas assignment leads our sneaky flight attendant to the scene of a murder, then paranoia and intrigue battle it out as Cassie begins to suspect someone is framing her for a string of murders. 
Season 2 promises to get weirdly trippy, as Cassie begins seeing double, triple, then quadruple, forced to confront many different versions of herself at once. In addition to four different Cuoco's, the second season sees the return of Zosia Mamet as Annie, Griffin Matthews as Shane, Deniz Akdeniz as Max, and Rosie Perez as Megan. The cast also includes T.R. Knight, Yasha Jackson and Audrey Grace Marshall.
With eight new episodes total, "The Flight Attendant" returns on April 21 with two new episodes, followed by weekly releases concluding on May 26, 2022. 
Cassie Bowden (Kaley Cuoco) is living her best sober life in Los Angeles while moonlighting as a CIA asset in her spare time. But when an overseas assignment leads her to inadvertently witness a murder, she becomes entangled in another international intrigue.