The Big Difference Between Disney's Fantasia And Fantasia 2000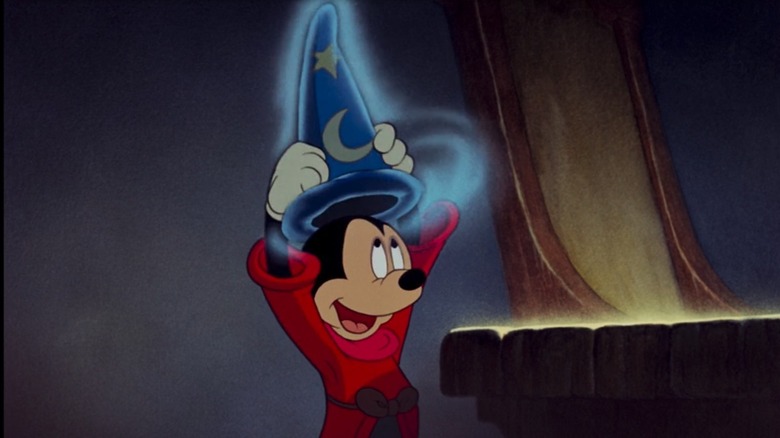 Disney
Many of us were introduced to some of the great works of classical music by the Disney film "Fantasia," or if you're a little younger, "Fantasia 2000." The 1940 film (called "The Concert Feature" while it was being made) was a series of eight animated segments set to pieces of classical music. The entire performance is conducted by Leopold Stokowski, with music critic and composer Deems Taylor as the Master of Ceremonies stringing the performances together. Even if you've never seen either film, it's very likely that you've watched one segment. That's "The Sorcerer's Apprentice," in which Mickey Mouse acts as the apprentice to sorcerer Yen Sid and accidentally sets a whole bunch of brooms and buckets of water on a mission, flooding the entire workshop. 
Walt Disney's original idea was to continually show the film as an ongoing event with constantly changing segments, according to the D23: The Official Disney Fan Club. It didn't exactly slay at the box office, though in later years, it was adopted by counterculture.
By the time I saw it, the film was a classic. Some of the problematic elements (and oof, they were — and are — very problematic) were taken out by then, but some of them remain. Disney+ has a warning about this before the film, in case you're wondering. 
60 years and different music between them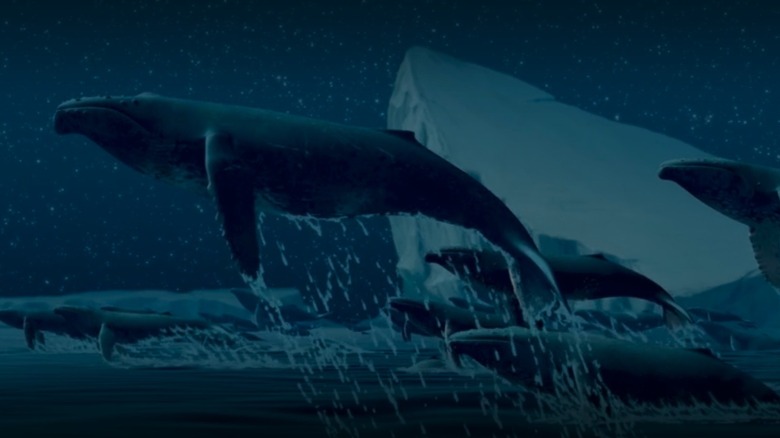 Disney
Michael Eisner became chief executive officer of The Walt Disney Company back in 1984, and the idea for "Fantasia 2000" came about after Walt Disney's nephew and Disney vice chairman Roy E. Disney suggested it to Eisner. There were a few missteps in the development, but in December 1999, the film was released.
One of the major differences was that this time around, celebrities introduced the segments in live-action bits. They included Steve Martin, Bette Midler, James Earl Jones, Quincy Jones, Angela Lansbury, Penn & Teller, and James Levine, who conducted the Chicago Symphony Orchestra in six of the segments. The live-action parts of the film were directed by longtime Disney producer Don Hahn. 
The new version had a combination of traditional and computer-generated animation. The intro with Deems Taylor was the same, but as he speaks, some of the original segments fly into space as the modern-day musicians sit in their chairs and the animators and artists sit at their desks. The segments for "Fantasia 2000" are all different other than "The Sorcerer's Apprentice." Let's dive into the lineup. 
The Fantasia lineup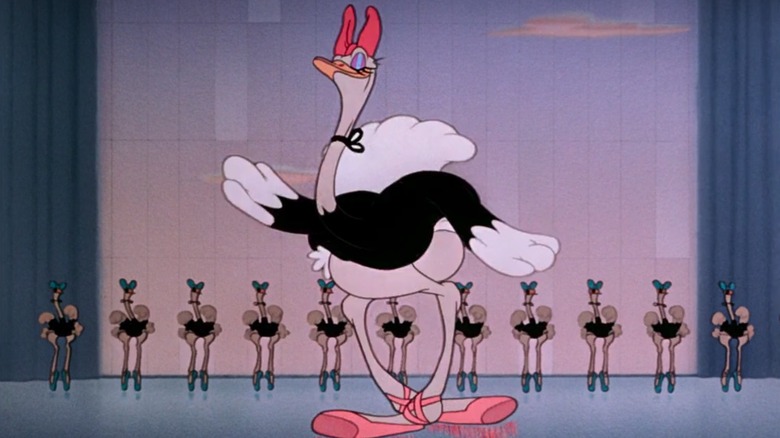 Disney
In "Fantasia," we have:
"Toccata and Fugue in D Minor" by Johann Sebastian Bach. This segment shows us twirling and spinning shapes as the music plays. I remember this being super trippy as a kid, and this segment alone might explain why the counterculture of the 1960s fell in love with the film.
Next is "The Nutcracker Suite" by Pyotr Ilyich Tchaikovsky, the famous ballet you've probably seen and definitely heard. This segment has a number of dances for the different movements like "Dance of the Sugar Plum Fairy" and "Waltz of the Flowers." The dances are performed by fairies, fish, and flowers, and there are problematic segments like the dancing mushrooms featuring very upsetting Asian stereotypes.
Next up is "The Sorcerer's Apprentice," which was the same in both films. I do so love Mickey Mouse's hat and I want it. Do you all think Disney might sell me one? You've probably seen this segment, even if you haven't watched the film. Disney uses Mickey in that sorcerer's hat all over the place.
Then we have "The Rite of Spring" by Igor Stravinsky, showing the creation of the earth, and the dinosaurs, including their demise. Kids love dinosaurs, and this is right and good. Killing them off in front of kids, maybe less so.
"Intermission/Meet the Soundtrack" came next, with a jazz session from the orchestra. Then we get an animated explanation of how sound is put into film. As a kid this bored the heck out of me, but I kind of love it now.
Then we have "The Pastoral Symphony" by Ludwig van Beethoven, with Greco-Roman centaurs, cupids, fauns, and a festival to honor Bacchus, the god of wine. At the time the controversy was the fact that the female-presenting centaurs are unclothed from the waist up, but oh my God, the real issue was the horrifying and wildly upsetting stereotypes that are so very wrong I'm not even going to describe them. They're gone now. It's mind-blowing that this made it in, even at the time.
Then we have the "Dance of the Hours" by Amilcare Ponchielli, which features dances for different parts of the day with the famous ostrich ballet, and dancing hippos, elephants, and alligators. I still associate pointe shoes with ostriches. I told my ballet teacher that once. She was not amused. 
Next up is "Night on Bald Mountain" by Modest Mussorgsky and "Ave Maria" by Franz Schubert. This one has a devil-like creature named Chernabog summoning evil spirits and skeletons from the grave to dance until the Angelus bell rings and "Ave Maria" sends them back underground.
The Fantasia 2000 lineup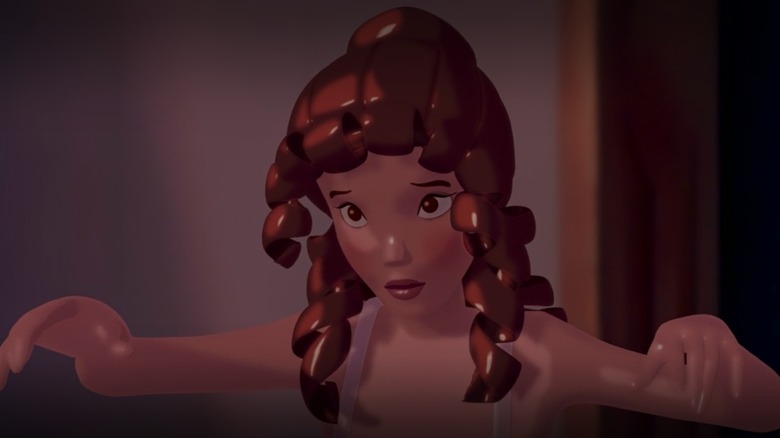 Disney
"Fantasia 2000" was the 38th animated film for Disney. Here is what we got the second time around:
First up is Symphony No. 5 by Ludwig van Beethoven. This one had patterns and shapes like the first film, though set to different music, with scenes from the first film flying off into space.
Next up is "Pines of Rome" by Ottorino Respighi, where we see a baby humpback whale get separated from her mama. They reunite and the group joins a huge pod of other whales — in space. It's my favorite. 
Then we have "Rhapsody in Blue" by George Gershwin, which is set in New York City in the 1930s. With animation in the style of the caricatures of Al Hirschfeld, it follows four characters who want a different life, from a construction worker who wants to play jazz, to an unemployed guy who wants a job, a little girl who wants her parents to pay attention to her, and a rich husband who wants a simple life. They do get happy endings.
Next up is Piano Concerto No. 2, Allegro, Opus 102 by Dmitri Shostakovich, which is based on the Hans Christian Andersen story "The Steadfast Tin Soldier." In this, a broken toy soldier falls in love with a toy ballerina and saves her from a jack-in-the-box. As he should. Those things only exist to teach kids about jump scares in the worst way. 
Then we have "The Carnival of Animals (Le Carnaval des Animaux), Finale" by Camille Saint-Saëns. In this one, flamingos try to get a rouge member of their group who loves yo-yos to do boring and normal flamingo stuff. You do you, fuschia flamingo!
"The Sorcerer's Apprentice" is here again, as it should be. Mickey, I feel the same way about brooms and cleaning. 
Then we have "Pomp and Circumstance, Marches 1, 2, 3, and 4" by Edward Elgar, with a segment that is based on Noah's Ark. Donald Duck is married to Daisy Duck and working as Noah's assistant, trying to get the pairs of animals on the ship before the rain takes over. He does have a moment when he's lying in a hammock "naked" and seems upset that Noah saw him. His shirt only covers down to his waist. What is he covering up, I ask you? You know what? Don't answer that.
Finally we have the "Firebird Suite (1919 Version)" by Igor Stravinsky, which has a young sprite and her elk friend dealing with the destruction from a nearby volcano that sets the forest ablaze. Luckily, the sprite is magic, and she and her elk buddy restore things to the way they were.
What could have been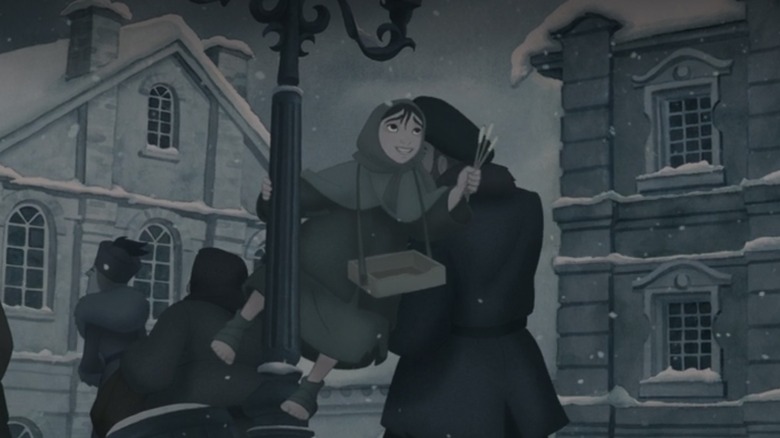 Disney
There were originally plans to do another version of "Fantasia" called "Fantasia 2006." Two of the five proposed segments have been released, including "The Little Matchgirl," based on the story by Hans Christian Andersen, which was on the platinum edition of "The Little Mermaid" home video. It was also in the "Walt Disney Animation Studios Short Films Collection." I don't know if you're familiar with the story, but it's miserable and depressing, and I've never understood why anyone would want to see or read about it, ever. If you feel the need to depress yourself, it's on Disney+ right now.
The other was "One by One," which was released with "The Lion King 2: Simba's Pride (Two-Disc Special Edition)." It's a lovely story about South African children flying kites and being inspired to build a new one by things they see in nature.  
Honestly, if you want to jazz up a new "Fantasia," maybe you could find a way to put in the animated short film "Destino" in there. If you haven't watched it, you absolutely must. It's weird and wonderful, and it was storyboarded by Disney studio artist John Hench and artist Salvador Dalí back in the mid-1940s (and released in 2003). That's another article, of course, but please do watch it.
Both "Fantasia" and "Fantasia 2000" are available on Disney+.