Mickey Mouse Turns 90 And He Feels More Alive Than Ever Thanks To A Series Of Animated Shorts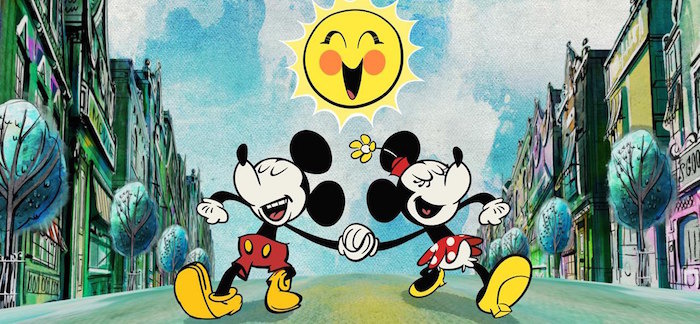 At the Disney theme parks, Mickey Mouse is simultaneously unavoidable and hard to find. Walk into any store in any of the parks across the globe, and you'll find more watches, shirts, stuffed animals, and other merchandise featuring Mickey's face than any one person could know what to do with. If you wander the Main Street, U.S.A. section of the parks, you're likely to find Mickey in person (as long as you prepare to wait in line for a while), and you might even be able to watch one of the black-and-white shorts that first made Mickey a cultural icon. If you're in Disneyland, you could stroll to the back of the park to explore Mickey's Toontown.
But you can't exactly experience a Mickey-themed attraction. In the Disney California Adventure park in Anaheim, sure, you can see Mickey's visage plastered on a very large Ferris Wheel now called the Pixar Pal-A-Round (previously known as Mickey's Fun Wheel) And yes, if you go to the Silly Symphony Swings in DCA, there's a Mickey Mouse figure atop the center of the spinning attraction, themed to look as he did in "The Band Concert" short from 1935.
Think, though, of some of the best attractions in the Disney theme parks: Splash Mountain, It's A Small World, Peter Pan's Flight, Pirates of the Caribbean, the Jungle Cruise, and others. Theme-park nerds can find a Hidden Mickey or two in and around these attractions, but that's it. Despite being intended for different audiences, each of those attractions propels you in a vehicle through a track to experience some kind of story. The Pixar Pal-A-Round and the Silly Symphony Swings also invite you into a vehicle of some kind, but once you're sitting down, you don't really see any part of Mickey, especially not in the Pixar-themed Ferris wheel. At the parks and elsewhere, as we celebrate 90 years of Mickey Mouse, we need to remember how quickly Mickey turned into a symbol.
Turning the Symbol Back Into a Character
For the first few years of his existence, Mickey Mouse was a character first, the all-encompassing representation of what Disney animation of the time could achieve. For a time in the early 1930s, he was a massive star precisely because of the wild animated shorts, becoming a comic-strip star to capitalize on the success of the shorts. But as Donald Duck became more popular in the latter half of the decade, and more fun to put into insane situations, Mickey's short-film popularity waned. (It's because Walt Disney wanted Mickey to be in another marquee short that we have Fantasia, which is one of the last gasps of Mickey being more than just a smiley-faced icon.) It's taken almost a lifetime for Mickey to feel like a character again, and only in one specific venue: the shorts you can now find on Disney XD.
You may have heard of these shorts, which began in 2013 with "Croissant De Triomphe". In the short, set in Paris (and with only French dialogue), Mickey is tasked by his sweetheart Minnie to retrieve and deliver a lot of croissants to the impatient customers at her cafe. But, of course, it's not as simple as that; the short consists of the various obstacles that get in Mickey's way as he takes his scooter through Paris to help Minnie out. All eventually is made right, but not before Mickey has gone on a wild chase through the city, even passing through a castle with Cinderella and Prince Charming (where he accidentally breaks the famous glass slipper). A number of the shorts—including the 90th-birthday-themed short airing now, there are now 80 of these—are similarly entrenched in cultural specificity. Even though it's easy to think of Mickey Mouse as being quintessentially American (if you see Mickey as an extension of Walt Disney, it's a logical conclusion to make), many of these shorts feature Mickey and Minnie in different countries and speaking in different languages, as he jet-sets from Portugal to Italy to Japan and beyond.
Leave aside the diversity of where Mickey winds up, and you still have an enormously intelligent, snappy, and genuinely funny series of shorts, some of which go whole-hog in being outrageous, weird, and straight-up gross. Take, for instance, The Scariest Story Ever: A Mickey Mouse Halloween Spooktacular!, a half-hour special Disney aired last Halloween. The setup is that it's Halloween night, and everyone expects Mickey to tell a truly terrifying tale after their Trick or Treating has ended. (In this case, "everyone" is Goofy, Donald Duck, Huey, Dewey, Louie, and Mickey's nephews, Ferdy and Morty. This show's going deep with its references.) First, Mickey tries his hand at telling the story of Frankenstein, with the characters inserted into the story; by the time Mickey appears as a gaudy, showtune-belting Frankenstein's Monster on roller skates (you read that right), the kids are jeering at him.
When Mickey, Goofy, and Donald fail to scare the kids with a redo of Dracula, Mickey loses his temper and tells a story about five rotten kids—the duck and mouse nephews, natch—who run rampant through a Western European town and become addicted to an enormously tasty pie made by a kindly old lady, who's actually a fearsome witch with a secret ingredient that makes the pies taste so great: naughty little boys. The story climaxes with each of the five kids being taken by the witch, and baked into a new pie. If nothing else can be said, the people behind this TV special were not messing around. It's a brilliant mix of humor and thrills, approaching Treehouse of Horror quality among TV-animation horror.
Moving Forward
And it's a Mickey Mouse special. That's the craziest part. In the same way that Disney XD has turned Donald Duck into more than just an icon with its genuinely entertaining revival of DuckTales, creator Paul Rudish and his team of animators have made Mickey Mouse into a spiky leading character, with a manic style that hasn't been seen in Disney short filmmaking in decades, and is closer to the Chuck Jones school of animation. The Mickey Mouse you see in these shorts feels heavily indebted to the Mickey Mouse of the early 1930s, as opposed to the bland version who's appeared in ads, TV specials, and Disney Junior shows like Mickey Mouse Clubhouse.
Bringing this back to the theme parks, I had mixed emotions when it was announced last year that, at Disney's Hollywood Studios, the Great Movie Ride was being closed permanently in place of a new attraction titled Mickey & Minnie's Runaway Railway. The Great Movie Ride, up to and including after Disney's partnership with TCM on the attraction, was a delightful ride through the past of Hollywood. No doubt, it needed to be updated, and ideally, the movies on display would change every so often. But instead, it went away for good. Though Mickey & Minnie's Runaway Railway has yet to open, and is now rumored to open in Disneyland as well, the presence of Mickey Mouse in an actual, honest-to-goodness attraction is exciting. It's doubly exciting because the version of Mickey we'll get to see is the more manic, complex version from the Disney XD shorts.
It's been surprisingly encouraging to see the Walt Disney Company turn back to its past and not do so in a destructive manner. There are so many ways in which a revival of the Mickey Mouse shorts could have been a huge failure; they could have leaned harder on juvenile humor, or on faux-hip pop-culture references. Instead, while the new shorts do acknowledge and reference the history of Mickey Mouse as a character and the Disney studio as a whole, they're full of sparkling wit, fast-paced gags, and everything that made Mickey Mouse so special in 1928. A very happy birthday indeed to a character proving to be truly ageless.