Precious Star Mo'Nique Reuniting With Director Lee Daniels For Netflix Thriller Demon House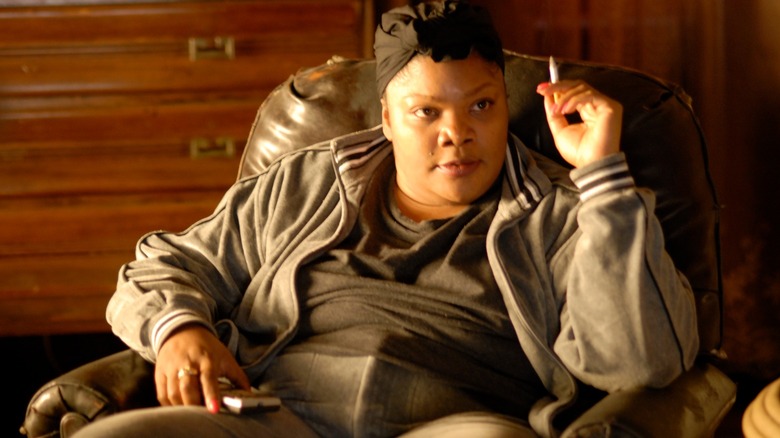 Lionsgate
Thirteen years after their collaboration on "Precious" wowed audiences and garnered six Oscar nominations, performer Mo'Nique and writer-director Lee Daniels are reuniting for a new project. The news comes via Deadline, whose reporting notes that the pair were estranged for more than a decade following the release of "Precious." Mo'Nique, who was paid a mere $50,000 for her role in "Precious," said that the feud came about because she was "blackballed" for not participating in the movie's promotional tour, since doing so was not in her contract.
With the feud having been put to rest, Mo'Nique is set to replace Octavia Spencer (who reportedly bowed out due to scheduling conflicts) in the highly-coveted exorcism thriller "Demon House," which Netflix won the rights to at auction earlier this year. In the new film, Mo'Nique will play a social worker aiding a desperate family after strange occurrences lead them to pursue a series of exorcisms.
So went to see #monique & she brought out #leedaniels 😧 #NoAprilFools pic.twitter.com/HOt7Hf90gD

— Sade Salami (@sadesalami) April 2, 2022
The actress who won an Oscar for best supporting actress for her role as the titular character's abusive mother in "Precious" officially put the past behind her in an Instagram photo posted Friday night. As you can see in the video above, Daniels joined Mo'Nique on stage during a Staten Island comedy show, officially apologizing for "hurting you in any way that I did." In the performer's Instagram post, the two share a sweet embrace, captioned "NO CAPTION NEEDED I LOVE US 4REAL."
A dream team reunites
"Demon House" looks to be an impressive next project for the collaborators. Daniels re-wrote the script for the film, which is based on an alleged true story about a family enduring terrifying incidents in an Indiana home in 2011 and 2012. Daniels first took interest in the story when it became public in 2014, but Deadline reports that the rights lapsed when Relativity filed for bankruptcy. Several rewriters later, and the script suddenly became a hot commodity, with Netflix buying the rights this January for a whopping $65 million.
Mo'Nique has had a successful career as a comedian, actress, and host in the years since she last worked with Daniels, earning an Emmy nomination for her role in the biopic "Bessie" and securing a Las Vegas residency. She also sued Netflix – the streamer that will air "Demon House" — for gender and racial descrimination in what she called a chance to "stand up for those who came before me and those who will come after me."
With a newly healed director-artist relationship at its center and the budget to make its ambitions a reality, "Demon House" could be Netflix's answer to successful horror franchises like "The Conjuring" and "Paranormal Activity." The film already has a promising supporting cast lined up, including Andra Day ("The United States vs. Billie Holiday"), Glenn Close ("Damages"), Caleb McLaughlin ("Stranger Things"), Aunjanue Ellis ("King Richard"), and Rob Morgan ("Don't Look Up").