5 Other Shows To Watch If You Like Moon Knight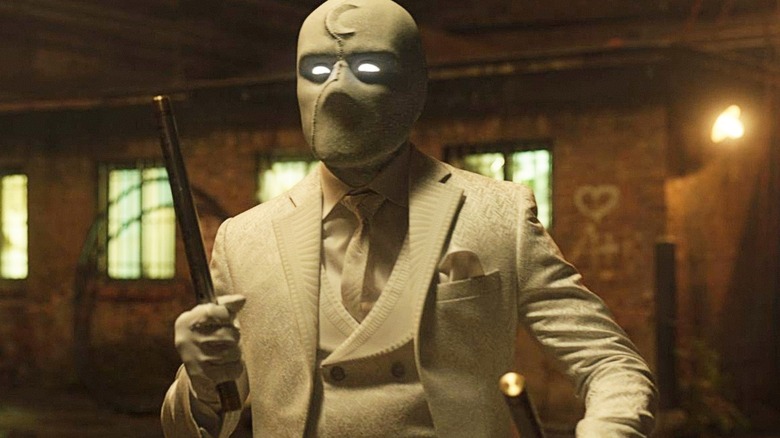 Disney+
If the first episode of "Moon Knight" is any indication, Marvel's latest superhero series is going to be marching to the beat of its own drum. Press leading up to the show has made it clear that the Oscar Isaac-starrer stands apart from other Marvel properties, with deep cut influences, a human-first rehearsal style, and not a single Marvel Cinematic Universe cameo in sight (at least, not so far).
"Moon Knight" doesn't feel like other MCU properties, and that's a good thing for a comic book franchise trying to keep things interesting four phases into its rollout. But just because Isaac's sweet-natured museum gift shop worker and the so-far raucous and disorienting plot that surrounds him are new to the MCU, it doesn't mean they don't ring any bells in our TV-loving brains. "Moon Knight" calls to mind plenty of other shows, in tone, in plot, and in storytelling structure. Here are five you might like if you're enjoying "Moon Knight" so far:
United States of Tara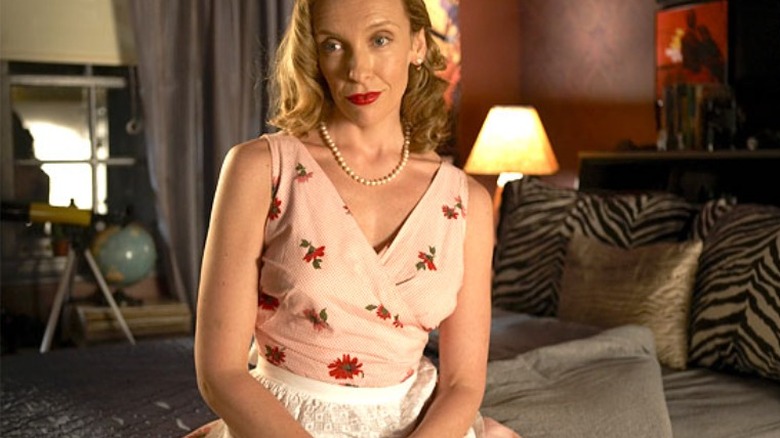 Showtime
Showtime's now-concluded comedic drama stars Toni Collette as suburban mom Tara. And retro, perfectionist housewife Alice. And rowdy teenager T. And male truck driver Buck. In all, Colette's character takes on at least seven alters throughout the show's three-season run, splitting her time between the divided fragments of her personality. "United States of Tara" certainly plays up the more dramatic aspects of dissociative identity disorder (DID), but as conceived by "Juno" screenwriter Diablo Cody, it also tackles the illness with thoughtfulness and wry humor.
"United States of Tara" is unlike "Moon Knight" and most other representations of DID in that the diagnosis isn't used as a plot twist. Tara knows she has it from the series' outset, and her family — husband Max (John Corbett), daughter Kate (Brie Larson), and son Marshall (Keir Gilchrist) — all have distinct relationships with each of her alters.
This series certainly isn't as high-octane as "Moon Knight," but it's one of the more in-depth looks at the often-misrepresented disorder available, and an unglamorous one at that. It even focuses extensively on Tara's long-term treatment plan, something most shows that use the disorder as a gimmick fail to do. The series also manages to tackle plenty of the same unnerving themes as "Moon Knight," as Tara eventually develops manipulative alters that make her feel scared and out of control.
Legion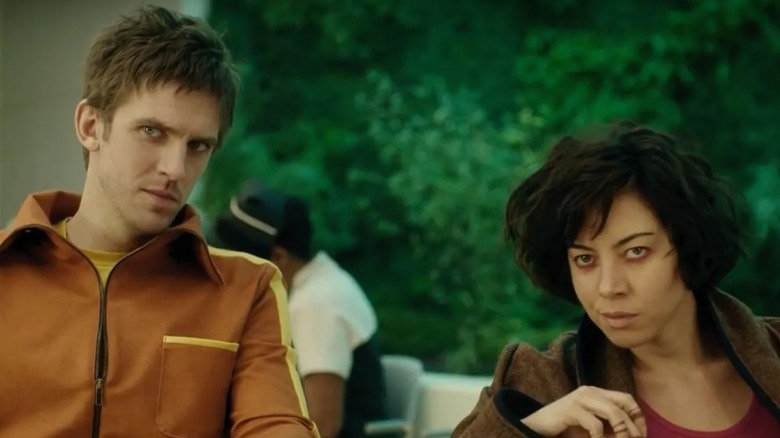 20th Television
Another comic book series that foregrounds its aesthetics and mood more than its superhero mythology, "Legion" is a daring X-Men riff that starts weird and stays weird. The series by "Fargo" showrunner Noah Hawley pulls you in from its very first episode, which explores the confusing life of David Haller (Dan Stevens). Is David a mutant? Is he schizophrenic? Is he both?
These are questions "Legion" takes its time exploring, first at the trippy mental institution where he meets equally enigmatic characters like Lenny (Aubrey Plaza) and Syd (Rachel Keller), then out in the "real" world where he meets other heroes, gets trapped in an orb, and time travels. He also participates in a very serious dance-off with The Shadow King (Jemaine Clement, of course). "Legion" is an impressive mix of formal daring (it takes cues from Kubrick, David Lynch silent films, and more) and unabashed writers' room weirdness. These are two compelling elements that all signs indicate "Moon Knight" will also continue to have as the show unfolds.
Doom Patrol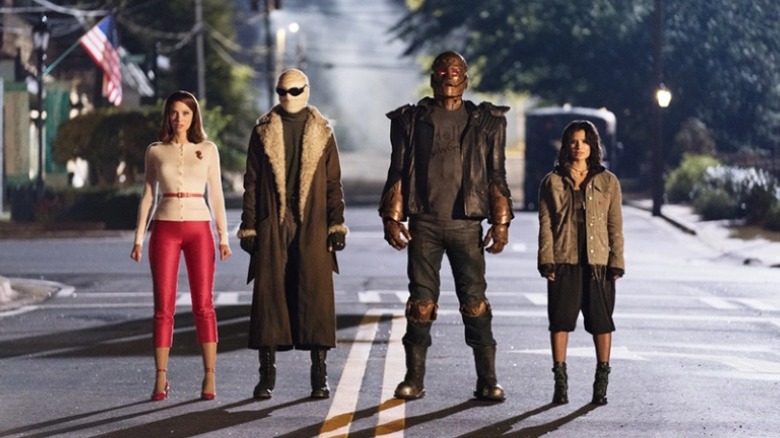 Warner Bros. Television
If other shows on this list present a more grounded look at DID as healthcare professionals currently understand it, "Doom Patrol" also plays up the more cinematic (aka ass-kicking) version of the illness. The offbeat DC superhero series follows a group of unlikely heroes who all gained superpowers through downright tragic circumstances. Among them is Jane (Diane Guerrero), who has 64 distinct personalities, each with a different superpower.
Many doctors believe DID occurs as a result of immense trauma, and that's certainly the case for Jane. The character's backstory is a brutal one, but she still manages to shine in this dark comedy-drama thanks to Guerrero's multi-faceted performances. While it's unlikely Isaac's character in "Moon Knight" has nearly as many alters as Jane, we now know the version of him we've met, Steven, may not actually be his primary identity. With so many layers to unpack, both characters must learn to live with all the sides of themselves, including the ones that might be more powerful than they ever imagined.
Mr. Robot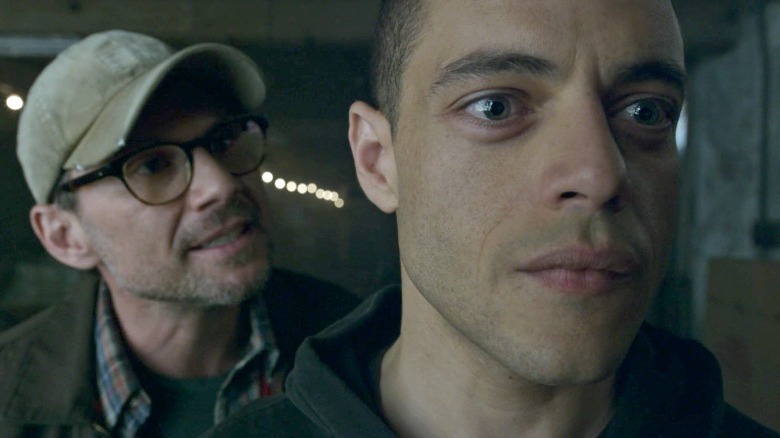 NBCUniversal Television Distribution
If you like your unreliably narrated thrillers on the super-bleak side, "Mr. Robot" might be just the right "Moon Knight" chaser for you. The series by Sam Esmail launches viewers into a deeply cynical capitalist landscape that's pretty much our own, except it's seen through the eyes of lone wolf hacker Elliot (Rami Malek). Paranoid, lonely, and stricken with depression and anxiety, Elliot already fears he's being watched when he's approached by a mysterious man calling himself Mr. Robot (Christian Slater). Mr. Robot leads Elliot into the dark underworld of fsociety, a group hell-bent on taking down corrupt corporations and putting an end to global debt once and for all.
To explain the exact links between "Moon Knight" and "Mr. Robot" would give away some of the series' best secrets, but it's worth noting that both series deal with severe and initially mysterious mental illnesses that put the protagonist's lives at risk. "Mr. Robot" is directed for maximum impact and intrigue, and includes more than a few emotional gut-punches and gasp-inducing surprises. Like "Moon Knight," it also disorients its viewers along with its characters, capturing the terrifying feeling of losing time and cognition. Its four-season run has plenty of ups and downs, but the first season of "Mr. Robot" is an all-time-great TV thriller.
Chuck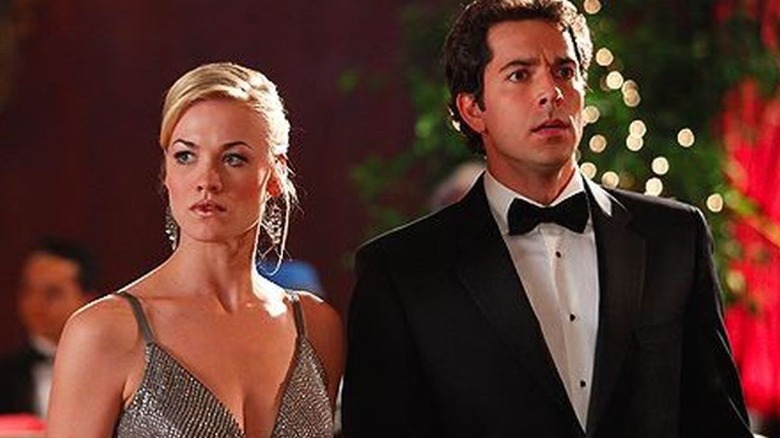 Warner Bros. Television Distribution
This geek-centric spy comedy may not seem like double feature material with "Moon Knight" at first, but bear with us. "Chuck" stars Zachary Levi as an unassuming guy working a normal day job–in this case at a Best Buy-like electronics store. Chuck is kind of just coasting through life, until one day something freaky happens to his brain that sends him on a collision course with powerful forces. The ultimate fish-out-of-water, Chuck has to adapt to survive in a sometimes-sinister system that's much bigger than him, all while his noggin is playing spontaneous tricks on him. See where I'm going, here?
In "Moon Knight," Isaac's mild-mannered gift shop employee Steven is suddenly bowled over by a booming voice in his head and a series of increasingly dangerous bouts of lost time. Chuck, meanwhile, accidentally downloads the entire CIA/NSA database into his brain, and it randomly clicks on when he least expects it. Both guys are just trying to get through their day and maybe, just maybe, get a date sometime. "Chuck" is, for the most part, a lot less serious than "Moon Knight," so as the series explores Isaac's character's mental health struggles further, it'll be the perfect lighthearted pick-me-up for the weeks to come.