Moon Knight Holds The Record For The Least Amount Of Additional Photography Required For A Marvel Production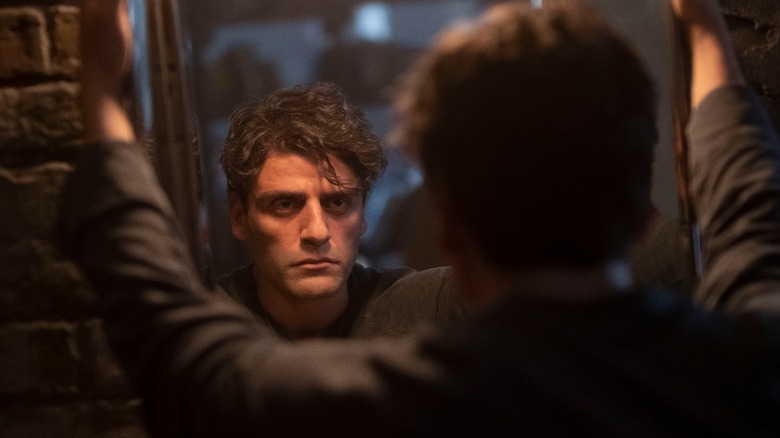 Disney+
The upcoming Disney+ series "Moon Knight" holds an unusual record within the Marvel Cinematic Universe: it's the project that, to date, has required the least additional photography — also known as reshoots. 
/Film attended a virtual press conference for the upcoming Oscar Isaac-led series, in which director Mohammed Diab revealed that the project went off without a hitch thanks to the team's rehearsal methods:
"I think [EP Grant Curtis] gave us the chance to develop this show when [he] gave us the chance to have those table reads. Everyone who was sitting here added his soul to that project, and I have to say that we hold the record of the least additional photography in the history of Marvel. Because we rehearsed a lot."
Reshoots happen for all sorts of reasons, and although hearing about them can make fans of long-awaited projects sweat, they don't necessarily portend doom. Still, there's something satisfying about nailing a shoot the first time, and it seems that, for the most part, that's what "Moon Knight" did. The secret, according to stars Isaac and Ethan Hawke, was a series of super-productive weekend brunches.
The power of brunch
"While we were shooting, we would all sit around the table and have a Sunday brunch and we would all just talk about the episode," Isaac revealed, as an explanation to the show's cohesion and lack of reshoots. Hawke added that the team's rehearsals and meetings helped the group form a "collective imagination" that made switching between directors easier, because "the imaginative force behind it was the same."
Frequent reshoots, which are often judged as a sign a project is flailing, may be listed in the same breath as concerns about CGI and color grading, but they shouldn't be. Upcoming Marvel movies including "Doctor Strange In The Multiverse of Madness" and "Thor: Love And Thunder" have undergone reshoots, which are now so normalized on Marvel and LucasFilm projects that they've been incorporated into the shooting schedule from day one.
Although reshoots aren't inherently negative, the amount of time the "Moon Knight" team spent working out their parts together during rehearsals can only be a good thing. The highly anticipated series follows a superpowered man dealing with Dissociative Identity Disorder, meaning the project will hinge largely on Isaac and his co-stars' sensitive performances.
"Moon Knight" premieres on Disney+ on March 30, 2022.