The Morning Watch: Meet The Director Of Cliff Beasts 6, Castle Warfare In Movies & More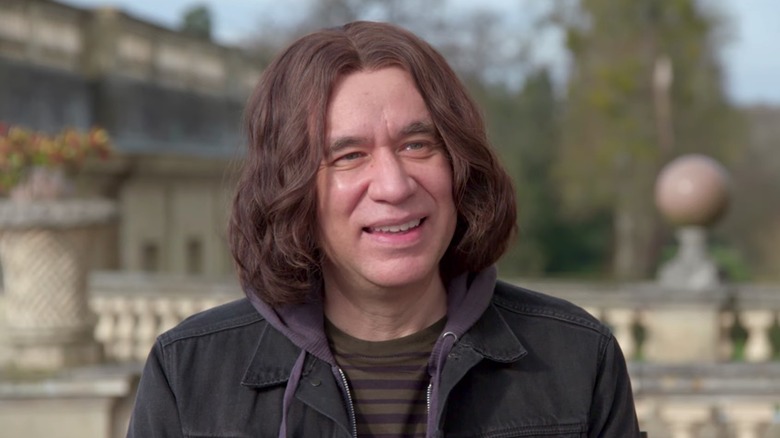 Netflix
(The Morning Watch is a recurring feature that highlights a handful of noteworthy videos from around the web. They could be video essays, fan-made productions, featurettes, short films, hilarious sketches, or just anything that has to do with our favorite movies and TV shows.)
In this edition, watch a meta behind-the-scenes video from "Bubble," and find out what the "actors" really think of the new "director" of "Cliff Beasts 6." Plus, watch a castle warfare expert rate castles and fortresses in epic actin sequences from "Lord of the Rings" and "Game of Thrones." And finally, the cast and crew of the Disney+ series "Moon Knight" get quizzed on how well they known the actual moon. Khonshu is going to be so mad at them!
Meta behind-the-scenes video from the cast of 'Bubble'
First up, Netflix's new comedy "The Bubble" is the story of the making of the sixth entry in the fictional "Cliff Beasts" film franchise, filmed during the coronavirus pandemic in a production bubble. In this meta behind-the-scenes video, the cast speaks about new franchise director Darren Eigan (played by Fred Armisen) while providing a look at the filming of ridiculous scenes that actually don't seem too far off for a sixth film in a sci-fi franchise. An absolute highlight is what Keegan-Michael Key's Sean Knox has to say to Eigan during filming, questioning his ability to direct. Watching David Duchovny, Leslie Mann, and Pedro Pascal making fools of themselves for our entertainment is pure delight.
A castle warfare expert rates Game of Thrones, Lord of the Rings and more
Next, Insider brought in Dr. Michael Fulton, an expert at siege warfare and medieval fortifications, to rate castles and forts from "Game of Thrones," "Monty Python and the Holy Grail," "Robin Hood," "The Lord of the Rings: The Return of the King," and more. Apparently throwing heads is a real thing, friends. It happened in real battles as psychological warfare. Wait until you see the score that Dr. Fulton gives "Lord of the Rings!" Oh, and fire arrows are pretty much useless. He's talking about "Game of Thrones" here, but hey, the fire arrows are the only things lighting up those insanely dark scenes! 
How much do the cast and crew of Moon Knight know about the actual moon?
Finally, we have the cast and crew of Marvel's Disney+ show "Moon Knight" being quizzed by Mashable on how much they know about the actual moon. Participating are Ethan Hawke (Harrow), May Calamawy (Layla), directors Aaron Moorhead and Justin Benson, executive producer Grant Curtis, and director/executive producer Mohamed Diab. Questions include things like what garbage we haven't left on the moon, are moonquakes real, and how many people have landed there. Diab is so excited about one of the answers that will make him a cool dad after the interview. A few of these interviewees are going to have to have a reckoning with Khonshu, who isn't very nice if he doesn't like you.