The Guest 2 Never Happened, But The Soundtrack Did, And You Can Listen Right Now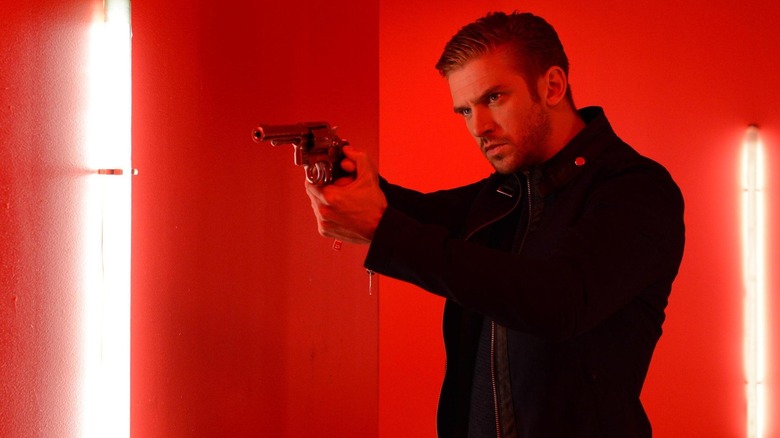 Picturehouse
Sometimes April Fools' Day jokes are hilarious. Sometimes, they're cruel. Other times, they make us yearn for what could've been. And then there are the April Fools' Day jokes that might not be jokes at all ... and that's the headspace I'm in after finding out that, though a sequel to "The Guest" never actually came to pass, "The Guest 2" now has a soundtrack.
Keith Calder, a producer on Adam Wingard's original film, took to Twitter on Friday, April 1 to reveal that the long-forgotten sequel idea had come to fruition not on the big screen, but on a licorice pizza (this is a film website, figure it out).
"April Fools' Day always sucks. Endless bad jokes about fake things," the filmmaker explained. "But what if an April Fools joke was real? The official soundtrack for THE GUEST 2 is here thanks to our friends at @LakeshoreRecs! The movie might be fake, but the soundtrack is very real and very awesome."
In the tweet, Calder included a cover image for the digital soundtrack, which essentially doubles as a mock poster for the sequel that never was. Dan Stevens — The Guest himself — is featured prominently in the cover art wearing a cowboy hat and brandishing a gun. Maika Monroe's character is there, too, as well as what appears to be a cloaked cult and occult symbols.
April Fool's or not?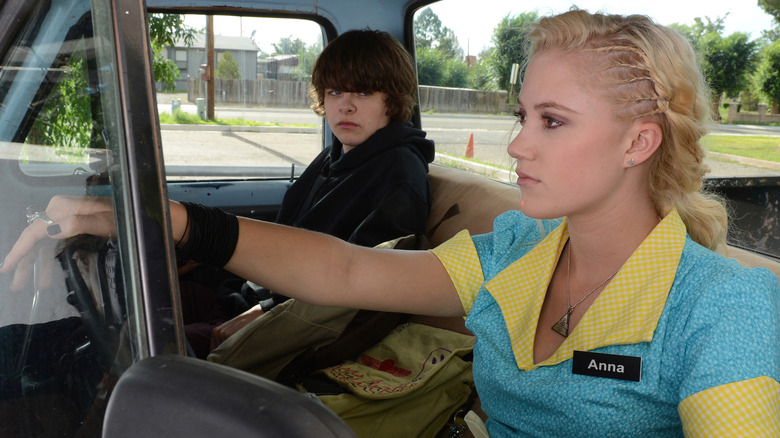 Picturehouse
Clearly, it is April Fools' Day, which brings the validity of the soundtrack in question — especially since the team allegedly behind it didn't decide to put any physical copies on sale. That definitely seems like a missed opportunity considering the success and cult following of the original movie. Hell, the response to Calder's tweet has already been overwhelmingly positive and fans are dying for some scraps when it comes to the "Guest" universe. If it wasn't just a cute April Fools' gag, maybe they would've gone that route.
Though it is important to mention that the film's original director, Adam Wingard, is credited on the cover of the soundtrack, which lives on Spotify for your listening pleasure. Additionally, track 7, which is titled "Grim Showdown," is credited only to Wingard on Spotify. It stands to reason that the apparent soundtrack couldn't have been made without him — or that it could've, but it wouldn't have hit nearly as hard, so his name appearing not one but two places on the digital record and its paraphernalia bodes promising for fans questioning the validity of this project. Wingard is no stranger to contributing music to his films — he created the score for his "Blair Witch" movie, too.
"The Guest" never got the sequel it deserved — the film has been in and out of development since the original film became a hit in 2014 — but for now, this soundtrack will definitely suffice. Or it'll just make us all go even crazier in the hopes they make it a fully-fledged feature. We'll just have to wait and see.