Why David Bowie Didn't Want His Voice Used In Twin Peaks: The Return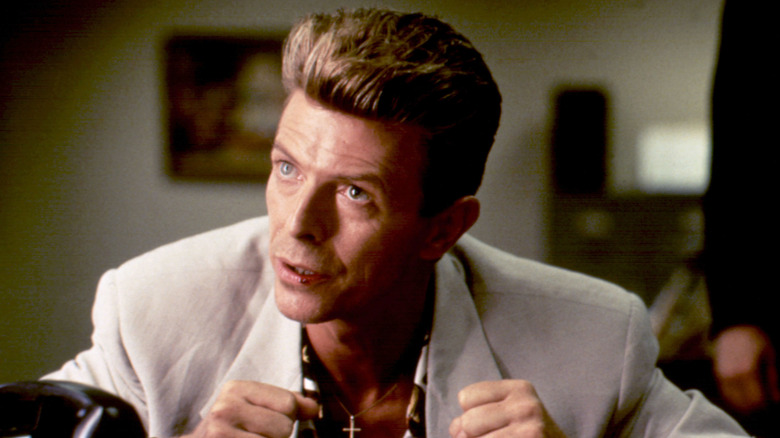 New Line Cinema
Although "Twin Peaks: Fire Walk With Me," the 1992 prequel film based on the groundbreaking hit television series "Twin Peaks," belongs to the great Sheryl Lee, one of the film's most surprising appearances comes in the form of music legend David Bowie. In the film, he plays Phillip Jeffries, an FBI agent who's notoriously been missing for over two years around the point he enters the film. In the theatrical cut of "Fire Walk With Me," Jeffries waltzes into the FBI's Philadelphia headquarters rambling about a mysterious figure named Judy, whom he doesn't want to talk about, while the scene intercuts between him and some of the other Black Lodge entities. Jeffries then mysteriously disappears from the scene and, ultimately, the movie.
It seems like such an odd choice to bring in a megastar like Bowie, only to discard him after less than two minutes of screentime. Thankfully, director David Lynch's decision to release "The Missing Pieces," a feature-length compilation of deleted and extended scenes from "Fire Walk With Me," allowed "Twin Peaks" fans to experience Bowie's scene for the first time in its entirety. It's a tense confrontation that gives more intrigue to Jeffries as he questions the year he's currently in, as well as the true identity of Agent Dale Cooper (Kyle McLachlan), before being mysteriously teleported in a fiery blaze to the Buenos Aires hotel he came from.
I have to give it to Bowie for making this thinly-written character somehow feel bigger than the film allows him to be. Lynch clearly had more in mind with Jeffries, but Bowie declined to reprise his role when the surrealist filmmaker went to work on another season over two decades later, due to dealing with terminal cancer in secret before his death. "I never even talked to him, but I talked to his lawyer, and they weren't telling me why he said he couldn't do it," sayid Lynch in an interview with Pitchfork. With Lynch needing to make some changes reviving the Phillip Jeffries character for "Twin Peaks: The Return," the use of Bowie's mystifying role went a much different route.
The kettle of the man who fell to earth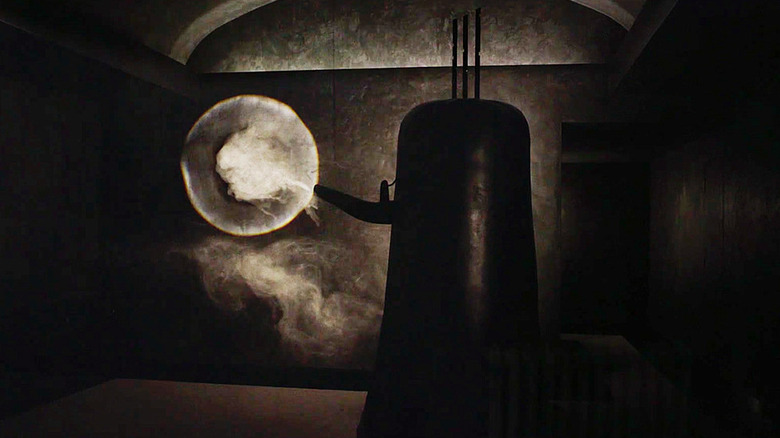 Showtime
In that same interview with Pitchfork, Lynch talked about a vocal change requested on Bowie's behalf:
"We got permission to use the old footage, but he didn't want his voice used in it. I think someone must have made him feel bad about his Louisiana accent in 'Fire Walk With Me,' but I think it's so beautiful. He wanted to have it done by a legitimate actor from Louisiana, so that's what we had to do. The guy [voice actor Nathan Frizzell] did a great job."
Jeffries does make an appearance in "The Return," although not in human form. The missing FBI agent materializes in the form of a glowing orb smoking out of a machine that resembles a massive teapot, enshrouded by darkness. It's an inspired decision on Lynch's behalf that fits within the series' warm embrace of the the surreal. Nathan Frizzell's voice does a pretty good imitation that makes it feel like we're watching the same character, but through a more natural vocal performance.
"The Return" was a fascinating experiment for television not only because of Lynch's complete creative control, but because of the predicament he was put into regarding other recurring cast members who couldn't return. Don S. Davis (Major Garland Briggs), Jack Nance (Pete Martell) and Frank Silva (Bob) had passed away before the series' development, while Michael J. Anderson (The Arm) and Michael Ontkean (Sheriff Harry S. Truman) simply declined to return. Many of these characters had important roles to play in the revival series, and Lynch honestly did the best he could have done, either acknowledging them offscreen or changing their forms, considering the circumstances.
"Twin Peaks: Fire Walk With Me" is currently streaming on HBO Max.