David Bowie, The Man Who Fell To Earth, Saved My Life And Made Movies Better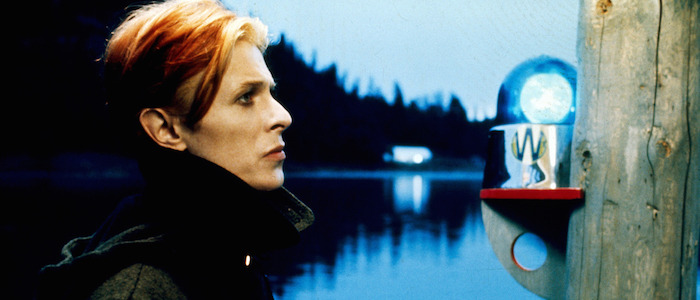 It is 2004 and Ziggy Stardust and the Spiders From Mars has just convinced a depressed, confused and impossibly lonely high school student to not take his own life. It is 2015 and "Heroes" blasts through the speakers as the same man, now older and happier and glad to be alive, joins the love of his life on the dance floor for their first dance as husband and wife.
The soundtrack to the decade between these two events in my life is defined by David Bowie, the most remarkable performer of the 20th century and an icon who cannot be summed with any kind of ease. He was a musician and an actor, an artist and an entertainer, a sinner and a saint, otherworldly but knowable. By listening to his music and watching him on screen, I couldn't help but feel like I knew him. Like so many others, I felt I could see through his mystique and this alien, this seemingly mystical presence, was the friend I needed. I listened to him and couldn't help but feel like he was listening back.
David Bowie has passed away at the age of 69, leaving behind a couple dozen incredible albums, enough amazing stories to fill a few thick books, and a surprising film career that was just as malleable and unpredictable as his discography. There's no way of knowing how many lives he saved, but I can count at least one. The least I can do in return is pay tribute to his contributions to the world of film, of which there are more than you may realize.
If you make a pilgrimage over to David Bowie's IMDB page, you'll discover that his music was featured in 452 films and television shows. That isn't just a testament to his popularity – it's a testament to his versatility. Much has been written over the years about how Bowie never stopped evolving, slowly transforming from persona to persona, shifting genres and styles as he saw fit. This means there's a Bowie song for everyone, from the cheeky glam rock of The Man Who Sold the World to the club-friendly Let's Dance. How one man could record the chilly, shattering Station to Station and the playful, catty Hunky Dory is beyond the imagination of mere mortals. And since there's a Bowie song for everyone, there's a Bowie song for every movie. It's hard to think of a movie that has utilized his music that didn't find itself instantly climbing a few rungs on the "cool" ladder.
Remembering David Bowie As a Movie Soundtrack
I feel almost guilty that the first example that comes to my mind of Bowie's music in the movies isn't some obscure film or left field choice – it's the use of "Cat People" in Inglourious Basterds. Quentin Tarantino's World War II announces itself as a fantasy early on, but the anachronistic use of an '80s pop song during its final chapter seals the deal. Bowie's one-of-a-kind voice, mysterious and sexy and brimming with tension, makes for an ideal quiet before the storm. "I've been putting out the fire with gasoline," he croons as our heroine plans to decimate the leaders of the Nazi regime (and end the war) with a raging inferno.
Everyone is going to have their favorite Bowie needle drop. Everyone is going to have that one movie scene that stands out to them because one of his songs breathed life into it. Off the top of my head, I recall the chilling use of "Ziggy Stardust" in Chronicle. I love how "Moonage Daydream" provides a universe worth of awe and wonder in Guardians of the Galaxy. I can't get the offbeat and triumphant placement of "Queen Bitch" over the end credits of The Life Aquatic With Steve Zissou out of my head.
I can't forget how "Under Pressure," his rightfully celebrated collaboration with Queen, was the outlet for intense emotional catharsis at the end of Bobcat Goldthwait's dark comedy gem World's Greatest Dad, the beacon through which the movie cleansed its dark soul and found the light.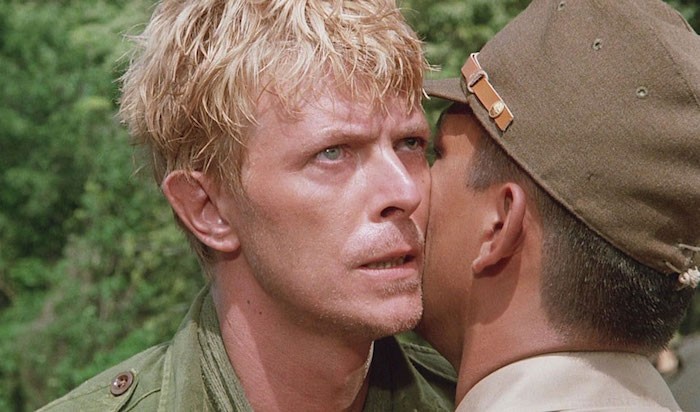 Remembering David Bowie As a Movie Star
Bowie's list of acting credits isn't nearly as long, but this is a quality over quantity situation if there ever was one. Just as he did with his music, he never found a comfortable place and stayed there. Each of his film roles couldn't be more different from the others. Here's a man who wouldn't stop challenging himself. Here's a performer who would push and push until he found something you haven't seen before.
In The Man Who Fell to Earth, Bowie played an alien who visits Earth to save his dying people and succumbs to human desires. You will not find a more raw and desperate portrayal of loneliness, guilt and desperation. Bowie has always felt otherworldly, like he's a visitor from beyond, and it is here that he gives that persona depth. It's lonely out in space, but it's lonely down on Earth, too.
But Bowie was unafraid of being silly. Like many of the best humans of his generation, he was perfectly comfortable interacting with creatures that were created by Jim Henson's workshop and his performance in Labyrinth is a thing of surreal delight.
And of course Bowie played a vampire in The Hunger. There was no way he was not going to play a vampire at some point.
And just when you thought he'd always be weird, that he'd always play fantastical and strange on screen, you watched him strip away all theatrics and play Nikola Tesla in Christopher Nolan's The Prestige. What's remarkable about this performance is how stripped down it is. He could have marched into this movie with swagger and stolen the spotlight, but he's a gracious performer, providing Hugh Jackman with capable support and graciously remaining at the fringes of the movie.
He also turned in a similarly subdued performance for Martin Scorsese, playing Pontius Pilate in The Last Temptation of Christ as a soft-spoken, reasonable bureaucrat.
And yes, he also has the absolute best scene in Ricky Gervais' Extras, playing himself and having a grand 'ol time.
For several generations of teenagers, David Bowie was a lifeline. For several generation of adults, he was an artist worthy of examination. For several generations of filmmakers, he was an inspiration and a muse. The internet has been awash in stories about his basic goodness, about how, underneath the pop star glamor, Bowie was a gentleman, a scholar, a loyal friend, an excellent husband and father. I cannot speak to that (although I'm certainly glad to hear it), but I can say that he was many things to me. A best friend from another planet. A counselor filled with wisdom. A rebel leader who encouraged the right shade of mischief. A walking reminder that the opinions of other people will never matter as much as your opinion of yourself. Be happy. Don't be afraid to dance. Don't be afraid to experiment. You too can be an alien and a Roman leader and a scientist and a vampire.
David Bowie lives on through his music. David Bowie lives in through our movies. David Bowie lives on because I am alive and because he saved my life. Rest in peace, you crazy spaceman, you Thin White Duke, you Goblin King, you explorer of the unknown. We'll hear you on the radio. We'll see you in the movies. You're gone, but you aren't going anywhere.