15 True Crime Documentaries You Can Stream On Netflix Right Now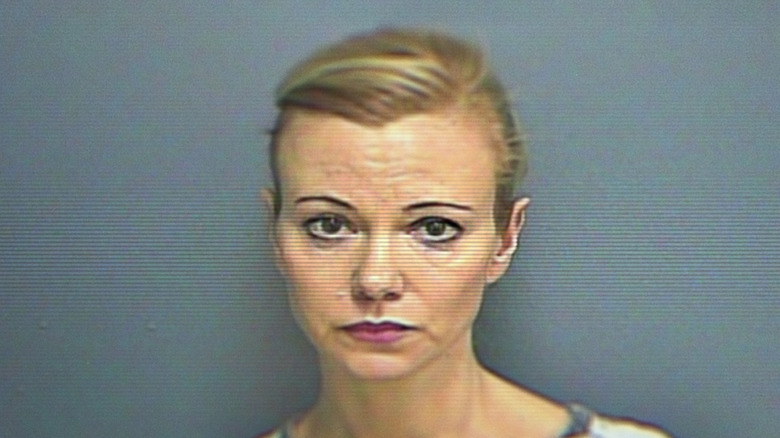 Netflix
True crime has taken over the world. Documentaries as a whole are the fastest-growing segment of the streaming market, and true crime is where most of that interest derives. It's not exactly new. "Dateline" has been spinning yarns about shocking suburban murders for decades. But the technology is finally here for so many more upstart filmmakers to nab Netflix-approved cameras and dive into these stories.
It's still odd so many people find it soothing to flip on a film about a horrifying real-life crime right before bed — but not inexplicable. For one thing, procedurals like "Forensic Files" have always had a somatic quality: The familiar music, that familiar deep-voiced narrator, and the comforting rhythms of procedural competency as police solve the crime.
Modern true crime documentaries, however, don't really work like that. Netflix nabbed the two biggest hits in the genre with "Tiger King" and "Making a Murderer." Both end in ambiguity, and the anxious wait for Season 2. Audiences will curse a true crime cliffhanger, but we keep coming back anyway. A well-told true crime tale is like watching your best friends fight at a party. It's awful, but at least it's not happening to you. And there's definitely a tantalizing psychological riddle there as you puzzle through everyone's anti-social motivations. These are 15 great true crime documentaries you can stream on Netflix right now.
The Tinder Swindler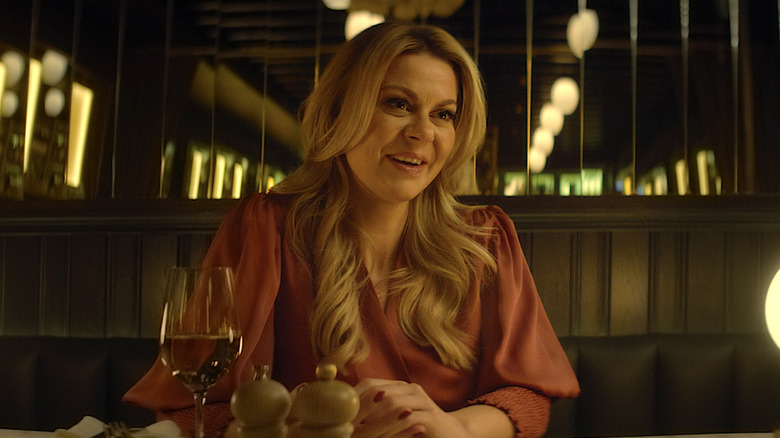 Netflix
"The Tinder Swindler" is one of those true crime documentaries that will have you pulling out your hair and firing off apoplectic text messages to friends like, "Can you believe these people are being so dumb?!" The titular swindler calls himself Simon and is posing as the heir to an Israeli diamond fortune. He meets women on Tinder, wines and dines them, then jet sets away on "business," but keeps in constant contact with elaborate tales of underworld intrigue. Despite his ostentatious displays of wealth, he convinces his matches he's in real danger, and somehow, victim after victim sends him shocking sums of cash.
The confidence scam is purely emotional, so it's hard to empathize from the outside; the more money these women give Simon, the more hooked they get. Behavioral economists call this the sunk cost fallacy. There's essentially a bug in human nature that makes us prone to throwing good money (or time) at potentially bad scenarios once we've become invested, and scammers like Simon can exploit this flaw for millions. Another shock here is how freely these grifters operate. The victims hand over the cash voluntarily, and the full breadth of the scam defies any single jurisdiction. "The Tinder Swindler" is a well-crafted documentary about a counterintuitive gap in human reasoning and a strange loophole in our laws that allows a very specific brand of psychopath to operate with impunity. 
Bad Vegan: Fame. Fraud. Fugitives.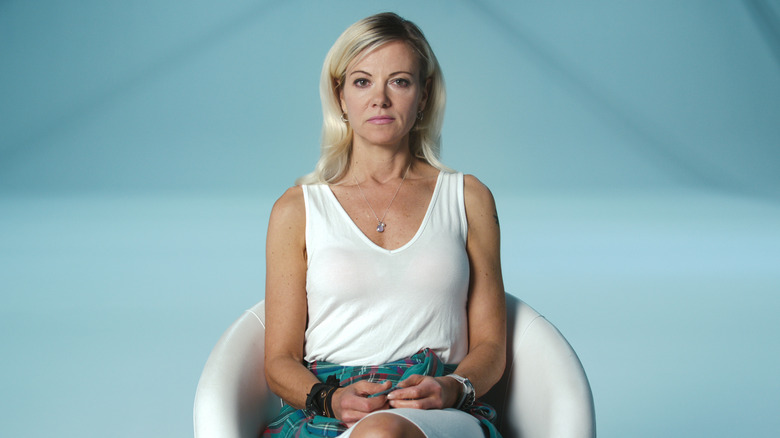 Netflix
"Bad Vegan: Fame. Fraud. Fugitives." from 2022 tells the absolutely bonkers story of the glamorous Pure Food & Wine restaurateur Sarma Melngailis. She's the toast of New York with her raw foods eatery until she meets a strange suitor online calling himself "Mr. Fox." Turns out he's basically the Tinder Swindler, and she utterly destroys her life as she falls deeper and deeper into this shady man's truly obvious confidence scam.
The difference between a good documentary and a bad one is often whether or not there's footage from the time the story takes place. "Bad Vegan" doesn't have the goods in this regard, but it does an excellent job with talking-head interviews and recreations with the real players that don't feel awkwardly staged. Where it really has some documents, though, are the contemporaneous recordings of phone calls between Sarma and Mr. Fox. It's some of the most insidious gaslighting you'll ever hear.
"Bad Vegan" has the goods in another way, too. Sarma is no pure victim. She clearly falls into Mr. Fox's insipid psychological honeypot, filled with silly supernatural promises, but she also becomes an active accomplice. She's even caught on camera downplaying her responsibility. "Bad Vegan" may have a genuinely unreliable narrator at its center. It's a story so strange you can't help but think something big is missing, and that's the real hook of this expertly crafted series.
Night Stalker: The Hunt for a Serial Killer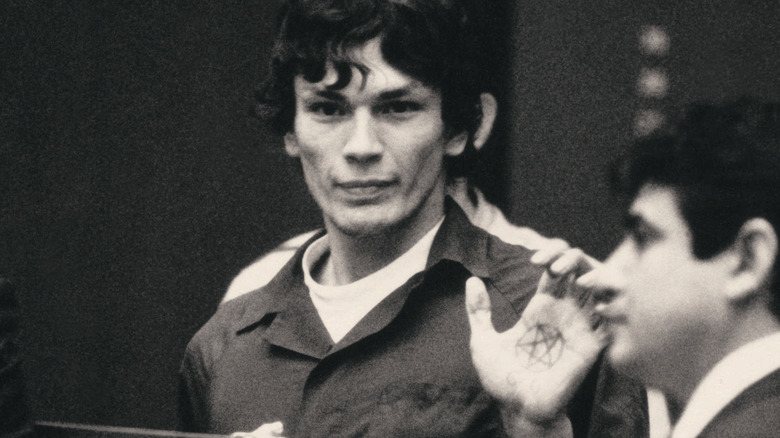 Netflix
"Night Stalker: The Hunt for a Serial Killer" isn't a brilliant documentary, but it's the best short-form account we have of one of the most monstrous serial killers of the 20th century. Richard Ramirez terrorized Los Angeles in the mid-1980s, breaking into homes and killing whoever he found inside. His victims spanned all ages, races, and genders, and the randomness made clear that anyone could be next.
This Netflix original doc has all the film noir B-roll and fancy Adobe After Effects editing you'd expect of a 2021 production. It also has an unusually satisfying conclusion. There's a moment in David Fincher's serial killer thriller "Se7en" where Morgan Freeman warns Brad Pitt of their suspect, "If he's Satan himself, that might live up to our expectations, but he's not the devil. He's just a man." Ramirez challenges this assumption. His dark eyes, vampire-sharp teeth, and angular visage made him appear more like a demon than a man as he hailed Satan during his trial.
"Night Stalker" relies too much on talking-head recollections from this case's lead detectives, who seem to be cooking up their own hard-boiled hero story. The actual facts indicate a bungled investigation as Ramirez (no great genius) evaded capture multiple times and was eventually caught by citizens, not police. But Netflix, as ever, does a vivid job of bringing the basic horrifying facts to the small screen.
The Staircase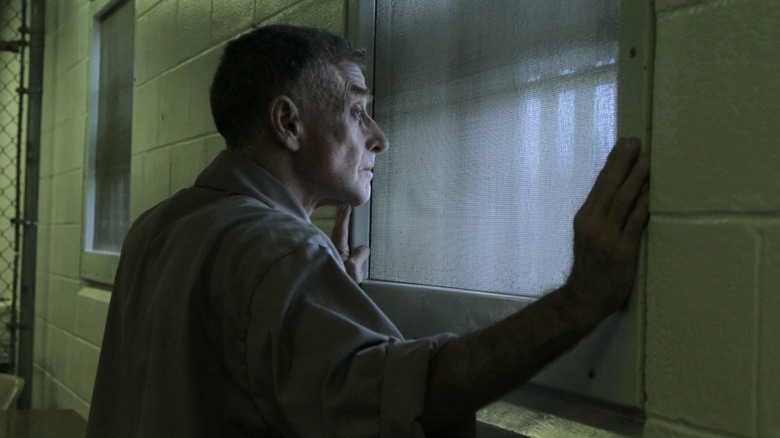 Netflix
"The Staircase" is another stunner from the team that created "Making a Murderer." This series similarly mesmerizes as it reveals in drips and drabs the twisty facts of an oddly motiveless killing that shatters an upscale suburban family. The doc centers on crime writer Michael Peterson, whose wife is found dead at the foot of the couple's staircase in a pool of her own blood. No one else is home, so, open-and-shut case, right? Not quite. Peterson is the enigmatic center of this documentary. He comes off as forthright and gentle, but the more we learn about the couple's marriage, and Peterson's past, the more sinister things seem.
And yet, as this documentary turns into a riveting courtroom drama, experts seriously muddy the pool of evidence. By the end your head is spinning so much you might give credence to a bold defense theory about, no joke, a rogue owl. The perpetrator-centric point of view of this film and "Making a Murderer" is so completely at odds with what was found by an endless series of appellate courts; it's important to watch "The Staircase" with an equally critical eye. But the skill of the documentary craft may find you helplessly entertaining "reasonable" doubts anyway.
Abducted in Plain Sight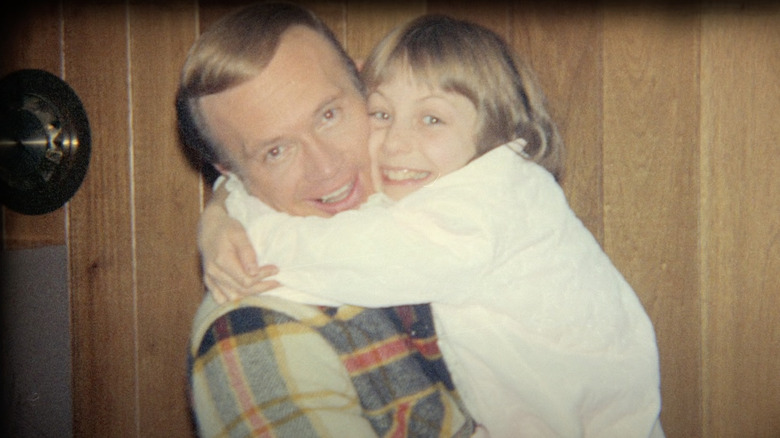 Netflix
This is an absolute gut-punch documentary that will make you go all slack-jawed at both the Machiavellian evil of a child predator, but also the sickening and negligent complicity of the victim's parents. "Abducted in Plain Sight" tells the story of the seemingly idyllic Broberg clan living the American dream in the suburbs of Idaho in the 1970s. The otherwise tight family gets seduced by a reptilian next-door neighbor named Robert Berchtold. As the strangely passive patriarch Bob Broberg fiddles, the sinister Berchtold seduces his wife, and horrifically, grooms and ultimately abducts his 12-year-old daughter, Jan Broberg, twice.
Pedophiles exist, and that's no big revelation. What this film illustrates is the long and insanely elaborate confidence scam run by a child predator as he hypnotizes an entire family. It also reveals the shattering truth about the "love" a victim can feel for an abuser when parents allow a pedophile to take control of a child's mind. "Finding Neverland," featuring Michael Jackson's accusers, covers similar territory, but this film really digs into both the truly bizarre psychological tactics of the perpetrator and the cracks in a family's armor that allowed this monster to waltz in the front door.
If you or someone you know may be the victim of child abuse, please contact the Childhelp National Child Abuse Hotline at 1-800-4-A-Child (1-800-422-4453) or contact their live chat services.
If you or anyone you know has been a victim of sexual assault, help is available. Visit the Rape, Abuse & Incest National Network website or contact RAINN's National Helpline at 1-800-656-HOPE (4673).
Icarus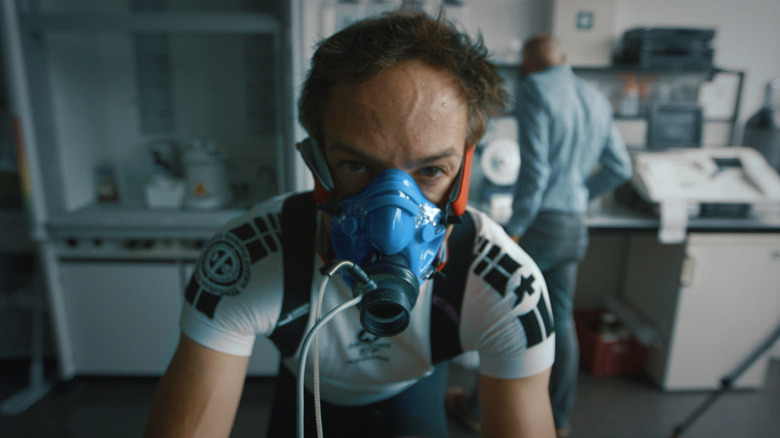 Netflix
"Icarus" is one of the most spectacularly fortuitous documentaries ever made. Filmmaker and amateur cyclist Bryan Fogel initially set out to see if a Lance Armstrong-style doping regimen could push him into elite territory. To run this experiment on himself, he enlists the expertise of the chemist who headed the Russian anti-doping program, a larger-than-life character named Grigory Rodchenkov. But suddenly, Grigory begins blowing the whistle about his role in orchestrating Olympic drug cheating, on orders from Vladimir Putin himself. Yes, according to Grigory, the Russian anti-doping program is nothing more than an organized front for drug cheats.
The documentary is riveting as it morphs from a gimmick film like "Super Size Me" into an international conspiracy thriller that ended up on front pages everywhere. When a colleague of Grigory dies suspiciously, the specter of Putin's political dissidents being poisoned raises this film's stakes again.
Fogel might have caught the luckiest break of any living documentarian, but he deserves endless praise for the pivot. When his story takes a darker turn, he quickly gets out of the way and captures lightning in a bottle. The only flaw here is the title, which worked better for Fogel's original premise. Icarus flew too close to the sun; Grigory is more like Prometheus. He mastered a trick of the (sporting) gods, and then shared his secret with the world.
American Murder: The Family Next Door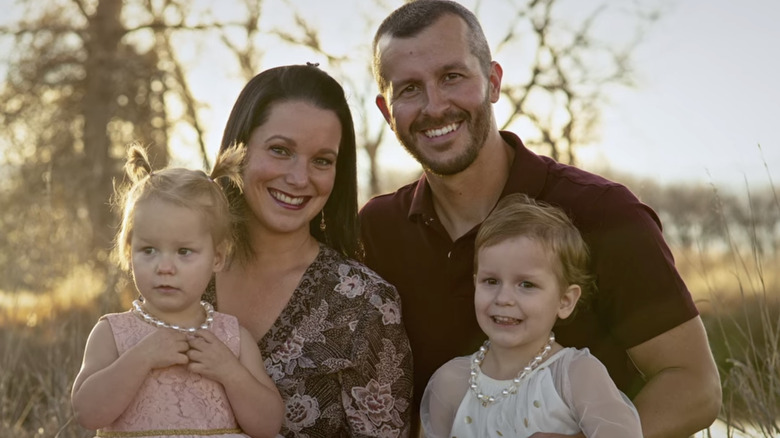 Netflix
"American Murder: The Family Next Door" follows one of the more heinous crimes you will ever see, but starts with an all-too-familiar mystery scenario. This taut, 93-minute documentary opens with police bodycam footage of a young husband named Chris Watts, who has rushed home from work to help police search his Colorado home for his pregnant wife and two daughters who have mysteriously gone missing. Right away, something seems off, and a concerned neighbor whispers as much to the police.
The film follows the typical true crime murder-mystery format and delves deep into the couple's relationship. The missing Shanann Watts is an especially enthusiastic mother and has documented her family life extensively online. So even though she's absent, we really see the story from her perspective. That makes it all the more chilling as we inch closer to the horrifying truth of what happened.
"American Murder: The Family Next Door" is no revolution in filmmaking. It's more like a well-made episode of "20/20" and, in fact, this story did get an episode on that venerable franchise. Here, director Jenny Popplewell's 2020 film assembles archival footage and extant audio into a succinct, no-frills true crime package.
Long Shot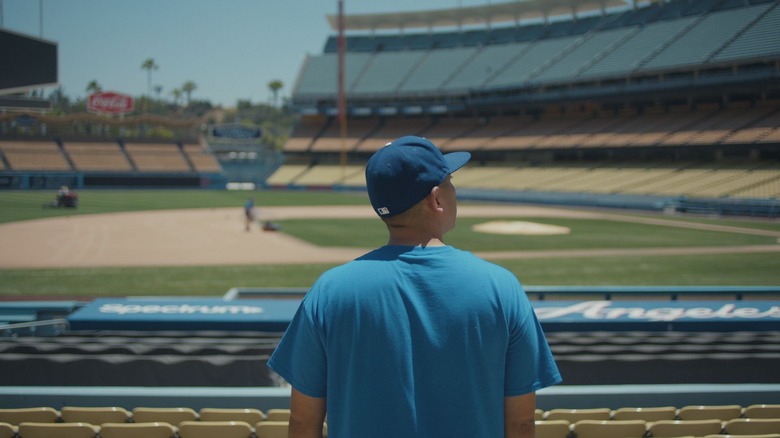 Netflix
"Long Shot" is sort of like Michelangelo Antonioni's "Blow-Up" in real life, but with some answers. It's also the kind of case of mistaken identity that nightmares are made of. In 2003, a young man named Juan Catalan took in a ballgame at Dodger Stadium in Los Angeles — or so he said. When he next shows up at the machine shop where he works, he's arrested for the brutal murder of 16-year-old Martha Puebla. It turns out the two knew each other. Martha had earlier testified in an unrelated case against Juan's brother, and soon an eyewitness to the crime picked Juan out of a lineup.
Juan maintains his innocence and enlists the help of defense attorney Todd Melnik to help confirm his baseball alibi. It turns out an episode of Larry David's long-running show "Curb Your Enthusiasm" was shooting at Dodger Stadium that day. If Juan can be found on the footage, he'll be cleared. This is not a feature at 40 minutes; it's more like an unfunny but uplifting episode of "Curb," and Larry David does indeed make an appearance. If you need a succinct reminder of the fallibility of eyewitness testimony, this oddly uplifting true crime tale is a home run.
Killer Inside: The Mind of Aaron Hernandez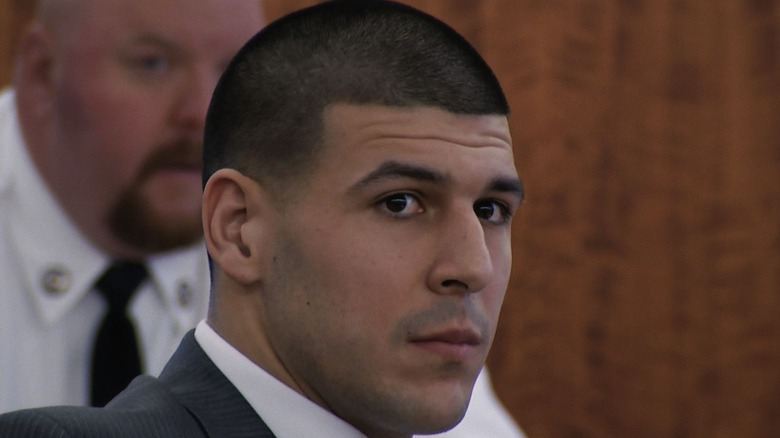 Netflix
The aptly titled 2020 Netflix documentary "Killer Inside: The Mind of Aaron Hernandez" follows the rise and fall of a man who was an NFL superstar by day, and a vicious gangster by night. In 2012 Aaron Hernandez was catching passes from Tom Brady in Super Bowl XLVI. By 2017, he was dead in a jail cell at just 27 with a string of pointless murders in his wake. This series painstakingly traces the athlete's travails from the abuse he suffered at the hands of a domineering father, to his fears about a closeted teenage affair with a teammate, to his life of drug use and crime outside of football.
This unmissable documentary also points to a fatal twist of fate. Hernandez grew up in a hardscrabble neighborhood of Bristol Connecticut and surrounded himself with the wrong crowd. He briefly escaped to Florida for college, and though trouble followed him there, too, he was next drafted by the New England Patriots, just a short drive from his hometown. Hernandez made it all the way to the top of America's biggest pro sport, but never distanced himself from the toxic peers of his youth. This intensely compelling three-part doc puzzles apart the inner life of a man with almost superhuman abilities, but also a stunted psyche utterly unequipped to handle such extraordinary gifts.
Making a Murderer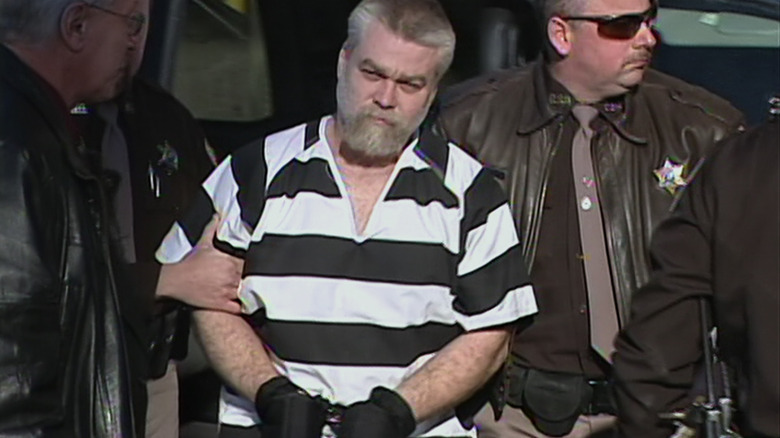 Netflix
"Making a Murderer" might be the king of twisty true crime documentaries. But it also came under fire for creating a one-sided and possibly misleading portrayal of a convicted killer. This nonetheless brilliant slow-burn documentary follows the story of a Wisconsin man, Steven Avery, who is exonerated by DNA evidence after over two decades behind bars on a wrongful rape conviction. But the vindication is short-lived. When a young photographer goes missing from Avery's property, both he and his intellectually disabled nephew are credibly accused of the crime.
"Making a Murderer" is definitely a criminal justice reform-oriented docuseries. It depicts police as criminally biased against Avery and eager to get him back for their own shoddy work. It also presents unmistakable evidence of rights violations as detectives coerce a confession from a handicapped teen who genuinely thinks if he parrots police prompts and admits to a murder he can quickly get back to school. Season 2 of this groundbreaking doc shed some doubt on the first season's zeal to clear Avery's name, but the show's title was always ambiguous. Did the police make a murderer by framing him, or actually create a killer by stealing his life with a corrupt conviction? Or maybe neither? Whatever the truth, the original season is a true crime tour-de-force.
Don't F with Cats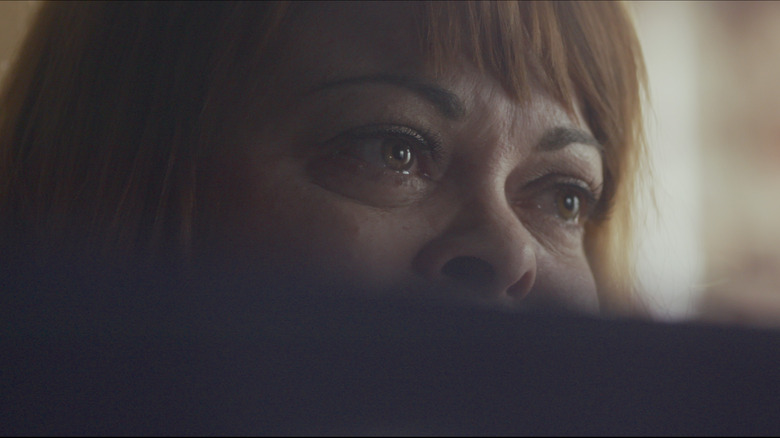 Netflix
The Netflix original "Don't F*** with Cats: Hunting an Internet Killer" was one of those must-see true crime documentaries if you wanted to join the lunchroom conversation in 2019. It follows a community of online sleuths tracking a twisted psychopath who has been posting horrifying videos of animal torture. This category of amateur detectives solving real-world crimes peaked when Michelle McNamara, the late wife of comedian Patton Oswalt, used her platform as a true crime writer to help catch a California serial killer. The effort culminated with another worthy documentary, "I'll Be Gone in the Dark," but that one is streaming via HBO Max.
The story of "Don't F*** with Cats" is even crazier. The sadist behind the videos wants to play a game of cat and (computer) mouse with the concerned citizens hot on his digital trail. Much like the Zodiac Killer toyed with media and police, this culprit wants credit for his crimes — or at least enjoys trolling as much as he does torture. And just when you think the mystery monster can't get any more twisted, he does, all as a team of keyboard warriors and international authorities race to catch him in time.
Wild Wild Country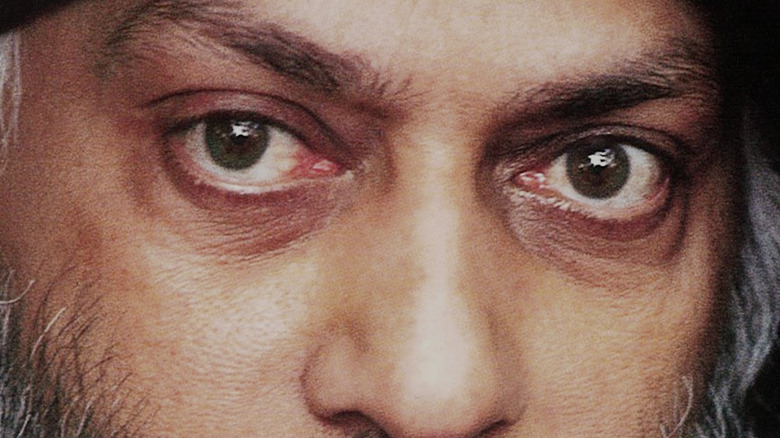 Netflix
"Wild Wild Country" from 2018 is a six-part documentary about the inevitable corruption of a covertly capitalist cult. But it's also the story of one woman so ensconced in the management of a shady institution she loses her soul — not to mystical mind traps, but to her own twisted ambitions.
"Osho" was a famed Indian spiritualist, meditation teacher, and all-around guru who brought his red-clad followers to the United States in the 1980s. As more and more seekers flocked to him, the organization began building a utopian commune in the rural Oregon countryside. But as this strange group's numbers and wealth grew, so did the corruption, culminating in a deadly clash with locals and a bitter battle against the government.
For the purposes of "Wild Wild Country," Osho is a mere charismatic figurehead, driving around in a fleet of Rolls-Royce cars and wearing Rolex watches. And like so many false prophets, this supposedly transcendent guru justifies his earthly greed with spiritual obscurantism. It's not surprising stuff if you know the true crime cult genre. But Osho's chief of staff, Sheela, is the actual center of this doc. She's not a true believer, exactly. It's more like she loves Osho maternally, but loves the power of the bureaucracy she's built around this man's spiritual grift even more. Sheela becomes insidiously institutionalized, at her own capable hands, and is willing to do anything to prop up the evil edifice she has built.
Tiger King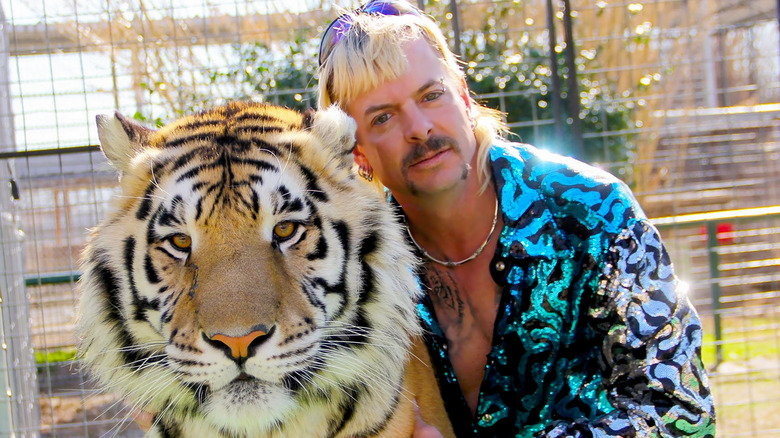 Netflix
"Tiger King" might be the most compelling documentary ever made thanks to the incredibly watchable narcissism of the tiger-obsessed star. Joe Exotic's need for attention was so endless, he'd filmed every imaginable aspect of his life for years. None of the footage was ever going to match up with his self-delusions, but amid his crimes against animals and people, he did capture some of the most compelling footage of a personality disorder imaginable.
Everyone's at least heard of the tale of Joe's tiger-petting zoo that went down in flames thanks to his bitter rivalry with a kooky conservationist, Carole Baskin, whom the series insinuates likely killed her wealthy husband to become a tiger queen herself.
Joe Exotic is a villain, no doubt. His zoo harms animals and exploits the impoverished employees via their addictions to big cat proximity. The danger of this job is clearly so alluring, zookeepers are willing to live in squalor just to be close to these charismatic creatures. But Joe is a charismatic creature, too, while Baskin is decidedly not. Perpetually covered in garish tiger print, she runs her "Big Cat Rescue" with unsettling efficiency, but relies on the same trick for free labor as Joe. And, of course, the man whose estate she inhabits vanished mysteriously, and her sheriff brother seems indifferent. Season 2 added nothing much to this strange tiger subculture story, but Season 1 is the undisputed true crime king.
Evil Genius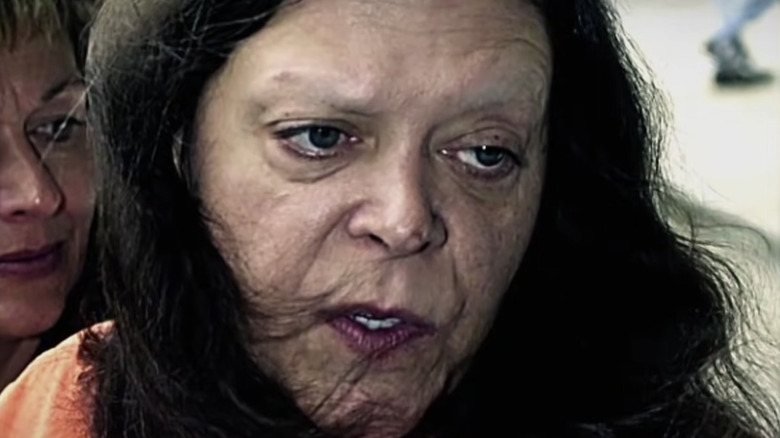 Netflix
"Evil Genius: The True Story of America's Most Diabolical Bank Heist" from 2018 tells the true crime story behind the most bizarre robbery in American history. In 2003, a pizza delivery man named Brian Douglas Wells walked into a bank in Erie, Pennsylvania, with a bomb strapped to his neck. He was carrying a "cane gun" and elaborate instructions for a scavenger hunt to disarm the device.
Wells dies horrifically. Police say he was involved; his family says he was the victim of a duo of "Evil Genius" former lovers at the center of this twisted tale. It turns out a man named William Rothstein constructed the device and the elaborate plot. He's a self-styled "fractured intellectual," a tinkerer with a devious mind and an anti-social personality reminiscent of The Unabomber, Ted Kaczynski.
It's Rothstein's sometimes-girlfriend Marjorie Diehl-Armstrong at the center of the series, though. If William is the engineer, Marjorie is the master of hacking the human mind. She's got a string of degrees and an even longer trail of mysteriously dead exes. She's also deeply mentally ill. When the police arrive at her door, she's got a dead body in her freezer and a wild tale to tell. This docuseries is really about the minds of two preternaturally clever psychopaths. It's impossible to get straight answers out of subjects like this, but that's an answer, too. Evil geniuses do live among us. They're mostly too small-minded to plot a world takeover, but their craven intellectual vanity gives them plenty of license to kill.
Conversations with a Killer: The Ted Bundy Tapes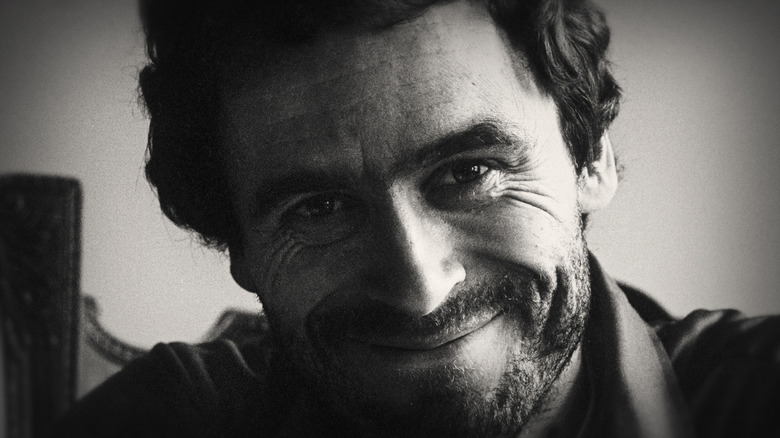 Netflix
It's been prominently pointed out that the volume of Ted Bundy content streaming is bordering on the kind of twisted worship the serial killer actually inspired from some very misguided fangirls during his murder trial. The Bundy backlash peaked with "Extremely Wicked, Shockingly Evil and Vile" starring Zach Efron in 2019, an underrated biopic focusing on Ted's preposterous self-image as a mild-mannered, wrongly accused law student. "Conversations with a Killer: The Ted Bundy Tapes" rehashes the serial killer's actual gruesome biography, but also includes several Bundy interviews featuring what Patrick Bateman calls the "mask of sanity."
Bundy is unsettlingly gentile during one local TV interview. He smiles wide and crosses his legs, thoughtfully considering the reporter's questions. The charade is fascinating. Ted admits he's been "impolite" at times, but nothing more. Bundy next turns his murder trial into a circus by representing himself and proposing to a groupie he'd put on the witness stand. In the end, Bundy does break down and barter from death row, but even then, the whole truth is withheld. There's no way to really understand a criminal mind like this. As this monster warns in the doc's final lines, "How could anyone live in a society where people they liked, loved, lived with, worked with, and admired, could ... turn out to be the most demonic people imaginable?"