Underrated Action Stars Who Don't Get Enough Praise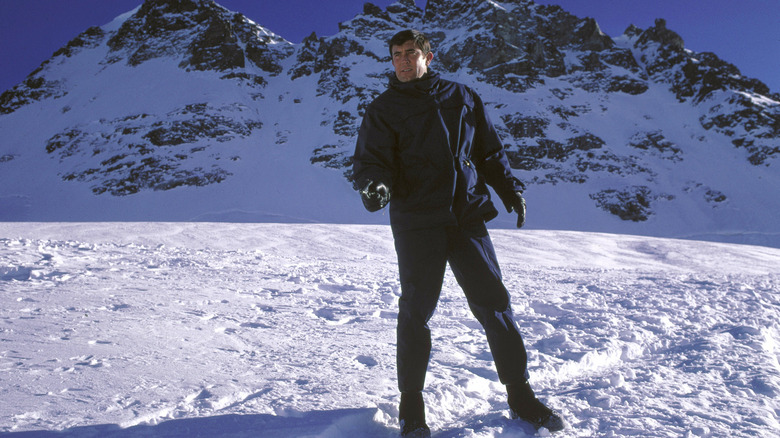 MGM/EON
When you think about the greatest action movie stars of all time, names like Arnold Schwarzenegger, Bruce Willis, or Sylvester Stallone may pop into your head. These men embodied some of our most characters, and starred in hit films over the course of several decades. Making an action film look effective takes dedication.
Sometimes, it takes just the right part for an actor to announce themselves as an "action star." Robert Downey Jr. hadn't exactly been known as an action hero before "Kiss Kiss Bang Bang" and "Iron Man." It took a few tries before Downey Jr.'s "The Avengers" co-star Chris Evans found a role that suited his skill set. Evans wasn't given the chance to succeed in the "Fantastic Four" films, but he became the perfect Steve Rogers in "Captain America: The First Avenger."
There are many talented actors who are still waiting for that ideal part. These underrated action stars don't get enough praise.
Eric Bana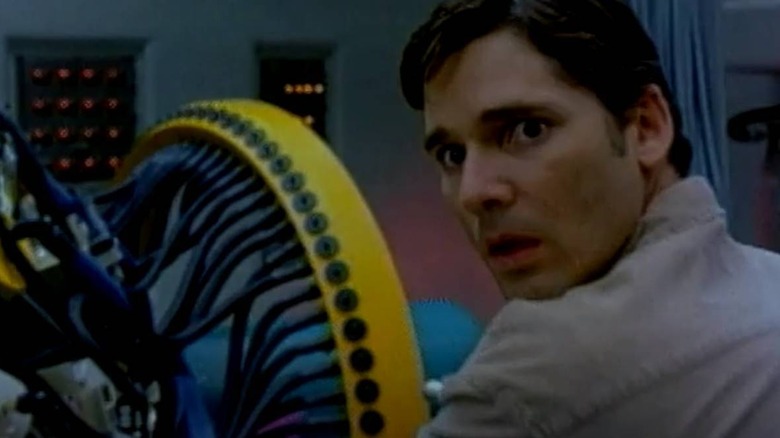 Universal Pictures
Despite his extensive filmography, Eric Bana has been one of the most underrated actors in Hollywood for over two decades. The charismatic Australian star first received acclaim for his breakout role in Andrew Dominik's crime thriller "Chopper," which was based on the true story of the gang member Mark Brandon Read. Bana showed that he could transform a complex historical figure into a compelling character; even when Read does terrible things, it's impossible to take your eyes off Bana. His nuanced performance made the film's grizzly violence even more effective.
"Chopper" should have been the film that launched Bana as one of Hollywood's top leading men, but unfortunately his next star vehicle was met with negative responses. Bana was cast as Bruce Banner in Ang Lee's comic book film "Hulk." While some fans have been more forgiving of Lee's austere take on the Marvel character, Edward Norton was cast as Banner instead for the 2008 film "The Incredible Hulk." Although "Hulk" is a bit of a miss, Bana does a great job showing Banner's struggles to deal with his new powers. 
Bana has given strong performances since, but they've mostly been supporting roles. While he's good in action films like "Troy," "Lone Survivor," and "Black Hawk Down," it would be nice to see him play the lead again.
George Lazenby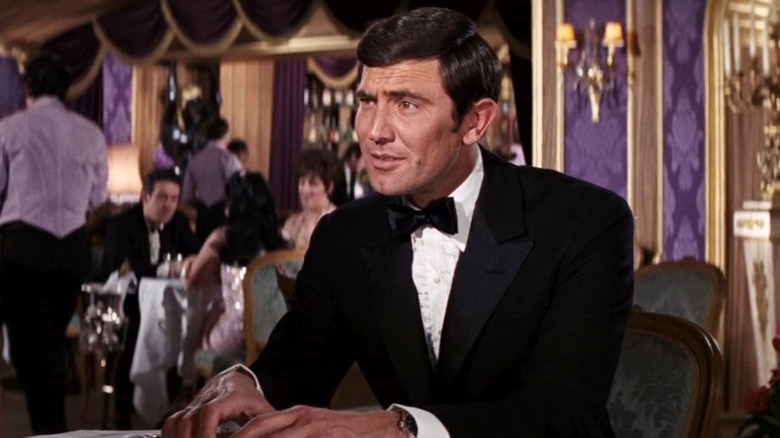 MGM/EON
Sean Connery's performance as James Bond made the charismatic MI6 agent one of the most popular characters in cinematic history. Connery first appeared as Ian Fleming's 007 in the 1962 film "Dr. No." After four subsequent appearances, Connery decided to step down. The Bond franchise's producer Albert Broccoli began an extensive search to find someone who could fill his shoes. Eventually, the Australian model George Lazenby was cast, despite having no prior acting experience. Lazenby played Bond in just one film, 1969's "On Her Majesty's Secret Service." Connery returned for the next sequel, 1971's "Diamonds Are Forever."
"On Her Majesty's Secret Service" was very different from the previous films. Compared to the cheeky campiness of the Connery era, the film told a darker story. Bond is tasked with investigating a plot by Ernst Stavro Blofeld (Telly Savalas) to spread a biological weapon. He goes undercover in the Swiss Alps, where he falls in love with the wealthy countess Tracy di Vicenzo (Diana Rigg). The film featured surreal sequences of psychological warfare, and more realistic violence. Connery's unflinching charisma would not have suited the story, but Lazenby's more sensitive performance was perfect. "On Her Majesty's Secret Service" is one of the most emotional films within the series, and features a shockingly tragic twist ending. Audiences may not have been prepared for a more vulnerable depiction of Bond, but Lazenby does a great job at distinguishing himself from Connery.
Frank Grillo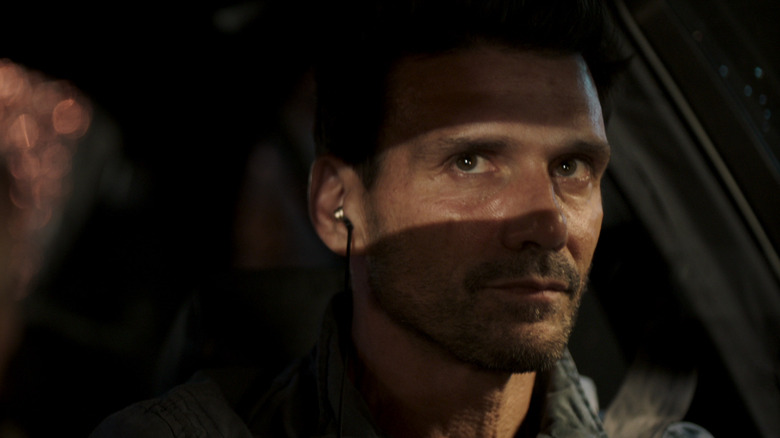 Netflix
Frank Grillo is best known for his performance as the assassin Brock Rumlow/Crossbones in the Marvel Cinematic Universe. He first appeared in 2014's "Captain America: The Winter Soldier," where his character is revealed as a double agent that is secretly in league with Hydra. The great scene where Crossbones and his men confront Steve Rogers in an elevator is one of the best action sequences in the entire MCU. It wasn't easy for a character to pose a serious threat to Captain America, but Crossbones nearly takes down the powerful superhero. 
While Crossbones is a menacing villain, Grillo has played other roles where he gets to show his heroic side. He delivered his best performance to date in the 2017 Netflix thriller "Wheelman." Grillo plays the titular unnamed getaway driver, who suspects that he's being double-crossed by the men that hired him. The film showed Grillo could command the screen; "Wheelman" is set entirely behind the driver's seat.
Grillo showed his sense of humor in the 2021 action-comedy "Boss Level." The film centers on a hitman who experiences the same events every day, similar to "Groundhog Day." Hopefully, these high-concept action films will get more attention, and genre fans can see Grillo's ability to play the lead.
Scott Adkins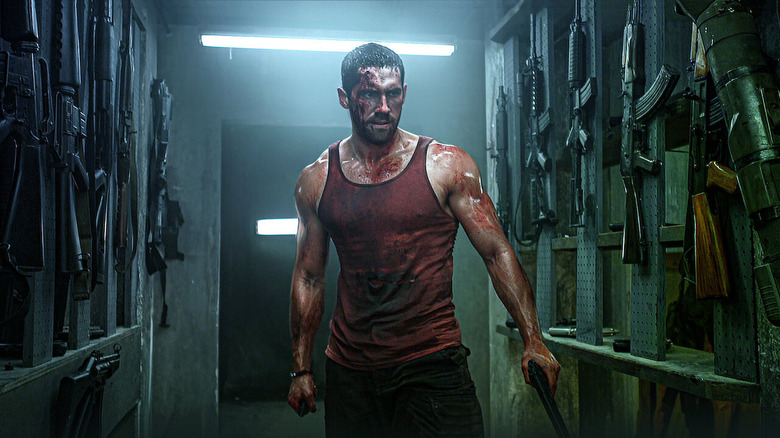 Magnet Releasing
You might be surprised to learn that some of the best action films of the past decade have been released directly to video-on-demand services. These low-budget thrillers often fall under the radar, but they typically contain better stunt choreography than many major Hollywood productions that are released in theaters. Scott Adkins is one of the most prominent DTV stars working today. You'd never doubt Adkins' commitment; before he began acting, Adkins had trained in martial arts for his entire life.
Adkins gave his best performance to date in the highly underrated 2012 action sequel "Universal Soldier: Day of Reckoning." The sixth film in the "Universal Soldier" franchise is unlike any of its predecessors. While the original 1992 film was very silly, "Day of Reckoning" is a gritty psychological thriller and focuses on themes of fanaticism and toxic masculinity. Adkins plays the new hero John, a former soldier whose entire family is massacred by Luc Deveraux (Jean-Claude Van Damme). John wakes up with only partially formed memories, but remains intent on tracking down Deveraux and dismantling the Universal Soldier program.
Adkins' other great DTV films include "Triple Threat," "Avengement," and the "Undisputed" series. Additionally, Adkins has appeared in high-profile blockbusters. Adkins had prominent supporting roles in "Doctor Strange" and "The Bourne Ultimatum," and he was recently cast in "John Wick: Chapter 4."
Jack O'Connell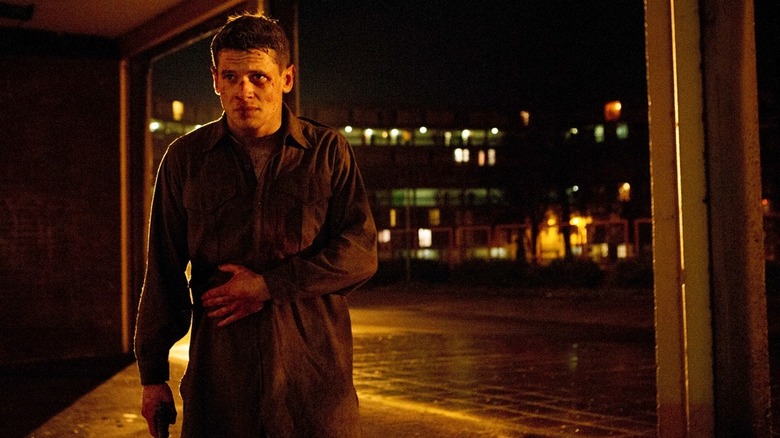 StudioCanal
Jack O'Connell had several roles in 2014 that indicated he had a promising career ahead of him. In the independent prison thriller "Starred Up," O'Connell portrays a tormented young criminal, who reconnects with his father (Ben Mendelsohn) when they are locked up together. He also starred in the historical thriller "'71," which centered around a lone British soldier's path to survival during the chaotic Belfast riots between the Republican Irish Catholics and Loyalist Ulster Protestants. These gritty roles proved that O'Connell could make dramatic material feel realistic.
O'Connell also showed that he was an effective action star in larger, crowd-pleasing films. He gave a committed performance in Angelina Jolie's World War II biopic "Unbroken," which tells the amazing true story of the Olympic champion and combat veteran Louis Zamperini. "Unbroken" may not have been the awards contender that some critics expected it to be, but O'Connell gives a respectful performance as the real hero. He also appeared in the comic book prequel "300: Rise of an Empire" in a brief, but memorable part as the Athenian warrior Calisto. After his breakout year, O'Connell won the BAFTA EE Rising Star Award.
Although it's been a few years since O'Connell has been in a great action film, he's done great work on television in the Netflix western series "Godless" and the historical epic "The North Water."
Dina Meyer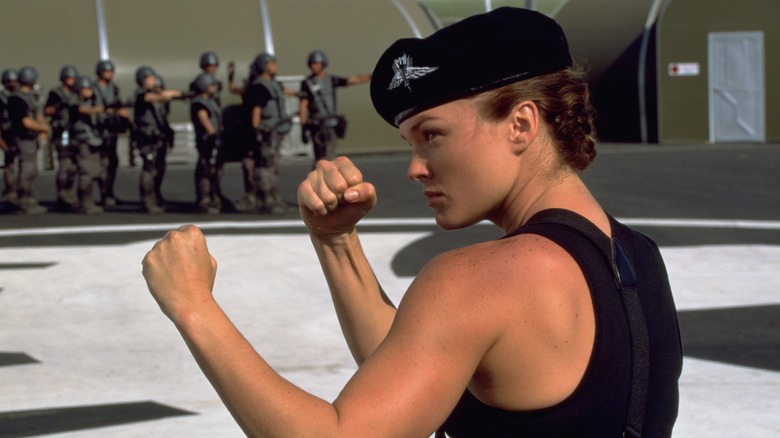 Sony Pictures
Sometimes, a future classic is completely misunderstood during its initial release. This was the case with Paul Verhoeven's 1997 science fiction action thriller "Starship Troopers." The film was based on the book by Robert A. Heinlein, but Verhoeven significantly changed the novel's intent. While Heinlein lionized conquest and combat, Verhoeven satirized dehumanization in the military. Verhoeven turned the film into a caricature of propaganda films, and the cast of "Starship Troopers" give very over-the-top performances. Unfortunately, some viewers did not pick up on the satirical intent. They believed that the performances were simply overwrought and melodramatic.
It was unfortunate, because Dina Meyer delivered one of the best performances of her career in "Starship Troopers." Meyer co-stars as the Mobile Infantry Commando Dizzy Flores, who falls in love with Johnny Rico (Casper Van Dien) during their experiences fighting the alien species "the Bugs." Even though the film is intentionally campy, Meyer makes Dizzy a heartbreaking character. She is hopelessly in love with Rico, who couldn't be more oblivious to her feelings. However, Dizzy isn't just a lovesick damsel-in-distress — she quickly proves that she's the most fearsome warrior within her unit.
Meyer is the type of actress who can elevate weaker material. While "Dragonheart," "Johnny Mnemonic," and "Star Trek: Nemesis" are forgettable films, Meyer makes them much more interesting than they would have been otherwise.
Natascha McElhone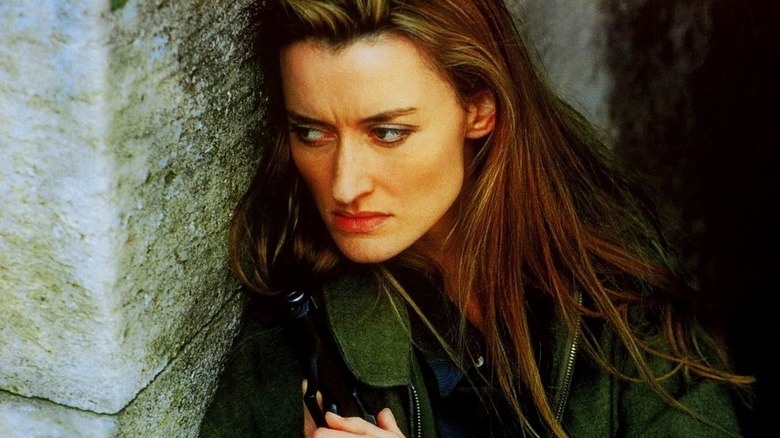 MGM
There are some actors that are so versatile that they're not associated with just one genre. Natascha McElhone is a brilliant actress, and has given incredible performances in films like Steven Soderbergh's "Solaris" and Peter Weir's "The Truman Show." McElhone has been even more popular on television; viewers may recognize her from her regular appearances on "Californication," "Designated Survivor," and "The First."
While McElhone has drawn acclaim for these transformative parts, she doesn't receive enough credit for how much butt she can kick. Just check out her performance in John Frankenheimer's 1998 action thriller "Ronin;" she turns the covert IRA operative Deidre into the most important member of Sam Regazolli's (Robert De Niro) team. McElhone gives one of the standout performances in the star-studded cast, and it wasn't the first time she proved herself by working with A-listers. She's just as fearsome as Harrison Ford and Brad Pitt in Alan J. Pakula's 1997 action thriller "The Devil's Own."
Although McElhone has an exciting career in front of her, it would be nice to see her work on more action films. She recently returned to the science fiction genre for a recurring role in the Paramount+ series adaptation of "Halo," which is set to return next year.
Michael Pena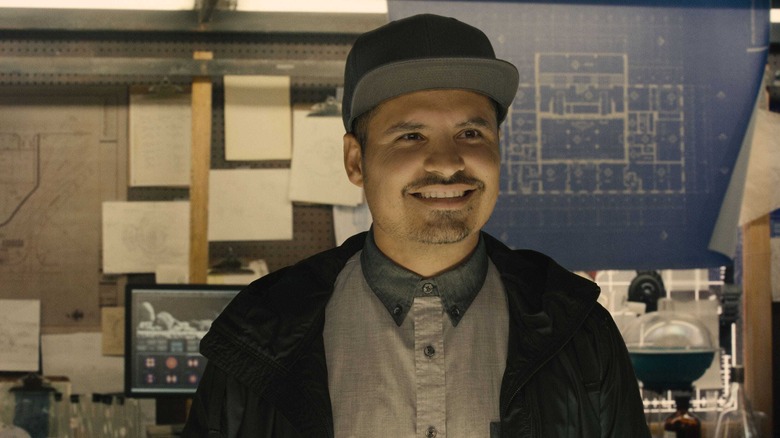 Disney/ Marvel Studios
Michael Pena has been a scene-stealer in films for over two decades. Although he's rarely cast in leading roles, Pena usually delivers the most memorable performance in whatever project he's working on. Pena isn't limited to just one subgenre of action films. He's proven that he can deliver hilarious one-liners in action comedies like "Buffalo Soldiers," "30 Minutes or Less," "War on Everyone," and the "Ant-Man" films. However, Pena is also excellent in darker, more realistic thrillers like "Fury," "12 Strong," "Shooter," and "Gangster Squad."
In the rare instances when he's been given the chance to play the main character, Pena has knocked it out of the park. He delivers a heartbreaking performance in David Ayer's 2012 police thriller "End of Watch." The film follows the daily lives of Los Angeles Police Department Officers Mike Zavala (Pena) and Brian Taylor (Jake Gyllenhaal). Ayer shot the film like a docudrama, and the chemistry between Pena and Gyllenhaal feels very authentic.
Famke Janssen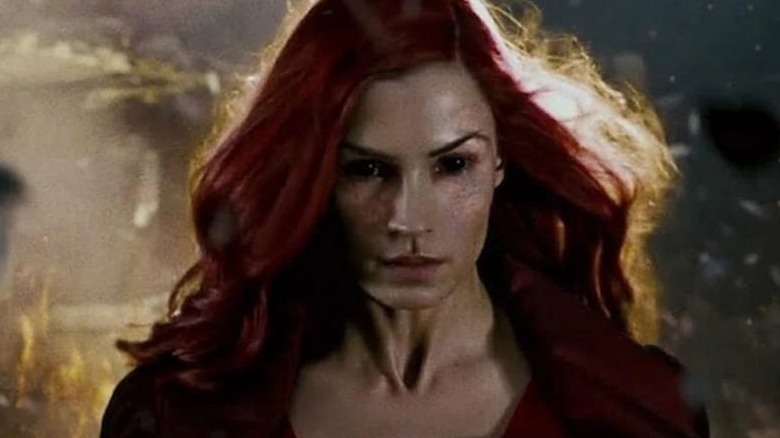 20th Century Fox
Despite a series of memorable roles in major blockbuster franchises, Famke Janssen has never been given the leading roles she deserves. Janssen gave her breakout performance in the 1995 James Bond film "Goldeneye," where she plays the villainous assassin Xenia Onatopp. While female representation in the Bond franchise has been hit-and-miss, Janssen's merciless character stands on equal footing with Pierce Brosnan's 007.
Janssen is best known for her role as Jean Grey in the "X-Men" film series. Jean is the most powerful psychic in Charles Xavier's (Patrick Stewart) mutant academy; her powers include telekinesis, manipulation, and teleportation. Janssen showed the complexity of Jean's abilities in the first two installments in the series, but unfortunately 2006's "X-Men: The Last Stand" did her a major disservice. Although it loosely adapted the Jean-centric "Dark Phoenix" storyline from the comics, "The Last Stand" botched the character's dramatic fate. Janssen returned to the series for smaller roles in the stronger installments "The Wolverine" and "X-Men: Days of Future Past," but in the prequel film "X-Men: Apocalypse," she was replaced by Sophie Turner.
Zhang Ziyi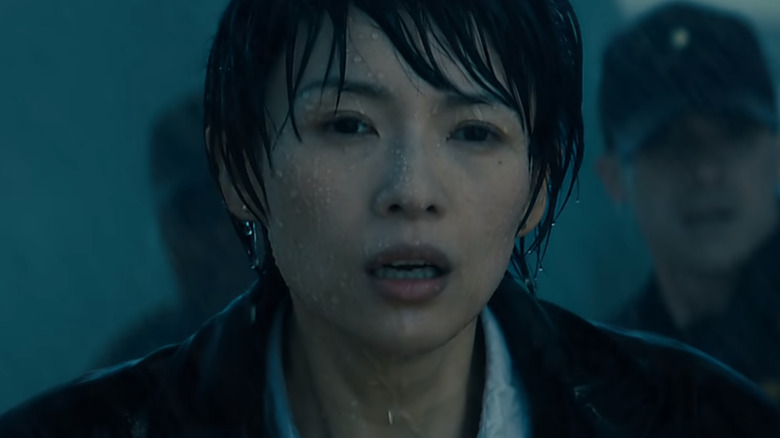 Warner Brothers
Chinese martial arts star Zhang Ziyi has prepared for physically demanding roles since she was a child, having begun dance and combat training at a young age. Zhang's physical prowess made her perfect for epic wuxia action films. After her breakout role in "The Road Home," Zhang starred in future classics like "Crouching Tiger, Hidden Dragon," "Hero," and "House of Flying Daggers." Her performance in Wong Kar-wai's historical epic "The Grandmaster" earned her more awards nominations than any other Chinese actress in history.
After becoming an icon in her home country, Zhang successfully made the transition to American films. She flexed her comedic abilities in the sequel "Rush Hour 2," and even lent her vocal talents to the animated action film "TMNT." Despite these early successes, Zhang's last few films haven't been as effective. While she doesn't give bad performances in "The Cloverfield Paradox" or "Godzilla: King of the Monsters," hopefully she will be given better roles in the future.
Lee Byung-hun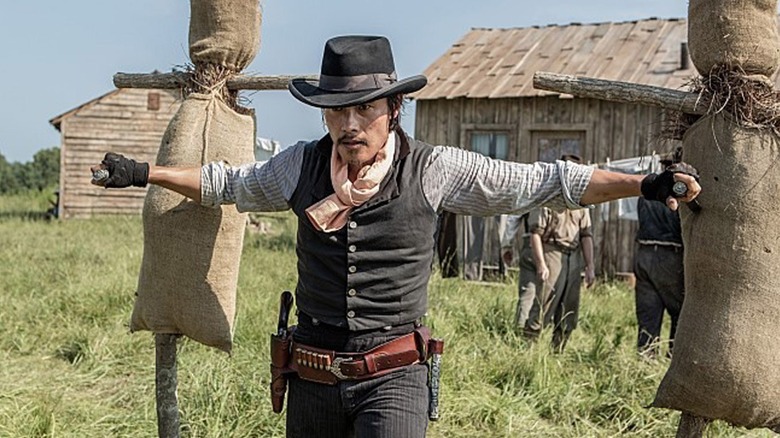 Sony Pictures
Lee Byung-hun rarely appears in action films where he doesn't steal the scene. Although some of the major American productions he has been involved with haven't been great films, Lee has made them entertaining regardless. He lived up to "G.I. Joe" fans' expectations with his memorable appearances as the character Storm Shadow in "G.I. Joe: The Rise of Cobra" and "G.I. Joe: Retaliation." His knife-wielding assassin, Billy Rocks, was among the most dynamic characters in Antonie Fuqua's 2017 remake of the western classic "The Magnificent Seven." Lee even got the chance to show his humorous side when he showed up as Han Cho-bai in the action-comedy "Red 2."
Although Lee's franchise roles were entertaining, they are only a preview of his combat abilities. Lee's best work has been in his home country of South Korea. He starred in action films such as "The Good, The Bad, and the Weird," "Joint Security Area," and "I Saw The Devil."
Carla Gugino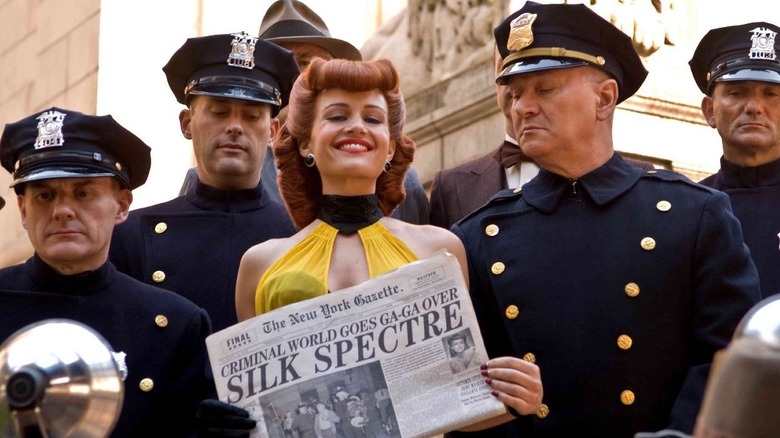 Warner Brothers
It says a lot about an actor when they can elevate bad films — even if they don't get credit for their hard work, it's just as challenging to make a mediocre film watchable as it is to succeed in a project that's already working. If you look at Carla Gugino's filmography, it's not a good indicator of her talent. Action films like the "Spy Kids" franchise, "Sucker Punch," or "Race to Witch Mountain" didn't deserve the committed performances that Gugino delivered.
When she gets the chance to work on a quality project, Gugino rarely disappoints. The character of Sally Jupiter/Silk Spectre is one of the most dynamic characters in Alan Moore's graphic novel "Watchmen," and Gugino's performance in the 2009 film adaptation brought her to life. Just last year, Gugino appeared in the highly entertaining, all-female action thriller "Gunpowder Milkshake." Hopefully, it's a sign of more promising projects that she has in her future.
Keri Russell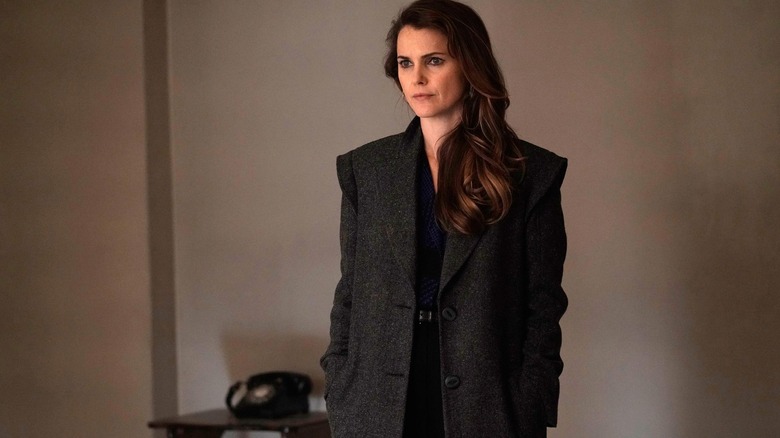 FX
Making the transition from television to film isn't always easy. Sometimes, if an actor plays an iconic character for many years, it's difficult for them to find different types of roles. Keri Russell earned critical acclaim for her performances as the college student Felicity Porter in the romantic drama "Felicity," and the covert Soviet Union spy Elizabeth Jennings in the espionage series "The Americans." While Russell's talent has never been in question, hopefully she will be granted more film roles in the future.
Russell joined the "Mission: Impossible" franchise as the IMF agent Lindsey Farris in the third installment, but unfortunately her character was killed off. She also delivered a strong performance as the nurse Ellie in "Dawn of the Planet of the Apes," and it's a shame that she didn't appear in any subsequent film within the series. Russell also did what seemed impossible; she came out of the disastrous "Star Wars: The Rise of Skywalker" with her dignity intact.
Michael Jai White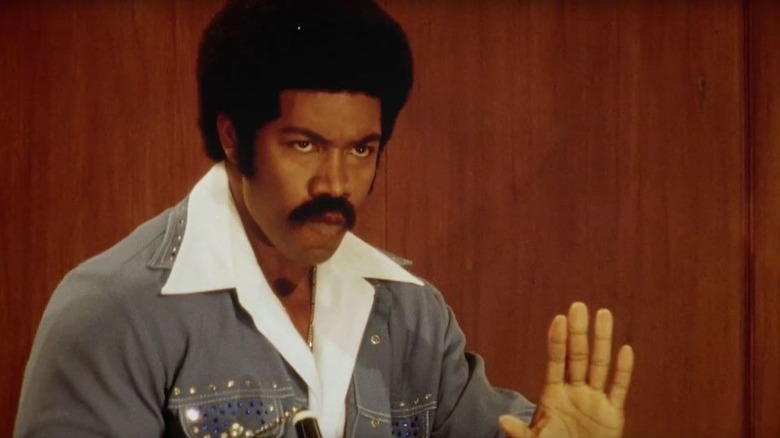 Destination Films
Michael Jai White doesn't get enough credit for a major historical achievement. White was the first African-American actor to play a major comic book character with his performance as the titular anti-hero in 1997's "Spawn," which was released a full year before "Blade." It's unfortunate that the disappointing film didn't grant him more opportunities. Many of White's subsequent projects have fallen under the radar. He's recently had a late-career surge with terrific VOD action films like "Skin Trade," "Falcon Rising," and the "Undisputed" franchise.
White maximized his potential in the 2009 action-comedy "Black Dynamite." He wrote, directed, and starred in the hilarious film, which parodies 1970s blaxploitation cinema. The titular character is a ridiculously overpowered commando, who dismantles a conspiracy linking drug dealers to President Richard Nixon's White House. White does a great job satirizing icons of the blacksploitation era; the action sequences were designed to purposefully look low budget.
Taylor Kitsch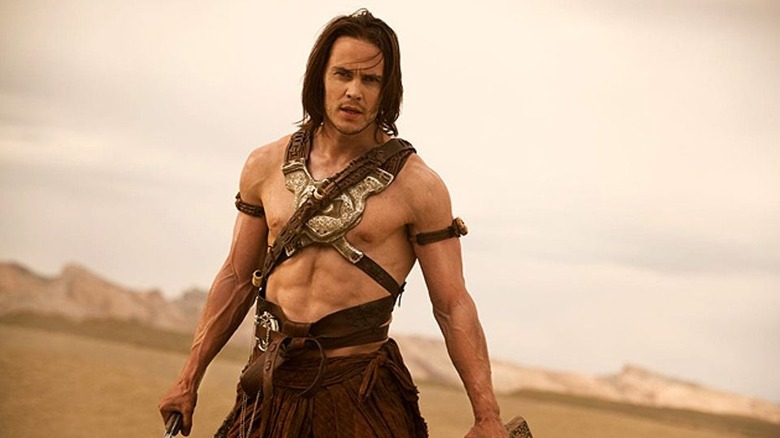 Walt Disney Pictures
Taylor Kitsch had a rough year in 2012. He starred in the highly anticipated science fiction film "John Carter," Oliver Stone's crime thriller "Savages," and the action epic "Battleship." "John Carter" was intended to be the first film in a major blockbuster franchise, but unfortunately the film underperformed financially, and the sequels were canceled. Although Stone is one of the best directors in the industry, "Savages" was one of his weakest films. "Battleship" may be enjoyable as a guilty pleasure, but it certainly didn't give Kitsch the breakthrough he deserved.
In the decade since, Kitsch has been given better parts. Ironically, his "Battleship" director Peter Berg took a more dramatic approach with his 2013 military action film "Lone Survivor." Kitsch gave a powerful performance as Lieutenant Michael P. Murphy, a real hero who was killed in action. He has also shown a more villainous side with his fearsome performances in "21 Bridges" and "American Assassin."