'Starred Up' Trailer: Ben Mendelsohn And Jack O'Connell Clash In Prison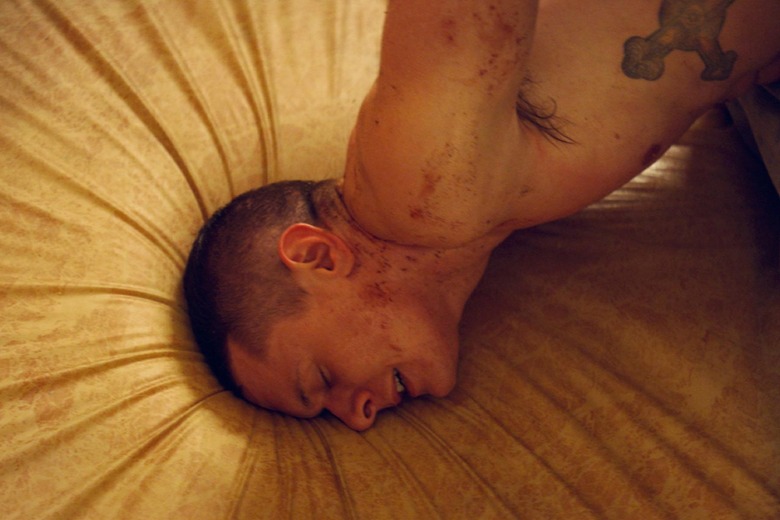 Jack O'Connell is one of those young actors who's right on the verge of breaking out. He's not too well known in the U.S. yet (except maybe to U.K. Skins enthusiasts), but he's on his way there, having come close to some high-profile projects like The Secret Service and Beautiful Creatures. And he should be much more famous by the end of this year, once 300: Rise of an Empire and Angelina Jolie's Unbroken are through with him.
The film that marks the turning point in his career is Starred Up, a gritty British drama that earned raves upon its Telluride premiere last year. O'Connell plays young Eric Love, a 19-year-old who winds up incarcerated in the same prison that holds his dad, Neville (Ben Mendelsohn). David Mackenzie (Perfect Sense, Young Adam) directed, and Rupert Friend also stars. Watch the intriguing first trailer after the jump.
While Starred Up looks like, and is, a prison drama, it's a father-son story at heart. That Mendelsohn would be up to the task is no surprise, but it sounds like O'Connell more than holds his own against him. THR seemed particularly taken with him, gushing that the movie "will be remembered as the film that announced a new star" and praising his "James Cagney-like bantam c**k vitality."
Starred Up opens March 21 in the U.K. Tribeca Film will release the drama in the U.S. sometime this year.
In STARRED UP, Jack O'Connell gives a star-making performance as 19 year-old Eric Love, a violent and troubled teenager making the difficult transition from a young offenders' institute to adult prison. He seems to be destined for a life behind bars, but the prison's unconventional therapist (Rupert Friend) is determined to help Eric find a way through, assisted by of one of the prison's longest serving inmates — Neville (Ben Mendelsohn) — who just happens to be Eric's father.