Choose Or Die: Release Date, Cast, And More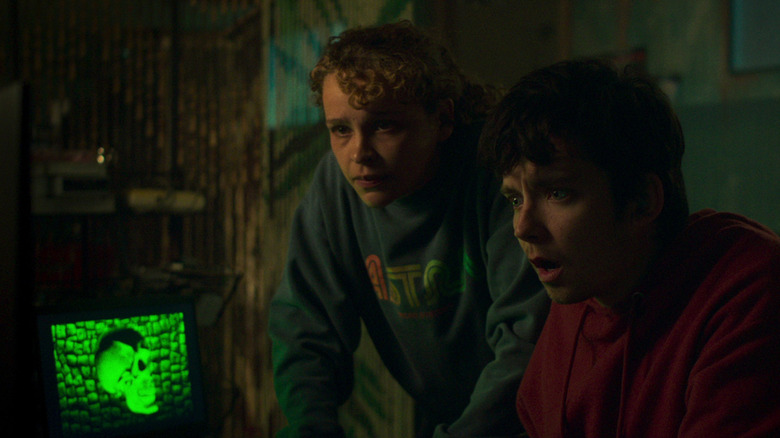 Netflix
What if a classic text adventure had deadly consequences? That's the idea behind "Choose or Die," the upcoming new Netflix horror movie that puts a lethal spin on the idea of choosing your own adventure.
We all remember the classic video games — titles such as "Zork" and "Deadline" that kept us hammering away at our keyboards as kids. Tom Hanks even encountered one in the 1988 family film, "Big." But what happens when games go bad?
"Choose or Die" stars Asa Butterfield and Iola Evans as two friends who discover a long-lost video game with an intriguing reward: Complete the game and earn a cash prize of $125,000. It couldn't be simpler ... but then again, the prize has never been claimed. Once they boot the retro game up on 1980s hardware, the reason for that becomes clear: "Curser" isn't any ordinary game. The "Choose Your Own Adventure"-style gameplay has reality-warping consequences, and they might not make it out alive.
It's no secret that death games are all the rage — Netflix's own "Squid Game" recently became the streaming giant's most popular show of all time (according to their shady internal metrics, anyway). Now, "Choose or Die" takes the familiar concept of "Black Mirror: Bandersnatch" and pushes it to even bloodier heights. What can we expect from the deadly adventure? Here's what we know about "Choose or Die" so far.
When and where to watch Choose or Die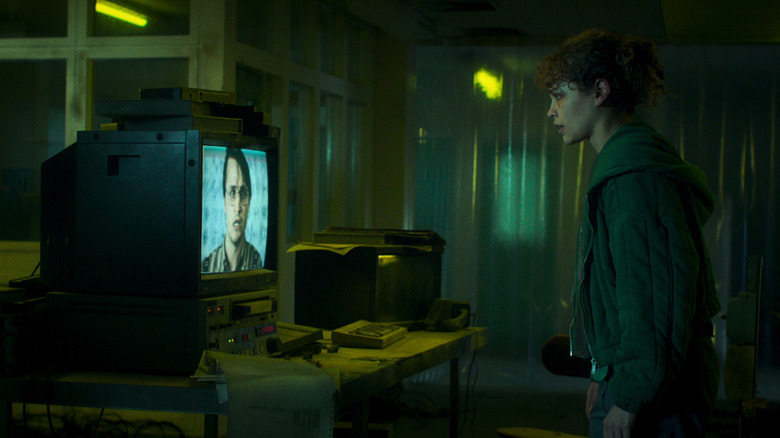 Netflix
"Choose or Die" heads to Netflix on April 15, 2022, which is just a few weeks away. But the upcoming retro-styled horror movie has been in the works for some time.
Originally called "CURS>R" after the name of the deadly video game, "Choose or Die" was snapped up by Netflix at Cannes last year, with the online streaming platform paying "high seven figures" for the film. The British horror flick was filmed in London by director Toby Meakins and wrapped in April 2021.
"Toby is a visionary in the horror space with an innate genius for both original storytelling and the stark, eerie palates he creates on-screen," producer John Zois told Deadline. "Simon, Toby, and Matt have worked to create something uniquely thrilling for horror fans."
The unique twist is in its retro setting, clearly taking inspiration from the nostalgia-fueled ranks of "Stranger Things" and the like. "Incredibly excited to be working on such an original and terrifying concept as CURS>R – taking modern horror and twisting it to pit our hero against '80s nostalgia," said fellow producer Matthew James Wilkinson.
So what's in store for our two cursed comrades? Let's take a look...
What we think Choose or Die will be about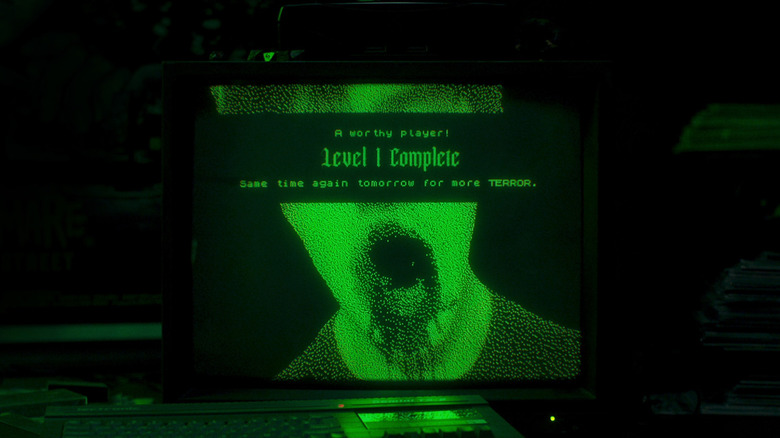 Netflix
It's time for the killer question: What's "Choose or Die" all about? A brief description from Netflix runs down the major details of the upcoming film, so let's start there:
"After firing up a lost 80s survival horror game, a young coder unleashes a hidden curse that tears reality apart, forcing her to make terrifying decisions and face deadly consequences."
Of course, there's a bit more to it than that.
Iola Evans stars as Kayla, a broke student with an ailing mother who's struggling to get by. However, she finds a long-lost '80s video game, "CURS>R" with an unclaimed prize — the aforementioned $125,000 — for anyone who completes the game. Obviously, it's not quite that simple, and after roping her friend Isaac (Asa Butterfield) into helping out, the two find themselves stuck in a life-or-death game, fighting not just for the prize money, but for their lives.
"Tempted by a chance to win unclaimed prize money, two friends reboot a mysterious 1980s video game and step into a surreal world of next-level terror."
It's a fun concept that will likely explore video game tropes and ideas while ramping up the horror and tension with its reality-warping premise. And let's face it, retro is very cool right now, so it's an easy win by throwing the game back to the video-game-obsessed '80s.
Whether or not we'll see glimpses of other classic '80s games remains to be seen, but it sounds like ample opportunity to squeeze in a ton of geeky references. Thankfully, you don't have to wait to get your first glimpse at "Choose or Die."
Choose or Die trailer
"Choose or Die" got its first official trailer just yesterday, on March 29, 2022, only two weeks before the film debuts on Netflix. As for what the trailer reveals, it gives us a gruesome look at how "Choose or Die" works — specifically, the rules of the game. The players (in this case Kayla and Isaac) are given the choice between a set of two outcomes. They have to choose which plays out ... but the game is linked to the real world, so it's not quite such an easy choice.
After the pair meet at a local café, and they're given a simple choice when a waitress breaks a glass: Make her break another one, or clean it up? Choosing for her to clean it up, it looks as though the game has a far more twisted idea of how that's accomplished, forcing the poor waitress to drop to her knees and begin eating each and every shard of broken glass.
And that's just the start of it.
The trailer goes on to present a number of utterly horrific scenarios, including a scene with a sink full of hypodermic needles, as well as another simple choice: his tongue, or her ears? Choose or die...
For some, gaming has been a safe space ... but not anymore.
What we know about the Choose or Die cast and crew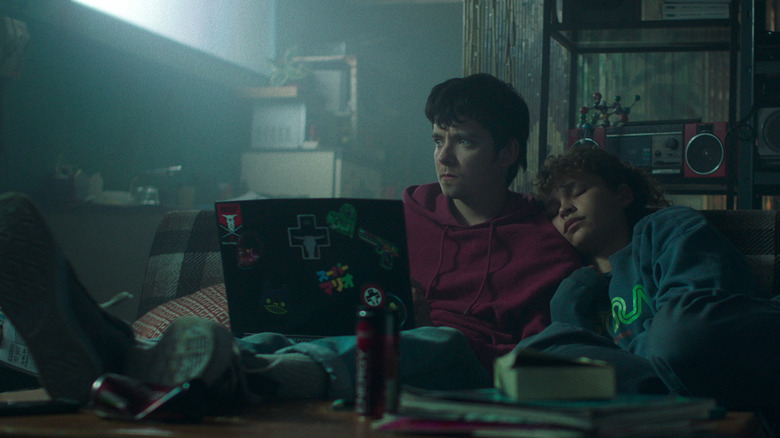 Netflix
The cast of "Choose or Die" has been set in stone for a while, so there are no big surprises here. Iola Evans will take the leading role as broke student Kayla, with Asa Butterfield starring alongside as her friend, Isaac. Both Evans and Butterfield will be pulled into this deadly game, alongside a frankly stellar cast that includes one of horror's biggest icons. Robert Englund ("A Nightmare on Elm Street") leads the supporting cast, which also includes Eddie Marsan, Angela Griffin, Kate Fleetwood, Ryan Gage, Caroline Loncq, and Ioanna Kimbook.
Griffin clearly appears in the "Choose or Die" trailer as Kayla's mother, Thea. However, while Marsan also shows his face, it's unclear who he'll be playing. Clearly, the pair have tracked him down for some reason; could he be a former developer linked to the "CURS>R" video game? Perhaps a video game collector who has also got his hands on a copy of the cursed game?
Additionally, Englund will be playing himself. The iconic actor is well-known in horror circles as the original Freddy Krueger, so his role as himself surely has to tie into the film's '80s backdrop in some way. Quite how that works out remains to be seen. 
Meanwhile, "Choose or Die" will be director Toby Meakins' debut feature. It's based on a script he co-wrote with Simon Allen and Matthew James Wilkinson. The Prodigy's Liam Howlett scored the movie, which marks his first work as a film composer. Allen also serves as executive producer along with Ridley Scott, Liza Glucoft, and Nick Angel. Sébastien Raybaud, Matthew James Wilkinson, and John Zois are on board as producers.