The Staircase: Release Date, Cast, And More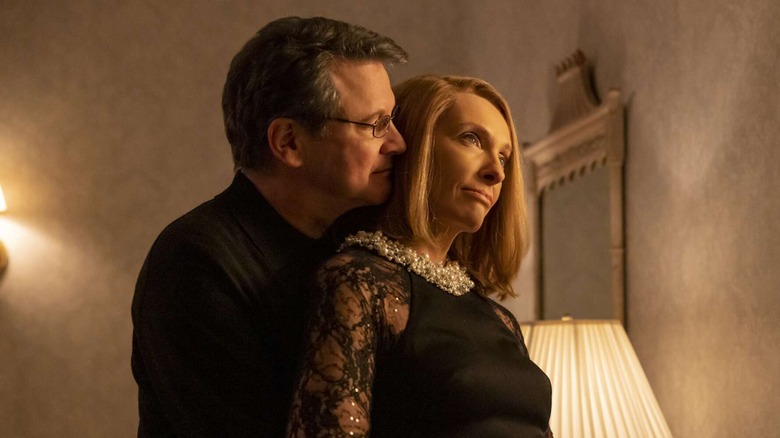 HBO
(Welcome to ...And More, our no-frills, zero B.S. guide to when and where you can watch upcoming movies and shows, and everything else you could possibly stand to know.)
I'm starting to think that these miniseries that adapt a true crime podcast or book or documentary are really coming into their own genre. For when you want all of the murder and mayhem that comes along with true crime, but you're slightly less concerned about the facts. Like if there was a version of "Dateline" or "48 Hours" that had better reenactors and also consistently lied to you. This isn't a judgement call, I am waist deep in "The Droupout" and loving every minute of it, but it feels like some needs have shifted. Instead of wanting to be the person on the edge of the party yelling about Ted Bundy (a role many of us have both played and experienced), we're getting entertainment out of consuming something that's kind of true, but more importantly, incredibly polished, well-acted, etc. Maybe it's that people think they can watch these fictionalized accounts and know the full story while also not having to bother with the nitty gritty details? I don't know. It's a trend that's still emerging and growing and changing. We'll probably know more about it later. Or someone else will and I will read their book/listen to their podcast and wish I had thought of it first.
Anyway, remember "The Staircase?" You know, the one with the owl that maybe did it? It was on Netflix? Well, we're getting a new one with Toni Collette.
Release date and where you can watch it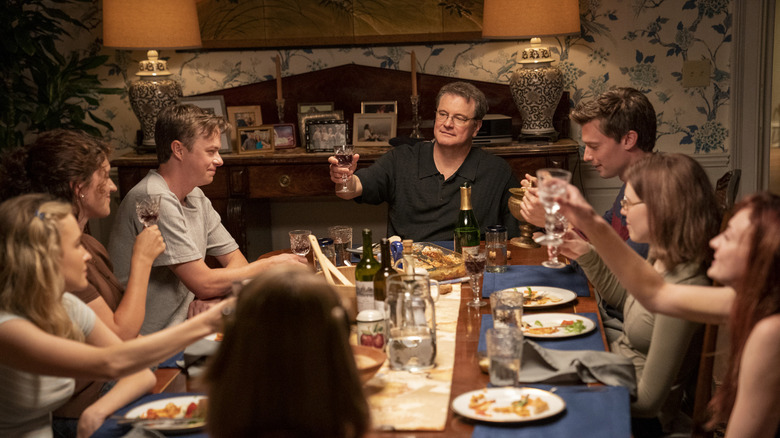 HBO
I know I mentioned Netflix one short paragraph ago, and while the original docuseries still lives there, this new fictionalized adaptation comes straight from our friends at HBO and will also be called "The Staircase." I kind of wish they would have called it "Return to The Staircase" or maybe "The Owl" or literally any other title that would make it less confusing to write about, but no one at HBO pays me or calls me so there's nothing to be done. HBO's version of this bizarre stair based crime will be sliding onto HBO Max on May 5, 2022. The show will drop three episodes at once and then air subsequent episodes once a week through June 9, 2022, which gives you plenty of time to watch the original "Staircase" for comparison. That's personally my favorite way to consume true crime and adapted true crime.
What is The Staircase?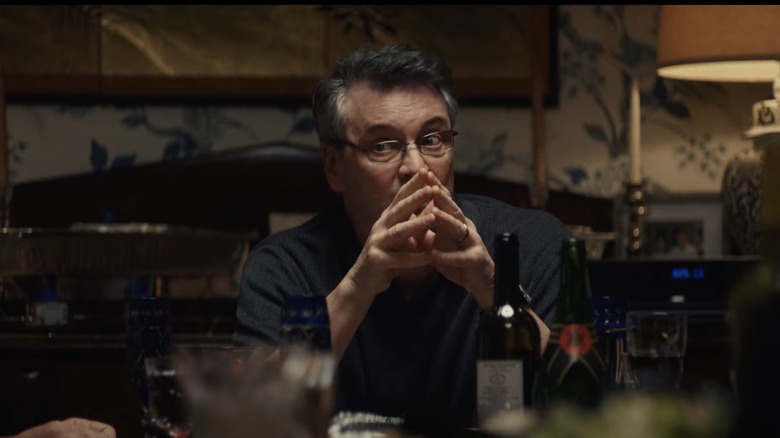 HBO
Oh man, what isn't "The Staircase?" The original show is in many ways the grandaddy of the of the true crime docuseries popping up now and in the last few years. It premiered on French television way back in 2004 and got a revamp filled with follow-up interviews and new information when it popped up on Netflix in 2018 (which was after Netflix hit it big with "Making a Murderer" back in 2015). 
And now the story is following the next step of the true crime evolution with HBO's adaptation. The new "Staircase" (like the old "Staircase") tells the story of Kathleen and Michael Peterson, a middle aged couple whose lives change completely after Kathleen dies falling down the staircase of her home. Michael is charged with the murder and the court case draws copious headlines, some fringe theories, and a documentary crew. What is fun about HBO's version is that it doesn't seem to shy away from the existence of the docuseries "The Staircase." Instead, the trailer makes it seem like an important part of the story.
The Staircase director, crew, and more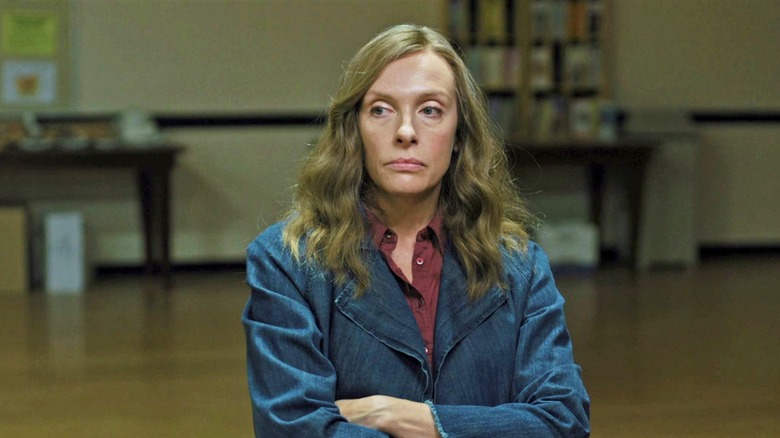 A24
"The Staircase" is largely directed by Antonio Campos, who is behind unnerving films like "The Devil All the Time" and "Martha Marcy May Marlene" and I have no doubt that he'll be bringing his own brand of sinister to this new series. Campos is also executive producing, writing, and showrunning the series alongside Maggie Cohn, who has previously worked on "American Crime Story." Besides Campos, two episodes of the series are directed by Leigh Janiak who brought us the Netflix "Fear Street" trilogy and the mean and lean horror movie "Honeymoon." It's a fun mix of people who certainly seem to know how to navigate some of that aforementioned murder and mayhem.
The Staircase cast
HBO
Alright, I have to admit that the cast of this show is truly buckwild and will probably be the main draw for most people, and for good reason. Kathleen and Michael Peterson are played by Toni Collette and Colin Firth, respectively, which is an incredibly compelling match. Besides our mom and dad in true crime, the series stars Michael Stuhlbarg ("A Serious Man"), Juliette Binoche ("Chocolat"), Sophie Turner ("Game of Thrones"), Rosemarie DeWitt ("La La Land"), Parker Posey ("Scream 3"), Dane DeHaan ("The Amazing Spider-Man 2"), Tim Guinee ("Inventing Anna"), Vincent Vermignon ("Luther"), Patrick Schwarzenegger ("Daniel Isn't Real"), Olivia DeJonge ("The Visit"), and Odessa Young ("Shirley"). It's a lot of people and I have high hopes for all of them.
The Staircase trailer
Now that I've given you the down low on the difference between the two "Staircase" series and my longwinded thoughts on true crime adaptations, I'm going to set you free to enjoy the trailer and start scheming up theories of your own. I hope you enjoy falling down the owl theory rabbit hole for the first time (or maybe the second or third time). It's a wild one.